Week 20, 2019
A new week, a new "New Audiobooks, new Deals and new News"! 😀
It's been one of those weird weeks that are at the same time super long and super short. My husband was gone all week for a work-thing so I missed my usual alone-times. I cannot put in words how much respect I have for single parents. You're heroes!
But I managed to keep up with my blog schedule like a boss 😉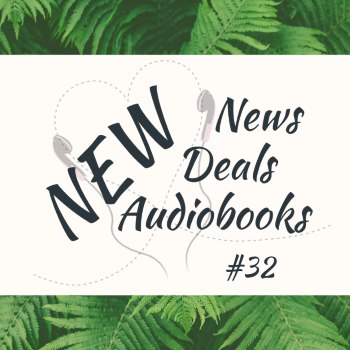 The Week on the Blog
This week, I had an absolute blast writing the review for Rockstar by Lauren Rowe! It's amazing what she has created all around this beautiful love story. Definitely check out the review so you don't miss any of the extra content 🙂
On Wednesday, I posted a little guide for my fellow book bloggers. I've been reading up on SEO a lot and while it's an insanely dry and boring topic, there are some cool tools that actually help write better and more interesting blog posts.
Of course, it was also time for the monthly Audible Romance Package list! I'm very happy that so many authors decide to add their books to the subscription. This month's new releases and additions are really great, including some super popular audios you've probably been waiting for.
Facebook things
In our Facebook group Romance Audiobook Binge, we're currently having a poll for favorite Romance tropes. It's fascinating to see which ones are the big ones! Some of my favorites are surprisingly low on the poll though.
Please know that you can always contact me through Facebook or here on the blog if there's something you'd like to see on Lovely Audiobooks. Be it a review for a specific book, a list of recommendations for a trope you love, or something else. By the way, I'm currently working on a post on what to tell those grumpy people who still run around saying audiobooks aren't real reading. I love research posts, so feel free to hit me with your audiobook-related questions as well!
And I made a fun thing! I tried to make the most of my questionable graphic-y skills and made one of those quiz images. Hop on over to my Facebook page to do it and find your one true Romance hero! 💕
Click here
**The marked book links and covers on this page are Amazon affiliate links. If you use them to purchase something, I receive a small fee at no additional cost for you. Thank you for supporting my blog! **
New in the Audible Romance Package
Most Irresistible Guy
Lauren Blakely (Author), Andi Arndt (Narrator)
Add it to your library**
His Demand: Gabe's Story
Lisa Renee Jones (Author), Joe Arden (Narrator), Erin Mallon (Narrator)
Add it to your library**
Search and Rescue
Lily Berlin Dodd (Author), Ali Ahn (Narrator)
Add it to your library**
Here are this week's super cheap audiobook deals (under $7 without a subscription):
Lady Susan
Jane Austen (Author), Cindy Hardin Killavey (Narrator)
Listen for free with KU**
Accidental Protector: A Marriage Mistake Romance
Nicole Snow (Author), Rose Dioro (Narrator), Mason Lloyd (Narrator)
Cheaper with KU**
Same team: Accidental Romeo**
Mated to the Capo: A Paranormal Mafia Romance
Georgette St. Clair (Author), Maxine Mitchell (Narrator)
Cheaper with KU**
Santori Reloaded
Maris Black (Author), J.F. Harding (Narrator)
Pick it up on Amazon**
Exciting new releases with Whispersync deals under $12 (under $7.50 with KU):
The Lost and the Chosen: Lost Sentinel Series, Book 1
Ivy Asher (Author), Mia Madison (Narrator)
Pick it up on Amazon**
Queen Takes Rook: Their Vampire Queen Series, Book 4
Joely Sue Burkhart (Author), Tristan James (Narrator), Cassandra Myles (Narrator)
Pick it up on Amazon**
City of Sin: The Vegas Men Series, Book 2
Mia Ford (Author), Elizabeth Russell (Narrator), Brandon Utah (Narrator)
Pick it up on Amazon**
I hope you found a fun new audiobook for the weekend.
Happy listening!