Week 23, 2019
More exciting news from Lovely Audiobooks today! (Well, it's exciting for me, and maybe minorly interesting or amusing for you, I hope…)
As I mentioned last week, I'm currently posting every day. And it's working out surprisingly well. But we'll get to that in a moment.
The second piece of news is that I'm starting a newsletter. Now, I'll be honest here, I don't exactly care for newsletters. In fact, there are only two I read regularly, with both being vastly different, one very long, one very short. You can expect mine to be a newsletter for people who don't care about newsletters!
There will be short updates on cool stuff that might interest you. Giveaways, of course; the monthly Kindle Unlimited and Audible Romance Package posts; and deals for particularly great audiobooks that I stumbled over while browsing the world of Romance; that kind of thing… And at most every other week.
And no, I won't offer you a free thing just to get your email address! Social Media can be sketchy with notifying you of my (or anyone's) posts. The newsletter, on the other hand, is a reliable way to know for sure when there's something particularly interesting happening here, without you having to remember to check for it yourself.
(That's not to say there might not be cool free stuff for newsletter subscribers in the future, who knows 😊 )
You can sign up here.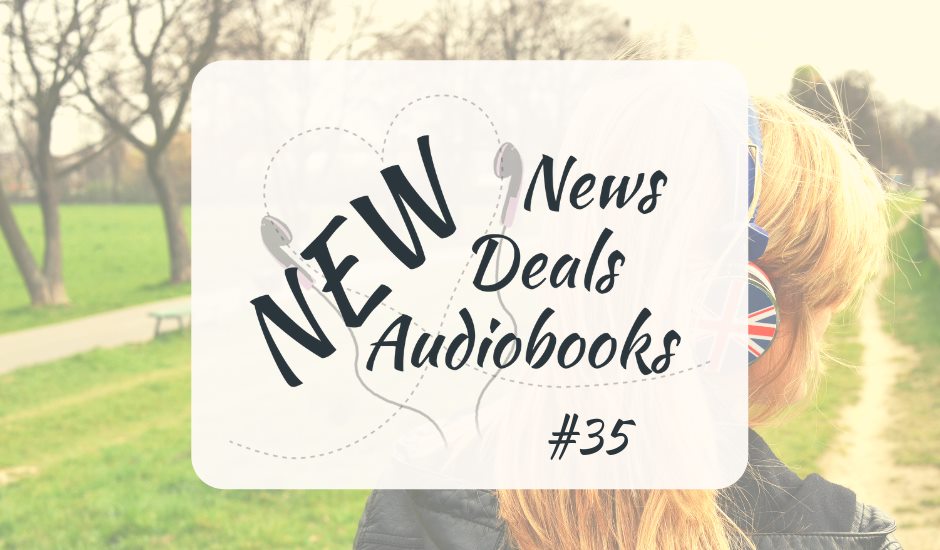 The Week on the Blog
After all that newsletter rambling, let's keep this part a bit short and to-the-point today!
There's a new book review link-up with some really great featured reviews that are worth checking out!
We had some fun discussions with a bunch of book bloggers. The first one was about book covers: Do you ever choose books solely by the cover? And the second one has some great tips on how to find your next book to read.
I let my geek show again, with a review of the Torchwood audio plays (those are the official season 5 and 6 of the discontinued TV show!).
And now on to the big one, the best new audiobooks in Kindle Unlimited that were added in May!
And a particularly fun post to write (and, I hope, to read): 5 Things you didn't know about Audiobooks!
**The marked book links and covers on this page are Amazon affiliate links. If you use them to purchase something, I receive a small fee at no additional cost for you. Thank you for supporting my blog! **
Here are this week's super cheap audiobook deals (under $7 without a subscription):
Defending Harlow: Mountain Mercenaries, Book 4
Susan Stoker (Author), Stella Bloom (Narrator)
Listen for free with KU**
Bump This
LT Ville (Author), Alonzo Riggs (Narrator)
Cheaper with KU**
The Price of Paradise
Susana López Rubio (Author), Achy Obejas – translator (Author), Cynthia Farrell (Narrator), Thom Rivera (Narrator)
Cheaper with KU**
New Orleans Rush
Kelly Siskind (Author), Holly Fielding (Narrator)
Pick up the deal**
Cipher: A Demonica Underworld Novella – 1001 Dark Knights
Larissa Ione (Author), Paul Boehmer (Narrator)
Pick up the deal**
Entrapment: Gilded Cage Prequel
Fawn Bailey (Author), Brett Galliford (Narrator), Sara Shay (Narrator)
Free ebook with audio upgrade**
Exciting new audiobook deals under $12:
Ensnarement: Gilded Cage, Book One
Fawn Bailey (Author), Brett Galliford (Narrator), Sara Shay (Narrator), Leo Barnabas (Narrator)
Cheaper with KU**
Accidental Husband
Crystal Kaswell (Author), Kai Kennicott (Narrator), Wen Ross (Narrator)
Cheaper with KU**
The Governess: Sisters of Woodside Mysteries, Book 1
Mary Kingswood (Author), Joanna Stephens (Narrator)
Cheaper with KU**
Deceit
Ava Harrison (Author), Shane East (Narrator), Lucy Rivers (Narrator)
Cheaper with KU**
Also, the much anticipated Top Secret** has been released and is available with a Whispersync deal! Top Secret is the new M/M Contemporary Romance by Sarina Bowen and Elle Kennedy.
Tomorrow, I'll be posting the best new Audible Romance Package releases from May.
Happy listening!