Review: Nuts (Hudson Valley 1)
by Alice Clayton
narrated by Shayna Thibodeaux
Roxie, chef to the stars but fallen from grace, has to return to her small hometown. And it turns out… things have changed up there.
This was my first Alice Clayton story and when you're looking for a funny, sexy novel, this is a great choice. In the first chapters, you notice that some of the characters come from another Alice Clayton series. I'm a big fan of this feeling that side characters have their own lives and aren't just props.
This book is a very sensual experience. Alice Clayton writes wonderful descriptions of places and food. Not too long, just enough to leave me hungry for basically the entire book. I love how good food – wholesome, grown and prepared with love – is celebrated in this story. And the descriptions of Bailey Falls! It felt like being on vacation there. This book is most certainly a very sweet escape 🙂
It is basically a rom-com (what with the nuts and the zucchini). I had a bunch of laughing out loud moments because Roxie is quite adorable and bouncy. The story has lots of rather witty innuendos and also, incidentally, one of my absolute favorite sex scenes!  But the book also has real substance and is very warm with incredibly likable characters.
Shayna Thibodeaux has a special voice, a bit deeper and a little husky and with big sarcasm potential. She's got great feeling for intonation and pausing for effect. Listening to her was quite the treat (oh look, still thinking about food!). She has a wide range of voices which makes for a very captivating listen.
The epilogue is narrated by the sexy Sebastian York. But this isn't a two PoV story and he's really only doing this one short chapter. That's of course also a treat 😉
Book 2 and 3 in the Hudson Valley series are also recommendations. But my heart belongs to Leo and Roxie!
Publisher's summary

The New York Times bestselling author of Wallbanger and Rusty Nailed is back with Nuts, the first in a brand new series set in New York's beautiful Hudson Valley.

Roxie Callahan is a private chef to some of Hollywood's wealthiest, and nastiest, calorie-counting wives. After a dairy disaster implodes her carefully crafted career in one fell ploop, she finds herself back home in upstate New York, bailing out her hippie mother and running the family diner.

When gorgeous local farmer Leo Maxwell delivers her a lovely bunch of organic walnuts, Roxie wonders if a summer back home isn't such a bad idea after all. Leo is heavily involved in the sustainable slow food movement, and he likes to take his time. In all things. Roxie is determined to head back to the west coast as soon as summer ends, but will the pull of lazy fireflies and her very own Almanzo Wilder be enough to keep her home for good?

Salty. Spicy. Sweet. Nuts. Go on, grab a handful.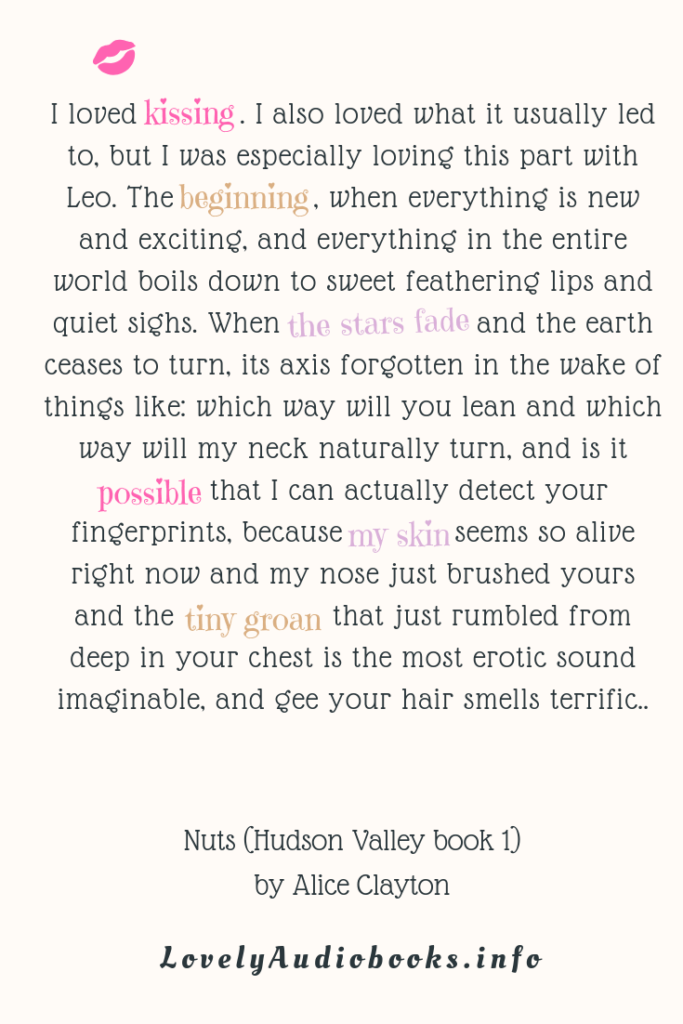 Oooh-Factor:
5 out of 5 super sexy stars because of the nuts and the Zucchini!
Audio-Factor:
Audiobook > Book
This is almost equal. It's a well-written book and well narrated!
Pick it up here:
The ebook to Nuts** is in Kindle Unlimited. You can pick up the audiobook for a reduced price when getting the ebook. But it's also absolutely credit-worthy!