Not that romantic… Part 1

In my post about "the white bread of literature" I mentioned a poll I did in a big Romance audio Facebook group. Many participants answered that Romance was only one of many genres they'd enjoy.
If you're already a romance (package) connoisseur who only wants something different for a change, just scroll down to the categories. Discover something new and get even more out of your subscription.
But if you ended up here trying to find out more about unlimited audiobook subscriptions, then let me tell you about this first.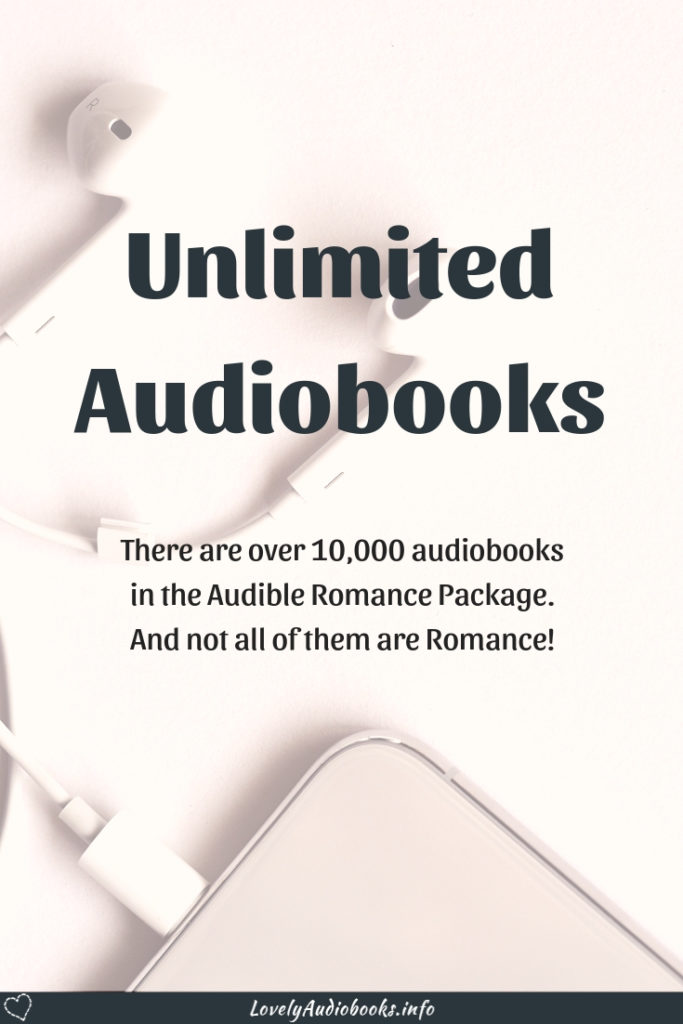 Listeners who prefer other genres than Romance might think Kindle Unlimited** is the better binge listening choice for them. BUT….
Kindle Unlimited has – among all its genres – around 2000 free audiobooks. That's not bad and can keep you busy for a while. The Audible Romance Package** has over 10,000 free audiobooks, while being cheaper if you also have an active Audible or Kindle Unlimited membership.
You might not consider yourself (primarily) a Romance reader. But if you enjoy some love in your books, the Romance Package can still be a great deal for you. There are simply so very many audiobooks to choose from!
Today I'd like to introduce you to audiobooks in Audible's binge-tastic Romance Package that aren't actually first and foremost Romance novels. Now, book genres, just like music, are fluid and can be argued over. In the end, a book belongs to the genre the author intended it for and adds it to on Amazon. But Goodreads is very helpful here, since it gives the readers a choice which genre they see the book in. For the following list I used Goodreads results in addition to the Audible genre.

SImply click on the book covers to add them to your Audible library [affiliate links].
Chick Lit
Audible lists 38 audiobooks in the category Fiction > Chick Lit for the Romance Package. There's a bit of a grey area between this genre and Romance of course. And many books listed in Contemporary Romance are arguably more Chick Lit than Romance, because they focus solely on the heroine and her story. But these three books are good examples that Goodreads also considers Chick Lit.
**
Literary
Oh yes, the literature is real! There are 26 free classics in the RP to make you feel well red.

**
Horror
Chick Lit and classic Romance novels might have you think that I'm really just messing around here and that it's all just Romance anyway. But you can also find 24 Horror audiobooks in the Romance Package!
**
Check out part 2 now with more genres in the Romance Package that aren't really actually Romance.
If you want to know how you can sign up to the Romance Package from the UK, Canada or elsewhere, visit my guide here: How to sign up to the Romance Package from outside the USA