Review: Punk 57
by Penelope Douglas
narrated by Laurie Catherine Winkel and Matthew Holland
Oooh the angst! Oooooh the dysfunction! Oh so hot.
Misha (boy) and Ryen (girl) had been pen pals for many years. Even though they live close to each other, they had chosen not to meet. When various twists and turns lead Misha in disguise to Ryen's school he finds his sweet and smart pen pal to be the mean queen bee.
I have read other Penelope Douglas bully stories** in the past and it was an unexpected twist to find a female bully in this "enemies to lovers" story. We learn a lot about what has let Ryen to behave like a bitch and her development and motivation are comprehensible. It's actually a pretty solid study into what leads a teen to become a bully (if you are interested in the topic, check out this article in the Washington Post). Yet there's still enough room to empathize with Ryen.
Nevertheless, the story of Ryen and Misha is incredibly romantic because they find each other again and again and you get the feeling they would have found each other no matter what. Yeah, that's a romance novel for you right there!
For a little while in the middle the story goes very dark and the interaction between our boy and girl grows quite dysfunctional. Yet, I just always felt this connection between the two, so for me it worked.  Matthew Holland did a fantastic narration of Misha and all his pain. And Laurie Catherine Winkel portrayed those two sides of Ryen so well, the bitchy cheerleader and the poetic sensitive soul. I really enjoyed their narrations. They pulled me in and I didn't miss a minute of this story. Their various voices were great, their intonations were fantastic and I really just liked the sound of their narrations.
To top all that off this was a really sexy book. Like, really sexy. Lots of chemistry, all the naughty, and a little flirt with coercion that never got uncomfortable.
Wholeheartedly recommending this one!!
Publisher's Summary

From New York Times best-selling author Penelope Douglas comes the latest new adult romance with a bit of everything…friends to lovers, enemies to lovers, and a somewhat interesting use of public places.

Misha

I can't help but smile at the lyrics in her letter. She misses me.

In fifth grade my teacher set us up with pen pals from a different school. Thinking I was a girl, with a name like Misha, the other teacher paired me up with her student Ryen. My teacher, believing Ryen was a boy like me, agreed.

It didn't take long for us to figure out the mistake. And in no time at all, we were arguing about everything. The best take-out pizza. Android vs. iPhone. Whether or not Eminem is the greatest rapper ever… And that was the start. For the next seven years, it was us.

Her letters are always on black paper with silver writing. Sometimes there's one a week or three in a day, but I need them. She's the only one who keeps me on track, talks me down, and accepts everything I am.

We had only three rules. No social media, no phone numbers, no pictures. We had a good thing going. Why ruin it?

Until I run across a photo of a girl online. Name's Ryen, loves Gallo's pizza, and worships her iPhone. What are the chances?

F–k it. I need to meet her.

I just don't expect to hate what I find.

Ryen

He hasn't written in three months. Something's wrong. Did he die? Get arrested? Knowing Misha, neither would be a stretch.

Without him around, I'm going crazy. I need to know someone is listening. It's my own fault. I should've gotten his phone number or picture or something.

He could be gone forever.

Or right under my nose, and I wouldn't even know it.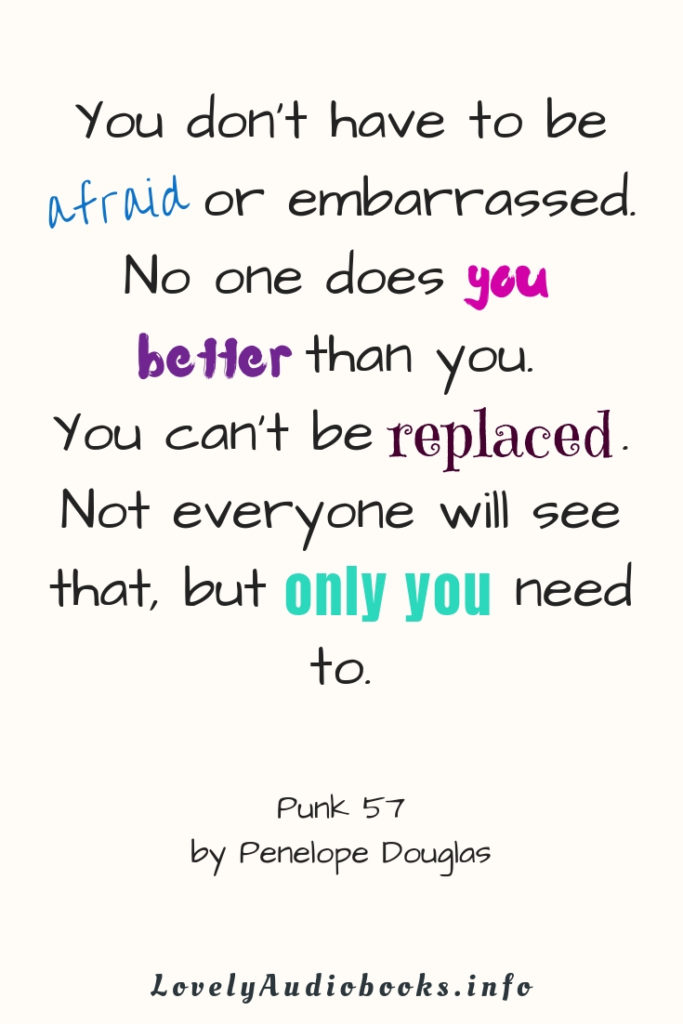 Oooh-Factor:
5 out of 5 stars
I was really feeling it!
Audio-Factor:
Audiobook > Book
Matthew Holland and Laurie Catherine Winkel did fantastic narrations!
Pick it up here:
This is part of your Audible Romance package**. Learn why a subscription to the package is really worth it here. And find my guide on how to sign up to it from outside the US here.