My weekly New Release Recommendation
Welcome back to the RecomMondaytion!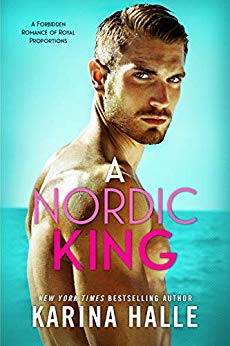 A Nordic King
I really enjoyed my first book by Karina Halle, Smut. Actually, I absolutely loved it and thought it was very clever and super sexy!
Since she's an author I have on my radar, I read a few reviews for A Nordic King on other book blogs when the ebook was first released. And I was quite intrigued by the story.
Elgee wrote about it in her review: "I liked the family dynamics and the friendship between the kids and their nanny. Perfect for a cold afternoon read with a cup of coffee. "
And Tasha wrote on her blog: " The story was really well written and I enjoyed the building of the relationships, and the overall plot and development."
I think that sounds quite promising. And I absolutely loved my last nanny romance, so I'm really excited to give this one a try.
The audiobook for A Nordic King is released tomorrow, February 12th. It's narrated by Jeremy York who is absolutely fantastic and Stephanie Wyles. I haven't listened to her before, but I checked out some samples and liked her voice and narration style very much.
written by Karina Halle, narrated by Stephanie Wyles and Jeremy York
Publisher's Summary

A widowed father of two little girls. The beautiful nanny he's hired to raise them. A forbidden romance unlike any other.  

When I first applied for the job I thought it would be like all the others: working as a nanny for an aristocratic family.

Then I got the job and found out how wrong I was. Now I'm the new nanny for two adorable little girls who happen to be princesses.  

Their father is the widowed King of Denmark. And my new home? Th royal palace in Copenhagen. Adjusting to my new life isn't easy but the hardest part hasn't been the girls who still grieve over the loss of their mother.  

It's their father.  

Cold, mysterious, and moody, with an icy stare that seems to penetrate your soul, King Aksel may have hired me to take care of his daughters but he wants as little to do with me as possible.  

Yet the longer I share these palace walls with this man, the more that I'm drawn to him. His chiseled face and sexual swagger are only part of the package. It's in the long, intense glances at the dinner table, the way we'll brush up against each other in the halls, the rare glimpses of the man deep inside, like the sun passing through clouds.  

But no matter how I feel about him, we can never be together.  

You think it's bad enough being in love with your boss?  

Try falling in love with a king.  

Contains mature themes.
Now, if that doesn't sound good… 😉
Happy listening!