What's even better than books? Books about books, of course!
I love the meta level in books. Stories about book boyfriends, authors, Romance readers, librarians… It's so much fun to have the love for books in common with the main characters of a story! And that's why the following Romance books about books are among my very favorite titles on Audible.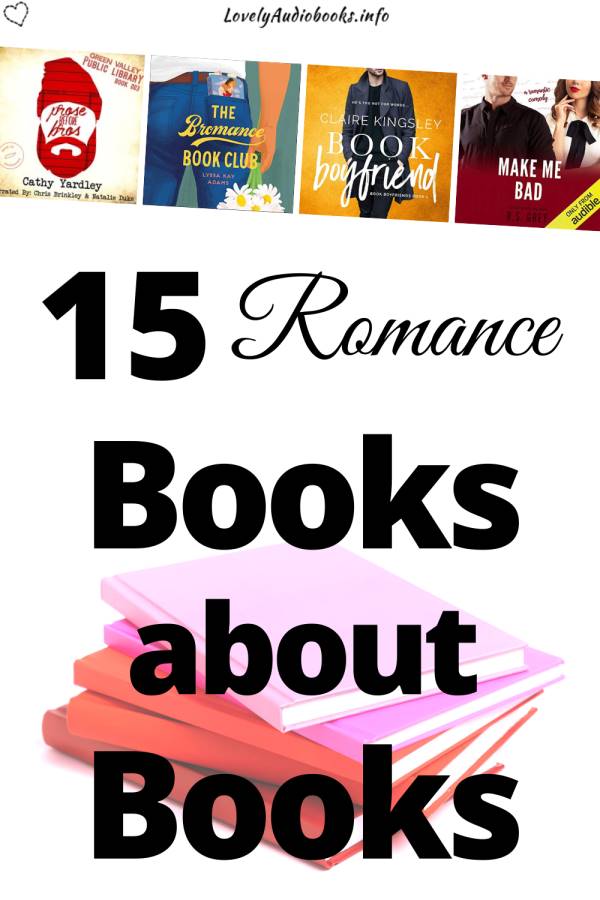 **The marked links and book covers on this page are affiliate links. If you use them to purchase something, I earn a fee at no additional cost for you. Disclosure**
The Bromance Book Club
written by Lyssa Kay Adams, narrated by Andrew Eiden and Maxwell Caulfield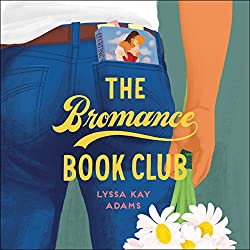 If you have a male partner, did you ever try to get them to read Romance so they'd learn how to be more like your favorite book boyfriend?
Well, in The Bromance Book Club, a group of guys figures out by themselves that they could learn so much about their wives if they read their books. Armed with the knowledge of how to be a good book boyfriend, they help Gavin save his marriage.
This book was one of my top audiobooks of 2019 because it's a witty and unique theme that's very meta, and I love how the characters aim to build healthy, strong relationships. Definitely a must-read for fans of Romance books about books!
Misadventures with a Book Boyfriend
written by Victoria Blue, narrated by Jason Clarke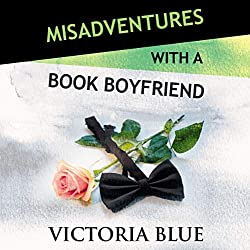 Get the audiobook in a super cheap deal**
If you don't have a partner, how awesome would it be to go on a date with your favorite book boyfriend?
Oliver turns this into a business idea and becomes an escort who takes on the role of a Romance hero of the customer's choice.
I have to admit while listening to Misadventures with a Book Boyfriend, I thought that that's really an awesome idea and I could totally see this working.
Misadventures is a series of hot stand-alone novellas that you can pick up super cheap on Amazon!
Related article: How to get your audiobooks cheaper with Whispersync deals
Book Boyfriend
written by Claire Kingsley, narrated by Stephen Dexter and Maxine Mitchell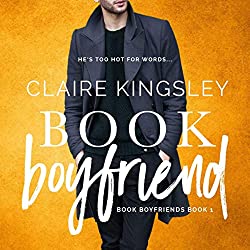 That title, right? It's literally THE perfect Romance book about books!
Mia is a book blogger and online-friends with her favorite Romance author. They chat a lot and she really trusts this person who Mia believes to be a woman. There's just this thing where Lexi, the famous and mysterious author, is actually Alex in real life. A guy who's really, really good at writing sexy love stories.
While they both keep their online personas secret, they happen to run into each other in real life. And a weird kind of double-relationship develops.
I love reading about book bloggers (even though the fictional ones always are a lot more successful with a whole lot less work than us real-life bloggers). That and the secret identity theme – which I adore – made this a really fun story!
Make Mine Magic
written by Shanna Swendson, narrated by Karissa Vacker
Listen for free with Audible Plus**
A librarian on an adventure? And there's a secret group of wizards? Gimme gimme gimme!!
Make Mine Magic is the super cute, captivating story of Claire who spends her not-anymore-honeymoon in New York by herself. Odd things happen and she finds herself in the middle of the secret magical community. Fortunately, she has her awesome librarian powers to help sort things out!
This was a very unexpected audiobook for me. It's a bit lighter on the Romance and more of an adventure story. But it's really fun and absolutely worth a listen!
Prose Before Bros
written by Cathy Yardley, narrated by Chris Brinkley and Natalie Duke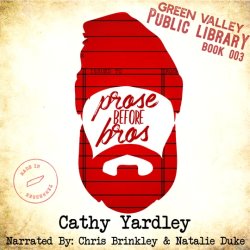 Don't mess with the most badass librarian!
Big city girl Thuy follows her best friend to Green Valley to… well… to become a farmer and small-town librarian. While she's at it, she also picks a fight with the local MC because badass librarians take shit from no one!
Cathy Yardley did a fantastic job writing in Penny Reid's Green Valley universe. I loved her characters and this story so much!
Make Me Bad
written by R.S. Grey, narrated by Jason Clarke and Luci Christian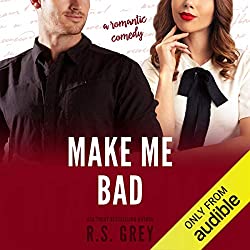 Get the audiobook in a super cheap deal**
It's such a cliche, the good little librarian turning naughty. But it's also ridiculously much fun to read about!
Madison has always been a good girl. But she wants to explore her wild side and go out of her comfort zone. So she writes a list of things she wants to experience and pushes resident bad boy Ben to help her.
Make Me Bad was such a feel-good audiobook for me! It's an adorable Rom-Com with fun and interesting main characters and amazing narrators.
Not My Romeo
written by Ilsa Madden-Mills, narrated by Savannah Peachwood and Eric G. Dove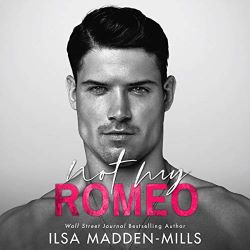 Listen for free with Kindle Unlimited**
Elena is a small-town librarian with a naughty secret. She makes really hot underwear! She meets Jack when she wrongly assumes he is her blind date. She doesn't recognize the quarterback, and he enjoys just hanging out with someone who is not only after the fame.
Not My Romeo is a really fun book about mistaken identity, hidden identity, and trying to find the person again that you spent a perfect night with! And then, you know, auditioning to be the Romeo to her Juliet in a play so she would give you another chance… I loved it!
American Dreamer
written by Adriana Herrera, narrated by Sean Crisden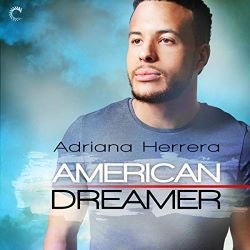 Oh, did I love American Dreamer! This is one of my favorite M/M Romance books and the fact that Jude is a librarian (with a mission) makes it even better!
Nesto moves his food truck business from New York to Ithaca where he meets Jude who just can't stay away from Nesto or his food, even though he struggles with his attraction to men.
This is not only a beautiful Romance, it also tells the important story of how libraries can or cannot make certain books available to teenagers and marginalized groups. This is definitely one of the books about books worth reading!
Sex, Lies, and Online Dating
written by Rachel Gibson, narrated by Kathleen Early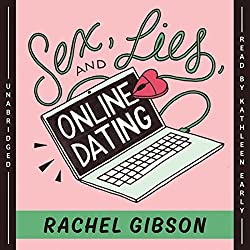 Listen for free with Audible Plus**
Lucy is a very successful mystery author. For her next novel, she meets "undercover" with men from dating apps. She's looking for inspiration for victims of her female serial killer.
Then men in the area start dying. Men from dating apps. Men who Lucy met. And they died just like she described in her still-unpublished book.
That's when the undercover author meets the undercover cop. However, he knows who she is and is investigating her. While she thinks he's the first decent guy she found on a dating app. So decent actually, that she doesn't even want to kill him!
So yeah, this has a bit of murder mystery mixed into the Romance (but just a little, it's cozy and funny). It's a really cute story and perfect for Romance readers who also like Cozy Mysteries!
Shy Girls Write It Better
written by May Sage, narrated by Noah Michael Levine and Erin Deward (duet)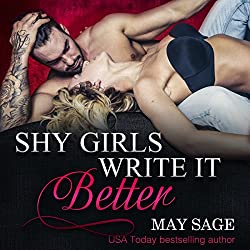 If you feel like a literary quickie, this is a super hot little read! And it's duet narration which is always good fun.
Cassie is a pretty successful Erotica author by night. By day, she's… not so super successful. She's klutzy and awkward and doesn't feel sexy at all. Carter is Cassie's boss on her day job. He's the type super aloof CEO. She didn't think he even noticed her. But he did. And then, by accident, he finds himself with her latest manuscript. Remember? She's an Erotica writer…
A book lover's dreams, "Let's try that position from page 35", haha 😉
Glitterland
written by Alexis Hall, narrated by Nicholas Boulton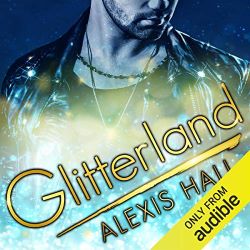 Ash is the archetypical depressed author! He is struggling with an enormous writer's block and anxiety that often doesn't allow him to even leave the house. And then the most unlikely partner shows up, a ridiculous glitter pirate!
Alexis Hall has quickly become one of my absolute favorite authors. And Glitterland is really a must-read M/M Romance book. The complex characters, the unlikely match, the emotions, the struggle… This book will move you and touch you and make you feel all the feelings!
The Lady's Guide to Celestial Mechanics
written by Olivia Waite, narrated by Morag Sims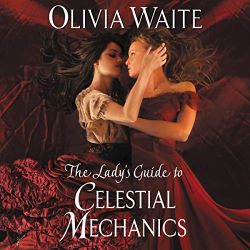 This absolutely lovely Sapphic Historical Romance reminds us of the immense power books used to have in their early days (they still do to some extent, of course, but… you know what I mean).
Rich widow Catherine takes in Lucy, a young woman who learned astronomy and scientific work from her father, but struggles to find employment, what with her being a woman and all. While the two fall for each other, they also take the scientific world by storm!
Bending The Rules
written by Christina C. Jones, narrated by Sean Crisden and Adenrele Ojo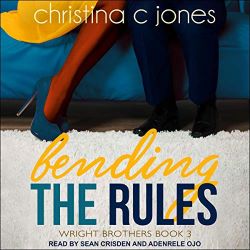 Toni and Justin have been best childhood friends. She grew up to become a literary agent, he grew up to become a bestselling author. But… it turns out they weren't the perfect match that the two expected. They hadn't talked to each other in years when they are both back in their hometown at the same time.
I absolutely love Christina Jones' Wright Brothers series and always recommend it as one of the funniest, sweetest Romance series! Bending The Rules discusses representation in the literary world and the role of agents. I liked that this wasn't just about an author but also about another bookish profession. This is one of the very fun books about books that might also teach you something new!
Slippery Creatures
written by KJ Charles, narrated by Cornell Collins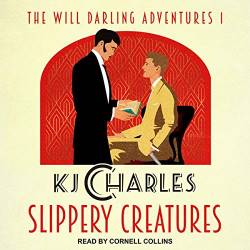 Will Darling inherits a book store which seems like a decent and relaxed job for the veteran. But strange people start showing up, inquiring about a book. Kim Secretan seems to be the only one among them who is honest and wants to help Will…
This M/M Historical Romance is wonderfully bookish! While Will might not be the biggest book lover, his life starts to completely revolve around them. The Will Darling adventures are a suspenseful adventure trilogy. The third part will be out this year and I can't wait! There are no big cliffhangers after book 1 and 2 though, so do get started!
The Flip Side
written by James Bailey, narrated by Andrew Fallaize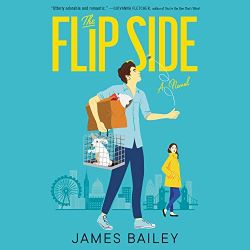 After being dumped in the most awful, awkward way possible, things seem to turn around for Josh when he meets a wonderful woman. Just a shame he didn't get her phone number… or name… All he knows is that she works in a bookstore close to a museum. And what a bookstore it is…
The Flip Side really has one of the most adorable book store(s) among the books about books! I absolutely loved the idea and project and this book felt a bit like I was taking my own vacation to the unnamed location I will not tell you because that would be a spoiler. So, I#ll leave it at: This is a really fun book and I think you'll enjoy it!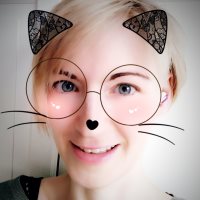 Eline Blackman (pronouns: she/they) fell in love with books as a child – with being read to and reading herself. 10 years ago, she bought her first Audible book. It was love at first listen! An average of 250 audiobooks per year has become the new normal and you will rarely see Eline without a wireless earbud. Romance and Fantasy are the go-to genres for this audiobook fan.
Romance Books
/