When I first published my Scribd review in 2019, I wholeheartedly recommended the service for audiobook listeners (as you can still see in the comments section). I was impressed with how much they offered for a relatively low monthly fee, especially when you compared Scribd vs Audible at the time.
However, my Scribd review after the most recent changes to Audible in September 2020 has a lot more "if's and but's". The winner of Scribd vs Audible isn't quite as clear anymore and depends a lot on what exactly you are looking for and what you expect from your audiobook service.
About Scribd
Scribd is a digital library service that promotes itself as giving unlimited access to ebooks and audiobooks. For a flat fee of $9.99 per month, you can borrow a number of books. You need the Scribd app to access them and you can listen to audiobooks either by downloading them to your device or streaming them. Many big publishing houses, as well as indie publishers, offer books through this subscription.
Scribd vs Audible: Price
For $14.95 per month, an Audible Premium Plus membership includes one free audiobook of your choice, a 30% discount for all audiobooks on Audible, and unlimited access to the Audible Plus catalog of several thousand Audible Originals and Audible Exclusive audiobooks. Additionally, Audible offers different recurring deals. Most of them are exclusive to members. The most popular deals let you buy 2 audiobooks for 1 credit or buy a popular book from a limited selection for just $5. You can also see directly on an Audible book's page if there's a cheap deal for it on Amazon ("Whispersync deal").
For $9.99 per month, a Scribd membership includes access to several free audiobooks and ebooks. The monthly fee is cheaper but you don't own any of the audiobooks you listen to through Scribd, so you can only listen to them while you have an active subscription.
Audiobooks you buy on Audible for a credit or money are yours to keep and you can listen or relisten to them even when you don't have an active subscription.
Scribd Review: Is Scribd really unlimited?
Scribd's slogan states that they offer an unlimited subscription and I'm struggling with that. If their promotion said: "Listen to 3 brand new audiobooks every month and get access to our special unlimited library" I'd be much happier. Scribd isn't transparent at all in regard to what exactly you get for your $9.99. You'll only be able to find out and get a feeling for it when you have a subscription.
Based on my own and other customers' experience, you can usually listen to 2 or 3 new and popular audiobooks per month. Then you'll lose access to other titles with similar popularity. However, you can then still download older or indie published audiobooks. But even those aren't unlimited. Sadly, Scribd doesn't share any information on how they limit your access. So you can't plan in advance which books you'd be able to listen to through Scribd in one month.
When you start a book, your library changes and some titles will become unavailable for the rest of the billing period. And since Scribd doesn't offer samples like Audible, this can be particularly annoying when a book doesn't work out for you the way you had hoped.
When you partially lose access, many titles will say "available on", followed by the date on which your subscription renews.
Scribd Review: How reliable is this audiobook service?
Scribd has some recurring hiccups. Several times after my monthly renewal, I found I already had titles restricted after listening to only one book. And once I even lost access to an audiobook while I was listening to it. I couldn't finish the book until the following renewal. You can imagine how annoying that was! Fellow audiobook listeners have reported similar issues.
At times, the audiobook versions on Scribd are also faulty. For some books, chapters end in the middle of a sentence. This is not a satisfying listening experience!
So, while I generally think that Scribd has a lot to offer for the price, these issues make this audiobook service very unreliable. And I wonder whether it's even still worth $9.99 if you have to deal with technical problems like this on a regular basis.
Related article: Find the best Unlimited Audiobook Subscription for You!
Scribd vs Audible: The Catalogs
Audible is the biggest audiobook store out there. When you are looking for that one specific book, you are likely to find it here. Scribd has a much more limited catalog. And recently, Penguin Random House, one of the big five publishing houses, pulled all of their audiobooks from Scribd and other paid library-like services. This has reduced Scribd's selection further and many sought-after audiobooks aren't available here anymore.
However, Scribd still offers thousands of audiobooks and when you are interested in a specific author, it's likely you will find some of their titles here. And even though you can't listen to them whenever you want, as I explained before, you can often find popular brand-new releases here that you would have to pay full price for everywhere else.
Scribd vs Kindle Unlimited Audiobooks
For the same monthly price, Scribd offers more expensive, popular content than Kindle Unlimited. However, Kindle Unlimited is truly unlimited. There are over 2000 indie- and self-published audiobooks included for free. And you can listen to as many new releases or popular titles as you like. Amazon adds about 20 to 30 new audiobooks to Kindle Unlimited every month. And you can listen to them in the reliable and user-friendly Audible app.
In Scribd, it can happen to you that you are binging a series and just when you want to dive into the next book, you'll find that you have to wait 3 weeks to get access to the next audiobook in the series. That's something you'll never see in Kindle Unlimited, but it has happened to me regularly in Scribd.
So, in regard to Scribd vs Kindle Unlimited, both services have their pros and cons. Scribd offers more well-known titles, Kindle Unlimited, on the other hand, is more reliable and truly unlimited. Both have much smaller catalogs than Audible.
So, in the end, it depends on which books you are interested in and if you find enough titles in the subscription you chose. Personally, I feel these two audiobook services complement each other well, and for real audiobook junkies on a limited budget, this is a great mix that will let you listen to as many audiobooks as you want, and to many of the specific titles or authors you might be looking for.
Related article: How to listen to Audiobooks with Kindle Unlimited
Scribd vs Audible: The Audiobook Apps
When it comes to the Scribd vs Audible audiobook apps, both have similar functions like narration speed and sleep timer. But the Scribd app doesn't have a widget on Android phones which bothered me a bit. I use the Audible widget quite a lot to pause and start, set a bookmark, or jump 30 seconds back. The Scribd app also can't bookmark from the tray. So you have to open the player every time you want to set a bookmark.
I've also had some technical issues with the Scribd app which has never happened to me with Audible before. I've used Audible on Android for over 5 years and never experienced any glitches or technical difficulties that disrupted listening to my audiobooks.
A few months ago, the Scribd app would close on me with an error message whenever I came to the end of a chapter. Even a weeks-long exchange with Scribd customer service couldn't fix this problem. And while their support team was friendly, they didn't seem to (be able to) do anything about the technical issue. At times, the app also crashes when I try to download an audiobook and I can only listen through the streaming function, which isn't always ideal.
The Audible app provides a much more relaxed listening experience. They always download the audiobook right away so you can continue listening, no matter your connection status. I've also never encountered faulty versions with cut-off sentences.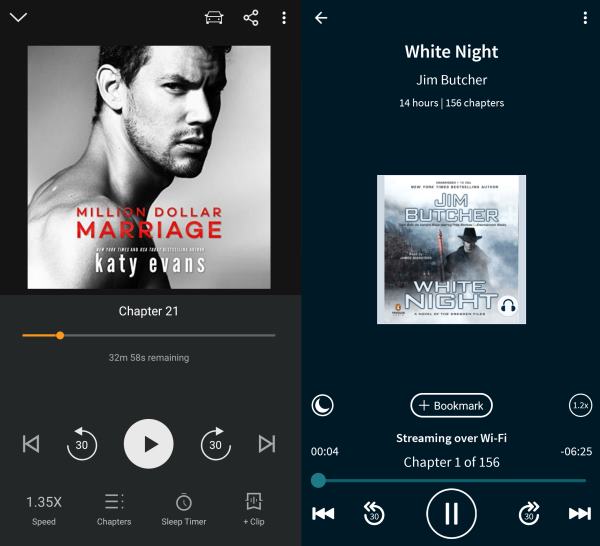 Scribd vs Audible: Conclusion
So, Scribd vs Audible, which audiobook service is better for you? That depends on you, how much you listen to audiobooks and which kind of books you are interested in.
At this point in time, I can't wholeheartedly recommend that you get a Scribd account. The user experience isn't always good enough for every user, even for $9.99. But you should definitely grab the free trial period to see how it works out for you. Join Scribd and try it for free**
If you listen to one or two specific titles a month, you'll likely enjoy an Audible Premium Plus subscription the most. And thanks to the new Audible Plus feature, you can still listen to more audiobooks if you finish the title you bought too quickly. On Audible, you can be sure to find exactly the audiobook you are looking for. And you can relisten to your collection while pausing or deactivating your membership. You'll also like Audible better if you want to own your books. Get your free trial month**!
If you are an insatiable audiobook listener like me, you could consider a Scribd subscription – but only in addition to a real unlimited audiobook subscription or Audible Premium Plus. When Scribd works, it is a nice way to get popular new releases. But you likely won't have access to enough interesting audiobooks there to get you through the month.
And if you fall in between these two groups and usually listen to an audiobook a week, I think you should give Scribd a try, simply because what they offer on paper fits you perfectly. Just be aware of the limitations! And hopefully, you won't encounter any of the technical issues I experienced. Please feel free to use my friend referral link so you'll receive a 60-day free trial instead of the usual 30 (I will also get 1 month free to always keep this Scribd review up to date): Join Scribd and try it for free**
And if you need recommendations to get started, check out our list of 50 of the best audiobooks of all time!
All about Audiobooks
/