Over the years, Scribd and I have had a difficult relationship. Initially, in 2019, I was impressed with how much they offered for a relatively low monthly fee, especially when you compare Scribd vs Audible. Then I had some technical issues. Here's how I view Scribd in 2022…
Audible made some big changes to its service in 2021 which made it more difficult for Scribd to compete than in prior years. But Scribd has also listened to points of critique and improved their service immensely over the last year!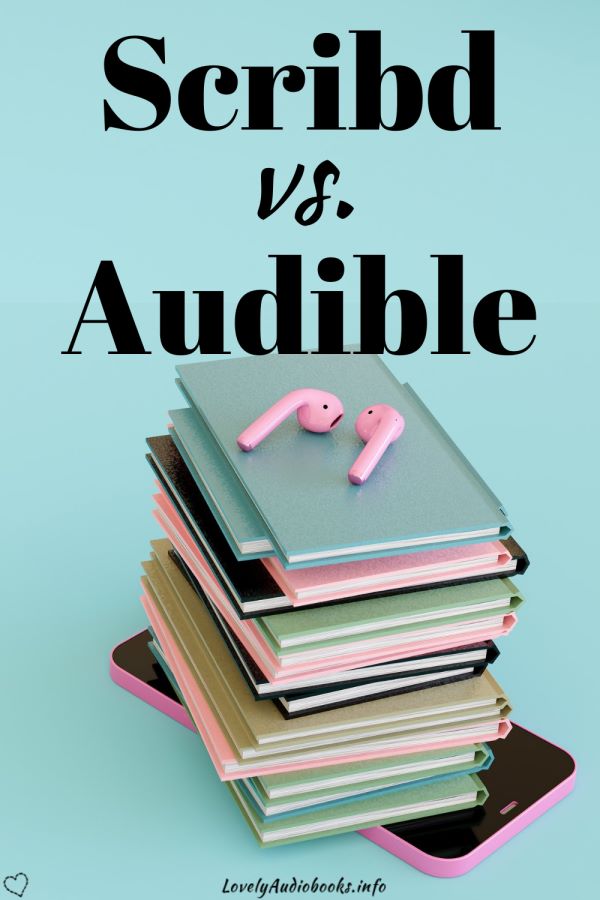 **The marked links and book covers on this page are affiliate links. If you use them to purchase something, I earn a fee at no additional cost for you. Disclosure**
About Scribd
Scribd is a digital library service with a single subscription model. For a flat monthly fee of $9.99, you get access to a huge library of ebooks and audiobooks. You need the Scribd app to access them and you can listen to audiobooks either by downloading them to your device or streaming them. Many big publishing houses, as well as indie publishers, offer books through this subscription.
Scribd vs Audible: Price
For $14.95 per month, an Audible Premium Plus membership includes one free audiobook of your choice, a 30% discount for all audiobooks on Audible, and unlimited access to the Audible Plus catalog of several thousand Audible Originals and Audible Exclusive audiobooks. Additionally, Audible offers different recurring deals. Most of them are exclusive to members. The most popular deals let you buy 2 audiobooks for 1 credit or buy a popular book from a limited selection for just $5. You can also see directly on an Audible book's page if there's a cheap deal for it on Amazon ("Whispersync deal").
A Scribd membership is more straightforward in a way. For $9.99 per month, you get access to a million ebooks, audiobooks, magazines, and sheet music that you can borrow. The monthly fee is cheaper for Scribd vs Audible but you don't own any of the audiobooks you listen to through Scribd. You can only get them while you have an active subscription.
Audiobooks you buy with an Audible subscription for a credit or money are yours to keep and you can listen or relisten to them even when you don't have an active subscription.
Scribd Review: Is Scribd really unlimited?
One of my biggest points of critique for a long time was Scribd's slogan that they offered an unlimited subscription service when, in fact, there are some limitations. I was very pleased to see that they are more careful with their wording in 2022! Scribd still doesn't or can't offer a lot of transparency in regard to what exactly you will get for your $9.99 though. You'll only be able to find out and get a feeling for it when you have a subscription. (There is a 30 day free trial period** though!)
Over the last year, it was my impression – and several other audiobook fans agreed with me here – that Scribd has loosened their limitations a bit and, personally, I only once encountered a title that I could not access anymore in that month.
But let me back up quickly for those entirely new to the Scribd membership plan!
Scribd is kind of unlimited. In the sense that you can listen to as many audiobooks as you want during a month. However, Scribd might restrict your access to certain titles. Unlike Audible Plus, which has mostly Audible's own productions, Scribd gives you access to many of the newest bestsellers, to books that are all the rage on BookTok, or New York Times bestselling titles. Scribd limits your access in so far that you can't listen to twenty bestselling books that were only just released that month. They will restrict your access to these kinds of valuable titles.
However, you still have access to tons of indie-published audiobooks and older titles. And Scribd has a lot of Scribd-exclusive audiobook productions as well these days. Many self-published ebooks that didn't have an audio version previously now have one on Scribd. (You can check out the Scribd Original Romance audiobooks** here and Scribd Original Urban Fantasy audiobooks** here.)
When you start an audiobook, your library of saved titles might change and some audiobooks could become unavailable for the rest of the billing period. When you partially lose access, specific titles will say "available on", followed by the date on which your subscription renews.
Scribd Review: How reliable is this audiobook service?
In the past, I have encountered some hiccups with Scribd. But their service has improved greatly throughout 2021 and I have had no issues with the Scribd app or with title restrictions.
If you have used Scribd in the past and gave up on it because you lost access while in the middle of a book, or lost access to many titles after listening to only one audiobook, I can say with confidence that you can give Scribd another try!
I have been using this service since 2019 now and I have seen some things that made me rather unhappy. I also had some chats with Scribd customer service. And my Scribd review had not always been positive in the past. But all throughout 2021, I was very happy with this audiobook subscription.
I have had no issues with the Scribd app for Android, have had no billing issues, the quality of the audiobooks was always perfect, and I have encountered very few instances where a book was restricted even though I use Scribd a lot.
Scribd vs Audible: The Catalogs
Audible is the biggest audiobook store out there. When you are looking for that one specific book, you are likely to find it here. Scribd has a more limited catalog since Penguin Random House, one of the big five publishing houses, pulled all of their audiobooks from Scribd and other paid library-like services.
However, Scribd still offers thousands of audiobooks and when you are interested in a specific author, it's likely you will find some of their titles here. Scribd has also become more active with offering Scribd-exclusive audiobook productions.
Scribd vs Kindle Unlimited Audiobooks
For the same monthly price, Scribd offers more expensive, popular content than Kindle Unlimited. However, Kindle Unlimited is truly unlimited. There are over 2000 indie- and self-published audiobooks included for free. And you can listen to as many new releases or popular titles as you like. Amazon adds about 20 to 30 new audiobooks to Kindle Unlimited every month. And you can listen to them in the reliable and user-friendly Audible app.
Scribd's library of audiobooks is much bigger than Kindle Unlimited's. And while it isn't truly unlimited, you will find many more bestselling and popular titles here.
Chances are, your next book club pick is not in Kindle Unlimited. But it will be on Scribd!
Based on my experience with Scribd over the last year, it comes out ahead for audiobooks listeners, when compared to Kindle Unlimited.
That being said, I feel these two audiobook services complement each other very well, and for real audiobook junkies on a limited budget, this is a great mix that will let you listen to as many audiobooks as you want, and to many of the specific titles or authors you might be looking for.
Related article: How to listen to Audiobooks with Kindle Unlimited
Scribd vs Audible: The Audiobook Apps
When it comes to the Scribd vs Audible audiobook apps, both have similar functions like narration speed and sleep timer. But the Scribd app doesn't have a widget on Android phones which is a shame. I use the Audible widget quite a lot to pause and start, set a bookmark, or jump 30 seconds back. The Scribd app also can't bookmark from the tray. So you have to open the player every time you want to set a bookmark.
Both apps on Android devices – which I use – are reliable and stable though. The audio quality is good and the respective audiobook library is easy to browse.
The Scribd app makes it very clear whether you are streaming or have a title downloaded. It's easy to switch to a downloaded version that you can listen to offline. The download speed is a bit slower than on Audible though.
Related article: The Best Audiobooks Apps in 2022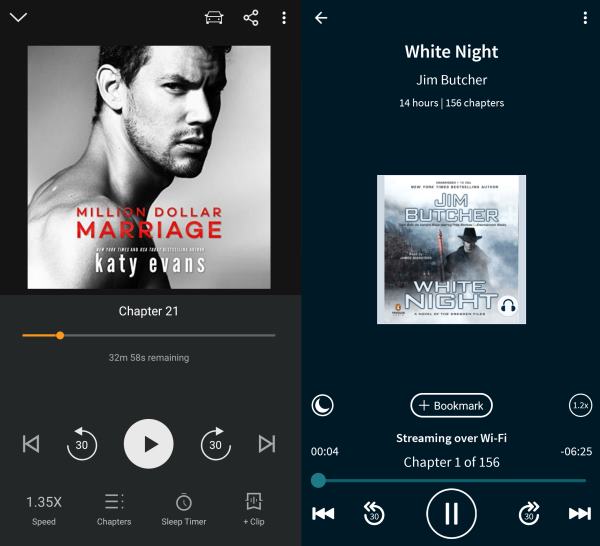 Scribd vs Audible: Conclusion
So, Scribd vs Audible, which audiobook service is better for you? That depends on you, how much you listen to audiobooks and which kind of books you are interested in.
Scribd has shaped up to be a really nice, reliable audiobook service that offers you a whole lot for a relatively low monthly price. Join Scribd and try it for free**
If you listen to an audiobook a week and are happy to browse the catalog or go with recommendations the service gives you, you will likely be very happy with Scribd as your only audiobook subscription.
If you are always looking for a very specific title, an Audible Premium Plus subscription might fit you better. It's also better for you if you want to own your audiobooks. Get your free trial month**!
If you are an insatiable audiobook listener like me, you probably want both! Scribd is a great subscription to listen to popular new releases and indie audiobooks alike. And if you can't find something you want, you get it on Audible.
And if you need recommendations to get started, check out our list of 50 of the best audiobooks of all time!
All about Audiobooks
/