Spoiler Alert by Olivia Dade is a heartwrenching Hidden Identity Romance set in the world of Fanfic and TV shows.
Let me start by saying that this is a bit of a difficult review to write for me because this is a very emotional book that deals with profound issues, most notably fat-shaming and gaslighting. I found the gaslighting scenes particularly hard to deal with. But the relationship between the heroine and hero is insanely sweet, heartwarming, funny, and super steamy! Spoiler Alert is one of those rare books that really stayed with me after I finished it and that I very much want to re-read in the future.
Even though some parts were uncomfortable, this is one of my favorite Romance audiobooks of 2020!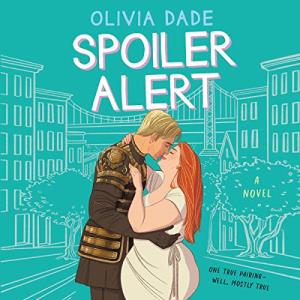 Olivia Dade bursts onto the scene in this delightfully fun romantic comedy set in the world of fanfiction, in which a devoted fan goes on an unexpected date with her celebrity crush, who's secretly posting fanfiction of his own.

Marcus Caster-Rupp has a secret. The world may know him as Aeneas, star of the biggest show on television, but fanfiction readers call him something else: Book!AeneasWouldNever. Marcus gets out his frustrations with the show through anonymous stories about the internet's favorite couple, Aeneas and Lavinia. But if anyone discovered his online persona, he'd be finished in Hollywood.

April Whittier has secrets of her own. A hardcore Lavinia fan, she's long hidden her fanfic and cosplay hobbies from her "real life"—but not anymore. When she dares to post her latest costume creation on Twitter, her plus-size take goes viral. And when Marcus asks her out to spite her internet critics, truth officially becomes stranger than fanfiction.
On their date, Marcus quickly realizes he wants more from April than a one-time publicity stunt. But when he discovers she's Unapologetic Lavinia Stan, his closest fandom friend, he has one more huge secret to keep from her.

With love and Marcus's career on the line, can the two of them stop hiding once and for all, or will a match made in fandom end up prematurely cancelled?
Let me just – in no particular order – list a few things that I loved most about Spoiler Alert by Olivia Dade.
Both hero and heroine are in their 30s! Apparently, you can still find your soulmate even if you aren't 23 anymore. Yay! 😉 This ties in with the heroine not being painted as the untouched ugly duckling. The hero isn't the first man to see her beauty and appreciate her. I really liked that because I'm not a fan of the virgin trope, especially for women who don't fit the usual (and outdated) beauty standards.
I loved the flow of the story that also has short interludes of fanfiction snippets and scenes from Marcus' TV shows and movies. Especially the fanfiction was really, really funny!
Now, a particularly outstanding thing about Spoiler Alert are the subtle parallels between hero and heroine: She experiences verbal abuse and fights it, he expects to be abused again and dodges it by taking on an entirely new persona. My heart broke for both of them! Both characters are so relatable, real, and likable.
Audiobook Production of Spoiler Alert
Isabelle Ruther's narration is fantastic! She's so entertaining to listen to, with a great range of voices and a super hot hero voice! Yeah, she's one of the female narrators with a really sexy male voice 😉
Recommending Spoiler Alert by Olivia Dade
Spoiler Alert by Olivia Dade is absolutely credit-worthy and one of the Romance novels in 2020 that you do not want to miss!
Get the Audible book on Amazon**
Or buy it on Libro.fm** (The first audiobook is free!)
This book is also on my list of my favorite Online Love and Hidden Identity Romance books!
Thank you, HarperAudio, for giving me a free copy of this audiobook! It was my decision to write a review.
Review
/