The audiobook for Jaymin Eve's new series Supernatural Academy just came out. Do you enjoy Fantasy, Romance, and New Adult? If so, I'm sure you'll have as great a time with this book as I did.
Before I go on, I'd like to point out this beautiful cover. And isn't that pink hair absolutely stunning?
**The marked links and book covers on this page are affiliate links. If you use them to purchase something, I earn a fee at no additional cost for you. Disclosure**
Supernatural Academy Year One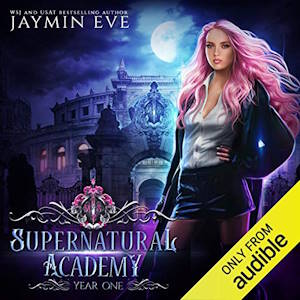 written by Jaymin Eve, narrated by Vanessa Moyen

Pick up the Supernatural Academy audiobook on Amazon**
Supernatural Academy is set in the same universe as the Supernatural Prison series**.
Supernatural Academy's Heroine
Jaymin Eve is an author who is very conscious of common questionable tropes. That's something I really appreciated about this book and all of Jaymin Eve's books I've read so far.
Maddison is a strong, self-assured person, just like Jessa from Supernatural Prison and Willa from Curse of the Gods. But she's also in touch with her weaknesses and struggles.
And she has amazing female friends! She isn't the only great female character in the story.
In one scene, her love interest takes her to his home and says she's the only girl he has ever brought there because she is special. She interrupts him and says that it isn't cool to isolate her from other women like that. Did I cheer at this point? Yes, yes, I did! This was really great!
Academy Romance
Like Supernatural Prison, this series has a polyamorous vibe (the Atlantian Five are all over Maddison). But she has one true mate and the other guys are really only friends.
I enjoyed the academy atmosphere very much. The place was beautifully described and truly magical. I haven't read many books with this theme yet, but I can see the appeal.
I wonder how much the story will move outside the supernatural academy in the coming books. In book 1, parts of the plot happen outside the academy. To me, it was a nice balance of settings.
Narration By Vanessa Moyen
The main reason why I picked this book up was that I loved the Curse of the Gods audiobooks. And I expected good things from a Jaymin Eve story narrated by Vanessa Moyen. I'm thrilled the two are working together again on this!
Vanessa Moyen has a beautiful, youthful, unique voice with a great range to make all characters of any gender sound different. I loved her voice for Maddison. She portrayed Maddison's quirkiness perfectly, while also giving back her feelings.
I recommend Supernatural Academy!
I can wholeheartedly recommend this audiobook. It's a great story with wonderful world-building and a really likable heroine. On top of that, the narration is perfect!
Pick up the Supernatural Academy audiobook on Amazon**
The ebook for Supernatural Academy Year One is in Kindle Unlimited, and you can add the audiobook for a significantly reduced price when you download the ebook. The audiobook will be yours to keep!
Related article: How to get audiobooks cheaper with Kindle Unlimited
Publisher's Summary
Maddison James is about to discover some truths about the world.

Firstly…supernaturals exist.

WTF?

Secondly…she is one, even though no one seems to know exactly what kind.

Double WTF.

Thirdly…she's about to go back to school.

Well, things just got a little more interesting.

The Supernatural Academy is where shifters, vampires, magic users, and fey are educated. Where they are taught about their abilities, and how to function in the human world. Maddison already has the human part down, but this supernatural thing is an entirely new dangerous game.

Example one: mean girls who can actually turn you into a frog.

Example two: Asher Lock, a god at the Academy. Not literally…well, who knows for sure. He certainly acts the part, as do all of his minions who worship him.

Asher drives her crazy, because apparently snarly, gorgeous, and arrogant is her thing, and despite their mutual dislike, sparks fly between them. The more they're thrown together, the more Asher is determined to figure out what's been blocking her abilities.

Until the moment the truth is revealed, and they find out nothing in this supernatural world is what they thought.

Including each other.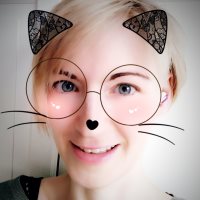 Eline Blackman (pronouns: she/they) fell in love with books as a child – with being read to and reading herself. 10 years ago, she bought her first Audible book. It was love at first listen! An average of 250 audiobooks per year has become the new normal and you will rarely see Eline without a wireless earbud. Romance and Fantasy are the go-to genres for this audiobook fan.
Reviews
/