Take a Hint, Dani Brown by Talia Hibbert is the second novel in The Brown Sisters series and this Fake Relationship / Friends to Lovers Romance was absolutely everything I had hoped for (and so much more)!
Get a Life, Chloe Brown was one of my favorite Romance audiobooks of 2019, and her sister Dani's book is already one of my favorite books of 2020, without a doubt!
**The marked links and book covers on this page are affiliate links. If you use them to purchase something, I earn a fee at no additional cost for you. Disclosure**
Meta-Level Romance
I am a sucker for books about books and absolutely loved the meta-level of Zaf being an avid romance reader! His friend pointed out to him how fake relationships would only work in Romance novels and weren't a thing in real life. Well, I don't dare judge how real Dani and Zaf are, but I can say that things do work out for them, in the end 😉
Just like her sister Chloe, Dani Brown is not a doormat heroine. She has rough edges and felt very raw and real. She's relationship-averse which at times made me want to smack her and tell her to get over herself. Zafir, on the other hand, is a cinnamon roll hero – a super sweet, honest guy who you can't help but love! But I absolutely loved and rooted for both of them! Dani is the kind of woman I wish I was friends with. Someone who doesn't take sh*t.
Talia Hibbert has become one of my most favorite authors. She has a fantastic way with words and Take a Hint, Dani Brown is amazingly crafted. I loved the different levels of the story and how perfectly everything came along and fit together.
Now, you probably don't know my husband. But the only thing you really need to know here is that I've been trying for years to get him to read a Romance novel. I wanted him to know what these books are about and why I love them so much, so he has more to go by than what I say vs. the general prejudice against this genre.
Two times I succeeded with having him start a Romance, both times he put them away again after a few chapters because he said he "just couldn't". Now, I sucessfully talked him into giving Take a Hint, Dani Brown a try. He was not thrilled and said it was the last time he would pick up a Romance. Well… I think it says so much about this book that he did indeed finish it! And he only skipped a small part of an explicit scene. And he called the book "very cute". It even made him laugh out loud several times!
He had that blissful, relaxed facial expression when talking about the book that I imagine I get from reading stories that are so hopeful, wholesome, and positively exciting!
Point being, this book is everything I love about Romance! It's sexy and sweet, but it also looks very honestly at the people in the story, shows their strengths and weaknesses, how they grow, and how they match.
One thing that stood out for me – and that I appreciated – was how the characters think of each other as ridiculously hot even though they aren't model-perfect. Their bodies are described as real people's bodies with the usual imperfections that we all have but that can still be so sexy to a loving partner.
This is really an all-around damn good book.
Audiobook Narration
Ione Butler is a British actress who did an outstanding job with reading Dani Brown! She perfectly gave back the different characters and added even more depth and emotion to the story. She doesn't narrate a lot of audiobooks, but I'm so glad she did this one because it's a perfect audio production!
Recommendation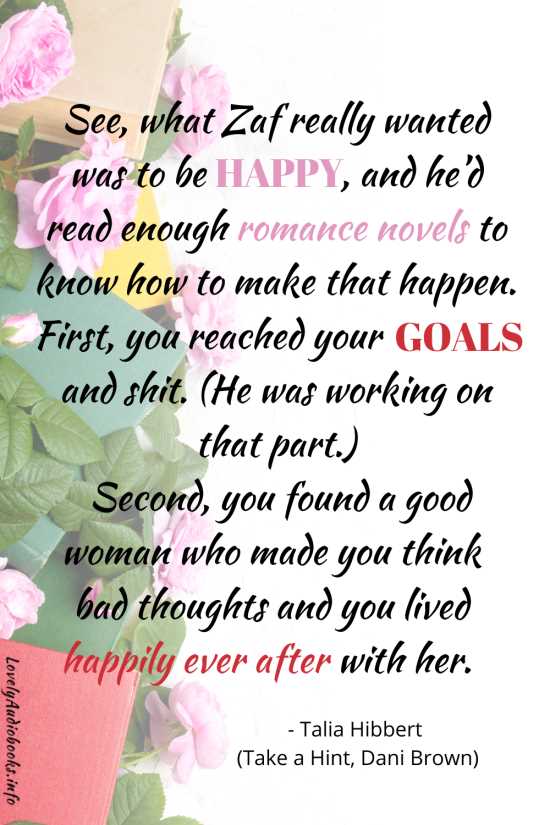 If you enjoy a really great Romantic Comedy with a fun meta-level element, witty writing, and smart characters, you'll absolutely love Take a Hint, Dani Brown by Talia Hibbert! It works perfectly fine as a stand-alone, so no worries if you're new to this author's work. But I bet you'll go through her backlist in no time 😉
Or Get it on Libro.fm** (The first audiobook is free!)
This book is also on my list of great LGBT Romance books on Audible!
Blurb: Take a Hint, Dani Brown by Talia Hibbert
Danika Brown knows what she wants: professional success, academic renown, and an occasional roll in the hay to relieve all that career-driven tension. But romance? Been there, done that, burned the T-shirt. Romantic partners, whatever their gender, are a distraction at best and a drain at worst. So Dani asks the universe for the perfect friend-with-benefits – someone who knows the score and knows their way around the bedroom.

When big, brooding security guard Zafir Ansari rescues Dani from a workplace fire drill gone wrong, it's an obvious sign: PhD student Dani and former rugby player Zaf are destined to sleep together. But before she can explain that fact to him, a video of the heroic rescue goes viral. Suddenly, half the internet is shipping #DrRugbae – and Zaf is begging Dani to play along. Turns out, his sports charity for kids could really use the publicity. Lying to help children? Who on earth would refuse? Dani's plan is simple: fake a relationship in public, seduce Zaf behind the scenes. The trouble is, grumpy Zaf is secretly a hopeless romantic – and he's determined to corrupt Dani's stone-cold realism. Before long, he's tackling her fears into the dirt. But the former sports star has issues of his own, and the walls around his heart are as thick as his…um, thighs.

The easy lay Dani dreamed of is now more complex than her thesis. Has her wish backfired? Is her focus being tested? Or is the universe just waiting for her to take a hint?
Reviews
/