The Duke Who Didn't is a Historical Romance by Courtney Milan about childhood sweethearts and their second chance at love, mixed with a bit of deception and a lot of lists!
After the first few chapters, I all of a sudden noticed how much I had missed Courtney Milan's writing. The story flows so well and I loved the smart and witty banter. The Duke Who Didn't was really everything I had hoped for and a whole lot more…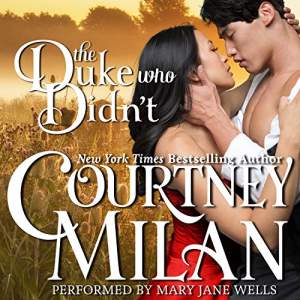 **The marked links and book covers on this page are affiliate links. If you use them to purchase something, I earn a fee at no additional cost for you. Disclosure**
The Duke Who Didn't
written by Courtney Milan
narrated by Mary Jane Wells
Miss Chloe Fong has plans for her life, lists for her days, and absolutely no time for nonsense. Three years ago, she told her childhood sweetheart that he could talk to her once he planned to be serious. He disappeared that very night.

Except now he's back. Jeremy Wentworth, the Duke of Lansing, has returned to the tiny village he once visited with the hope of wooing Chloe. In his defense, it took him years of attempting to be serious to realize that the endeavor was incompatible with his personality.

All he has to do is convince Chloe to make room for a mischievous trickster in her life, then disclose that in all the years they've known each other, he's failed to mention his real name, his title… and the minor fact that he owns her entire village.

Only one thing can go wrong: Everything.
The Duke Who Didn't by Courtney Milan was one of my pre-orders for November because I love all her Historical and Contemporary Romance audiobooks. And it's been quite a while since Courtney Milan has released anything on Audible.
First, let's talk about Chloe! I absolutely loved her! She's a complex, interesting character: A little bit grumpy, a whole lot determined, really smart, and all-around interesting and likable. She's the kind of heroine I enjoy reading about the most because she isn't only a backdrop for the hero but a person I want to know more about and root for all in her own right.
Secondly, Jeremy… Jeremy turned out entirely different than what I had expected in the first few paragraphs (I went in without having read the blurb). And boy, did I love him, too! What a sweet, sweet man! He has a little bit of angst going on because he's keeping something big from Chloe – the tiny fact that he's actually a duke and owns her house and really everybody else's houses as well. And I can tell you, this plays out in such an amazing way! I didn't see it coming and it was a fantastic twist!
The two are matched perfectly: Serious, driven Chloe and silly, funny Jeremy. And while they are so different in their temperament, they're both caring and loving, which had a big part in making this such a beautiful Romance.
Despite the deception, this isn't an angsty Romance at all. It's a sweet and tender love story with a side plot that I found very captivating and that had an extremely satisfying ending. I laughed, I swooned, and I missed the characters after I finished the book!
The Duke Who Didn't is book 1 in the Wedgeford Trials series. Wedgeford is a small British town and the majority of its inhabitants have immigrated. In this setting, the characters don't have to face daily racism and could find a truly fulfilling Happily Ever After. They do encounter racism outside their town though and it plays a big part in their motivations and the secondary storyline.
Audiobook Production of The Duke Who Didn't
The audiobook production is amazing! Mary Jane Wells is the perfect Chloe while her voices for the other characters are all on point as well. I loved her Jeremy as well as her intonations. And the banter and dialogue in particular are so fun to listen to! This is a super entertaining audiobook.
Recommending The Duke Who Didn't by Courtney Milan
This audiobook is without a doubt Audible-credit-worthy! If you're looking for a witty and captivating Historical Romance, this is your book. It's definitely on my list of favorites in 2020.
Get the Audible book on Amazon**
Reviews
/