Romance heroines who like to sleep around
Firstly, let me state how difficult it was to find a title for this blog post.
Somehow, the word "manwhore", while of course not being super positive, is an entirely different category to "slut".
Maybe it's just me, maybe this is common among Romance readers. I so regularly encounter the word manwhore as a description for the super sexy Romance hero I'd absolutely root for. It just isn't that much of a derogatory term considering who it describes.
Aside from using long descriptive phrases like "sex-positive women" or "women with many sexual partners" or "women who sleep around", how am I supposed to call this kind of Romance heroine if I want to avoid the word "slut"?
Womanwhore?
Female Manwhore?
Genderbend Manwhore?
Okay, sorry, I can see how this is getting a bit silly. And maybe it's just me who feels the words "slut" and "manwhore" have different connotations.
I'll just go with the descriptive phrases for the rest of the article.
Keeping things balanced
When I prepared the list of audiobooks with dogs, I started (and soon stopped) listening to some books that sparked a rambling post in which I complained about the number of new Romance novels featuring misogynistic manwhores and doormat virgin heroines.
To balance things out and as palate cleansers, I looked for Romance with a reversal of the usual manwhore/virgin trope, namely: Heroines who are sexually active with different partners and male protagonists who are celibate or a virgin.
But unlike the very popular trope of manwhore and virgin, this one is a bit of a unicorn. I found three audiobooks. But I decided against recommending book #3 because I couldn't shake the feeling that it was slut-shaming and that the heroine was punished and felt she deserved it.
However, the following two books are great!
The Shameless Hour
written by Sarina Bowen, narrated by Saskia Maarleveld and Nick Podehl
First things first, how ridiculously hot is that cover? I rarely comment on covers but this one works for me. And that it shows the heroine instead of the hero fits the trope.
Bella is having the good time at college that we usually only read about when it's the hero who's doing it. She isn't looking for a relationship and simply wants to have fun.
Well, it's about to bite her in the ass. And while it did bum me out a little, that she couldn't have that good time without consequences, like our manwhore heroes always do, she sure turns it around.
I really felt with this wonderful, tough girl. And Rafe, the alpha male virgin, is a wonderful counterpart.
All the recommendations for these two and yet another reason why I really need to finish the Ivy Years series**.
Nick Podehl and Saskia Maarleveld were amazing narrator choices. Their voices are perfect for college students and their narration brought the characters to life. They're both really captivating and pleasant to listen to.
You can pick up the audiobook for The Shameless Hour in a super cheap deal with the ebook. Even cheaper with Kindle Unlimited!
Sweet Obsession
written by J. Daniels, narrated by J. F. Harding and Holly Chandler

Between the title and the cover, I was sure I had veered into "sweet Romance" territory here. Not exactly what I had in mind when looking for sex-positive women! Alas, this is absolutely not a sex-free story.
Just like Brooke, we have to wait. And wait. But then, things sure get hot between her and the Aussie.
I think it's noteworthy that her choice to look for hook-ups doesn't have big negative consequences for Brooke. Instead, it's a fun dynamic of her looking for a good time between the sheets, and Mason looking for his one true forever love.
He's not a virgin though, he just doesn't want an affair.
J.F. Harding has an adorable Australian accent and Holly Chandler is the perfect bouncy Brooke. I had a great time listening to them!
You can pick up the audiobook for Sweet Obsession in a super cheap deal with the ebook. Even cheaper with Kindle Unlimited!
I hope you'll enjoy The Shameless Hour and Sweet Obsession! And feel free to share your recommendations for other Romance novels with this trope.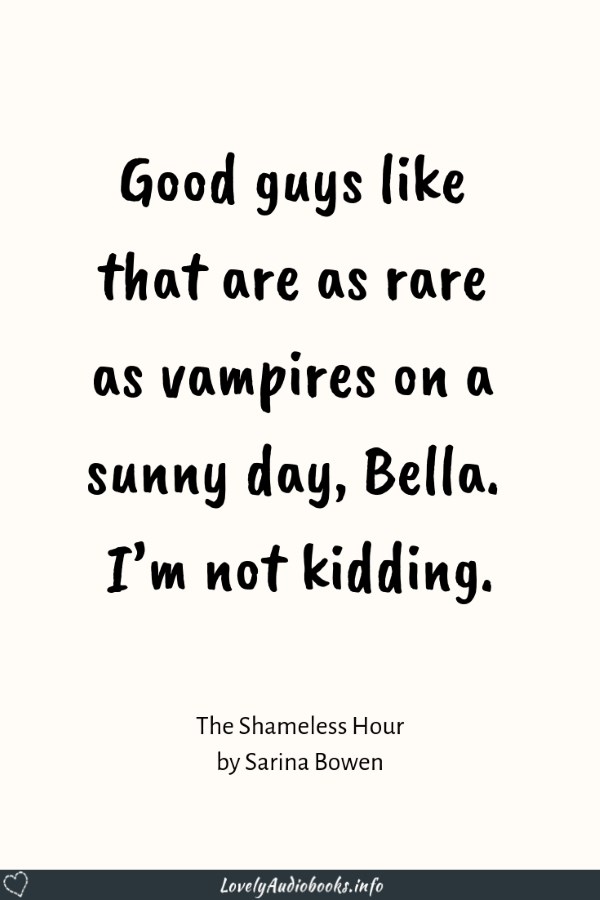 Review, Discussion
/