Review: Trickery (Curse of the Gods 1)
by Jaymin Eve and Jane Washington
narrated by Vanessa Moyen
This book was not at all what I expected. It was so much better! It instantly became one of those series that I recommend to everyone, whether they asked for it or not.
Based on the publisher's summary I expected a pushover silly girl and some cruel slave driver alphas. Silly me!
I have listened to Jaymin Eve's "Supernatural Prison" series**, so I could have known better. But hey, I like being positively surprised. It beats getting disappointed.
After tagging this book on Goodreads I found out that we call this obscure Romance subgenre "Reverse Harem". Sounds good, right? That's what I thought. Originally I had expected that we pair one of our five Abcurse brothers off in each of the five books. Instead, the story is entirely focussed on our heroine Willa who simply gets ALL the Abcurses! Whuuut??
The story takes place in a full fantasy setting, in the land of Minatsol, where we have three groups of beings: the dwellers, lowly servants without any special abilities; the sols, magical beings hoping to ascend; and the gods who live in Topia. Now, Willa is just a dweller, and a particularly bad one at that. She seems to be cursed by the gods. And she stumbles and falls through life causing chaos and accidents wherever she goes. However, she is not at all a pushover or silly. She actually holds her head high and accepts herself the way she is, not caring much at all what anyone else thinks, even if it's sols or gods. She meets anyone head-on. I believe the right words to describe her are: "She does everything with panache".
With my background of High Fantasy, I admit, I was at first unsure how to feel about a full fantasy setting with modern language. I was wondering if at some point it would feel too sci-fi or the language would seem silly. But it all worked seamlessly and I was fully immersed in the story after a few minutes already. This is, I'm sure at least partly, due to Vanessa Moyen filling Willa with so much life. I could picture her strutting through her village, stumbling over something, righting herself and just strutting on, head held high! The narration is so fitting in portraying Willa as someone who remains light-hearted despite her serious and dangerous life as part of the slave/servant class. I also liked the male voices and the accents Vanessa Moyen uses for some characters. They seem fitting and it's pretty easy to keep characters apart during dialogues.
This book made me a bit of a Vanessa Moyen fangirl and I will definitely pick up more books narrated by her.
One more thing I find noteworthy: In this first part Jaymin Eve and Jane Washington didn't go for the usual Messiah story. There was no: "But you shouldn't be able to do that!". While I have only finished books 1 – 3 of the series, I get the impression that Willa gets nothing handed to her and has to work hard for everything she achieves (or… you know… trick herself there while going through a lot of physical pain and a little bit of embarrassment). She doesn't seem to be a Messiah and is definitely not a Mary Sue.
So, if you at all like Fantasy, do pick this up! I will definitely finish this series and am very much looking forward to the last part coming out as an audiobook.
Publisher's summary

Willa Knight: Dweller. Slave. Non-magical being.

In Minatsol, being a dweller means that you are literally no better than dirt. In fact, dirt might actually be more useful than Willa. Her life will be one of servitude to the sols, the magic-blessed beings who could one day be chosen to become gods.

At least her outer village is far removed from the cities of the sols, and she won't ever be forced to present herself to them… Until one small mistake changes everything, and Willa is awarded a position to serve at Blesswood, the top sol academy in the world – a position that she definitely did not earn.

Under the sudden, watchful eye of the gods, she will be tasked to serve the Abcurse brothers, five sols built of arrogance, perfection, and power. They are almost gods themselves, and under their service, she is either going to end up sentenced to death, or else they are going to ruin her so badly that she will wish for it.

Either way, she is in trouble.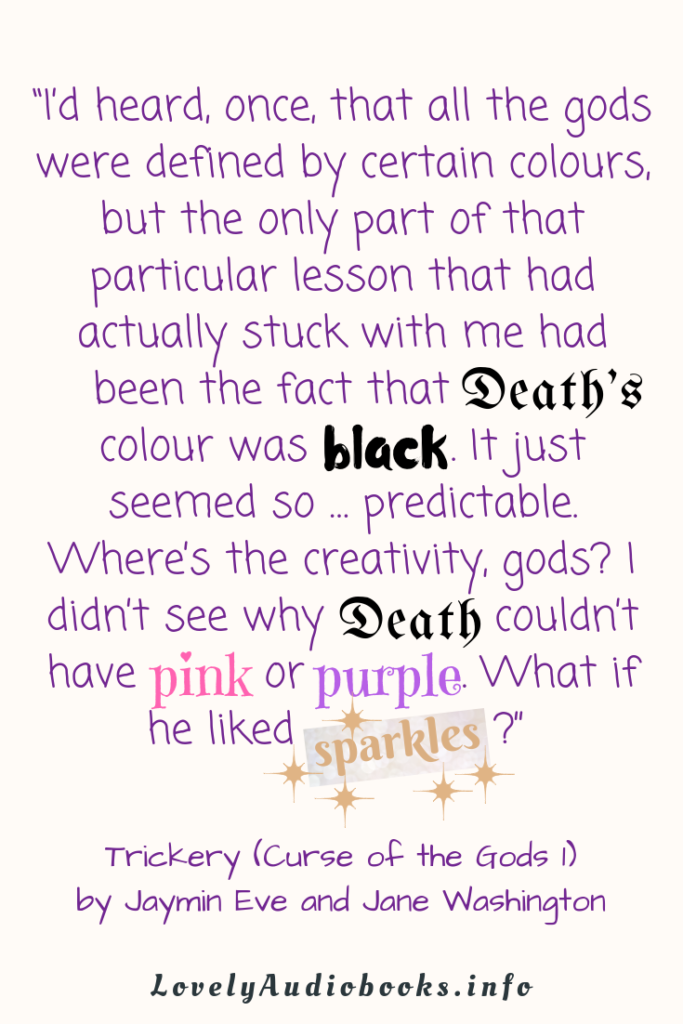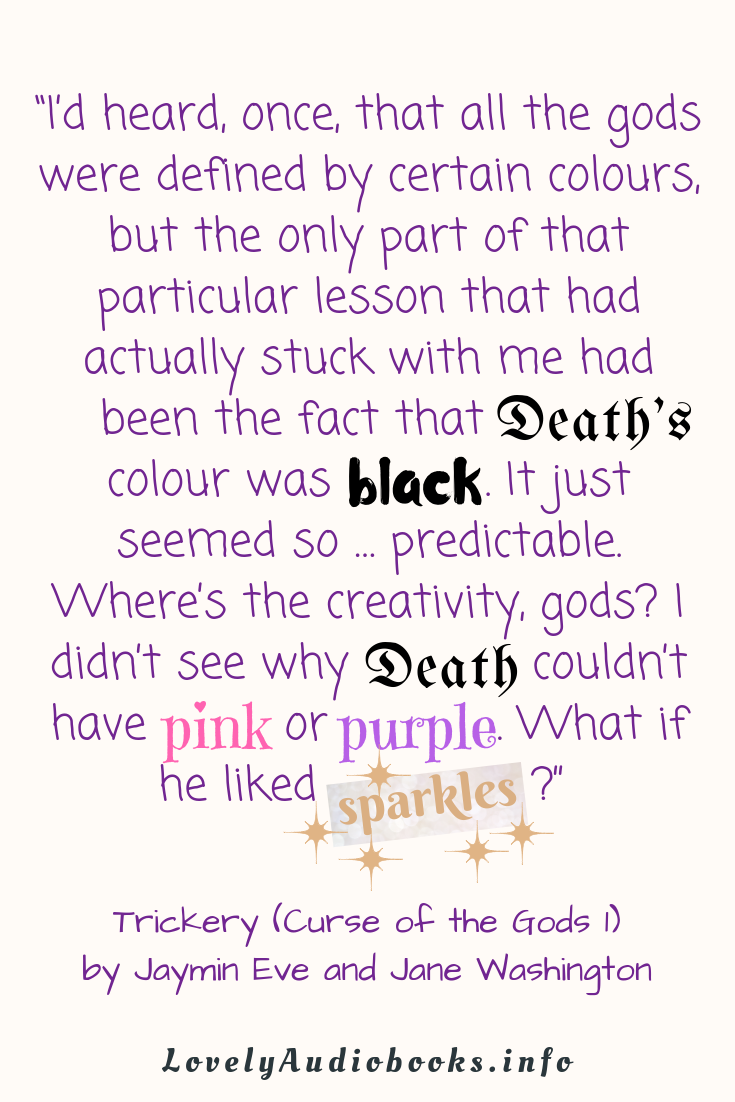 Oooh-Factor:
This is a tricky one (see what I did there? 😀 ). There is a lot of sexual tension, but no explicit scenes. It's also at no point awkward that the five guys are brothers, don't worry!
Audio-Factor:
Audiobook > Book
Vanessa Moyen is Willa!!
Pick it up here:
All 5 parts of this series are "read for free" with Kindle Unlimited:
Trickery**, Persuasion**, Seduction**, Strength**, and Pain**.
Books 1-4 are out on audio and they all have Whispersync deals. So you can pick up the audiobook cheaper when you get the ebook.
Currently, book 3 is in the Audible Romance Package**.
If this series alone doesn't convince you, read my guide why you should definitely subscribe to Kindle Unlimited or the Audible Romance Package: HERE.
Review
/