How did I only now start reading Talia Hibbert? I feel like I've lost YEARS of reading pleasure! Untouchable was so good. So, so good!
This book just made it onto my "I'll recommend this always and at every opportunity"-list. And, of course, I've continued with the Ravenswood series right away after finishing Untouchable.
Untouchable
written by Talia Hibbert, narrated by Rupert Channing
About Hannah, Untouchable's Heroine
Hannah is a quirky overthinker and… well… to be honest, I could so very much identify with this character. That thing with her not being very comfortable around people but having no problem talking to kids? Yeah, been there, ignored that adult to talk to the kid instead 😅
I also loved Hannah's sense of self-worth, how she didn't argue about certain things because she knew she deserved them. And she absolutely cracked me up!
The Story
Untouchable is a beautiful nanny romance and one of my favorite single parent romance books. Hannah and Nate both struggle with their forbidden love and try to fight it. On top of that, it's a small-town setting and people are very talkative and very judgmental indeed.
But I loved everyone's conviction to stay in their home town and make it all work. Not just Hannah, but also her sister Ruth from the first Ravenswood book, and, of course, Nate who had fled the little town but recently returned.
The story had a perfect mix of all the feels. It wasn't too angsty but the characters faced some serious problems. There was a lot of fantastic banter and some very hot sexy times. The happy ending was perfect and made me feel all warm and fuzzy.
Rupert Channing's Narration
I have somewhat mixed feelings about the narration. Rupert Channing has a fantastic accent and beautiful voice. But he is more of a reader than a voice actor. So I sometimes got a bit confused during dialogue.
And I'm generally partial to having two narrators. Although, given that this is a third-person PoV, only having one narrator makes sense.
But I will very much dream of a Talia Hibbert duet narration audiobook 😍
Recommendation
Yes, I'm wholeheartedly recommending Untouchable by Talia Hibbert to absolutely any Romance fan. It's a must-read imho!
Talia Hibbert is one of my all-time favorite authors but she's also specifically on my list of British Romance authors I love!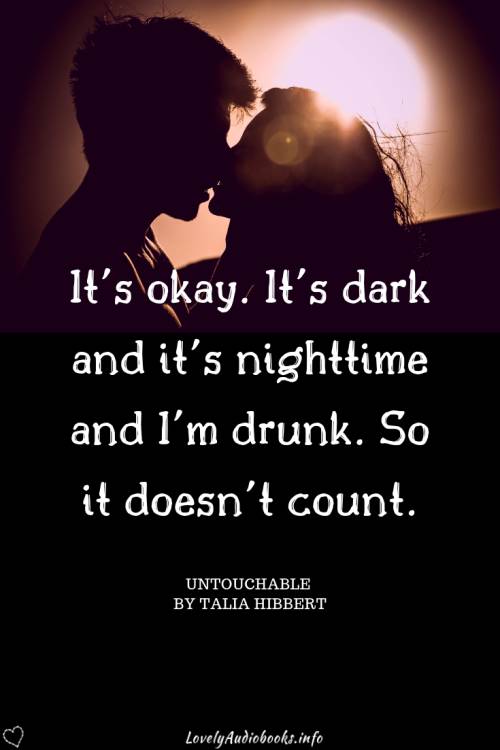 Publisher's Summary

What happens when a bad boy becomes a man?

Nate Davis didn't plan on returning to his hateful hometown. But then, he didn't plan on being widowed in his 20s or on his mother getting sick, either. Turns out, life doesn't give a f–k about plans.

Hannah Kabbah thought her career in childcare was over. After all, no one wants a woman with a criminal damage conviction watching their kids. But when her high school crush returns to Ravenswood with two kids in tow, she gets the second chance she never dreamed of.

She also gets to know Nate – the real Nate. The one whose stony exterior hides aching vulnerability. Who makes her smile when she wants to fall apart. Who is way, way more than the bad boy persona he earned so long ago, and way too noble to ever sleep with the nanny.

So it's a good thing she's completely over that teenage crush, right?
Review