We Met in December by Rosie Curtis is a slow-burn Romance that takes you on a trip to London.
The Story
I enjoyed Rosie Curtis' writing style with its thrown in thoughts (you know, like this thing I do, too, where I add brackets and then ramble on about this other important thing I wanted to talk about). It stood in nice contrast to the rather somber atmosphere of the story. Both protagonists seemed very melancholic throughout the year the book covers.
For me, this book was a story about coming to terms with adulthood as a millennial. Jess was waiting for this moment when she would finally feel like an adult. She's 29 but not much in her life was in her control. In one scene that I found very noteworthy she's hanging out with her friends and one of them mentioned she wanted to get married and get pregnant. Jess screamed something like: "But you're only 30!" I wouldn't say Jess was generally acting immature, just extremely insecure which makes sense considering she didn't feel she has achieved much in her life. It made me feel for her and I think this is a struggle many people around this age can on some level identify with.
Overall, I liked Jess' journey. She matured in subtle ways throughout the story.
But I felt that plotline was or should have been the actual story and not the Romance between Jess and Alex. We Met in December reads more like a wintery Women's Fiction than a Christmas Romance.
London
I might or might not have binged Brooklyn 99 lately, so let me put it like this – London is really the third main character in this book.
I loved the descriptions of London in winter. They were very vivid and beautiful and put me in a perfectly wintery mood.
The Romance
For me, the blurb overstated the connection between Jess and Alex early in the book. She found him ridiculously attractive, but they didn't really have a moment early on. This is a very, very slow slow-burn Romance.
Jess' crush developed slowly, she was hopeless that anything could come of it (which makes sense because her feelings were mostly unrequited for a long time). So she didn't even spend that much time thinking about Alex in the first half of the book.
I loved the parallels in their lives, it was heartwarming to see them recover from heartache and giving their lives new directions. It's such a courageous thing to do and very inspiring.
The Narration
Jessica Preddy is an actress with solid audiobook experience. I'm not entirely happy with the voice she picked for Jess though. While it makes sense to give her a more girly voice, it also emphasized aspects of the character that I found annoying. I listened to samples of other audiobooks by this narrator and liked her deeper voices more. Alex is narrated by Finlay Robertson, a British actor.
Thoughts
For me, We Met in December by Rosie Curtis wasn't the Christmas Romance I expected. I think this book would have looked better as Women's Fiction. I felt like Alex's point of view didn't add much to the story while Jess' journey was the focus and a lot more interesting to me than the extreme slow burn.
With that said, if you love unrequited love slow burns and stories that take you on a trip to a beautiful place, I think you'll have a good time with We Met in December.
Looking for Christmas audiobooks to listen to in December? Check out the best in Audible Escape!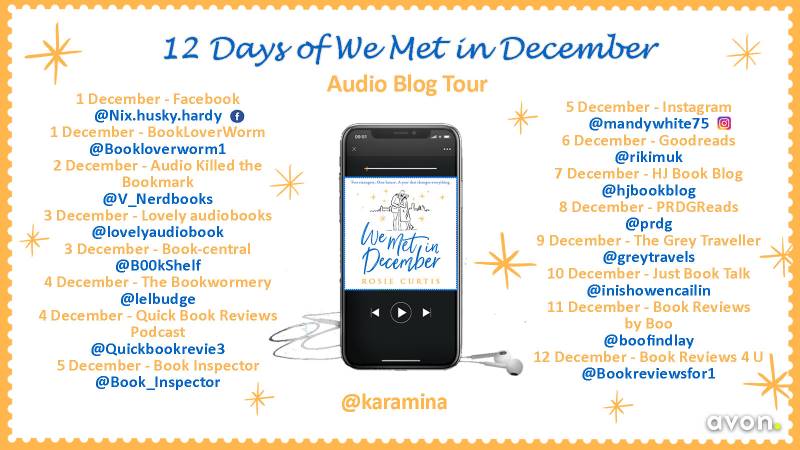 Thank you, Avon UK, for providing a free copy of this audiobook!
Review
/