… Because Unlimited Audiobooks are only really good if you get Quality!

When I first found the Audible Romance Package, I instantly fell in love with it. It was exactly what I was looking for.
Like Netflix, but for audiobooks. Truly unlimited listening of awesome Audibles!
The Romance Package probably had a big part in me starting this blogging adventure, too. So, Lovely Audiobooks has focussed a lot on the Audible Romance Package in the last months. And there's a good reason for that. Actually…. 5 good reasons!
But… there's always a "but", isn't there? I don't love everything about it yet. There is some room for improvement on Audible's side. We'll get to that later.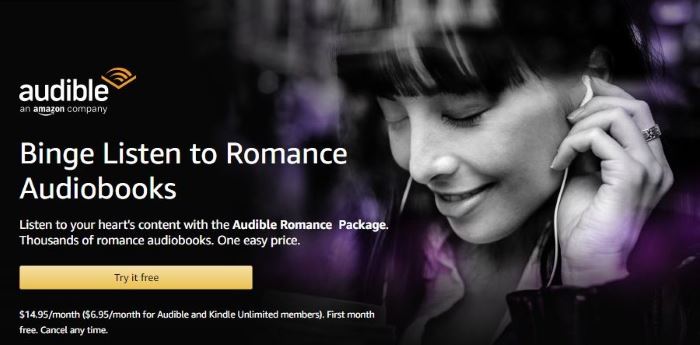 #1 Affordable Binge-Listening
There is really no similar offer with this much choice of high-quality Audible audiobooks. It's $6.95 a month if you have an active Audible or Kindle Unlimited subscription ($14.95 / month without). And you get access to over 14,000 audiobooks.
Kindle Unlimited has only a fifth of the number of audiobooks. The other competitors are, firstly, Library apps. But those aren't available to everyone and have much more limited choices. And, secondly, free audiobook services like LibriVox. But those simply don't compare in regard to production and narration quality. Not to mention the small catalog and lack of bestsellers.
So there's really nothing that comes close to this deal with regards to price, choice, and quality.
#2 There's not only Romance in the Romance Package!
About 4,000 audiobooks in the Romance Package are Contemporary Romance books. The other 10,000 are not only other Romance genres, like Paranormal or Historical, but also books that solidly belong to another genre entirely. They usually have a love story only as a subplot.
If at some point, you feel like listening to something entirely different, your Romance Package subscription still has lots of options for you. Simply browse around on the Audible website and toggle "Romance Package" in the left sidebar. And check out my post with non-Romance audiobooks in the Romance Package.
For example, I found a lot of awesome Cozy Mysteries in the package. I've really fallen in love with this genre and greatly enjoyed the books I got through the Romance Package.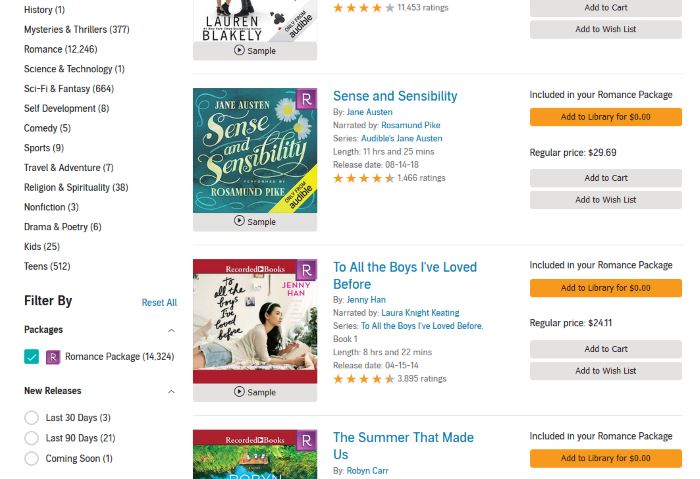 #3 Bestselling authors
A lot of popular bestselling authors make backlist books or even newer releases available. Among others, you can find many books from Robyn Carr, Penny Reid, Helen Hoang, Jenny Han, Sylvia Day, and yes, also Jane Austen! Lauren Blakely regularly adds newly released audiobooks, too, which I think is really great.
But it's also the perfect place to find new or new-to-me authors. Sometimes I get audiobooks that are not exactly my usual taste. And many times, I've been extremely positively surprised and could find many new favorites this way.
There has been some discussion about how audiobook creators are paid for their audiobooks in the deal. And I think it's good to know as a listener that authors (and in some cases narrators) are paid per listened minute. So, even if you can't afford to buy all of your favorite authors' books, you can support them by listening to their Romance Package audiobooks more than once.

#4 Famous Narrators
There are so many amazing narrators to be listened to! Not just famous actors like Richard Armitage (check out his audiobooks**) or Blair Underwood (and his audiobook**), but also the superstars of Romance narration, like Andi Arndt, Sebastian York, and Zachary Webber who have countless audiobooks in the deal. They really know how to bring a story to life and I love having these insanely sexy and wonderful voices in my ear.
#5 Truly Unlimited!
The Audible Romance Package is a real unlimited audiobooks subscription. You don't get throttled if you listen to "too many" books because there is no "too many". While you can only borrow 10 audiobooks at a time – Kindle Unlimited has the same rule – you can listen to those 10 in a day and get another 10 right away. And if you change your mind, you can simply give some of your current 10 back and get other audiobooks instead. It's entirely hassle-free.
You can listen to as many audiobooks as you like. Really. As many as you want!
But… What I don't quite love about the Audible Romance Package yet
And now, the one thing that is not yet all lovely.
The Romance Package prides itself in the many new and fancy ways you can use to search for audiobooks. You can browse by trope, steaminess, or character type.

In theory, this is nice. But it is still very tedious to browse the Romance Package on the phone. The suggestions you get in the app are very limited and rarely updated. And it's difficult to find an audiobook if you didn't pick it out somewhere else, like Goodreads, and can search for the title.
On the computer, it's a bit easier. But if you feel like, for example, an enemies-to-lovers Romance and go to that story theme, you will find hundreds of unsorted and unsortable audiobooks.
While Audible is trying new ways for us to browse through 14,000 audiobooks – and the ideas for this are great – there definitely need to be many more options to finetune the search results or combine searches (like looking at friends-to-lovers audiobooks and adding the character type "athlete" and the steaminess level "hot damn").
The bottom line is, that I really love the Audible Romance Package and recommend it all the time. Not only to veteran audiobook fans but also to people who are new to listening to books and might want to have a look around to see which authors, narrators and narration styles they enjoy. And if I'm not sure what to listen to next, I simply browse through the many amazing recommendations in the Romance Audiobook Binge Facebook group. I have found many new favorites there.
The Romance Package is currently only available from Audible.com, but you can sign up to it from anywhere in the world. Check out my guide on how to get the Romance Package outside the US.
Every month, I make a list of all the newly added audiobooks in the Romance Package. Check out the ones from January and February 2019.
And take a look at my absolute favorite audiobooks in the Romance Package.