The first time I saw the cover of You Had Me At Hola by Alexis Daria I knew I was a goner! Rarely have I been this in love with a cover before. And I'm absolutely thrilled to report that the actual story and the audiobook of this Romance novel are even better than I had dared to hope!
And yes, I picked this book up solely because it looked so pretty. I'm that kinda reader and I'm not ashamed to admit it! I had no idea what it was about. But set in the world of telenovela and soap opera actors, the look and feel matched perfectly…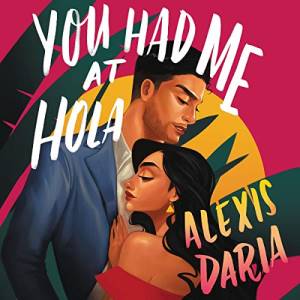 **The marked links and book covers on this page are affiliate links. If you use them to purchase something, I earn a fee at no additional cost for you. Disclosure**
You Had Me At Hola
written by Alexis Daria
narrated by Seraphine Valentine
Get the Audible book**
Or buy it on Libro.fm** (The first audiobook is free!)
Leading ladies do not end up on tabloid covers. After a messy public breakup, soap opera darling Jasmine Lin Rodriguez finds her face splashed across the tabloids. When she returns to her hometown of New York City to film the starring role in a bilingual romantic comedy for the number one streaming service in the country, Jasmine figures her new "Leading Lady Plan" should be easy enough to follow – until a casting shake-up pairs her with telenovela hunk Ashton Suárez. Leading ladies don't need a man to be happy.

After his last telenovela character was killed off, Ashton is worried his career is dead as well. Joining this new cast as a last-minute addition will give him the chance to show off his acting chops to American audiences and ping the radar of Hollywood casting agents. To make it work, he'll need to generate smoking-hot on-screen chemistry with Jasmine. Easier said than done, especially when a disastrous first impression smothers the embers of whatever sexual heat they might have had. Leading ladies do not rebound with their new costars.

With their careers on the line, Jasmine and Ashton agree to rehearse in private. But rehearsal leads to kissing, and kissing leads to a behind-the-scenes romance worthy of a soap opera. While their on-screen performance improves, the media spotlight on Jasmine soon threatens to destroy her new image and expose Ashton's most closely guarded secret.
You Had Me At Hola is a very engaging story. First, we learn a lot about Jasmine, her life, her career, and her family. I enjoyed this character very much because she's at the same time a dreamer and very down to earth. She's insecure in many aspects, but she also goes after her goals. She develops a crush on Ashton without knowing him at all. And while some people might find that weird or even shallow, I totally get it. Sometimes, you just feel something towards a person even though you don't know them all that well yet. They just inspire all these ideas of how it could be to be with them. And I thought Alexis Daria portrayed that so well!
And I absolutely loved the "leading lady plan"! If you want to reach a goal and make a change in your life, really consider the specifics that will help you get there. Consider your own reactions and behavior, and adjust them based on where you want to go… That's some serious wisdom and life advice there.
Secondly, there's Ashton… His story has a very different tone from Jasmine's. Come to think of it, the writing here is really amazing because Ashton's chapters put me in an entirely different emotional and mental state than Jasmine's point of view. His feelings also develop very differently from hers and are more based on obvious, palpable things like her looks and behavior, while her's are more based on her fantasy.
In addition to the romance between Jasmine and Ashton – and what's going on with their families – their story is also interspersed with the plot of the telenovela they're filming together. I enjoyed these parts very much! They didn't take up too much space to interfere with the main romance, but it was an intriguing plot and the parallels to the main love story influenced Jasmine's and Ashton's decisions.
Audiobook and Narration
Seraphine Valentine did such an amazing job with the narration for You Had Me At Hola! While my Spanish is rustic at best and I can't comment on the actual quality of the accents and Spanish pronunciation, I found it all extremely pleasant to listen to. She really pulled me into the story and brought the characters to life. While – generally speaking – I prefer two narrators for dual point of view story, Seraphine Valentine portrayed Ashton's chapters perfectly and it was easy to distinguish whose point of view it was and which character was talking during dialogue scenes. She also changed the tone and atmosphere during those parts that were set in the TV show itself.
Recommending You Had Me At Hola
You Had Me At Hola by Alexis Daris is simply a must-read Romance novel of 2020! No doubt about it. This is an amazing story with a great audiobook production and I believe most of my fellow Romance readers and listeners will have a wonderful time with this outstanding book!
Get the Audible book**
Or buy it on Libro.fm** (The first audiobook is free!)
Thank you, HarperAudio, for giving me a free copy of this audiobook! It was my decision to write a review.
Reviews
/