Let's start with the short answer to your question Is Scribd Free: No, Scribd is a paid book subscription and costs a monthly fee after the free trial!
But once you sign up, you can read and listen to lots and lots of ebooks and audiobooks from their catalog. So, the next question is, is Scribd worth it? Let's take a look at what they have to offer…
**The marked links and book covers on this page are affiliate links. If you use them to purchase something, I earn a fee at no additional cost for you. Disclosure**
Scribd and I
For the sake of full disclosure and because I always find this to be important info when reading reviews on blogs, yes, I am a Scribd affiliate.
However, firstly, I'm also an affiliate of Audible, Audiobooks.com, Libro.fm, and a bunch of other audiobook services because this is an audiobook blog, and it's kind of the logical thing to do.
So, in that light, there's no specific reason for me to recommend Scribd instead of another audiobook subscription.
Secondly, I use Scribd A LOT myself! I have a bunch of subscriptions and also get free audiobook review copies. But I use Scribd the most because they have a really fantastic catalog.
They have all audiobooks by Harper Audio and Harlequin, most Macmillan and Simon & Schuster titles, plus a ton of books from independent publishers and self-published authors, as well as their own Scribd Originals.
While the Scribd app tends to be a bit temperamental on my Android tablet (hello, empty battery), I'm having a great time with it and enjoy it very much!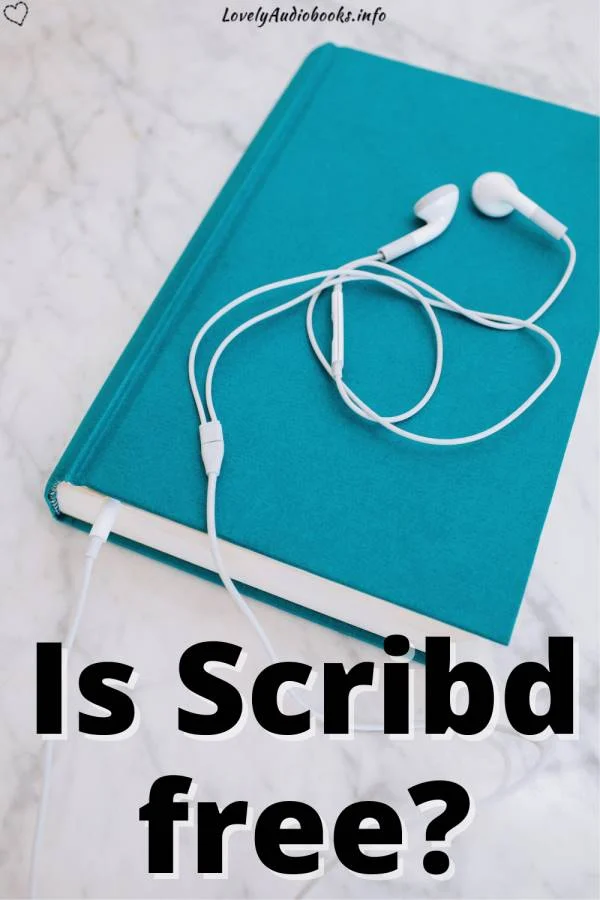 Is Scribd free?
The term "free" is absolute magic for promotions. And it is not entirely out of place in relation to Scribd. Firstly, if you haven't tried out Scribd before, you can get a free trial**. And that's an actual free month!
You get the full benefits of the subscription without having to pay anything. If you like, you can cancel right away after signing up and enjoy your free 30 days without having to worry about anything.
Secondly, Scribd works very differently from the Audible credits system. Books in the Scribd catalog are free for you as a subscriber. You don't need to spend audiobook credits or buy ebooks.
It's similar to Hoopla in the way it works. And it has an excellent catalog!
How Much is Scribd?
Scribd costs $11.99 or €10.99 (plus taxes) per month after the free trial. For that fee, you get access to the entire Scribd catalog of ebooks and audiobooks. There is absolutely no additional cost involved.
Is Scribd safe and legit?
Scribd is definitely a legit company. It's been around for 15 years and has millions of users.
Authors and publishers add their books and audiobooks to Scribd either directly or through distribution services. When someone reads or listens to a title, the author receives royalties.
Scribd also has a document upload feature which sometimes causes confusion because there are documents with book covers. And well, sometimes, there have actually been pirated books. The company has implemented a system that should protect copyrighted works from appearing as PDF on Scribd.
To me, personally, it would seem like the logical choice to just get rid of this functionality since it doesn't seem to serve much of a purpose that users can upload their own documents. However, the document upload was the original purpose of Scribd. It was meant as a way to share academic papers and other written content without waiting months and months for publishing.
So yeah, while one of Scribd's functions has at times been misused by users of the service to spread pirated content, Scribd has always been above board, has taken steps to ensure no copyrighted content is wrongfully shared, and that their service is legit.
How does Scribd work?
Scribd is an ebook and audiobook subscription service. You pay a monthly fee, and then you can read or listen to any of the books in the Scribd catalog.
The Scribd app is available on iOS and Android app stores. You can also access the books you have saved through the web browser on your computer.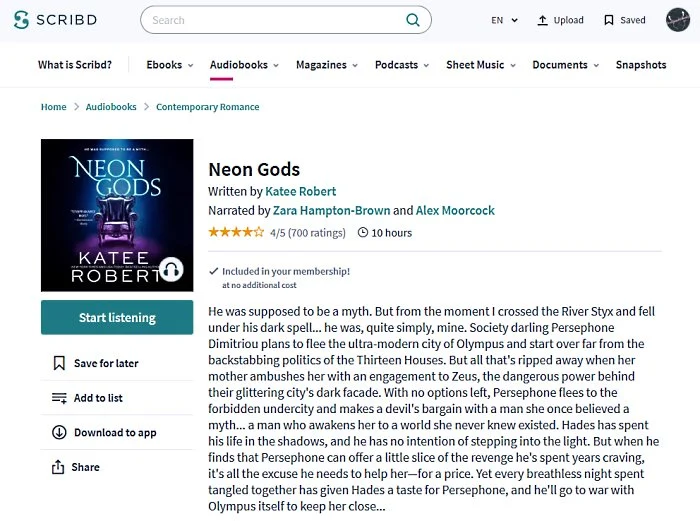 Your account syncs across all of your devices, so you can pick up where you left off no matter what device you're using.
Scribd is not an unlimited subscription, but almost. What does that mean? Well, here it gets a bit complicated. Scribd is very vague about this, so let me try my best to explain how Scribd is limited (but also not).
If you like to listen to audiobooks, you can listen every day with Scribd. However, the newest Harper Audio release might be considered a premium title, and you don't get an unlimited number of those.
So, when you're using Scribd a lot in your daily life, you realistically might be able to listen to a new Simon & Schuster release and two of the newest Harper Audio titles.
But then audiobooks in your library will become unavailable until the next billing period. From now on, you can only get… well… let's call them second-tier audiobooks. Non-premium titles. An older Harper Audio, for example. Or indie-published audiobooks. Or Scribd Originals.
You can still listen to a ton of audiobooks and read ebooks, and in that sense, Scribd feels like an unlimited subscription. You can always listen to and read something.
But it is limited, in so far that you can't always listen to all the specific titles that you might want at that moment.
But is it worth it?
Since you probably landed here because you wanted Scribd for free, it's a bit tricky to answer this question.
If you struggle with paying $11.99 per month for books and really need free options, you could check out my guide on how to get audiobooks for free online (these are all legal websites!). You will find a lot of options there that will probably fit your needs better than Scribd.
But if you can afford $11.99 per month for ebooks and audiobooks, then my answer to you is: Yes, Scribd is worth it! I get a ton of listening out of it every month, even if some titles are, at times, restricted.
It's a lot more affordable than most other audiobook subscriptions and in the same price range as Kindle Unlimited. I can find a majority of titles there that I'm interested in. (The big exceptions here are anything from Penguin Audio, as well as Audible Studios productions.)
Plus, Scribd has its own exclusive audiobooks that you can only find here.
The bottom line is that I think Scribd is a great digital library subscription, and you should definitely give it a try with a free 30-day trial**!
While I, unfortunately, couldn't quite provide you with a fully positive answer to the question "Is Scribd free", I hope I could still help you form an opinion on whether Scribd would be worth it for you.
Audiobook Subscriptions
/