Hello there! I'm so happy that you want to start listening to audiobooks! I'd like to help you get started and show you how to find your perfect first audiobook(s).
You are likely already aware of most or all of the benefits of audiobooks. And maybe you already tried them but found you struggle with the format because your mind keeps wandering. Don't worry, we'll get to that later!
Finding your perfect first audiobook…
The Best Story
When you're trying out this new-to-you book format, it's the perfect time to reread a story you absolutely love and to experience it in a new way! There's a big advantage to this. If you ever lose focus for a moment, you don't get confused by the story and can get back into it quickly without having to skip back. That way, you won't get frustrated as easily by your audiobook.
And if rereading is a total no-go for you, then it should at least be a book by one of your favorite authors. When you're just starting with audiobooks, it's not the best time to check out new-to-you authors. I've seen so many people say they didn't like audiobooks only because they didn't like the author or narrator they listened to first!
The more you're sure you will enjoy the story and be captivated by it, the better for "experiment audiobook"!
By the way, if you are a reader of ebooks, Amazon has this nice feature in the Kindle App called Audio Upgrade**. You click on there and get a list of all the audiobooks that are available for the ebooks you already own. They are often offered at a reduced price and you can get some audiobooks for as little as $1.99!
Related article: How to get Audiobooks cheaper or even for free!
The Best Narration Form
When picking your audiobook, the way it's narrated is just as important as the story. So, let's talk about narration forms shortly!
Full Cast
This is like listening to a movie. Every main character is narrated by a different voice actor. Full-cast productions are often abridged (shortened versions).
Duet Narration
Consider this "full cast light". In duet narrations, a narrator with a manly voice reads all male-sounding characters and a narrator with a feminine voice reads all the female-sounding characters.
Related article: How to find Duet Narration Audiobooks
Dual Narration
This is the most common form of Romance audiobooks. The books often have two points of view and since each narrator just does her or his part in their own studio, this is easier to produce than the previous forms, which require narrators to record together in one studio. However, this is also the form that I found the most difficult to get used to since the characters sound different in each chapter. I recommend passing on dual narration audiobooks until you feel more comfortable with the format as a whole.
Single Narration
This is closest to having someone read a story to you. Depending on the narrator, they might do more voice acting or more reading.
Now, for beginning listeners and people who struggle with audiobooks, I recommend either a full-cast or a single narration audiobook. Some find it easier to focus on just one voice. But if you often follow TV shows without actually looking at the screen, full-cast might work best for you.
Of course, your favorite book might not be available in your preferred narration form. Full-cast stories, for example, are somewhat rare in comparison to dual or single narrators.
Just look up a bunch of your favorite books on Audible and see how they are narrated, or search for full-cast productions on Audible if this narration form caught your eye!

The Best Narrator
Don't buy any audiobook without listening to a sample!
Especially when it's only one or two narrators, you need to make sure you like their voices and reading style since they can differ immensely and depend on personal taste. Both Audible and Amazon show a button under the audiobook cover. Click on it to listen to a few minutes of the book for free.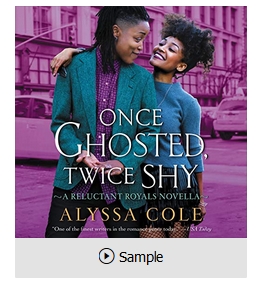 What if you already found you struggle with audiobooks…
First off, let me tell you that you're not the only one! People regularly tell me that they have trouble getting into audiobooks. But I can relate to the issue of keeping focused when listening. Even I have my moments of drifting away from an audiobook.
"I want to listen to audiobooks, but my mind keeps wandering…"
A really good audiobook is the one that YOU truly enjoy. And it will be much easier to focus on! Don't ask others for their favorite audiobooks. Go through the steps I described above and find something that fits perfectly for your individual taste and mood.
Focusing on audiobooks is something your brain gets used to. After a little while, your mind won't wander as much anymore (unless you're really bored by the story or have something important to think about). And you'll be able to follow the storyline even while doing other things at the same time.
But not every person can listen to every audiobook. Some people can only focus on nonfiction, others can't deal with more than one narrator. But I'm pretty sure that everyone who wants to listen to audiobooks will find a bunch they enjoy! 🙂
If you're the adventurous kind, you can take a look at my Audiobook Challenge! It covers a range of genres and narration forms so you can explore all kinds of different audiobooks and find the ones that work best for you. And don't worry, you can grab trial months for unlimited audiobook subscriptions, so it becomes very affordable!
Summary: How to Listen to Audiobooks!
First, decide if you rather want to reread a favorite story or try out full-cast.
Reread
If you decide you want a reread, search for the book on Audible. If your favorite is a dual point of view story with two narrators, please consider only picking that one up later on. Really, dual narration is more difficult to follow! Your brain will get used to the format pretty quickly and it will get easier to actively listen to audiobooks and follow alternating narrators.
Once you found a book, check out the sample. Do you 100% love the voice and narration style? Then it's a winner!!
But if you don't, rinse and repeat. Find a different book, listen to the sample. 🙂
Full-Cast
If you decide you want to give full-cast a try, search for that term in the Audible search bar. You'll get a bunch of hits of BBC radio productions and other full-cast audiobooks. Just browse around and find a story you're sure you will like. Listen to the sample to make sure you enjoy the sound of the voices and that it's a good production.
We are all creatures of habit and it's not usual to struggle when you start listening to audiobooks. But if you want to increase your reading time and have boring commutes or chores that you would like to make more interesting, audiobooks are absolutely perfect!
It's great that you want to give the format a chance and I sincerely hope that I could help you listen to audiobooks that you'll love. 🙂
Happy listening!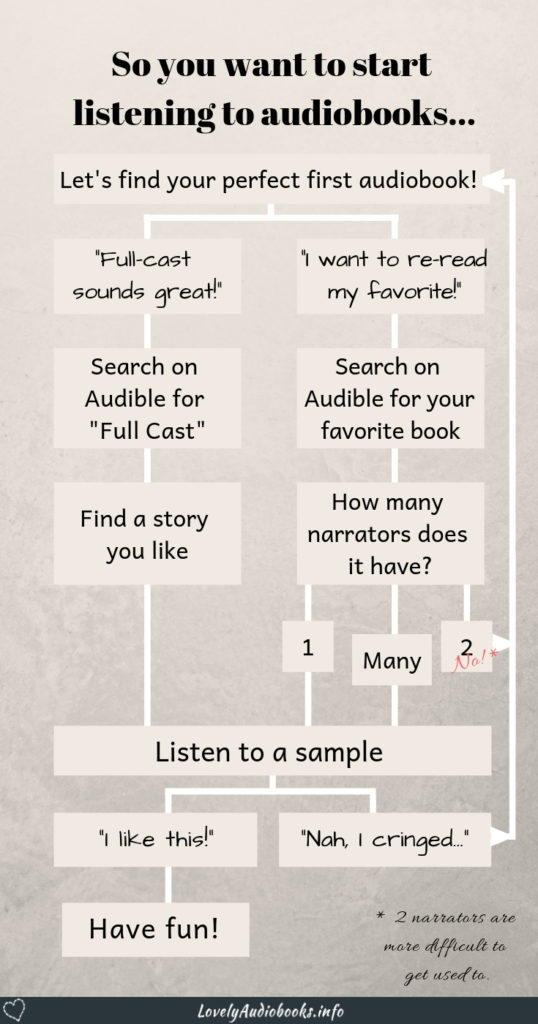 All about Audiobooks
/