Where they come from and why they're better than movies…
In the last 10 months as an audiobook blogger, I've come across some quite interesting little facts about audiobooks. And I bet you didn't know all of these yet either!
Whether you want to know more about becoming an audiobook narrator yourself, or just want some solid facts to tell the audiobook-haters around you, these 5 things are really useful to know for every audiobook fan.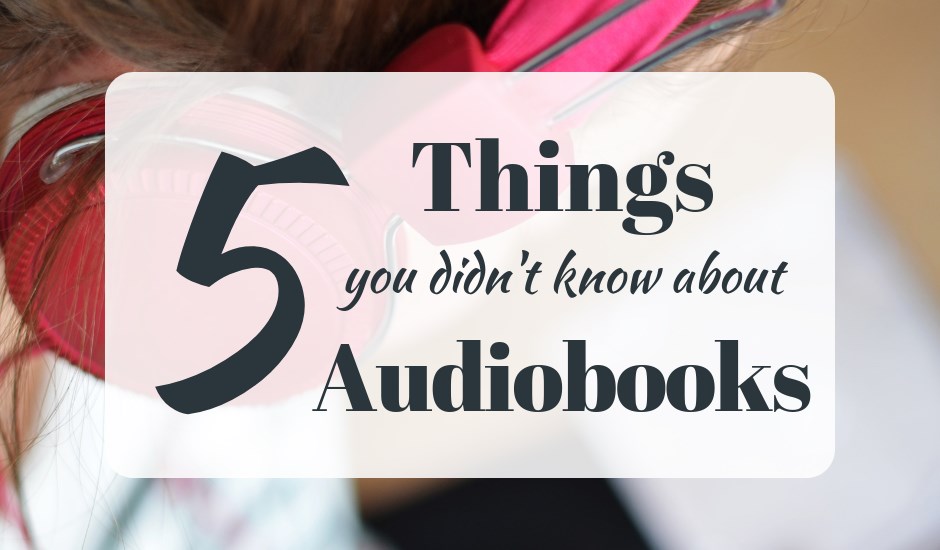 1. You, too, can become an audiobook narrator!
On LibriVox, everyone can volunteer to narrate, produce, or proof-listen to audiobooks. LibriVox is a project entirely made up of volunteers who produce audiobooks of classic literature that's in the public domain. The audiobooks are free to listen to. And they welcome contributors!
So, if 'narrate an audiobook' is on your bucket list, this is definitely the place to go. And if you are planning to pursue a serious career as an audiobook narrator, editor, or proof-listener, this might be a nice place to start, learn, and get feedback on your skills and technical set-up.
2. Audiobooks were invented for the blind!
I'm sure at one point or another, someone outright said to you or implied that audiobooks are for people who are too lazy to read. That's not at all their point.
While oral storytelling as a whole is a tradition as old as mankind, unabridged recordings of books were developed for the blind and for injured veterans.
Read more about the history of audiobooks and how they make literature accessible.
3. For your brain, listening to an audiobook or reading with your eyes is the same thing.
Your snobby relative is turning up their nose at your audiobooks? Well, next time, you'll tell them this!
Because who can judge better if audiobooks are "cheating" or "less than real books" than a Professor of Psychology who focussed his research on memory and learning?!
Daniel Willingham says that your brain does the same things with a story, whether you listen to it or read it. Because, as I also mentioned before, storytelling and listening are as old as mankind. The professor explains that reading, from an evolutionary perspective, came later and uses processes in the brain that were already there. It only adds the step of decoding the written letters. And for literate people, that's something that's basically automatic and doesn't require much effort.
Read the entire article why audiobooks aren't "cheating".
4. Most narrators actually work from home, and not in a fancy recording studio.
I'm sure you've seen pictures of famous actors narrating audiobooks in big recording studios. But most audiobooks – almost all audiobooks that are self-published or from smaller publishing companies – are actually recorded in small studios at home.
That doesn't change the fact that good audiobook narration is very, very hard to do (just ask the people at LibriVox!). Our favorite narrators have a special kind of magic that makes us want to listen to their story.
Not to mention their ability to read aloud – with verve – for hours and hours and hours… and hours.
In LibriVox, you can sign up for shared projects. And believe me, narrating only one chapter is already really hard and takes FOREVER! (I tried it…)
5. Audiobooks are more captivating than movies!
Did you know that audiobooks are more captivating than movies? Science says so!
I bet you didn't see this one coming! The University College of London conducted a study into people's physical emotional reaction to stories they watch as opposed to stories they listen to. I think this snippet from the abstract summarizes the findings very well:
Although participants self-reported greater involvement for watching video relative to listening to auditory scenes, they had stronger physiological responses for auditory stories including higher heart rates, greater electrodermal activity, and even higher body temperatures.

https://www.researchgate.net/publication/325888541_Measuring_narrative_engagement_The_heart_tells_the_story
Meaning, participants said they were more captivated by videos. But their bodies said they were more captivated by the audiobook. Listening to the story triggered a full-body emotional response which was much stronger than when participants watched a video.
And the researchers explain it like this:
We interpret these findings as physiological evidence that the stories were more cognitively and emotionally engaging when presented in an auditory format. This may be because listening to a story is a more active process of co-creation (i.e. via imagination) than watching a video.

https://www.researchgate.net/publication/325888541_Measuring_narrative_engagement_The_heart_tells_the_story
When we listen to audiobooks, we can imagine everything just the way we want to. The way it's most engaging to us, I suppose. Every special effect is perfect. The magic and the handsome hero look just right.
I find this very fascinating. And it might explain why so many of us become addicted to audiobooks. I, for one, definitely have much less of a desire to watch TV than I used to pre-audiobooks. Unless it's something really exciting like Good Omens, I rather just continue listening to Audible.