Free stuff is great. And you can easily find audiobooks for free online. But you don't just want to download any ole' free audiobooks. You want to listen to THE BEST free audiobooks! Right?!
Audiobooks are so popular these days. Which means there are more ways than ever to enjoy them without going broke. But, as they say, you get what you pay for. And I've seen lots of listicles with websites to download free audiobooks that were really disappointing. Either the mentioned audiobook services were not available to everyone, the productions had bad quality, or the websites simply looked illegal.
Not having to pay anything is only half of the story. Just like I don't watch every movie on Netflix only because it's "free" for me, I don't listen to every audiobook just because I can download it for free. I want awesome stories and the best voice actors! I want to be thoroughly entertained!
So it was time to make my own list on how you can get audiobooks for free online that are really worth your time! On the following websites, you will find great selections of entertaining books performed by professional narrators. And you have so many titles to choose from that you're likely to find a bunch of new 5-star listens, no matter which book genre you like.
All of the following websites are of course completely legal!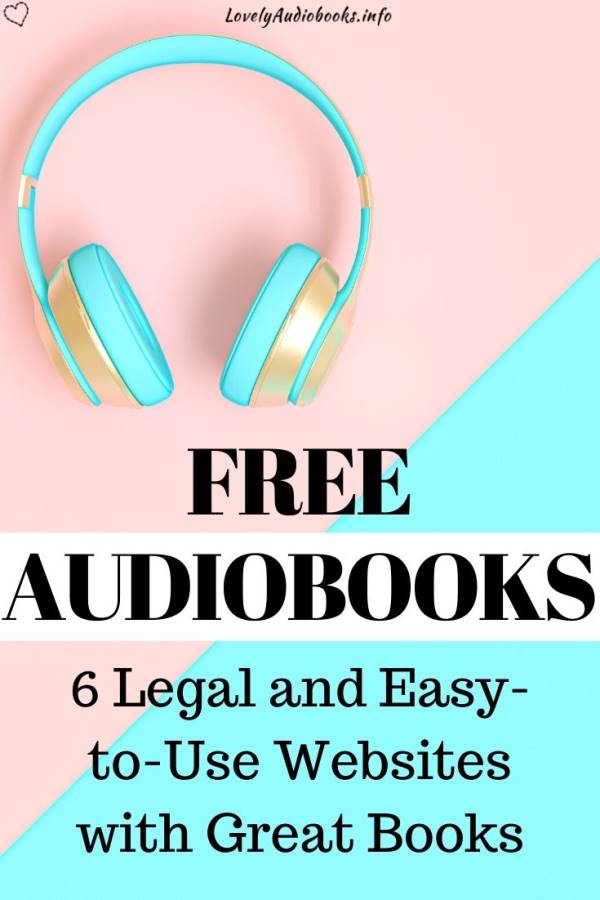 Get your Audiobooks for Free Online from These 6 Websites
Listen to Audible audiobooks of your choice for free!
When you sign up to the AudiobookBoom email list you'll receive a weekly email with a selection of free audiobooks. Follow the link on the book you're interested in to get an Audible download code.
You don't even have to create an account, just click and listen!
PodBean offers a selection of classics that are professionally narrated and produced. You can simply stream and listen to the audiobooks for free online or you can download the PodBean app and listen on your phone.
More free Audible audiobooks!
This is a new website to download free audiobooks. You can choose from a list of books and request Audible book codes. You'll then receive the code directly from the author or narrator via email and download the audiobook for free from Audible.
Hassle-free Audible codes!
Audiobooks Unleashed is a fantastic website and probably my favorite on this list. Their service is particularly user-friendly and they have a huge selection of audiobooks from all genres. Unlike the previous sites, you don't even have to search around in your inbox or wait for your code. Just look through the lists on the website, pick an audiobook, and you'll instantly receive a code for the Audible marketplace of your choice.
Audible itself offers a selection of audiobooks for free online that don't require a membership or subscription. The link above takes you directly to their page of actually free audiobooks.
Free Audiobooks for Teenagers!
This is a special project from AudioFile magazine for teenagers. Throughout Summer, popular audiobooks from big publishers become available every week. But you need a U.S. library card for this one!
Free Audiobook Review Copies
Audiobook review copies are a little known but absolutely awesome thing! Indie authors, narrators, and publishers give you an audiobook for free (usually in the form of an Audible promo code). And you return the favor by leaving an honest review on Audible to help other listeners make their buying decision.
The best way to find review copies are Facebook groups. And don't worry, writing an Audible review isn't all that difficult. No one will expect you to write a long book discussion! You can usually be done in 3-5 minutes. Check out my list with the best places to find audiobook review copies!
Free Audiobooks with your Library Card
Many libraries work with Overdrive Libby or Hoopla so you can get ebooks or audiobooks for free online from your local library. Please check your library's website to find out which digital program they are part of and how you can access their audiobooks.
Related article: Overdrive vs. Hoopla
Bonus: Other Ways to Get Audiobooks for Free Online
Free Trials with Unlimited Audiobook Services
Free trials are always a fantastic thing! And what's particularly great about the following subscriptions is that you can listen to as many audiobooks as you want during your free 30 day trial. However, once your trial month ends, you won't have access to any of these audiobooks anymore. Think of it as a Netflix for audiobooks. You can only browse the catalogs while you are signed up.
You might or might not find one of these services so great for you, that it's worth the following monthly subscription cost. I recommend all of them to audiobook fans. Which one's best for you depends on your personal taste!
Related article: A Comparison of Unlimited Audiobook Subscriptions
Chances are, you already have a Kindle Unlimited subscription. Make sure you check out the free audiobooks that are included! However, if you didn't take a closer look at Kindle Unlimited yet, the included audiobooks are definitely worth that free trial. Kindle Unlimited is perfect if you like to mix things up and want to listen to audiobooks from many different genres and discover new authors.
Related article: How to listen to Audiobooks with Kindle Unlimited
Audible Plus is Audible's new unlimited audiobook subscription. You can choose from thousands of Audible Originals and Audible Studios productions and you can listen to as many audiobooks as you like. If you have an Audible membership already, Audible Plus is entirely free for you!
Related article: What is Audible Plus?
Unlike the two other subscriptions, Scribd isn't actually fully unlimited. There are some rules in place. Unfortunately, Scribd isn't very forthcoming with information on how much or which kind of titles you can listen to before certain audiobooks become unavailable for that billing period. That being said, Scribd offers audiobooks for lots of popular, hyped titles from big publishing houses for a very fair monthly fee.
Related article: Scribd Audiobooks Review
Credit-Based Audiobook Trial Memberships
A great way to get specific audiobooks for free online are trial months with audiobook stores. All big websites offer free trials, and authors and narrators get paid when you listen to their audiobooks during your test month (but not if you return a book to get another one!).
If there's a specific audiobook you want, grab a test month with one of these stores to get it for free and keep it!
Audible is the biggest audiobook store and you'll find pretty much anything you want here. During your test month, you get a free audiobook that you can pick from their entire catalog, and you get access to the entire unlimited Audible Plus catalog as well.
After canceling the subscription, you'll keep the audiobook you bought with a credit and can re-listen to it in the Audible app as often as you like.
Audible often offers special deals when you cancel your membership!
Like Audible, you can choose one free audiobook from the entire catalog. You can also download one additional title from a monthly changing selection of audiobooks free of charge. However, you don't get to keep this second audiobook after canceling your membership.
You can keep and relisten to the audiobook you bought for your free credit.
Related article: Audible vs Audiobooks com
Libro.fm works pretty much the same way as Audible and Audiobooks.com. The big difference is that you support an indie bookstore of your choice instead of Amazon or Google. They often have awesome offers and deals, too! So, I recommend you check this audiobook store out and grab an audiobook for free here.
Related article: What is Libro.fm?
If you are looking for more specific recommendations for audiobooks that you can listen to for free, check out my list of the best free audiobooks for road trips!
All about Audiobooks
/