If you have been to Lovely Audiobooks before, you might have seen my reviews and comparisons of the most popular audiobook services. And now it's time to round them all up and find out which one is really the best audiobook app!
Okay, I might have been overly excited there. All of us are different in our reading preferences. Be it the number of audiobooks we go through per month or the genres we enjoy. I may have to let you down before we even go into the details here, but I can't give you the one and only best audiobook app. I just don't believe that can exist! But I will try to help you find the best audiobook app FOR YOU! For the way you listen, with the books you enjoy, and that best matches your monthly book budget.
This is an at-a-glance overview of free audiobook apps and apps requiring a subscription. There are, however, more nuances between the services. If you want more in-depth info, e.g. on the catalog of audiobooks a service offers, you can read more in the blog posts I have linked below each app.
By the way, all of the audiobook apps discussed here offer basic features like variable playback speed / narration speed, sleep timer, offline listening, and bookmarks.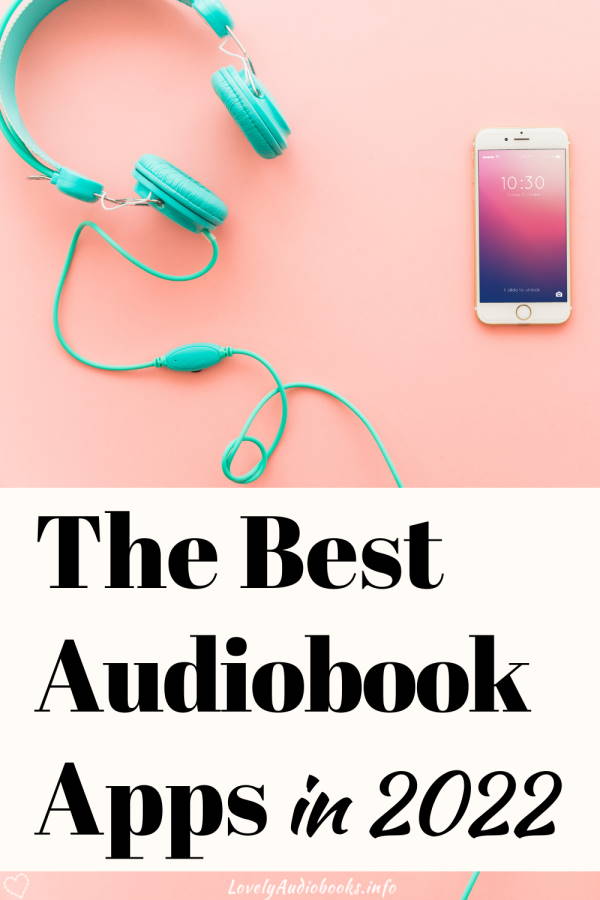 Audible is the biggest and most well-known audiobook subscription. And they can afford to offer their members features that other audiobook apps might be lacking.
Pro:
Works with or without a membership
Regular sales events (requires active subscription)
Amazon Whispersync deals (audiobooks for $1.99, doesn't require membership)
Unlimited Audible Originals through the Plus catalog (with membership, additionally to your Audible credit)
In-app purchases
Easy returns/exchange (but see Cons below)
Con:
Amazon company pressuring audiobook creators
App unstable on Amazon Fire tablet
Audible Plus catalog doesn't include traditionally published titles
in app purchases only in Android, not on iPhone
Free app
Subscription not necessary, price starts at: $7.95/month (cancel anytime)
Read more: What is Audible Plus?
Audiobooks.com can't quite keep up with the features of Audible but offers its own unique services with Audiobook Clubs.
Pro:
Works with or without a membership
Regular sales and deals (doesn't require membership)
Unlimited audiobooks from Audiobook Clubs catalog (with membership, uses up your Audiobooks.com credit)
Audiobook Clubs include traditionally published titles
Con:
No returns or exchanges possible
Joining an Audiobook Club uses up your monthly credit
Audiobook Clubs catalog very limited
Free app
Subscription not necessary, price: $14.95/month (cancel anytime)
Read more: Audiobooks Com vs Audible
LibroFM is an audiobook storefront for indie book shops. You can even choose your local book store and support them directly with your audiobook purchases. They are the only audiobook service that offers DRM-free versions of new and bestselling audiobooks so you can listen to them in other audiobook apps as well if you like.
Pro:
Supports indie bookstores
Membership model like Audible and Audiobooks.com
Cheap deals through Audiobook Clubs (doesn't require membership)
Returns possible
DRM-free audiobooks (you can download audiobooks and save them as MP3s to be played in any app or device of your choice)
Well-designed, stable app
Con:
Only available in the US and Canada
No in-app store
No additional membership perks
Free app
Subscription not necessary, price: $14.95/month (cancel anytime)
Read more: LibroFm – The Best Audible alternative
Hoopla is an audiobook app for libraries. If you have a library card from a participating library, you can download free audiobooks through this app.
Pro:
Free with a library card
Includes bestsellers and traditionally published audiobooks
Con:
Limited number of downloads
Requires a library card of a participating library
Free app
Library card required
Scribd is a subscription service with audio and ebooks similar to Kindle Unlimited. Unlike Amazon's subscription, it is not entirely unlimited though. Members might be throttled after downloading a certain number of newer bestselling audiobooks and their choices will be limited for the rest of the billing period. This app requires a subscription, but it is one of the cheaper ones.
Pro:
Good alternative to library for international listeners who can't get Hoopla
Includes bestsellers and traditionally published audiobooks
Con:
App often has issues
Not transparent how many or which titles can be borrowed in a billing month
Free app
Subscription necessary, price: $9.99/month (cancel anytime)
Read more: Scribd vs Audible
Chirp belongs to Bookbub. Authors can offer their audiobooks at a highly discounted price here and you don't need to pay a monthly fee. There is no subscription, instead, you can pick us as few or as many of the cheap audiobooks as you like.
Pros:
Very cheap deals, even for bestsellers and traditionally published books
Deals change often
Stable and easy-to-navigate app
Not bound to a monthly paid subscription
Cons:
Very limited selection of deals
Limited time on deals, easy to miss out
No in-app store
Only available in the US
Free app
Related article: Is Chirp audiobooks worth getting?
Smart Audiobook Player is the only audiobook app on this list that doesn't offer content. This is purely an audiobook player. But it is fantastic at it! I love their sleep timer function because I don't have to look at the screen to reset it if I want to continue listening, I can simply shake my device. This is a great choice to play audiobooks you converted from CDs (if that is legal in your country), or LibroFM or LibriVox audiobooks.
Pros:
Stable app to play MP3 audiobooks
Unique sleep timer that resets when your device detects movement
A pure audiobook player app, no store
Con:
The only paid app on this list
App price: $1.99 (after 30 day free trial)
LibriVox is a project of volunteers who record books that are in the public domain. It is a great choice to listen to Classics for free.
Pros:
Free audiobooks
Huge selection of Classics
DRM-free audiobooks in the public domain
Con:
No professional productions
Free app
So, what is the Best Audiobook App?
Okay, if you put me on the spot, I would say that Audible is probably the best audiobook app for iPhone and Android users alike because it is so versatile. Most audiobook listeners will be able to find something here. You can use it with or without a subscription, to borrow audiobooks, or for cheap deals without a subscription. The app is very stable and reliable, and the audiobook catalog is fantastic. So, all things considered, I do believe that everyone who listens to a lot of audiobooks should have the Audible app.
That being said, it isn't the only option and you might find that you use another audiobook app just as much if not more. Personally, I use LibroFM, Scribd, and Smart Audiobook Player a lot and I probably listen to more audiobooks on each of them than on Audible (which is partly due to having an Amazon Fire tablet, the one device where the Audible app completely fails).
If you are still new to audiobooks, you could give LibriVox a try as well since it's completely free. And if you have a library card or can get one from a participating library, Hoopla is a must-have and the best free audiobook app you can get.
Even though there isn't a clear-cut answer, I hope I could help you find the best audiobook app for you!
All about Audiobooks
/