How to get even more out of your subscription!
Let me start by pointing out what you likely already know: Kindle Unlimited is pretty awesome!
It's a great place to find new authors and to try out different genres.
While there is no collaboration with the big publishing houses, many smaller publishers as well as countless best-selling authors who self-publish have books in the program.
Cheap and free Audiobooks

Apart from 1.5 million ebooks, Kindle Unlimited gives you access to over 2000 free audiobooks, with new ones being added every month (you can find a list of them on my blog). And you can buy thousands of audiobooks for a significantly reduced price when you borrow the ebook through Kindle Unlimited.
But how does that work exactly?
As I just mentioned, there are two ways you can get audiobooks through Kindle Unlimited. There are those you can simply borrow like any KU ebook and return when you are done. But Amazon also has the so-called Whispersync Deals. When you own an ebook, you can often buy the audiobook for a reduced price. The same thing works when the ebook is in Kindle Unlimited!
Let's take a look at both of these options.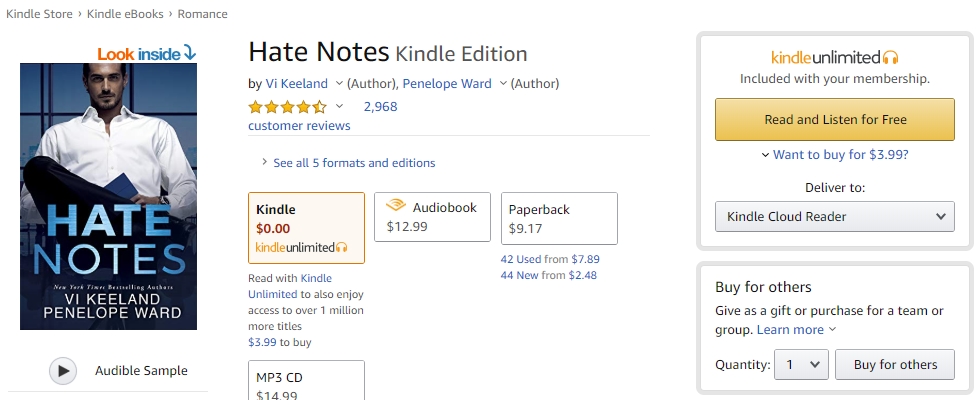 Borrowing a free audiobook on Kindle Unlimited
Audiobooks that are included in Kindle Unlimited show the little headphones symbol next to the Kindle Unlimited logo. The button says "Read and Listen for Free". When you click on it, the audiobook will be added to your Audible library. You then only have to tap on it to download and you can start listening.
When you give back the ebook, the audiobook will also disappear from your library. You don't own it, you just borrow it like the ebooks.

Follow this link to search through all FREE audiobooks in Kindle Unlimited:

Buying an audiobook for a reduced price with KU
When you look at an ebook and open the menu below the "Read for Free"-button, you can see that small line in the lower right corner of the image. "Add Audible book to your purchase for just $$$". You can simply toggle that before clicking the "Read for Free"-button, and you will buy the audiobook for the reduced price.
Yes, Amazon often offers audiobooks in a package deal with the ebook for much less than the cost of an Audible credit!
The audiobook will automatically be added to your Audible library and you own it. If you give back the ebook or even cancel your Kindle Unlimited subscription, you will keep your audiobook.
In the image, I have blurred out the lines between the KU button and the Audible toggle to avoid any confusion. The blurred button is for buying the ebook. But that's not necessary if you only want to own the audiobook!

Follow this link to search through ALL Kindle Unlimited ebooks that come with an audiobook deal (prices usually vary between $2 and $10, unfortunately, you can't sort by price):
Find all cheap audio upgrades**

I hope this guide was helpful and that you now know exactly what awesome things your Kindle Unlimited subscription can do for you! If you still have any questions, feel free to leave a comment or contact me on Facebook.