Have you heard about Kindle Unlimited audiobooks but couldn't quite believe that you can listen to Audible books as a Kindle Unlimited subscriber without any extra cost? "Read and Listen for free" books on Kindle Unlimited are really a thing! And they're an awesome thing. Here's how to find them…
Does Kindle Unlimited have audiobooks?
Yes! There are about 2000 audiobooks included in your Kindle Unlimited subscription! Read more…
Does Kindle Unlimited include Audible?
How can I listen to Kindle Unlimited audiobooks?
When you borrow a "Read and Listen for Free" book on Kindle Unlimited, the audiobook is added to your Audible library. You can log into the Audible app with your Amazon login and password. You don't need an Audible subscription!
**The marked links and book covers on this page are affiliate links. If you use them to purchase something, I earn a fee at no additional cost for you. Disclosure**
How does Kindle Unlimited work?
Kindle Unlimited (KU)** is a digital library service. You pay a monthly fee and can borrow as many ebooks and audiobooks as you like without paying anything extra! You only borrow these books and after your subscription runs out, they are removed from your devices. But you can keep them for as long as you like while your subscription is active!
You can take out 10 books at a time. If you want to download something else, you will have to return one of the 10 titles you currently have. But you can always get a book again if you want to re-read it.
Amazon will automatically prompt you to return one of your current titles if you want to download a new book and already have 10. You don't have to worry about returning any books yourself!
Is Kindle Unlimited worth it?
As a fan of indie authors and an avid audiobook listener, I absolutely love my Kindle Unlimited subscription. It's amazing when you want to discover new authors, new narrators, and new genres!
Kindle Unlimited includes audiobooks in all popular genres and it offers subscribers considerable deals on audiobooks in addition to the free ones.
I like to recommend this subscription to audiobook newbies so they can try out many different Audible books without having to pay for each one. It's perfect for figuring out your audiobookish taste!
Apart from offering unrestricted access to over one million titles as ebooks, Kindle Unlimited gives you access to over 2,000 books with Audible narration, with new ones being added every month. You also have the option to buy tens of thousands of audiobooks for a significantly reduced price when you borrow the ebook through KU.
Instead of the usual $20 or more on Audible, you might be charged as little as $1.99 for the same Audible audiobook when you buy it as a Whispersync deal on the Amazon website. But we'll get to that again later.
A Kindle Unlimited subscription might not be worth it for someone who is reading 2 or 3 ebooks in a month. But if you listen to 2 or 3 Kindle Unlimited audiobooks a month (or more, of course), Kindle Unlimited is absolutely worth the price!
An Example
Next month, you might want to listen to The Hobbit** and Beneath a Scarlet Sky**.
Without any audiobook subscription, you'd pay $36.38 on Audible for these two audiobooks.
With an Audible Premium Plus membership, you could use your monthly Audible credit for The Hobbit and buy Beneath a Scarlet Sky for the reduced member price of $14.95. However, you also have to pay your Audible membership of $14.95 a month. So, as an Audible subscriber, you would still pay $29.90 to listen to these two audiobooks.
With a Kindle Unlimited subscription, you can listen to both audiobooks for free. You only pay the monthly $9.99 and can still read or listen to as many additional books as you want!
That's why the answer to the question of whether or not Kindle Unlimited is worth it for audiobook fans is a resounding Yes!
How much does Kindle Unlimited cost?
On Amazon.com, Kindle Unlimited costs $9.99 per month. "Read and Listen for Free" Audible books cost absolutely nothing extra! And of course, you can get a 30 day free trial** to test it out.
Kindle Unlimited Audible Books
Just like Kindle Unlimited, Audible is part of Amazon. When you borrow Kindle Unlimited books with narration, you actually download the Audible book and listen to it in the Audible app. You'll see the title in your Audible library like any book you'd get directly from their website.
That means you can listen to high-quality free audiobooks and can use the very stable Audible app with its handy features like sleep timer or narration speed.
You don't need an Audible membership to use all these features!
Since the two websites are connected, you simply log into the Audible app with your Amazon login name and password. You don't need to create a new account or give Audible any payment information.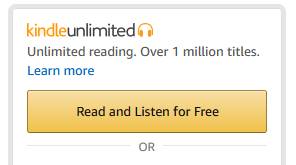 How to find Listen for Free Audiobooks
Audible books on Kindle Unlimited show the little headphones symbol next to the KU logo and the button will say "Read and Listen for Free". When you click on it, the audiobook will be added to your Audible library. You then only have to tap on it in the Audible app to download it and you can start listening.
When you give back the ebook, the audiobook will also disappear from your library. You don't own it, you just borrow it like the ebooks.
Follow this link to search through ALL free audiobooks in Kindle Unlimited on Amazon US:
Please be aware that international Amazon marketplaces often have fewer Listen for Free Kindle Unlimited audiobooks than the US marketplace. Many audiobooks might not be included for free there!
How to buy cheaper Audiobooks with Kindle Unlimited Whispersync deals
When you look at an ebook and open the menu below the "Read for Free"-button, you'll often find the option to "Add Audible book to your purchase for just $$$". When you toggle that before clicking the "Read for Free"-button, you will buy the audiobook for the reduced price of usually $1.99 or $7.49.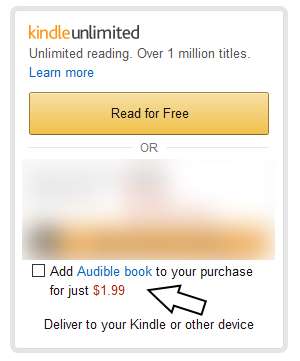 In the image above, I have blurred out the lines between the "Read for free"-button and the audiobook toggle to avoid any confusion. The blurred button is for buying the ebook. But it's not necessary to buy a Kindle Unlimited ebook if you only want to own the audiobook!
The Kindle Unlimited Audible book and ebook are connected through Amazon's Whispersync**. You can swap back and forth between the ebook and audiobook. Each will pick up at exactly the spot where you last left off in the other format.
The audiobook will automatically be added to your Audible library and you own it. If you give back the ebook or even cancel your Kindle Unlimited subscription plan, you will keep your audiobook.
Even if you have no interest in ebooks, Whispersync deals are among the best audiobook deals out there. And they're an additional reason why Kindle Unlimited is worth it for audiobook listeners!
Follow this link to search through ALL Kindle Unlimited ebooks that come with an audiobook deal:
The Top 10 Best Kindle Unlimited Audiobooks to get you started!
These are the most popular, best Kindle Unlimited books with narration on Amazon US!
Beneath a Scarlet Sky
Mark Sullivan (Author), Will Damron (Narrator)
Based on the true story of a forgotten hero, the USA Today and #1 Amazon Charts bestseller Beneath a Scarlet Sky is the triumphant, epic tale of one young man's incredible courage and resilience during one of history's darkest hours.
The Butterfly Garden
Dot Hutchison (Author), Lauren Ezzo (Narrator), Mel Foster (Narrator)
Near an isolated mansion lies a beautiful garden. In this garden grow luscious flowers, shady trees…and a collection of precious "butterflies"—young women who have been kidnapped and intricately tattooed to resemble their namesakes. Overseeing it all is the Gardener, a brutal, twisted man obsessed with capturing and preserving his lovely specimens.
My Sister's Grave: Tracy Crosswhite, Book 1
Robert Dugoni (Author), Emily Sutton-Smith (Narrator)
The first book in the series that has garnered millions of readers across the globe, from New York Times bestselling author Robert Dugoni. Tracy Crosswhite has spent twenty years questioning the facts surrounding her sister Sarah's disappearance and the murder trial that followed. She doesn't believe that Edmund House—a convicted rapist and the man condemned for Sarah's murder—is the guilty party.
I Am Watching You
Teresa Driscoll (Author), Elizabeth Knowelden (Narrator)
When Ella Longfield overhears two attractive young men flirting with teenage girls on a train, she thinks nothing of it—until she realises they are fresh out of prison and her maternal instinct is put on high alert. But just as she's decided to call for help, something stops her.
Stillhouse Lake
Rachel Caine (Author), Emily Sutton-Smith (Narrator)
An Amazon Charts and USA Today bestseller. Gina Royal is the definition of average—a shy Midwestern housewife with a happy marriage and two adorable children. But when a car accident reveals her husband's secret life as a serial killer, she must remake herself as Gwen Proctor—the ultimate warrior mom.
If You Tell
Gregg Olsen (Author), Karen Peakes (Narrator)
A #1 Wall Street Journal, Amazon Charts, USA Today, and Washington Post bestseller. #1 New York Times bestselling author Gregg Olsen's shocking and empowering true-crime story of three sisters determined to survive their mother's house of horrors. After more than a decade, when sisters Nikki, Sami, and Tori Knotek hear the word mom, it claws like an eagle's talons, triggering memories that have been their secret since childhood. Until now.
The Dressmaker's Gift
Fiona Valpy (Author), Anne Flosnik (Narrator), Justine Eyre (Narrator)
A Washington Post, Wall Street Journal, and Amazon Charts bestseller. From the bestselling author of The Beekeeper's Promise comes a gripping story of three young women faced with impossible choices. How will history – and their families – judge them? Paris, 1940. With the city occupied by the Nazis, three young seamstresses go about their normal lives as best they can. But all three are hiding secrets…
When We Believed in Mermaids
Barbara O'Neal (Author), Sarah Naughton (Narrator), Katherine Littrell (Narrator)
An Amazon Charts, Washington Post, Wall Street Journal, and USA Today bestseller. From the author of The Art of Inheriting Secrets comes an emotional new tale of two sisters, an ocean of lies, and a search for the truth. Her sister has been dead for fifteen years when she sees her on the TV news…
Where the Forest Meets the Stars
Glendy Vanderah (Author), Lauren Ezzo (Narrator)
An Amazon Charts, Wall Street Journal, and Washington Post bestseller, and a Goodreads Choice Award finalist. In this gorgeously stunning debut, a mysterious child teaches two strangers how to love and trust again. After the loss of her mother and her own battle with breast cancer, Joanna Teale returns to her graduate research on nesting birds in rural Illinois, determined to prove that her recent hardships have not broken her.
In an Instant
Suzanne Redfearn (Author), Jesse Vilinsky (Narrator)
An Amazon Charts bestseller. A deeply moving story of carrying on even when it seems impossible. Life is over in an instant for sixteen-year-old Finn Miller when a devastating car accident tumbles her and ten others over the side of a mountain. Suspended between worlds, she watches helplessly as those she loves struggle to survive.
Get your Free Audiobooks on Kindle Unlimited!
You haven't tried it yet? During a free trial month**, you can use all the features of Kindle Unlimited, including binge a bunch of "Listen for Free" books with narration, and you can even snatch up a couple of Whispersync deals that are yours to keep even if you cancel the subscription again.
And make sure you bookmark my link with the newest audiobooks in Kindle Unlimited so you will always find the best Kindle Unlimited audiobooks as soon as they are released.
If you're looking for more Kindle Unlimited audiobooks right now, check out my favorite Fantasy audiobooks in KU and the most popular Romance audiobooks in KU!
All about Audiobooks
/