With so many books available through Kindle Unlimited, it can be difficult to find the ones that are worth your time. That's why I've put together a list for you of the best Kindle Unlimited Romance books with narration!
Because Amazon KU doesn't only offer countless ebooks. They also have audiobooks that people with a Kindle Unlimited membership can listen to for free.
I never get tired of telling the Lovely Audiobooks readers: A Kindle Unlimited subscription is fantastic for audiobook listeners!
There are so many truly fantastic Kindle Unlimited Romance books that you can listen to for free, without paying anything extra for the Audible narration. KU includes thousands of audiobooks!
So, the following lists include the best Kindle Unlimited books in the Romance category that you can listen to "for free": Bestselling authors and super popular narrators, presenting you highly rated Romance novels that you don't want to miss!
First, I'll share with you my personal top 20 favorite Kindle Unlimited Romance books. And further down, you can find 20 of the best Kindle Unlimited Romance audiobooks that I haven't listened to yet but that have excellent reviews and ratings on Amazon and GoodReads.
In case you don't currently have an active Kindle Unlimited subscription, grab a 30 day free trial** here!
Related article: How to listen to audiobooks with Kindle Unlimited
**The marked links and book covers on this page are affiliate links. If you use them to purchase something, I earn a fee at no additional cost for you. Disclosure**
My Top 20 of the Best Kindle Unlimited Romance Books with Narration
How to Win a Breakup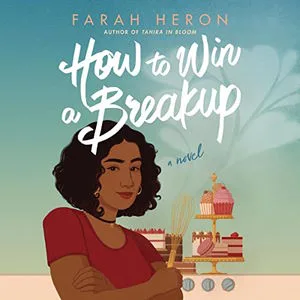 Farah Heron (Author), Soneela Nankani (Narrator)
Listen for free with Kindle Unlimited**
An "it" couple's breakup becomes a sporting event in a deliciously charming novel about the games people play in the name of love.
First, math genius and gamer-nerd Samaya gets dumped by her boyfriend. Then he sabotages her job and hooks up with her frenemy. What could be worse? Clearly, her golden-boy ex is winning the breakup. The only way Samaya can get some rebound cred is to find someone new. Even if she has to fake it.
This book gave me a trope-gasm! First, we start with my favorite: Becoming friends online, not knowing each other in real life.
But then, Samaya runs into the guy from her online friend's photo during a school project. And apparently, she has been catfished! Because this guy is not the guy she gamed with.
However, David is super nice and very laid back. And he agrees that he will be fake dating Samaya – my other favorite trope – so she can "win the breakup" from her ex-boyfriend, who is already dating Samaya's frenemy Hanna.
This Young Adult Romance is such immense fun with lots of twists and turns. It kept me guessing who the actual online friend was! And of course, it's all wonderfully brought to life by Soneela Nankani.
Strictly Friends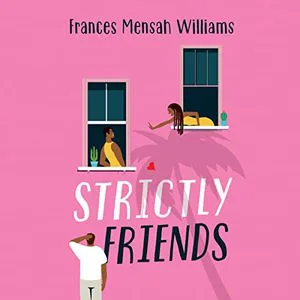 Frances Mensah Williams (Author), Ione Butler (Narrator)
Listen for free with Kindle Unlimited**
She's travelled halfway round the world to paradise. But has it been on her doorstep all along?
When Ruby Lamont's young son Jake starts telling tall tales about the dad who walked out on them six years ago, it's time to find out the truth. It's not that she wants Kenny back in her life—her charming commitment-phobe Griffin, has always been more of a father-figure to Jake—but if she can understand why Kenny broke her heart, perhaps she can finally move on.
Strictly Friends is heaven for any Love Triangle books fan!
First, we have Kenny, the father of Ruby's son. Four years earlier, he up and left, but Ruby needs to seek him out so her son Jake can get to know his father.
Then we have Griffin. He has been Ruby's best friend forever and has been a huge support for her and Jake. But he's a player who only ever goes for one night stands.
And then Ruby runs into Mac, an artist who is so attractive and charming and doesn't bring any of the baggage she has with Kenny and Griffin.
And all of this plays out on a beautiful Caribbean island!
This is such a wonderful, fun, emotional audiobook, and Ione Butler did a wonderful narration, bringing out all of Ruby's complicated thoughts and feelings.
The Karma Map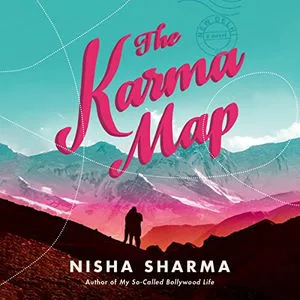 Nisha Sharma (Author), Soneela Nankani (Narrator), Fajer Al-Kaisi (Narrator)
Listen for free with Kindle Unlimited**
A youth group's temple road trip through India is a liberating escape for a former mean girl and sunshine boy to explore their past and their feelings for each other in the much-anticipated novel about self-discovery by the award-winning author of My So-Called Bollywood Life.
Born and raised in the US, Tara Bajaj hides her family secrets. With beautiful clothes, a popular social media presence, and a spot on the Rutgers High Bollywood dance team, she does it well—until her carefully cultivated image shatters. Shut out by friends and with her future in flux, Tara accepts a guide position for a youth group's temple tour through North India. Rediscovering the heart of her ancestry is as good a place as any to start over.
If you adore grumpy heroines as I do, you will love The Karma Map! While this is very much a Romance novel, it's also a stunning trip through the country and provides a lot of food for thought.
I truly enjoyed listening to The Karma Map and I love both narrators. This is one of the hidden gem Romance books in Kindle Unlimited. And you will not regret giving it a chance!
Love, Comment, Subscribe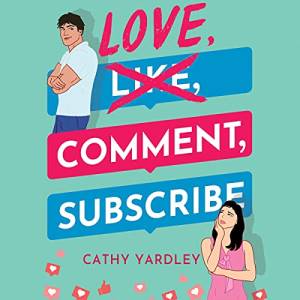 Cathy Yardley (Author), Jenapher Zheng (Narrator), David Lee Huynh (Narrator)
Listen for free with Kindle Unlimited**
Back in high school, Lily Wang wanted to be popular, but she considered herself lucky to be part of a tight group of oddballs and honors students called the Nerd Herd. Now, at twenty-eight, she feels like she's finally on the cusp of succeeding as a beauty influencer – if she can hit five million subscribers, brands will take notice and she could get her own makeup line.
Fellow Nerd Herd alum Tobin Bui has had a lot of success as a YouTube gamer. But the road to online stardom has been rocky.
Love Comment Subscribe is the first book in Cathy Yardley's Ponto Beach reunion series and I absolutely adore them all! These are such wonderful, warm Romantic Comedy books with great narration.
I can wholeheartedly recommend the entire series to you! All three audiobooks are available through Kindle Unlimited.
Role Playing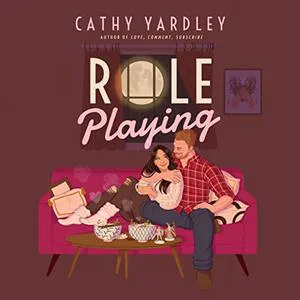 Cathy Yardley (Author), Chris Brinkley (Narrator), Elyse Dinh (Narrator)
Listen for free with Kindle Unlimited**
From Cathy Yardley, author of Love, Comment, Subscribe, comes an emotional rom-com about two middle-aged gamers who grow their online connection into an IRL love story.
Maggie is an unapologetically grumpy forty-eight-year-old hermit. But when her college-aged son makes her a deal—he'll be more social if she does the same—she can't refuse. She joins a new online gaming guild led by a friendly healer named Otter. So that nobody gets the wrong idea, she calls herself Bogwitch.
Otter is Aiden, a fifty-year-old optimist using the guild as an emotional outlet from his family drama caring for his aging mother while his brother plays house with Aiden's ex-fiancée.
I was instantly intrigued by the blurb for this book. Two people over the age of 45 who meet in a video game? That's a wonderful premise! And the story I found inside was even better than what I had hoped for.
Can't Resist Her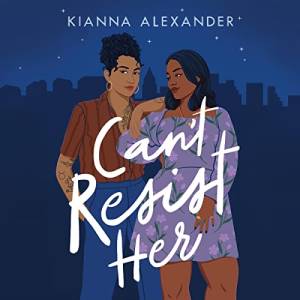 Kianna Alexander (Author), Mooreghan Martin (Narrator)
Listen for free with Kindle Unlimited**
Two very determined women—in love, at odds, and risking a lot on a second chance.
After years away from home, Summer Graves is back in Austin, Texas, to accept a new teaching position. Of all the changes to the old neighborhood, the most dispiriting one is the slated demolition of the high school her grandmother founded. There's no way she can let developers destroy her memories and her family legacy. But the challenge stirs memories of another kind.
On the architectural team revitalizing the neighborhood, hometown girl Aiko Holt is all about progress. Then she sees Summer again. Some things never change.
Can't Resist Her by Kianna Alexander has such a fantastic Enemies to Lovers setup! I loved every second of this excellent Kindle Unlimited Romance book and Mooreghan Martin's fantastic narration.
Fifteen Hundred Miles from the Sun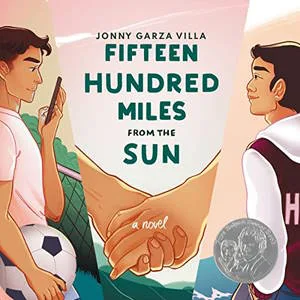 Jonny Garza Villa (Author), Avi Roque (Narrator)
Listen for free with Kindle Unlimited**
A poignant, funny, openhearted novel about coming out, first love, and being your one and only best and true self.
Julián Luna has a plan for his life: Graduate. Get into UCLA. And have the chance to move away from Corpus Christi, Texas, and the suffocating expectations of others that have forced Jules into an inauthentic life.
Then in one reckless moment, with one impulsive tweet, his plans for a low-key nine months are thrown—literally—out the closet. The downside: the whole world knows, and Jules has to prepare for rejection. The upside: Jules now has the opportunity to be his real self.
I'm a huge, huge fan of voice actor Avi Roque and when browsing their catalog on Audible, I stumbled over this little gem, Fifteen Hundred Miles from the Sun, that is included in Kindle Unlimited Listen for Free!
It's a beautiful Young Adult Romance and Coming of Age novel that manages a perfect balance between the hate Jules experiences in his Texan hometown and the pure queer joy that he finds with his friends, his sister, and his boyfriend. The narration is, of course, outstanding!
Have We Met?
Camille Baker (Author), Sisi Aisha Johnson (Narrator)
Listen for free with Kindle Unlimited**
What if you already met the soul mate you were destined to be with? And you didn't even know it?
After losing her best friend to cancer, Corinne's life is in flux. She has moved back to Chicago, is considering her next career move (or temp job), and has absolutely no time to look for love – until a mysterious dating app called Met suddenly appears on her phone, and with it, an invitation for Corinne to reconnect with four missed connections from her past. One of them, Met says, is her soul mate…
Camille Baker's debut book is very captivating and I enjoyed this story very much. It's all about giving love a chance!
The Checklist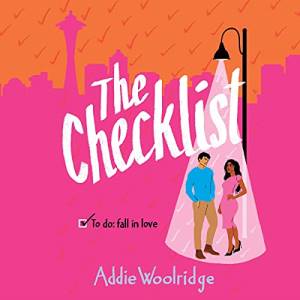 Addie Woolridge (Author), Adenrele Ojo (Narrator)
Listen for free with Kindle Unlimited**
In an energetic debut novel about personal and professional chaos, author Addie Woolridge introduces a multicultural cast whose exploits are redefining the modern rom-com.
Killing it at work? Check. Gorgeous boyfriend? Check. Ambitions derailed by an insecure boss? Sigh – check.
Things were going a little too well for Dylan Delacroix. After upstaging her boss on a big account, she gets dispatched to the last place she wants to be: her hometown, Seattle. There, she must use her superstar corporate-consulting skills to curb the worst impulses of an impossibly eccentric tech CEO – if she doesn't, she's fired.
Adenrele Ojo is one of my favorite audiobook narrators and she brought Addie Woolridge's Romance / Women's Fiction novel to life so well!
The Stopover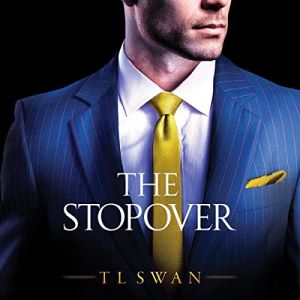 T L Swan (Author), Sebastian York (Narrator), CJ Bloom (Narrator)
Listen for free with Kindle Unlimited**
A memorable night of passion refuses to stay just a memory in this sizzling and scandalous romance from bestselling author T L Swan.
I was upgraded to first class on a flight from London to New York. The food, champagne, and service were impeccable. The blue-eyed man sitting next to me, even better. He was suave and intelligent. We talked and laughed, and something clicked.
Fate took over and the plane was grounded, and we had an unexpected stopover for the night. With no plans, we made our own. We danced and laughed our way around Boston and had a night of crazy passion that no woman would ever forget. That was twelve months ago, and I haven't heard from him – until today.
T L Swan's The Miles High Club is a must-listen series of Kindle Unlimited Romance books. These novels are incredibly romantic, entertaining, funny, heartwrenching, and all have outstanding narrations!
My personal favorite is the second book in the series, The Takeover, with a single mom heroine.
Related article: The Best Single Parent Romance Books
Read Between the Lines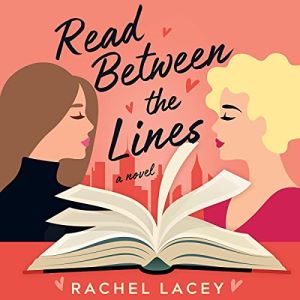 Rachel Lacey (Author), Abby Craden (Narrator)
Listen for free with Kindle Unlimited**
From award-winning author Rachel Lacey comes a playful romance about a Manhattan bookstore owner and a reclusive author who love to hate—and hate to love—each other.
Books are Rosie Taft's life. And ever since she took over her mother's beloved Manhattan bookstore, they've become her home too. The only thing missing is her own real-life romance like the ones she loves to read about, and Rosie has an idea of who she might like to sweep her off her feet. She's struck up a flirty online friendship with lesbian romance author Brie, and what could be more romantic than falling in love with her favorite author?
Rachel Lacey's Ms. Right series is simply wonderful. Lovable women who find one another and are brought to life by the most beloved of all Lesbian Romance narrators: Abby Craden!
Related article: The Best Lesbian Romance Audiobooks
Something Fabulous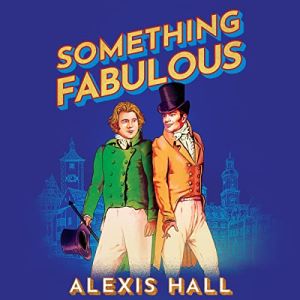 Alexis Hall (Author), Nicholas Boulton (Narrator)
Listen for free with Kindle Unlimited**
From the acclaimed author of Boyfriend Material comes a delightfully witty romance featuring a reserved duke who's betrothed to one twin and hopelessly enamoured of the other.
Valentine Layton, the Duke of Malvern, has twin problems: literally.
It was always his father's hope that Valentine would marry Miss Arabella Tarleton. But, unfortunately, too many novels at an impressionable age have caused her to grow up…romantic. So romantic that a marriage of convenience will not do and after Valentine's proposal she flees into the night determined never to set eyes on him again.
Arabella's twin brother, Mr. Bonaventure "Bonny" Tarleton, has also grown up…romantic. And fully expects Valentine to ride out after Arabella and prove to her that he's not the cold-hearted cad he seems to be.
Alexis Hall is one of my all-time favorite authors. I love his books, his wonderful characters, his writing and was thrilled to see his addition to Kindle Unlimited Romance books!
Something Fabulous is a fun, wild, steamy Historical Romance with lots of witty banter. And the second book in this series, Something Spectacular, is also not to be missed!
Related article: The Best LGBT Romance books
Hate Notes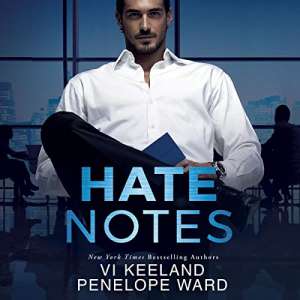 Vi Keeland (Author), Penelope Ward (Author), Sebastian York (Narrator), Lynn Barrington (Narrator)
Listen for free with Kindle Unlimited**
It all started with a mysterious blue note sewn into a wedding dress. Something blue.
I'd gone to sell my own unworn bridal gown at a vintage clothing store. That's when I found another bride's "something old".
Stitched into the lining of a fabulously feathered design was the loveliest message I'd ever read: Thank you for making all of my dreams come true.
The name embossed on the blue stationery: Reed Eastwood, obviously the most romantic man who ever lived. I also discovered he's the most gorgeous. If only my true-love fantasies had stopped there. Because I've since found out something else about Mr. Starry-Eyed.
Hate Notes is one of my favorite Romance books with disabled characters and a must-listen for Kindle Unlimited subscribers who are looking for meaningful love stories.
Dirty Letters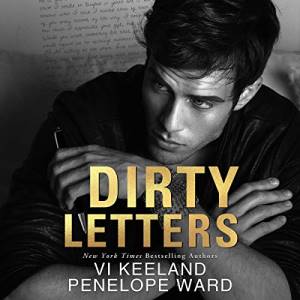 Vi Keeland (Author), Penelope Ward (Author), Andi Arndt (Narrator), Jacob Morgan (Narrator)
Listen for free with Kindle Unlimited**
From New York Times bestselling authors Vi Keeland and Penelope Ward comes an unexpected love story that started with a boy and girl and heats up when the man and woman reconnect.
Griffin Quinn was my childhood pen pal, the British boy who couldn't have been more different from me. Over the years, through hundreds of letters, we became best friends, sharing our deepest, darkest secrets and forming a connection I never thought could break.
Until one day it did. Then, out of the blue, a new letter arrived. A scathing one—one with eight years of pent-up anger. I had no choice but to finally come clean as to why I stopped writing.
Dirty Letters with its fantastic narration and grabbing storyline is a must in the Kindle Unlimited Romance category! This is one of the best books by popular author team Vi Keeland and Penelope Ward.
The Wreckage of Us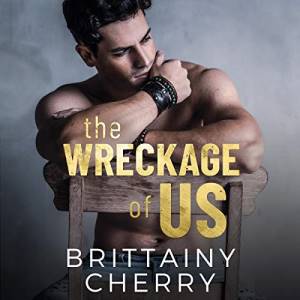 Brittainy Cherry (Author), Rock Engle (Narrator), Stella Bloom (Narrator)
Listen for free with Kindle Unlimited**
Never in a million years did I think it would be Ian Parker who saved me… I know I should stay away from Ian Parker.
But when my drug-dealing stepdad kicks me out, I have nowhere to go. Squatting in an abandoned shed on Ian's grandpa's farm seems like as good a plan as any.
Ian finds me there, of course, and he insists on me moving into his spare room. I should say no, but the appeal of a roof and a warm bed is too much.
This Contemporary small town Romance completely wrecked me. If you are looking for a highly emotional story, do not miss out on this one. The Wreckage of Us is one of the best Kindle Unlimited books with narration!
In Bed with the Earl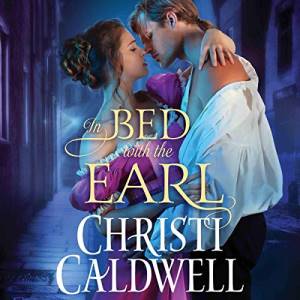 Christi Caldwell (Author), Tim Campbell (Narrator)
Listen for free with Kindle Unlimited**
Christi Caldwell, USA TODAY bestselling author of the Wicked Wallflowers series, combs London's underground and finds romance and danger for a missing lord and the lady who loves him.
To solve a mystery that's become the talk of the ton, no clues run too deep for willful reporter Verity Lovelace. Not even in the sewers of London. That's precisely where she finds happily self-sufficient scavenger Malcom North, lost heir to the Earl of Maxwell. Now that Verity's made him front-page news, what will he make of her?
I found this fake marriage Historical Romance utterly charming and entertaining and it's among my favorite Kindle Unlimited Romance books! And I always admire Christi Caldwell's beautiful book covers.
Burn for You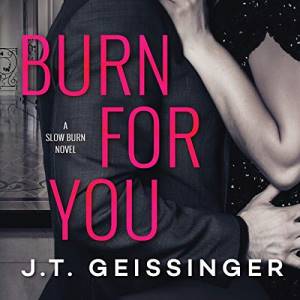 J.T. Geissinger (Author), Sebastian York (Narrator), Diana Luke (Narrator)
Listen for free with Kindle Unlimited**
Jackson "The Beast" Boudreaux is rich, gorgeous, and unbelievably rude to the staff at Chef Bianca Hardwick's New Orleans restaurant. Bianca would sooner douse herself in hot sauce than cook for Jackson again, but when he asks her to cater his fund-raiser, Bianca can't refuse, knowing the cash will help pay her mother's medical bills.
The entire Slow Burn series by J.T. Geissinger are Kindle Unlimited Romance books with narration and I found each audiobook with their likable, entertaining, and complex characters and fantastic narrators absolutely worth it!
They are definitely among the best Kindle Unlimited books in the Romance genre. But Burn For You is my absolute favorite.
Not My Romeo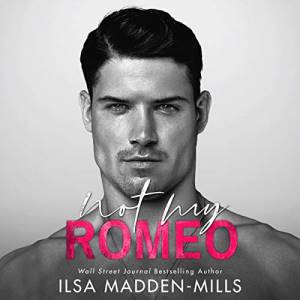 Ilsa Madden-Mills (Author), Savannah Peachwood (Narrator), Eric G. Dove (Narrator)
Listen for free with Kindle Unlimited**
Wall Street Journal bestselling author Ilsa Madden-Mills delivers a smart and sexy contemporary romance about a smoking-hot professional football player and the small-town girl he can't resist.
We start off with a lie on Valentine's Day. My blind date isn't the studious guy I expected: he's a drop-dead gorgeous player with sinful amber eyes. Somehow we end up at his penthouse. I blame the gin and tonic.
The next day I learn he's Jack Hawke—bad-boy professional quarterback with a murky past. The NDA he has me sign should be a warning that he isn't a regular person. Please. I sign it Juliet Capulet, so goodbye, famous football player with abs of steel, and good luck tracking down this small-town librarian.
Not My Romeo is such a great mistaken identity love story! I mean, I can never pass up on a librarian main character anyway. But this Sports Romance completely drew me in. And I have to say, Jack could be my romeo, for sure!
Related article: The Best Romance Books about Books
#Starstruck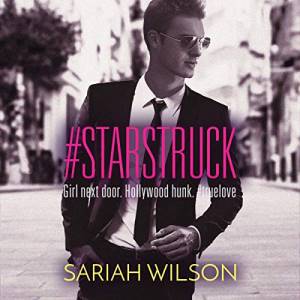 Sariah Wilson (Author), Bailey Carr (Narrator)
Listen for free with Kindle Unlimited**
"You've done better." With one uncharacteristically sassy tweet to her longtime celebrity crush, Zoe Miller's life turns upside down. Ultrahot A-lister Chase Covington doesn't just respond to Zoe's tweet, he does the unthinkable: he messages Zoe directly. Now she must decide between walking away or meeting her crush in person.
Sariah Wilson writes interesting and entertaining closed-door love stories that look beyond the usual tropes and stereotypes. Starstruck is really good fun! And the other books in the #Lovestruck series are also available as "Read and Listen for Free".
The Memory of You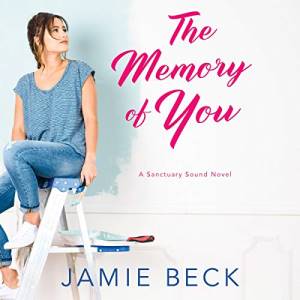 Jamie Beck (Author), Dara Rosenberg (Narrator)
Listen for free with Kindle Unlimited**
When Steffi Lockwood returns to Sanctuary Sound to start over, she has no idea she'll also get a second chance with her first love. Steffi Lockwood has survived more than most. Recovering from an assault, she returns to her coastal Connecticut hometown to rebuild her life the best way she knows how: with her hands. But starting a remodeling business with one longtime friend puts her in the middle of a rift with another.
Jamie Beck's utterly charming Sanctuary Sound series is entirely "Read and Listen for Free" and deals with vulnerabilities, finding yourself, moving on, and being ready to find love. Book 3 in this series, The Memory of You, is for me one of the best Kindle Unlimited Romance books and not to be missed!
Save this list of the best Kindle Unlimited Romance Books for later: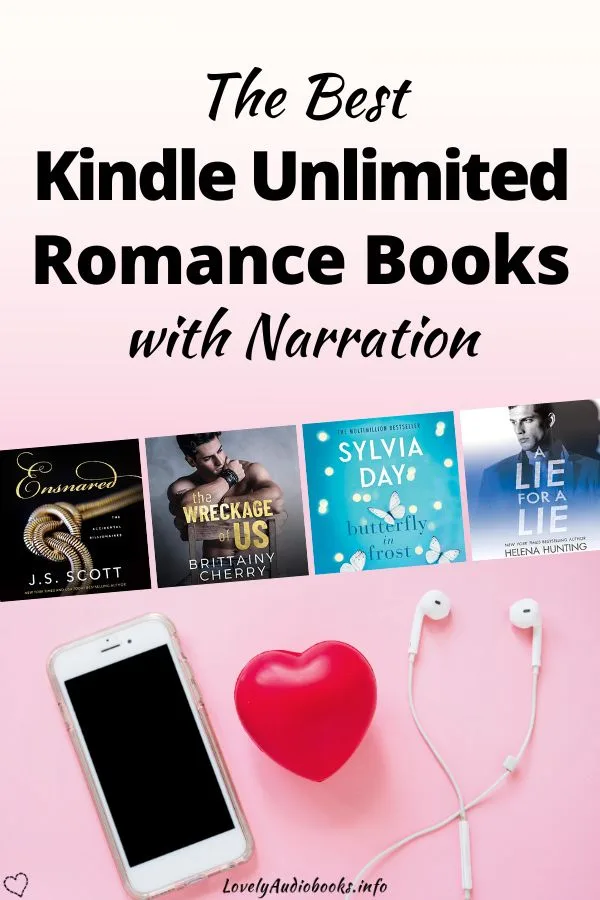 20 Super Popular Kindle Unlimited Romance Audiobooks
I couldn't yet listen to all of the fantastic audiobooks in KU, but the ones below are on my "To Be Listened To" list because so many readers love and recommend them as the best Kindle Unlimited Romance books!
In the Likely Event
Rebecca Yarros (Author), Carly Robins (Narrator), Teddy Hamilton (Narrator)
Listen for free with Kindle Unlimited**
From the instant New York Times bestselling author of Fourth Wing, Rebecca Yarros, comes a sweeping romance about the sustained power of chance encounters.
When Izzy Astor gets on a plane to go home, she isn't expecting much. It's the usual holiday travel experience: busy, crowded, stressful.
Then she spots her seatmate, who is anything but ordinary. Nate Phelan sports dark hair, blue eyes, and a deliciously rugged charm that Izzy can't resist. Their connection is undeniable. Izzy never believed in destiny before, but she does now.
Not My Kind of Hero
Pippa Grant (Author), Savannah Peachwood (Narrator), Connor Crais (Narrator)
Listen for free with Kindle Unlimited**
From USA Today bestselling author Pippa Grant comes a rollicking romantic comedy about a single mom and a grumpy math teacher tackling their differences on a Wyoming ranch.
I knew fixing up my life with a fresh start on the hobby ranch I inherited in Hell's Bells, Wyoming, would come with challenges. Things like snow. Wildlife. Local gossip about why my daughter and I are here.
But the biggest challenge?
My surly new tenant.
He's like a bear. Fascinating from a distance, but don't get too close, or he'll bite.
Make it Sweet
Kristen Callihan (Author), Ava Erickson (Narrator), Jacob Morgan (Narrator)
Listen for free with Kindle Unlimited**
From New York Times bestselling author Kristen Callihan comes a charming, emotional romance about redefining dreams and discovering unlikely love along the way.
Life for Emma isn't good. The world knows her as Princess Anya on Dark Castle, but then her character gets the axe – literally. The cherry on top is finding her boyfriend in bed with another woman. She needs a break, and sanctuary comes in the form of Rosemont, a gorgeous estate in California promising rest and relaxation.
Then she meets the owner's equally gorgeous grandson, ex-hockey player and current recluse Lucian Osmond, and she sees her own pain and yearning reflected in his eyes.
Something So Sweet
Joy Avery (Author), Inger Tudor (Narrator), Pierre Brooks (Narrator)
Listen for free with Kindle Unlimited**
A devoted small-town mayor confronts an old flame over the fate of a historic inn in this delightful romance from author Joy Avery.
Honeybees, history, and small-town charm are what Honey Hill, North Carolina, is all about. Its mayor, Lunden Pierce, will stop at nothing to protect the town's historical landmarks and distinctive character. She's Honey Hill's greatest champion.
But everything changes when Lunden's childhood sweetheart, Quade Cannon, returns to town. Though Quade has fond memories of his summers in Honey Hill, he has no use for the historic inn he's inherited – or the honeybees living in its yard. His plan is to sell the inn and reap the rewards.
Digging Up Love
Chandra Blumberg (Author), Keylor Leigh (Narrator), Amir Abdullah (Narrator)
Listen for free with Kindle Unlimited**
From debut author Chandra Blumberg comes a playful, heartfelt romance about chasing your dreams and finding love in the process.
Alisha Blake works her magic in the kitchen, creating delectable desserts for her grandfather's restaurant in rural Illinois. Though Alisha relishes the close relationship she has with her family, she can't help but dream about opening a cookie shop in Chicago. She may be a small-town baker, but Alisha has big ambitions.
Then a dinosaur bone turns up in her grandparents' backyard. When paleontologist Quentin Harris arrives to see the discovery for himself, he's hoping that the fossil will distract him from a recent painful breakup. Instead, he finds Alisha—and sparks fly.
Rare Danger
Beverly Jenkins (Author), Kim Staunton (Narrator)
Listen for free with Kindle Unlimited**
A librarian's quiet life becomes a page-turner of adventure, romance, and murder in a thrilling novella by USA Today bestselling author Beverly Jenkins.
For Jasmine Ware, curating books for an exclusive clientele is her passion. Until an old friend, a dealer of rare books, goes missing and his partner is murdered. Linked to an artifact smuggled out of the ancient library at Timbuktu, the mystery draws Jasmine deeper into a plot that could cost her her life.
Air force veteran and private security ace Torr Noble is accustomed to adrenaline-pumping stakes. He never expected a private librarian would be so intriguing, but Jasmine is full of surprises.
Reminders of Him
Colleen Hoover (Author), Brittany Pressley (Narrator), Ryan West (Narrator)
Listen for free with Kindle Unlimited**
A troubled young mother yearns for a shot at redemption in this heartbreaking yet hopeful story from #1 New York Times bestselling author Colleen Hoover.
After serving five years in prison for a tragic mistake, Kenna Rowan returns to the town where it all went wrong, hoping to reunite with her four-year-old daughter. But the bridges Kenna burned are proving impossible to rebuild. Everyone in her daughter's life is determined to shut Kenna out, no matter how hard she works to prove herself.
The only person who hasn't closed the door on her completely is Ledger Ward, a local bar owner and one of the few remaining links to Kenna's daughter. But if anyone were to discover how Ledger is slowly becoming an important part of Kenna's life, both would risk losing the trust of everyone important to them.
Regretting You
Colleen Hoover (Author), Tanya Eby (Narrator), Lauren Ezzo (Narrator)
Listen for free with Kindle Unlimited**
From #1 New York Times bestselling author of It Ends with Us comes a novel about family, first love, grief, and betrayal that will touch the hearts of both mothers and daughters.
Morgan Grant and her sixteen-year-old daughter, Clara, would like nothing more than to be nothing alike. Morgan is determined to prevent her daughter from making the same mistakes she did. By getting pregnant and married way too young, Morgan put her own dreams on hold. Clara doesn't want to follow in her mother's footsteps.
Resist
K. Bromberg (Author), Jason Clarke (Narrator), Erin Mallon (Narrator)
Listen for free with Kindle Unlimited**
From the New York Times bestselling author of the Driven series comes a powerful romance about reaching great heights through low depths.
Who says you have to play by the rules to get what you want? Agreeing to meet Ryker Lockhart is my first mistake. Rich, handsome, and more than intriguing, he thinks blackmail will bend me to his will. But he's wrong.

Both books in the Wicked Ways duet are "Read and Listen for Free".
Ensnared
J. S. Scott (Author), Elizabeth Powers (Narrator)
Listen for free with Kindle Unlimited**
Love is worth a fortune in this sizzling novel of accidental romance and riches by New York Times bestselling author J.S. Scott.
Wildlife conservationist Jade Sinclair isn't used to having money. But when she and her siblings learned they were part of the mega-rich Sinclair dynasty, they became billionaires overnight. Jade doesn't even know how to act rich, especially when she's dealing with an arrogant, privileged, unreasonably sexy snob like Eli Stone.
Butterfly in Frost
Sylvia Day (Author), Emma Wilder (Narrator), Joe Arden (Narrator)
Listen for free with Kindle Unlimited**
From #1 New York Times bestselling phenomenon Sylvia Day comes a hotly anticipated and passionate new love story.
Once, I would never have imagined myself here. But I'm settled now. In a place I love, in a home I renovated, spending time with new friends I adore, and working a job that fulfills me. I am reconciling the past and laying the groundwork for the future. Then Garrett Frost moves in next door.
A Lie for a Lie
Helena Hunting (Author), Stella Bloom (Narrator), Jason Clarke (Narrator)
Listen for free with Kindle Unlimited**
From the New York Times bestselling author of the Pucked series comes a romantic comedy about instant attraction, second chances, and not-so-little white lies.
Sometimes I need an escape from the demands, the puck bunnies, and the notoriety that come with being an NHL team captain. I just want to be a normal guy for a few weeks. So when I leave Chicago for some peace and quiet, the last thing I expect is for a gorgeous woman to literally fall into my lap on a flight to Alaska.
Discretion
Karina Halle (Author), John Lane (Narrator), Summer Morton (Narrator)
Listen for free with Kindle Unlimited**
From New York Times bestselling author Karina Halle comes a delicious saga of wealth, luxury, and scandal—and the wicked secrets of success behind an envied family dynasty.
The Riviera means indulgence—if you've got money. For Sadie Reynolds, a down-on-her-luck student, the Riviera means dingy hostels and back streets. When a wrong turn puts her in jeopardy, the last thing she expects is to be saved by the most handsome stranger she's ever locked eyes with.
Vacation Wars
Meghan Quinn (Author), CJ Bloom (Narrator), Lee Samuels (Narrator)
Listen for free with Kindle Unlimited**
From USA Today and Amazon Charts bestselling author Meghan Quinn comes a fun, sexy story about the family dynamics that can stand in the way of rekindling a romance.
Prepared for a good time, Tessa is thrilled to spend the weeks before her sister's wedding at their family's favorite vacation spot: Santorini. Sandy beaches, stonewashed houses, attractive men—it's heaven.
But Tessa's idea of a girls' trip comes to a screaming halt when her sister thinks it's high time Tessa finds some love herself.
Maybe We Will
Melissa Foster (Author), Aiden Snow (Narrator), Jennifer Mack (Narrator)
Listen for free with Kindle Unlimited**
From Melissa Foster, the New York Times bestselling author of She Loves Me, comes a sexy and heart-warming novel about finding love – and family – where you least expect it.
When chef Abby de Messiéres returns to Silver Island with her sister to get their late mother's affairs in order, she expected to inherit her mother's bistro along with their childhood home, not to discover a half sister they never knew existed, and a handsome vacationer camped out on her mother's patio.
Buck Wild
Lauren Landish (Author), Aiden Snow (Narrator), Melissa Moran (Narrator)
Listen for free with Kindle Unlimited**
From Wall Street Journal and USA Today best-selling author Lauren Landish comes a hard-riding romance of cowboys who run wild – and the women who tame them….
Bull rider James Bennett lives for those eight seconds of exhilaration. A rodeo cowboy in his prime, all he wants out of life is something to straddle. That's why James is feeling a little restless, spending his summer off working his family's ranch. That is, until a spirited and gorgeous veterinarian-in-training shows up and puts the cocky wild boy—and his ego—in place.
Fear Me
B.B. Reid (Author), Ava Erickson (Narrator)
Listen for free with Kindle Unlimited**
This isn't another "I hate you because I secretly love you" story. Boy really does hate girl.
I don't believe in fairy tales and Prince Charming. I believe in fear. He taught me how to be afraid. We first met on a playground on a wonderful summer day. It was the first time he hurt me and it wouldn't be the last. For ten years, he's been my tormentor and I've been his forbidden. But then he went away, and yet I was still afraid.
Now he's back and wants more than just my tears. You see…he thinks I sent him away so now he wants revenge…and he knows just how to get it.
Feral Sins
Suzanne Wright (Author), Jill Redfield (Narrator)
Listen for free with Kindle Unlimited**
When female wolf shifter Taryn Warner first encounters Trey Coleman, an alpha male wolf shifter with a dangerous reputation, she's determined to resist his charms. After all, Trey—who was only fourteen when he defeated his own father in a duel, winning the right to be alpha of his pack—can't have anything to offer the talented healer besides trouble, or so she thinks.
Suzanne Wright is one of the most popular Paranormal Romance authors. And most of The Phoenix Pack series and its spin-off series Mercury Pack are "Read and Listen for Free"!
Stealing Her
Rachel Van Dyken (Author), Alexander Cendese (Narrator), Lucy Rivers (Narrator)
Listen for free with Kindle Unlimited**
From the #1 New York Times bestselling author comes an unexpected love story of family, secrets, and the most intimate of deceptions.
My estranged twin brother, Julian, was always the wonder boy—and was groomed to become CEO of our ruthless father's corporation. My mother and me? Left behind. Now, years after tearing our family apart, my father dares to ask me for a favor? Pretend to be Julian while he fights to survive a tragic accident.
The Devil Wears Black
L.J. Shen (Author), Ava Erickson (Narrator), Sebastian York (Narrator)
Listen for free with Kindle Unlimited**
From USA Today bestselling author L.J. Shen comes a second-chance romance about love, loss, finding yourself, and getting lost in the right person.
Maddie Goldbloom stitched up a plan to ensure everything in her life was perfect—from a career in fashion to a chic NYC apartment to a pediatrician boyfriend.
When her ex, Chase Black, storms back into her life with an outrageous request, her immediate reaction is to refuse him. But he only wants to fulfill his father's last wish. So even though he's the man who broke her heart, playing his fiancée shouldn't be hard, especially if it means she gets to watch the arrogant devil squirm a bit.
As you can see, this subscription service is a great deal for Romance audiobook fans! So, if you haven't yet, grab that Kindle Unlimited free trial**.
And if you are looking for even more Romance audio recommendations, make sure you check out my list of the best Romance books 2023.
Kindle deals can slightly differ between international Amazon websites. The lists on this blog are based on Amazon.com. If you live elsewhere, you might be sent to your local Amazon. Please don't be disappointed if your marketplace has different prices. Sometimes, a US "Listen for Free" might cost a little elsewhere, while other deals might, in turn, be cheaper on your Amazon. You can only download Kindle audiobooks from your local Amazon website.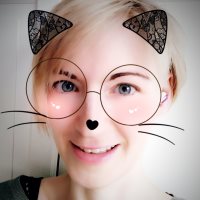 Eline Blackman (pronouns: she/they) fell in love with books as a child – with being read to and reading herself. 10 years ago, she bought her first Audible book. It was love at first listen! An average of 250 audiobooks per year has become the new normal and you will rarely see Eline without a wireless earbud. Romance and Fantasy are the go-to genres for this audiobook fan.
Romance Books
/