Here at Lovely Audiobooks, June is really the most exciting month of the year because it's the perfect time to celebrate all things LGBT Romance Books on Audible! In case you didn't hear, June is both Audiobook Month and Pride Month!
Below I want to share with you wonderful, happy LGBT books that end with Happily Ever Afters. While some of these protagonists have to deal with racism, transphobia, and homophobia, overall, these are hopeful stories and they all show queer people winning, being successful, and finding love!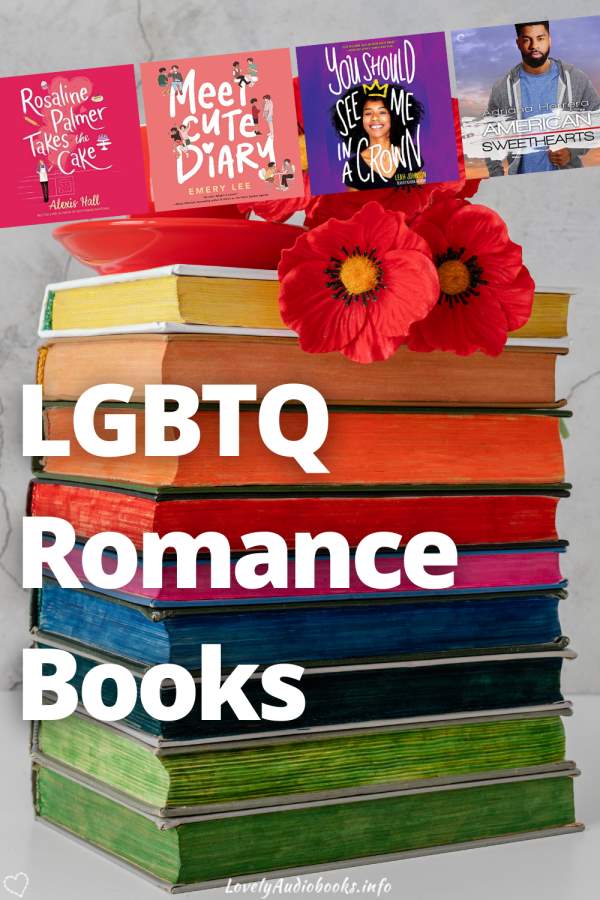 Lesbian Romance Books
You Should See Me in a Crown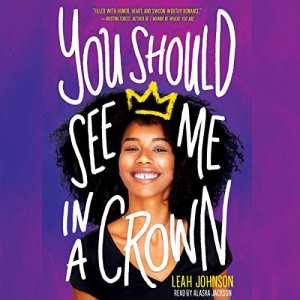 written by Leah Johnson
narrated by Alaska Jackson
Get the Audible book**
or Buy it on Libro.fm**
Liz has big plans for her future! When she hits a financial bump in the road to college, her friends support her in running for Prom Queen – a particularly coveted and esteemed title in the town. But being outed as a Lesbian doesn't make this plan easier for Liz…
You can't help but root for Liz wholeheartedly! She's such an amazing person! I also loved her group of friends who – for the most part – went to great lengths to help her reach her goal of becoming Prom Queen. The love story between Liz and Mack is wonderfully sweet and, somehow, at the same time, light and profound.
Even if you aren't usually a Young Adult Fiction reader, if you are looking for great LGBT Romance books, You Should See Me in a Crown is a must! This might well qualify as one of the best LGBT books out there, not only for teens, but also for adults.
The audiobook is narrated by Alaska Jackson who was the perfect choice for this story and made the book run in my head like a movie.
Once Ghosted, Twice Shy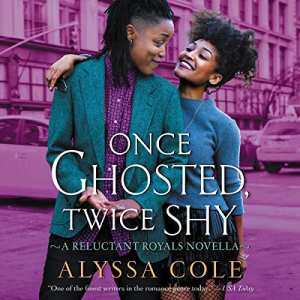 written by Alyssa Cole
narrated by Karen Chilton
Get the Audible book**
or Buy it on Libro.fm**
Set in Alyssa Cole's Reluctant Royals universe, this novella is the love story between Likotsi and Fabiola who meet through a dating app and hit it off right away… Only for their affair to dwindle out miserably.
As the title suggests, this is a second chance Romance. Likotsi doesn't quite know how to forgive Fabiola for ghosting her. And it's a very emotional journey to see these two women – who match so perfectly – come together again.
The audiobook for Once Ghosted, Twice Shy is narrated by the amazing Karen Chilton who reads many of Alyssa Cole's audiobooks. These two are a perfect match as well: Karen Chilton brings these great women to life!
The Love Project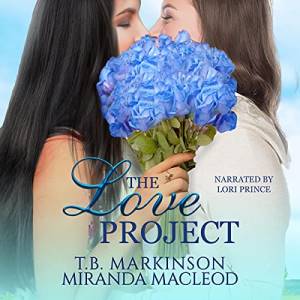 written by T.B. Markinson and Miranda MacLeod
narrated by Lori Prince
The Love Project is a wonderful addition to your LGBTQ book list because this isn't only a Women loving Women Romance, one of the heroines comes to identify as demisexual over the course of the story. The story walks a fine line with exploring the asexuality spectrum because Hope believes that something is wrong with her and that she is broken because she doesn't seem to have the same desires or form of attraction as other people.
Hope is an adorable, wonderful character and the match with disillusioned Joni was very interesting because both believe for entirely different reasons that love isn't for them.
The audiobook is narrated by Lori Prince who has a great range of different voices and is such a pleasure to listen to!
Check out more of my favorite Lesbian Romance books on Audible!
Gay Romance Books
Stupid Love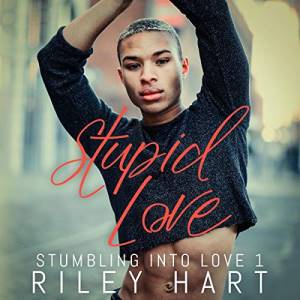 written by Riley Hart
narrated by Michael Dean
Get the Audible book in a deal**
Stupid Love is an Enemies to Lovers M/M Romance between two neighbors. Eli describes himself as a feminine guy. He's looking for the love of his life and believes his best friend might be just the one. His hot, hunky, bisexual neighbor Shaw – whom Eli hates with a passion for his manwh*ring ways – should help him with some love advice and coaching. And we all know how that kind of thing goes in Romance novels!
Stupid Love is a stupidly cute and super hot love story! You can't help but adore Eli for his honest ways. And he and Shaw have insane chemistry! I love the "love advice" trope and it's done amazingly well here, paired with the Enemies to Friends to Lovers development as well as a good chunk of online flirting.
The audiobook is narrated by Michael Dean who does justice to both Eli and Shaw. Both men sound very different and their chapters are easily distinguishable. This is a very captivating, fun Gay Romance novel that might well become a re-listen!
Related article: How to get Audible books cheaper with Whispersync deals
Femme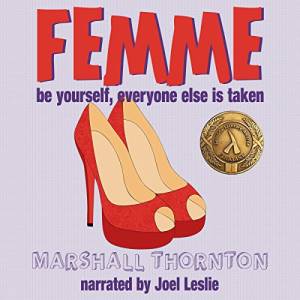 written by Marshall Thornton
narrated by Joel Leslie
Get the Audible book in a deal**
Femme is a hidden gem that deserves much more attention! This M/M Romance book has two out and proud gay protagonists – who are complete opposites. Lionel is flamboyant and the type of man that everyone identifies as gay right away. And he is happy with that. Dog is an athlete and usually passes as straight. And he, too, is happy with that. Neither thinks very highly of the other but after a drunken one night stand, things change.
The audiobook is narrated by Joel Leslie. Need I say more?!! You are in for a treat with this wonderful Rom-Com!
Check out many more of my favorite M/M Romance books on Audible!
Bisexual Romance Books
For the sake of list readability (and only that), I have included bisexual protagonists who are with a Gay or Lesbian partner in the categories above and those in M/F relationships below. Bisexual erasure is real for all of us!
American Sweethearts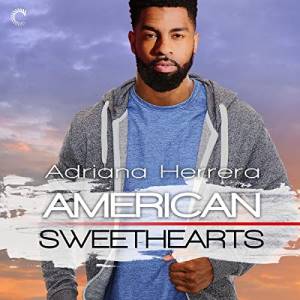 written by Adriana Herrera
narrated by Sean Crisden
Get the Audible book**
or Buy it on Libro.fm**
Adriana Herrera is one of my favorite authors of queer Romance books. When I pick up one of her books, I always know I will have a great time! American Sweethearts is a second chance, enemies to lovers M/F Romance with a bisexual hero. This story is very steamy with lots of drama, angst, and insane chemistry between the protagonists.
The audiobook version is narrated by Sean Crisden who has a beautiful voice and is a skilled voice actor who will most certainly captivate you! He is one of my favorites and always does a fantastic job with Adriana Herrera's books.
Take a Hint, Dani Brown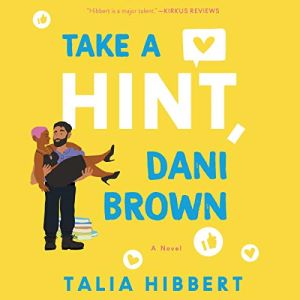 written by Talia Hibbert
narrated by Ione Butler
Get the Audible book**
Or Buy it on Libro.fm**
Dani doesn't believe in love. That's how things fell apart with her ex-girlfriend. And that's why things have to stay in the friendzone with Zafir. For the sake of Zafir's charity, the two decide to pose as a couple for social media though. And since it is going so well with the fake relationship, why not add a friends with benefits arrangement on top of that? Totally safe, no one will fall in love here!
Talia Hibbert is an absolute genius and I have devoured all of her books. Take a Hint Dani Brown is book 2 in the fantastic Brown Sisters series that I can wholeheartedly recommend. But it also works as a stand-alone or start into the series (it will be the latter, for sure).
Ione Butler narrates the audiobook and it is so, so good!! If you have seen this book around everywhere, there is a good reason for the hype, honestly. It cannot be hyped enough!
The Intimacy Experiment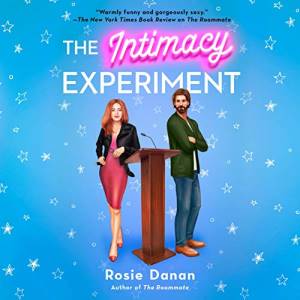 written by Rosie Danan
narrated by Alex McKenna and Kaleo Griffith
Get the Audible book**
Or Buy it on Libro.fm**
Naomi is bisexual and a very sexual person. She became famous with "adult movies" and is now using this platform to educate people on relationships and intimacy. When she is looking for a place to host workshops she meets Ethan, a rabbi who wants to make his synagogue more attractive to young people.
The Intimacy Experiment is a beautiful, gentle story about the meaning of intimacy and how to build a healthy relationship. I adored both Naomi and Ethan as people and as a couple.
The audiobook is narrated by Alex McKenna and Kaleo Griffith who were new to me and absolutely wonderful to listen to!
Rosaline Palmer Takes the Cake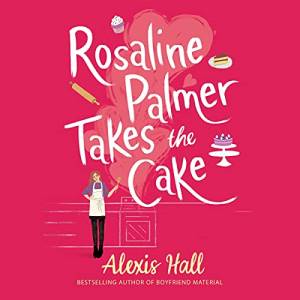 written by Alexis Hall
narrated by Fiona Hardingham
Get the Audible book**
Or Buy it on Libro.fm**
Rosaline is a young, single, bisexual mom who is a really good baker. And that would really be all of it if there weren't all those expectations! How her parents think she should be, how she thinks she should be, how the guy she is dating thinks she should be…
Rosaline Palmer Takes the Cake is a book I loved as a Romance reader, as an Alexis Hall fan, and as a bi woman. This is at the same time a super fun Romantic Comedy that will make you laugh out loud as well as a deep exploration of elitism and class prejudice.
The audiobook is narrated by Fiona Hardingham who is now my new voice crush! Rosaline Palmer Takes the Cake is one of the best Romance audiobooks of 2021!
Sweethand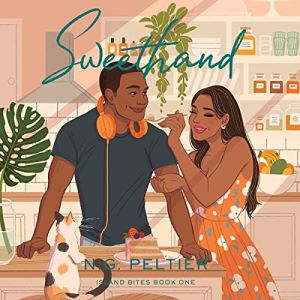 written by N. G. Peltier
narrated by Chrystal Bethell
Get the Audible book**
Or Buy it on Libro.fm**
Keiran is the bisexual book boyfriend of your dreams! But not of Cherisse's… The two can't stand each other. And being forced to work together for her sister's and his best friend's wedding spells disaster.
Sweethand is a wonderful slow-burn Enemies to Lovers Romance set in Trinidad. I loved the flow of this story and how the basis for their animosity was so realistic and understandable. Narrator Chrystal Bethell does an accent that made me absolutely addicted to this audiobook! Also, this might well be the best Romance book cover of 2021!
Trans Romance Books
Felix Ever After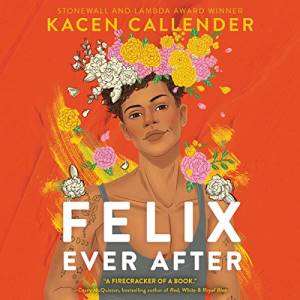 written by Kacen Callender
narrated by Logan Rozos
Get the Audible book**
or Buy it on Libro.fm**
Felix feels like he might have one marginalization too many: He's Queer, Black, and Trans! He has to experience an ugly situation of his deadname and old photos being shown publicly without his consent. But overall, this book is very positive and cute, focusing on Felix torn between two love interests: his best friend and his enemy, of all people, who he gets to know better anonymously online. This is a love triangle that can make Romance readers' hearts beat faster!
The audiobook of Felix Ever After is narrated by Logan Rozos who is so wonderful to listen to and the absolutely perfect cast for Felix. I was honestly tempted to just start the book all over again when it finished. This is one of the best LGBT Romance books out there!
Meet Cute Diary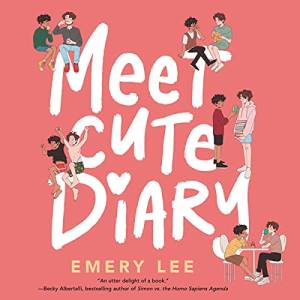 written by Emery Lee
narrated by Logan Rozos
Get the Audible book**
Or Buy it on Libro.fm**
Noah loves Romance! And on his blog, The Meet Cute Diary, he shares meet cutes and Happily Ever Afters of trans people. When rumors come up that the stories are fiction, he gets into a fake relationship with a fan to save the blog. The two guys actually had a real meet cute! It seems absolutely perfect. But there is someone else…
Meet Cute Diary is an adorable Young Adult love triangle Rom-Com that is simply a must-listen this year! If you enjoyed Felix Ever After, you will love Emery Lee's book as well (and vice versa).
Second Chance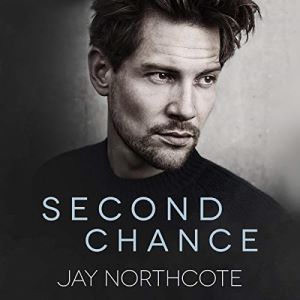 written by Jay Northcote
narrated by Hamish Long
Get the Audible book in a deal**
Second Chance is a steamy, adult Trans-M/M Romance by English author Jay Northcote. It is wonderfully atmospheric, emotional, and sexy!
Nate and his daughter move back to the hometown Nate left before transitioning. It doesn't take long until he meets Jack again, his former best friend – the gay best friend Nate was in love with as a teenager but who didn't return the feelings.
The audiobook is narrated by Hamish Long who is a pleasure to listen to and created distinct voices for the two men. I loved this book so very, very much!
Why We Fight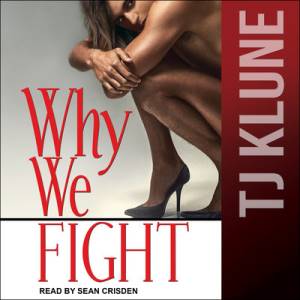 written by TJ Klune
narrated by Sean Crisden
Get the Audible book**
Or Buy it on Libro.fm**
Corey (or Kori) is bi-gender and helps out at an LGBTQI youth center where he gets to know Jeremy, the director, who used to be Corey's professor and secret crush. Since this is book 4 in a series, there are many wonderful supporting characters around. But I think it works just fine as a stand-alone or start into the series.
This book also deals with a very painful part of political history (now fortunately history). And for me as a European reader, it filled in some aspects that I did not know before. TJ Klune mixes this up with his delightful sense of humor!
Sunset Springs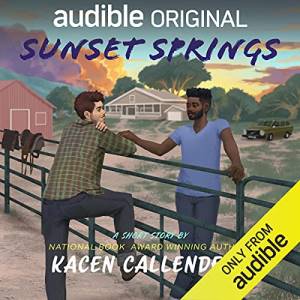 written by Kacen Callender
narrated by Commarrah J. Yochanan
Listen for free with Audible Plus**
Kacen Callender wrote an adorable Audiobook novella for Audible that you should download *right now*! It is included in Audible Plus, so as a member, you can simply borrow it without having to spend an Audible credit.
Charlie left his little conservative hometown before transitioning. After losing his job, he has to return to live with his mom for a while. In her bookstore, he meets a guy he knew from school who is now out as gay and experiencing a lot of homophobia in the little town. The two start to bond and hang out together.
I enjoyed this story very much and loved the narration by Commarrah J. Yochanan! Unlike Felix Ever After by the same author, this is an adult book and a bit more explicit (which is much appreciated, of course)!
Booklist, Review
/