Here at Lovely Audiobooks, June is really the most exciting month of the year because it's the perfect time to celebrate all things LGBT Romance Books on Audible! In case you didn't hear, June is both Audiobook Month and Pride Month!
2020 is a special one, and so the focus of this reading list are amazing Romance audiobooks with trans, gay, lesbian, and bisexual main characters written by and about People of Color!
The following are all happy LGBT books that end with Happily Ever Afters. While most of the protagonists have to deal with some levels of racism and homophobia, overall, these are hopeful stories and they all show Queer People of Color winning, being successful, and finding love!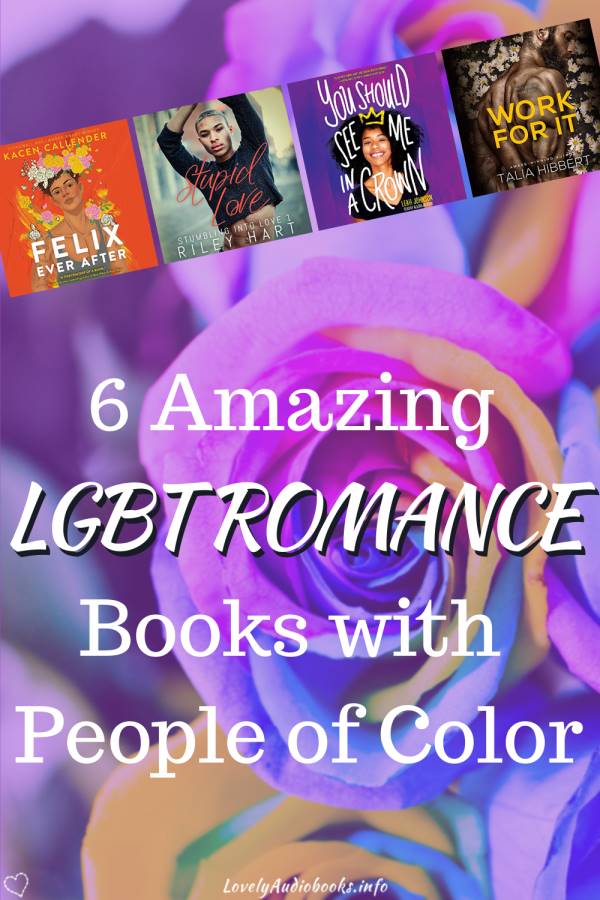 Felix Ever After
written by Kacen Callender
narrated by Logan Rozos
Felix feels like he might have one marginalization too many: He's Queer, Black, and Trans! He has to experience an ugly situation of his deadname and old photos being shown publicly without his consent. But overall, this book is very positive and cute, focusing on Felix torn between two love interests: his best friend and his enemy, of all people, who he gets to know better anonymously online! This is a love triangle that can make Romance readers' hearts beat faster.
The audiobook of Felix Ever After is narrated by Logan Rozos, making this a full OwnVoices production. He did a fantastic job and is the absolutely perfect cast for Felix! I was honestly tempted to just start the book all over again when it finished. It's one of the best LGBT books out there!
American Dreamer
written by Adriana Herrera
narrated by Sean Crisden
Who doesn't love books about fellow book lovers?! Nesto moves into a new city to grow his food truck business and runs into the local librarian, Jude. Nesto is a real workaholic and can't see anything besides his business. Jude, on the other hand, has difficulties living and enjoying his sexuality because of his upbringing. So their mutual attraction has quite some obstacles to overcome…
I loved how real the characters in this M/M Romance novel felt, with their strengths and weaknesses that didn't only affect their own path, but also their partner. And Nesto and Jude also support each other in profound and sweet ways.
The audiobook of American Dreamer is narrated by Sean Crisden who has a beautiful voice and is a skilled voice actor who will most certainly captivate you!
Work For It
written by Talia Hibbert
narrated by Shane East and Chance Thoreau
Talia Hibbert is an incredible author who – fortunately and finally – receives some of the attention she deserves. Work For it is a steamy M/M Romance between a small town hermit and a tourist from London who seems to have it all. Griffin is very isolated and yet he doesn't seem to be willing to leave his hometown. Then Olu arrives and the two clash!
Enemies to Lovers Romance is such a great trope and this book does it particularly well. Olu brings out the passionate side of stoic Griffin. While Griffin makes Olu question his own form of self-inflicted isolation. This is an insanely passionate, complex, and deep love story!
The audiobook is narrated by Shane East and Chance Thoreau. It's great when M/M Romance with dual Point of View is narrated by two different voice actors. Shane East is one of the best British narrators. And Chance Thoreau is probably a pseudonym because this narrator is extremely skilled and was definitely not new to voice acting.
This author also has an M/F Romance with a bisexual heroine, Take a Hint, Dani Brown**. This, too, will make another great addition to your collection of LGBT Romance books!
Related article: Find out how to get this audiobook on Amazon for less than the cost of an Audible credit!
Once Ghosted, Twice Shy
written by Alyssa Cole
narrated by Karen Chilton
Once Ghosted, Twice Shy is a WlW Romance novel by the amazing Alyssa Cole! Set in her Reluctant Royals universe, this novella is the love story between Likotsi and Fabiola who meet through a dating app and hit it off right away… Only for their affair to dwindle out miserably.
As the title suggests, this is a second chance romance. Likotsi doesn't quite know how to forgive Fabiola for ghosting her. And it's a very emotional journey to see these two women – who match so perfectly – come together again.
The audiobook for Once Ghosted, Twice Shy is narrated by the amazing Karen Chilton who reads many of Alyssa Cole's audiobooks. These two are a perfect match as well: Karen Chilton brings these amazing women to life!
You Should See Me in a Crown
written by Leah Johnson
narrated by Alaska Jackson
You Should See Me In A Crown is a YA novel about a Black Lesbian Girl navigating life in a small town. Liz has big plans for her future! When she hits a bump in the road, her friends support her in running for Prom Queen – a particularly coveted and esteemed title in the town. But being outed as a Lesbian doesn't make this plan easier for Liz…
You can't help but root for Liz wholeheartedly! She's such an amazing person! I also loved her group of friends who – for the most part – went to great lengths to help her reach her goal of becoming Prom Queen. The love story between Liz and Mack is wonderfully sweet and, somehow, at the same time, light and profound.
Even if you aren't usually a Young Adult Fiction reader, if you're looking for great LGBT Romance books, You Should See Me in a Crown is worth your time, trust me! This might well qualify as one of the best LGBT books out there, not only for teens, but also for adults.
The audiobook is narrated by Alaska Jackson who was the perfect choice for this story and made the book run in my head like a movie!
Stupid Love
written by Riley Hart
narrated by Michael Dean
Stupid Love is an Enemies to Lovers M/M Romance between two neighbors. Eli describes himself as a feminine guy. He's looking for the love of his life and believes his best friend might be just the one. His hot, hunky, bisexual neighbor Shaw – whom Eli hates with a passion for his manwh*ring ways – should help him with some love advice and coaching. And we all know how that kind of thing goes…
Stupid Love was is stupidly cute and super hot love story! You can't help but adore Eli for his honest ways. And he and Shaw have insane chemistry! I love the "love advice" trope and it's done amazingly well in Stupid Love, paired with the Enemies to Friends to Lovers development as well as a good chunk of online flirting.
The audiobook is narrated by Michael Dean who does justice to both Eli and Shaw. Both men sound very different and their chapters are easily distinguishable. This is a very captivating LGBT Romance audiobook that might well become a re-listen!
You can unsubscribe at any time by clicking the link in the footer of my emails. For information about my privacy practices, please read the Privacy Policy.
Booklist, Review
/