Amazon Whispersync for Voice is a fantastic thing for audiobook listeners because it lets you buy audiobooks a lot cheaper than on Audible! But it also makes it possible to read the same title in both ebook and audiobook format.
Whispersync deals are my favorite way to buy cheaper audiobooks. And it's the perfect option for audiobook fans who don't like subscriptions and/or who like owning all of their audiobooks. This is the most affordable way of buying audiobooks from a huge selection!
What is Whispersync and how does it work?
The short version is: Whispersync allows you to seamlessly swap between an ebook and its audiobook. Your Kindle device/app and Audible app sync so you can always continue with the book where you last left off. But Whispersync also allows audiobook listeners to buy Audible books much cheaper. Read more…
Do all Kindle books have Whispersync?
No. Firstly, not every ebook has an audio version. Secondly, Amazon has specific requirements for Whispersync books. The Kindle version and Audible version have to be almost exactly the same. Because of this, it sometimes takes a few weeks after the audiobook release until Amazon adds a Whispersync deal to an ebook.
Can you add Whispersync after purchase?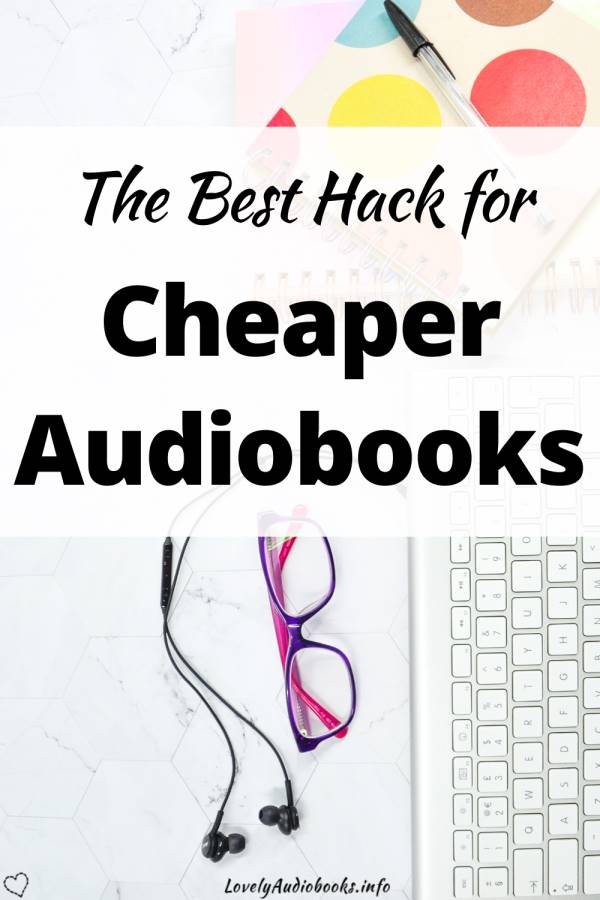 **The marked links and book covers on this page are affiliate links. If you use them to purchase something, I earn a fee at no additional cost for you. Disclosure**
Whispersync Price Structure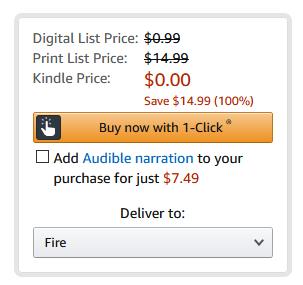 You'll find that most Whispersynced audiobooks will be either $1.99 – those are most often Amazon Publishing or Audible Studios productions – or $7.49 – that's the standard Whispersync price most publishers and indie authors get. You can also find Whispersync deals for titles from big publishing houses, but if you only want the audiobook, these are rarely worth it. Spending an Audible credit will be the cheaper option here.
Generally, when you want to buy an audiobook you should always check Amazon first to see if you can buy it cheaper with what I like to call a "Whispersync deal".
Let's check out an example:
Verity by Colleen Hoover** was a huge hit. You can buy it for an Audible credit which I consider worth $14.95 or you can get the very same Audible book through Amazon. You go to the title's ebook page and you can now buy the Kindle book for $4.99 and add the Audible narration for only $1.99!
So, instead of spending an Audible credit worth $14.95, you now got the audiobook for only $6.98! And you own the ebook as a bonus.
If you are a Kindle Unlimited subscriber, you can get it even cheaper. The ebook is included in KU and when you borrow it for free, you can add the Audible narration for $1.99 as well. In both cases, whether you buy the ebook or borrow it through Kindle Unlimited, you own the audiobook! It will be automatically added to your Audible app and you can listen to it whenever and as often as you want.
You do not need an Audible subscription to listen to Whispersync Audible books! You simply install the free Audible app and log in with the same email and password you use for your Amazon account.
Buying a Whispersynced audio version works independently of an Audible subscription. So, even if you don't have an active Audible membership, you can buy these cheap audiobooks on Amazon and listen to them in the app as you would listen to any audiobook you bought for a credit. They are added to your Audible library and will stay there.
How to add Whispersync to a Kindle book
Follow this link to browse through all Kindle ebooks that have cheap Audible narration**. Unfortunately, you can't sort by price for the audiobook here. But you can filter for recent releases and genres you are interested in.
Sometimes, when an ebook is included in Kindle Unlimited, you can't immediately see whether the book has a cheap Audible narration. You have to click on the tiny grey arrow under the big yellow "Read for Free" button to find the option of adding the Audible narration. Simply toggle that before either borrowing the ebook through Kindle Unlimited or purchasing the ebook.
If you have Kindle Unlimited and don't want to own the ebook, you do NOT need to buy the ebook to get the cheaper audiobook!
Just toggle "Add Audible narration" and then click the "Read for Free" button.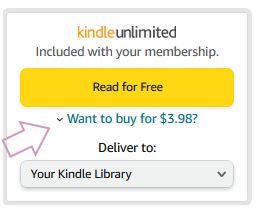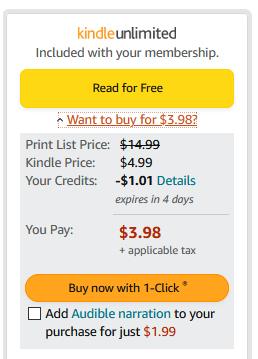 If you're looking for Whispersync deals for Kindle books you already own, Amazon has a really nice tool in place for you, the so-called Amazon Matchmaker**. It looks through all the Kindle ebooks you already own or have currently borrowed and offers you the Audible narrations for the reduced price.
A little tip: This is why I always snatch up ebooks when they are temporarily free or $0.99! Then I can always get the cheap audiobook later on.
The Amazon Matchmaker** is a page that will go through your ebook library and show you an easy-to-navigate list of all available Audible narrations for a reduced price.
You can also find this in your Kindle app by clicking on "More". In the menu that opens up, navigate to "Read & Listen with Audible" to get an overview of all your Whispersynced ebooks. Now you can add the audiobooks for a cheaper price.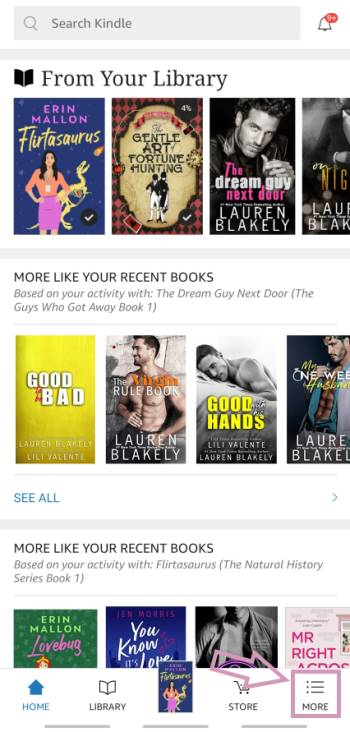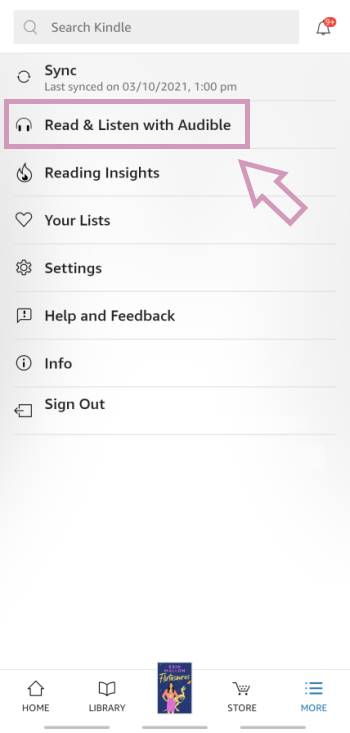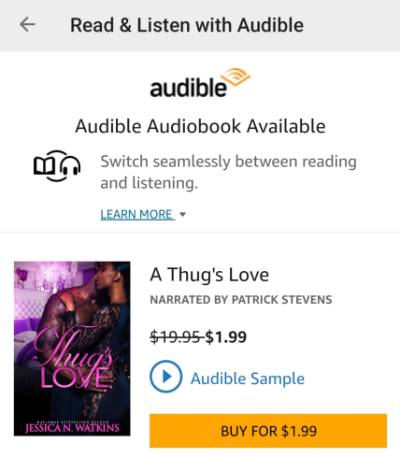 I have to mention here that this works perfectly in the Kindle app on my Android phone. But it does not work in the Kindle app on my Fire tablet! The menu entry is the same, but on the tablet, it takes me to a general store page of Kindle ebooks with Audible narration, not to an overview of the titles I already own. If you experience that on your device, I recommend you use the browser version of the Matchmaker that I linked above. You can also use this with a phone browser.
What Whispersync for Voice is actually about…
While many audiobook fans love Whispersync as a source for cheaper audio books, it actually has an entirely different purpose. It syncs your ebook reading progression with the Audible version so you can swap between both formats. If you enjoy reading at night in bed, you can read the ebook in a Kindle app or device. And when you commute to work in the morning or have boring chores to do, you continue with the story in Audible. The Kindle or Audible app will always jump to the point where you last left off in either format.
Amazon also lets you experience immersion reading this way. I know of many people who love listening to the Audible narration while reading the ebook. And this is a very interesting option for practicing readers as well.
If you enjoy Romance audiobooks, I suggest you pop by my Facebook page and give it a like and follow. Every Friday, I post that week's best Romance audiobook Whispersync deals there!
And you can also check out my blog post with popular, actually free Romance ebooks with $7.49 audiobooks.
All about Audiobooks
/