You have probably heard of Audible before you even started to consider whether you want to listen to audiobooks. And now you want to give it a try. But how does Audible work? I'll explain it to you step by step below and I will also tell you a few tricks you should know to get the most out of your new audiobook subscription!
What is Audible?
Audible is a subsidiary of Amazon.com that produces and sells audiobooks and podcasts. You can listen to Audible audiobooks on your phone, tablet, or computer using the Audible app. You can also listen on certain Amazon devices, such as the Echo Dot.
You can log into the Audible website and app with your Amazon account email and password.
Audible is the biggest audiobook store, listing the vast majority of the books that are available in audio format. They have a huge selection of bestsellers, new releases, classics, and more.
Audible offers an audiobook subscription service that gives you one free audiobook per month and is cheaper than buying an audiobook directly. We'll go more into detail about this later!
How much is Audible and which Audible Plans are available?
The standard plan is called Audible Premium Plus and costs $14.95 per month. This plan gives you one Audible credit per month with which you can buy any audiobook from the Premium catalog.
In addition to that, you get access to the Audible Plus catalog. This works like Netflix. You can listen to as many of the included books as you want but they don't belong to you. So you can only listen to these while you have an active Audible subscription.
And the last noteworthy membership perk are the Audible sales. Every book in the entire catalog is available for a 20% reduced price (but please keep in mind that it's often cheaper to buy more Audible credits than to buy the book directly for money).
And you can buy the daily deal for around $5 and have access to the many sales events Audible has every year, e.g. the 2-for-1 where you can buy two audiobooks for one Audible credit.
For $22.95 per month, you can get 2 Audible credits per month instead of just one.
Both of these plans are also available as an annual version which comes out quite a bit cheaper than paying monthly. The 1 credit Audible Premium Plus annual plan costs $149.50 and the 2 credit one is $229.50 per year.
On the other end of the scale, Audible offers a budget plan for $7.99 that doesn't give you an Audible credit but only provides access to the Audible Plus catalog.
And lastly, there's the super secret and super amazing (I currently have it, so trust me on this) Audible Premium Plus – 1 credit every other month plan.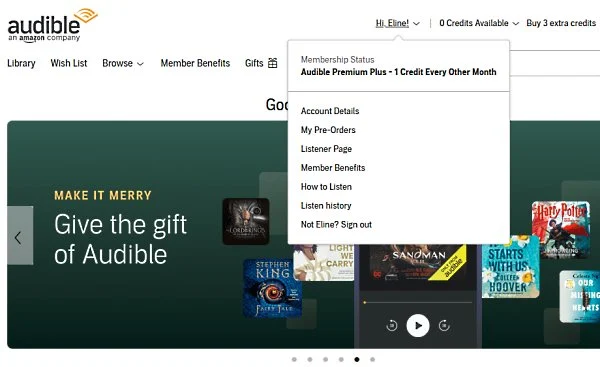 Yeah, don't ask me who came up with that name. It used to be called Audible Silver which was quite a bit more shorter.
But anyway, this plan costs $14.95 EVERY OTHER MONTH which makes it cheaper than the Audible Plus plan even though you get full access to the Plus catalog in addition to your Audible credit every other month. How awesome is that?!
Well, to be honest, it is so awesome that Audible doesn't offer this to potential subscribers directly. You can only get this plan when you cancel an already existing Audible Premium Plus membership.
But I still wanted to mention it here because it might be a good plan for you after your Audible Premium Plus free trial**!
How does Audible work?
After signing up for an Audible Premium plan, you will receive your Audible credits right away, 1 or 2 in the monthly plans, or all 12 or 24 in the annual plans. You can spend them on any audiobooks that have the tag "1 credit".
Audiobooks that don't have this tag are in the Audible Plus catalog and are already included for free in your subscription. You can simply add those to your library and listen to them.
(You can also buy them for a credit if you want to keep them after canceling your membership.)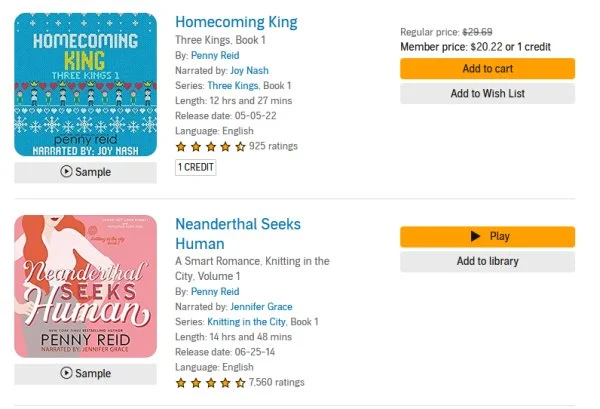 How do Audible credits work?
Audible credits work like a voucher or gift card. You can use your credit to buy any audiobook from the entire Audible catalog, regardless of the price.
An Audible credit has approximately a value of $14.95 (the price of a standard Audible Premium Plus membership). So, you should only use your Audible credits for books that are more expensive than $14.95!
If you are interested in a short audiobook or a daily deal audiobook, it's smart to buy them directly with money and save the Audible credit for a more valuable title.
It's very important to note that credits do expire! If you don't use your credit within a year after purchase, it will disappear. That means if you choose an Audible Premium Plus annual plan, you need to use up your credits before your subscription renews.
And you can buy pre-orders with credits! Even if your membership ends in the meantime, you will receive your pre-order.
Until recently, this was also a way to get back an Audible credit without an active subscription. If you had a pre-order, canceled your membership, and later on canceled the pre-order, you would get the Audible credit refunded.
However, Audible returns are a sensitive subject and change a lot at the moment, so we'll go more into detail about this later.
The last thing I want to mention about Audible credits is that if you have no credits or only one credit in your account, Audible will offer you a deal to buy 3 additional credits for money. You can see this in the screenshot of my account above. If you go through your credits quickly, I recommend that you make use of this offer instead of buying audiobooks for money (unless, of course, they cost less than $14.95).
How does Audible Plus work?
Audible Plus works exactly like Netflix or Kindle Unlimited. All the included books are free for subscribers and you can borrow and listen to as many as you like.
Unlike Audible books that you buy with a credit, Audible Plus books are not yours so you can't listen to them anymore if you cancel Audible and your membership ends.
It's important to understand though that not all Audible books are included in your membership for free. Audible as a whole does NOT work like Netflix! The Audible Plus catalog is a selection of books (mostly Audible Originals and Audible Studios books) and only a small part of the entire Audible audiobooks catalog.
The largest part of the entire Audible catalog are Premium books that require a purchase.
Related article: Audible Premium Plus vs Audible Plus
Are Audible Books free?
While we're on the topic of the Plus catalog, you are right to ask: "So, are Audible books free?"
Well, yes, some Audible books (those in the Plus catalog) are free in the same way that Kindle Unlimited ebooks are free for Kindle Unlimited subscribers or Netflix movies are free for Netflix subscribers.
And they are entirely free during your free trial month!
You also get your monthly Audible credit and the book you buy with that is "free" in the same way.
You pay your monthly membership fee – or get a free trial month – and then you get access to the Audible Plus catalog of included audiobooks and you get an Audible credit for one free audiobook.
But Audible as a whole is a paid service.
Related article: How to get Audiobooks for free online
How do I cancel Audible?
If you decide that Audible isn't working for you or you need to be mindful of your spending, it's easy to cancel your account. Just go to your account settings and on the Membership Details page, click the "Cancel membership" link.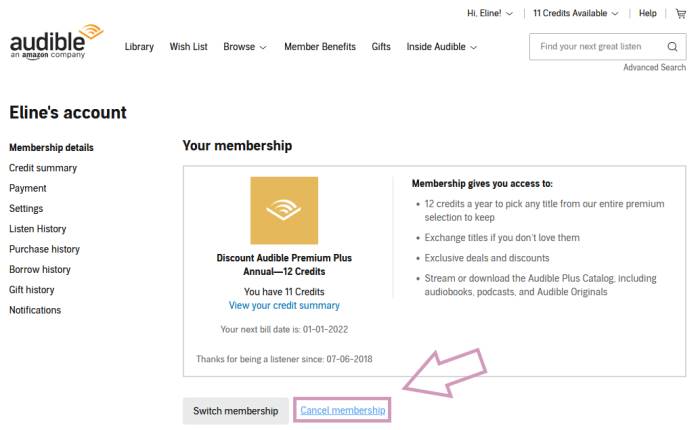 Now, of course, Audible doesn't want to let you go without fighting for you, so they'll throw a bunch of perks and offers at you before you can finally say that, no, really, you are absolutely set on leaving.
But that's why Audible veterans love the cancelation process! It's often the place where you get the absolute best deals and discounts for your Audible membership, and even some offers that you won't find anywhere else (like the amazing Silver plan which now has that long unwieldy name).
You can cancel your Audible membership at any point – even the minute after starting a free trial – and you will still get the membership perks for the entire month.
Related article: How to cancel Audible step by step
If Audible is working out really well for you – so well actually that you find yourself lacking credits – you can also cancel your membership to sign up for a bigger plan. If you do this, your membership will be reset instantly so you get all your new credits right away.
What is the Audible Return Policy?
Audible has made a lot of changes to their famous returns policy recently. You can give back any audiobook you bought for an Audible credit and have the credit returned.
If you do this several times and use your credit like a library-substitution, you might get in trouble though and Audible could block the option of returning titles from your account.
You can't return audiobooks (anymore) that you bought with money on Audible.
The option to return titles yourself in your account is limited to one year after purchase.
Related article: What you must know before returning an Audible book
How to use Audible
Now we've spent so much time talking about plans and money and whatnot. But you actually want to listen to audiobooks, right?!
So, how to use Audible? Well, first, you have to pick an audiobook. You might already have a title in mind that you can simply type into the search bar. Or you can browse Audible's suggestions (or mine for that matter, this blog is full of lists with my favorite audiobooks!).
If the book you pick is in the Audible Plus catalog, you simply click Play to listen in your browser (which kinda sucks and I personally think this shouldn't be the top button). Or – and this is much better – you click "Add to library".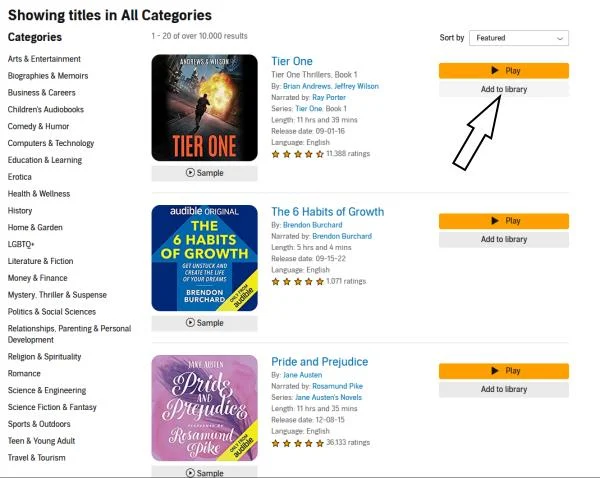 If the book you picked costs an Audible credit, you can choose "Buy for 1 credit" or "Add to cart" and apply your Audible credit to the book at checkout.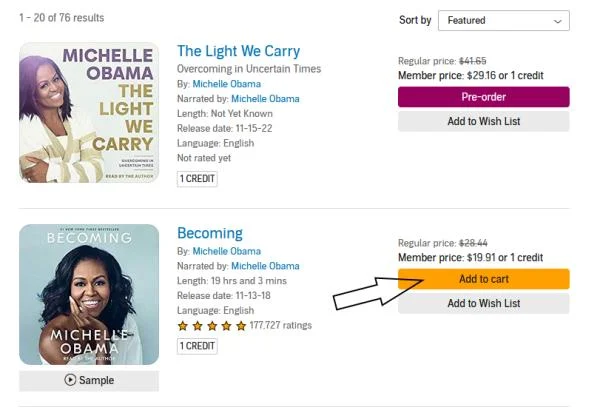 Now that you have at least one Audible book in your Audible library, we hop over to the Audible app. You can install that on your device and you could consider hooking up a pair of headphones which I find makes listening more comfortable and more intimate.
Once the app is installed, log in with your Amazon account info that you used earlier to sign up for an Audible membership. When you have done that you can navigate to Library and should see the book you purchased or chose from the Plus catalog.
Click on it to start the download and moments later, you can start listening!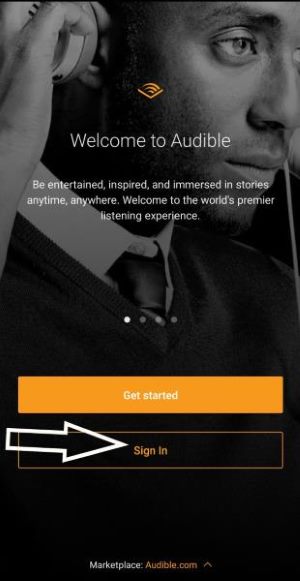 How to get the most out of an Audible membership
We all have different tastes in books and we all have different listening times. But I still want to give you a few pointers to help you feel like Audible is worth it to you.
The most important one is to make use of the Audible Plus catalog! Even though they are free and not premium titles, these are not second-rate books. Audible's own productions are always incredibly well done. Many have a full cast of narrators which is always fun to listen to. Some stories are released exclusively as Audible audiobook and are only available as ebook much later.
So, keeping an eye out for new Audible Plus books and checking out the most popular ones is a great way to make your Audible membership feel more worthwhile.
Another thing people tend to forget is that Audible offers more than one plan! Yes, 1 credit a month is the standard. But maybe you aren't the standard listener!
As I mentioned earlier, I adore my Audible Premium Plus – 1 credit every other month plan. It fits me really well because I use so many other audiobook services in addition to Audible.
But if you prefer to only use Audible and listen to a lot of audiobooks, a 2 credit annual plan might be worth it for you because the price for each credit drops so much.
It's a good idea to consider every now and then how much and how exactly you use Audible and think about whether you want to swap your subscription plan.
Another thing Audible users often overlook but shouldn't is the wishlist. No, I know, you're not gonna show it to your partner to have them buy you audiobooks for your birthday. It's a wishlist for Audible itself!
If you add a book to the wishlist and it then becomes part of an Audible sales event, you will receive an email (unless you have opted out of them). This is a super comfy way to get audiobooks you are interested in for a steal! And you can keep your library well-stocked so you always have something good to listen to.
Now, if you are still unsure, check out my blog post on the question "Is Audible worth it?". If you are sold now, grab your 30 day free trial** and then check out the best new Audible Plus books to stock your library!
Happy listening 🙂
All About Audible
/