Who knew that porn stars are a popular group of Romance heroes?!
But I was wondering: Why is this a thing? Now, going by the books I have read, the male porn star trope is the continuation of the player trope.
**The marked links and book covers on this page are affiliate links. If you use them to purchase something, I earn a fee at no additional cost for you. Disclosure**
The Player Hero
In Romance novels, the player is an insatiable guy who is – also because of having practiced so much – a god between the sheets. Most often, he's cocky and happy with himself, not a broody type. And the player usually doesn't have a lot of worries. At least not until the day he meets his soul mate…
This romance hero can do his thing without ever actually having to deal with unsexy things like STD's. It's enough that his author mentions somewhere that he always uses condoms. Rarely, he has to deal with an unplanned pregnancy. But that's usually what brings him and his soul mate together, so it's all good!
The Porn Star Hero
Now, the male porn star on the other hand… For him, things aren't quite as easy. While he – technically, kind of – does the same thing as the player, the stakes for him are much higher. He can't simply stop sleeping with a lot of partners, because it's his job. He has to consider his responsibilities. Money is usually a pretty big aspect in porn star Romance books. He's not the happy-go-lucky guy who can simply change his ways.
And I think this mix of the sexual prowess of the player, the troubles of the brooding hero, and the sense of responsibility of characters like the single dad hero, make the porn star hero so interesting.
But enough of all this analyzing and discussion! Of course, I have a few great recommendations for porn star Romance books that are absolutely worth checking out!
Logan is particularly awesome at being an insatiable hero. He loves sex, he turned it into a very successful career, and he always treats women with respect.
Come to think of it, Devi is pretty much the same. She enjoys sex and found it to be a good way to earn her living.
I liked how this book shows both the good and the ugly of the porn industry. It doesn't shy away from portraying the predatory side. But to me, it didn't feel like this was used as a cheap plot device. Instead, it's a fitting counterweight to the nice and cuddly side of the industry that the protagonists strive to represent.
If you're curious about porn star Romance, this one should be your first pick! It's a great story and the narration by CJ Bloom and Jacob Morgan is absolutely fantastic.
You can get the ebook in Kindle Unlimited and buy the super cheap audio upgrade:
Get the Audible book in a deal**
Related article: How to get Audiobooks cheaper with Amazon Whispersync
And while the start of this book is rather hilarious, I wouldn't really think of this as a rom-com.
Cade turns to the adult entertainment industry because he desperately needs the money. He's the responsible Romance hero who can't give up his job just like that because he falls for someone. But his love story with Alexa takes such a wonderful turn.
This book has a particularly wonderful happy ending and despite the trope, this is so romantic!
Get the Audible book in a deal**
Tristan is a little bit of everything (which is no surprise, because an almost 11h audiobook leaves a lot of room for character development). He takes his responsibilities seriously and he's a bit of a nerdy thoughtful type.
This book is definitely less sexual than the other two in this list, it's solidly in the friends-to-lovers territory.
Callie Dalton's narration is awesome as always. Her voices, in particular her Tristan voice, are great and her intonations work well in keeping that balance between funny, heart-warming and sexy.
Get the Audible book in a deal**
I'd love to hear your thoughts about porn star romance in general, as well as your recommendations for good romance novels on the topic.
You might also like my recommendations for Enemies to Lovers and Love Triangle audiobooks in the Audible Romance Package.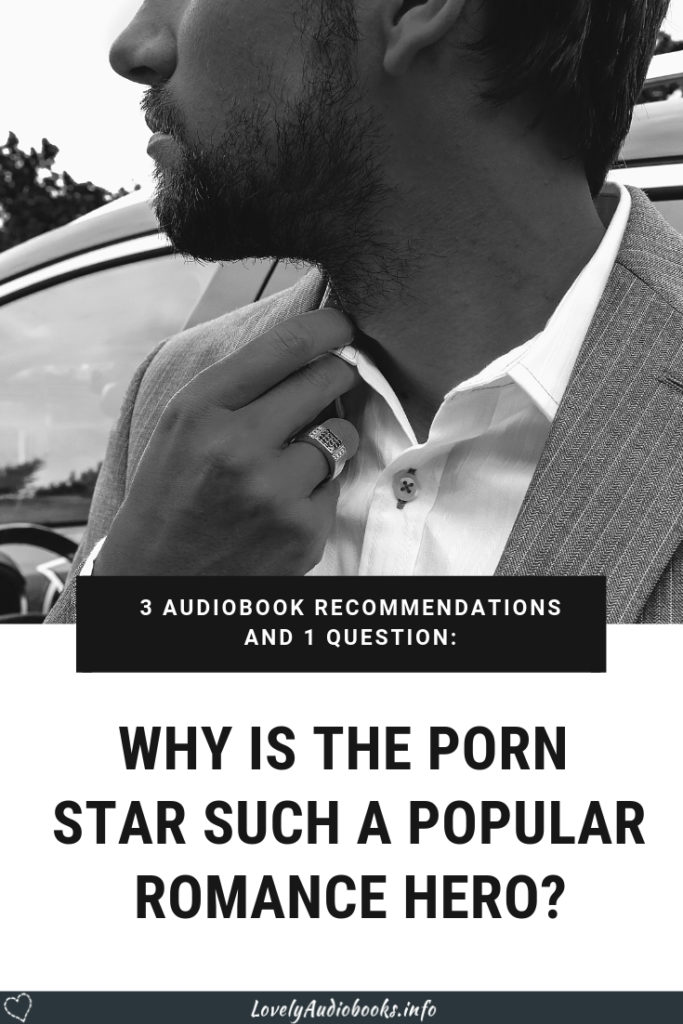 Review, Discussion
/