I'm such a fan of Audible Originals! I always feel like these audiobooks are made by people who truly love the format. And that makes these books so much fun to listen to!
Below, I want to highlight some of my absolute favorites.
These 10 books are all produced by Audible and exclusive to their platform, so you can't listen to them anywhere else. And they are all included in the Plus catalog, meaning, if you are an Audible member, you can listen to all of these audiobooks without having to spend an Audible credit.
Simply add them to your library, download, and enjoy!
**The marked links and book covers on this page are affiliate links. If you use them to purchase something, I earn a fee at no additional cost for you. Disclosure**
What are Audible Originals?
Audible originals are a category of audio content that is only available on Audible. It includes audiobooks and podcasts, ranging from all genres of fiction to nonfiction and courses. You can find something to suit every taste, and all of these Audible books and podcasts are produced by professional voice actors and sound engineers.
Unlike traditional audiobooks, which are typically recorded versions of previously published books, many Audible Originals are created specifically for the audio format. That means the script is prepared to include elements like music and sound effects that enhance the listening experience, as well as a full cast of voice actors so the text can leave out "he said / she said".
What is Audible Plus?
Audible has been creating Audible-exclusive audiobooks and podcasts for years. In the past, members could choose two Audible Originals in addition to the audiobook they would buy for their monthly credit.
To step up their game, Audible has changed this practice in 2021. Instead of letting you pick just two Audible Originals, you now have access to ALL OF THEM – as long as your membership is active. If you have a standard Audible membership and get a credit each month, access to the Plus catalog is included for free.
If you don't have an Audible subscription, you can also choose to sign up for Audible Plus by itself. that plan is only $7.49 per month, but you won't get any Audible credits. Just like Netflix, you can access as much of the Plus content as you like for your flat monthly fee.
Related article: Audible Plus vs Premium Plus
10 of the Best Audible Originals
The Dispatcher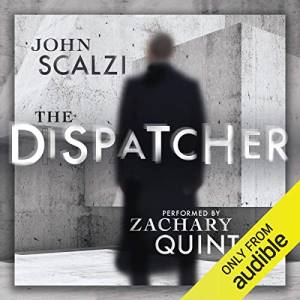 By: John Scalzi
Narrated by: Zachary Quinto
Length: 2 hrs and 18 mins
Add it to your library**
I'm such a fan of John Scalzi's Audible-exclusive The Dispatcher series! I love that they're short and fast-paced, narrated by Zachary Quinto and his amazing voice, and how weird the setup for this series is.
People do not die anymore when they're killed. Or rather, 999 in 1000 murder victims pop up alive and well in their homes after the deed. Dispatchers help patients trying a risky medical procedure and victims of accidents by… well… killing them so that their bodies will be reset to a few hours prior.
The series of currently three books follows Tony who is navigating the pitfalls of this difficult job and keeps being drawn into shady stuff.
Sweet Talk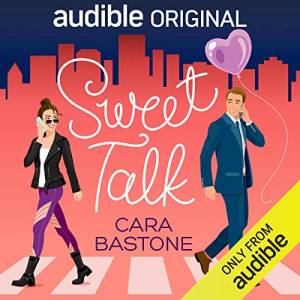 By: Cara Bastone
Narrated by: Lidia Dornet, Chris Brinkley
Length: 5 hrs and 42 mins
Add it to your library**
Sweet Talk is a must-listen for anyone who enjoys Romantic Comedies! This Audible book has a fantastic audiobook production with duet narration and small sound effects. Lidia Dornet and Christ Brinkley are absolute perfection as Eliot and Jesse.
The two start to talk after an accidental text. First they chat, then they move on to phone calls. It's an incredibly romantic way of getting to know each other!
Cara Bastone's book is incredibly funny, cute, and simply delightful. I believe this is one of the best Romance audiobooks you can listen to and one of the best Audible Originals!
A Walk in the Park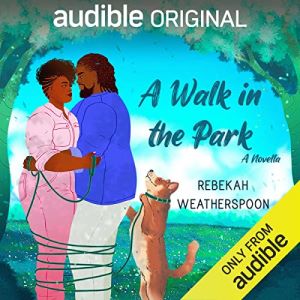 By: Rebekah Weatherspoon
Narrated by: Marissa Hampton, Chinua Hawk
Length: 2 hrs and 24 mins
Add it to your library**
A Walk in the Park is such a fun, feel-good novella! I have a weak spot for Romance books with dogs and this story did it so wonderfully with a shelter having a mix-up and promising the same dog to two people. They decide to "co-parent" and it turns into more.
It's such a wholesome love story and Marissa Hampton and Chinua Hawk did a fantastic narration! Chinua Hawk has this super warm voice and you can really hear the smile in it.
Space: 1969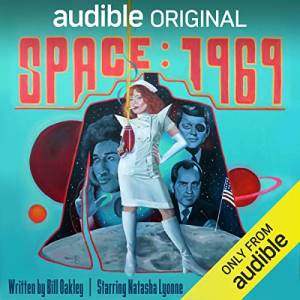 By: Bill Oakley
Narrated by: Natasha Lyonne, full cast
Length: 5 hrs and 35 mins
Add it to your library**
Space: 1969 is a wild ride! This is a fantastic production with Natasha Lyonne and her incredible voice reading the main character Nancy and a full cast fleshing out this satirical alternative history story.
It's 1969, humans have built a moon base where Nancy works as a nurse, Kennedy is serving his third term as president and is acting creepier by the day, and Richard Nixon is the narrator, a job he takes very, very seriously.
If you are looking for something completely different, this audio play is one of the best Audible Originals you can listen to!
Crimes of Passion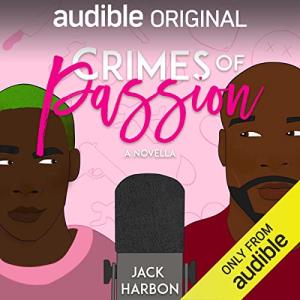 By: Jack Harbon
Narrated by: Kevin Free, Ron Butler
Length: 2 hrs and 41 mins
Add it to your library**
Crimes of Passion is a super fun M/M Romance with an absolutely outstanding narration by Kevin Free and Ron Butler, two of the best narrators you can listen to!
Emery and Calvin are both successful true crime podcasters. Or have been. Calvin is losing sponsors so he agrees to work with Emery on several episodes. And as much as the two want to stay rivals, they can't quite fight their attraction.
The A.I. Who Loved Me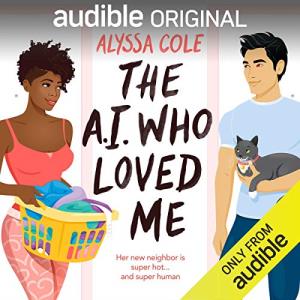 By: Alyssa Cole
Narrated by: Regina Hall, Mindy Kaling, Feodor Chin, Therese Plummer, Dina Pearlman, Neil Hellegers, Adenrele Ojo, Kyla Garcia
Length: 5 hrs and 18 mins
Add it to your library**
The A.I. Who Loved Me is such a fantastic book and definitely one of the best Audible Originals! It's written by the amazing Alyssa Cole and narrated by a fantastic cast or big names and popular voice actors.
I have to admit though, when I listened the first time, it took me a bit to find my bearing. What's happening here? Where are we? What's going on? But The A.I. Who Loved Me captivated me rapidly! The story played like a movie in my mind. I more than appreciated the political commentary in this Sci-Fi Romance, but the romantic twist was what really grabbed me and makes me recommend this audiobook at every opportunity!
A Thief in the Night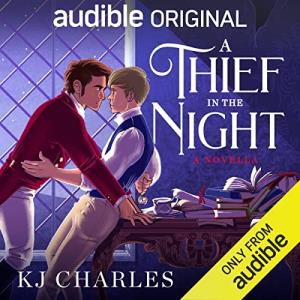 By: KJ Charles
Narrated by: James Joseph, Ryan Laughton
Length: 2 hrs and 45 mins
Add it to your library**
A Thief in the Night is the glorious new Audible Original by KJ Charles! It's a Historical Romance about a career thief and an Earl.
The two had a tryst which ended with the former stealing the latter's pocket watch. A little while later, the two meet again when Toby the thief applies for employment at the Earl's estate – believing it to be an easy mark and not expecting to meet his former victim here.
This is such a fun story narrated so perfectly by James Joseph and Ryan Laughton!
Sunset Springs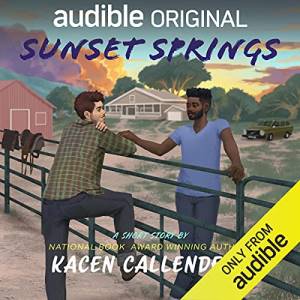 By: Kacen Callender
Narrated by: Qamar Yochanan
Length: 2 hrs and 50 mins
Add it to your library**
Sunset Springs is so good! It's not only one of the best Audible Originals, it's also one of my favorite queer Romance audiobooks. This is a raw, yet beautiful Adult Trans M/M novella. And even though this is a quick listen, this Friends to Lovers Romance is completely captivating and emotional!
Charlie returns to his hometown after losing his job. He's not thrilled because even though his mom seems to be happy there, he never felt quite comfortable as a Black trans guy in a very white, very small town. But then he runs into Jack, a guy he went to high school with. A guy who used to be super popular. A guy who recently came out as gay.
The narration by Qamar Yochanan is wonderful and so fitting for this touching, tender love story.
How to Defeat a Demon King in Ten Easy Steps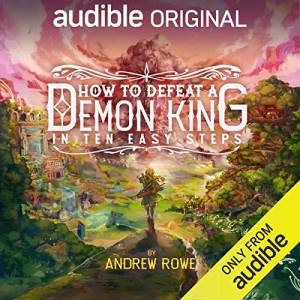 By: Andrew Rowe
Narrated by: Suzy Jackson, Steve West
Length: 5 hrs and 28 mins
Add it to your library**
If you love Fantasy (books or games) and if you enjoy funny audiobooks, then How to Defeat a Demon King in Ten Easy Steps is a must-listen!
I did not know what to expect when I started listening. And if someone had asked me if I wanted to listen to LitRPG or GameLit, I probably would have said: "What? No! What is that even?" Fortunately, no one did so I just went into this story without any preconceived notions.
Yui is only a farmer's daughter. She's not the Hero who is foretold to protect the world from the Demon King. But she is ambitious and has decided that she will try anyway. She will level up, then she will follow her cunning plan to trick the Hero's legendary sword into allowing her to wield it, and then she will defeat the Demon King. In ten easy steps.
This book is absolutely hilarious and really great at making fun of typical Fantasy tropes. But you also can't help but root for Yui who is so damn likable. And the adventure will simply pull you in! Suzy Jackson did an incredibly captivating narration.
The Neil Gaiman at the End of the Universe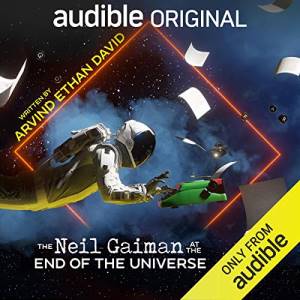 By: Arvind Ethan David
Narrated by: Neil Gaiman, Jewel Staite
Length: 29 mins
Add it to your library**
This Sci-Fi short story is a must-listen, not only for Neil Gaiman fans! It's wonderfully narrated by the man himself. And the story is… Well… it's something different and full of unexpected twists and turns.
Neil lost his memory and he is in space. And is he even really Neil Gaiman? Who are you when you're all alone, with no one but an AI voice to talk to? This book could almost be claustrophobic in its focus on finding out who you are when you are completely isolated. But then it isn't. It points you at the depth your mind could go down, and it also offers you a way out again by being wild.
Definitely one of the best Audible Originals!
All About Audible, Audio Booklists
/