If you are looking for an answer to the big question "is Audible worth it?", you have come to the right place! I am an audiobook addict, listening to more than 200 audiobooks every year, but I most certainly am not rich.
In the spirit of full disclosure, I want you to know that I currently have a 1-year Audible US subscription. But there have also been long stretches of time when I didn't have an Audible membership even though I listen to so many audiobooks. There definitely are good alternatives that I want you to be aware of, as well as a bunch of tricks to make the best use of your membership.
So, let's see what you can expect from your Audible subscription, how you can get the most out of your 30-day free trial**, and under which conditions this is the best audiobook service for you…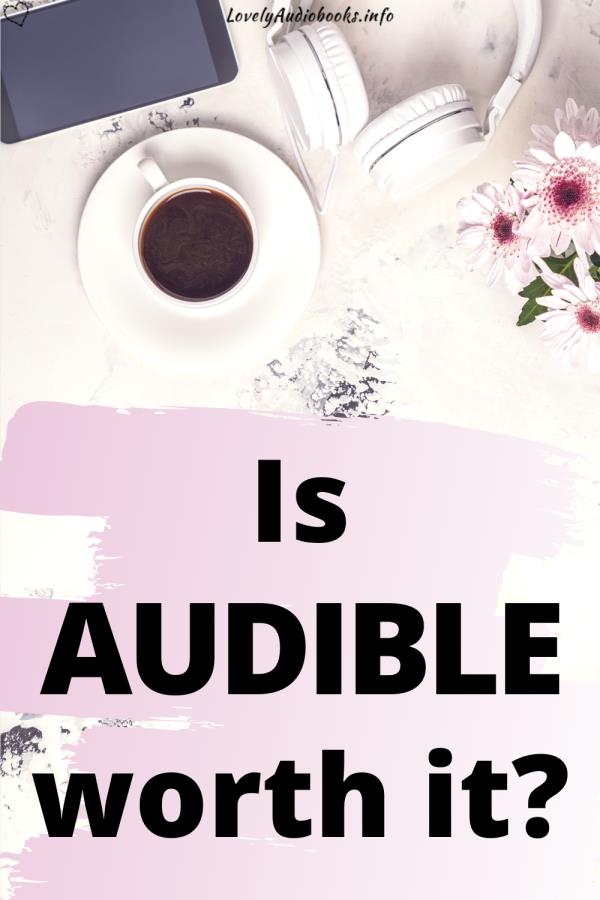 **The marked links and book covers on this page are affiliate links. If you use them to purchase something, I earn a fee at no additional cost for you. Disclosure**
The Basics for this Audible Review
Let's start with the basics! What is Audible? Audible is the biggest audiobook store online. If a book has an audio version, you will most likely find it here.
Audiobooks have many advantages. They allow us to enjoy a lot more literature because we can listen to books while working, doing chores, commuting, and during many other activities that don't leave our hands free.
Audiobooks also make literature more accessible, for example for people with visual or physical impairments, people with dyslexia, or with brain injuries that leave them unable to hold or read an ebook or print book.
And listening to a well narrated audiobook while playing a game on your phone, drawing, or knitting is simply FUN!
To make this short, audiobooks are awesome and for many people, they gradually replace TV because they are such an immersive form of entertainment.
Related article: 5 Things You didn't Know about Audiobooks
How does Audible work in 2022?
A standard Audible membership, which has recently been renamed from Audible Gold to Audible Premium Plus, has two different parts.
Firstly, you receive one Audible credit per month. You can exchange this for any audiobook you want from Audible's entire catalog. You own this audiobook and you can listen to it whenever and how often you want. And you can still listen to these books even after you cancel Audible!
Secondly, you get access to a Netflix-like catalog of audiobooks. This is called Audible Plus. You don't own these audiobooks and you only get access to them while you have a paid membership. But you can listen to any and all of these audiobooks. It's unlimited, like Netflix or Kindle Unlimited. This catalog only includes a small-ish part of Audible's entire catalog. But that's still over 9000 free audiobooks for you – Nonfiction and Fiction books!
So, Audible effectively fixed the problem where subscribers complained they had nothing to listen to for 3 weeks until they would get their next credit. You can now fill this time by listening to Audible Plus books for free!
Whether you buy an Audible book with a credit or borrow one from the Audible Plus catalog, the title will show up in your Audible app where you can download it and listen to it. The app syncs so you can swap between different devices and always continue your book where you last left off.
Is Audible worth it?
An Audible Premium Plus subscription has never been as good as it is these days, thanks to the addition of the Plus catalog. In my opinion, having the option to listen to as many free audiobooks as you want, makes Audible Premium Plus entirely worth it. That's why I now have a yearly subscription when in the past, I often canceled Audible for months.
That being said, some people who listen to 100 audiobooks or more per year are not happy with the selection of audiobooks they can find in Audible Plus. 9000 titles sound like a lot, but if you like only one genre, you might soon run out of included books that interest you.
So, there's definitely a limit to what Audible Plus offers. However, you still have your Audible Premium Plus credits when you have a full membership!
If you are new to audiobooks and enjoy a variety of genres, the addition of the Audible Plus catalog is without a doubt a fantastic offer and you will have a lot of fun exploring it!
The Best Tips to make Audible worth it!
Trick 1: Canceling Audible
Wait, what? Yes, canceling your Audible account is a great trick! When you are new to Audible and your 30-day free trial is about to end, you can start the cancelation process to get a discounted offer to continue your membership. Read more about how to cancel Audible!
Trick 2: Returning an Audiobook you don't like
Audible has the best returns policy of any audiobook shop. So as a listener, you can take a chance on a new-to-you author or narrator. If you don't enjoy the book, you can simply return it and get back your Audible credit. But it is very important that you use this feature as it is intended! While Audible Plus is a library where you can borrow and return titles freely, buying an audiobook with an Audible credit is a purchase. And you should only return a book you bought if you can't finish it.
Otherwise Audible might block your ability to return titles, and – even more importantly – authors might not be paid when you return their audiobook. So, when you exchange a book, please be aware of how Audible returns are meant to be used!
Related article: What you need to know before returning a book on Audible
Trick 3: Make Use of Audible Plus
It's easy to forget about Audible Plus or to dismiss it because you couldn't find anything the one time you looked for a minute. Lovely Audiobooks to the rescue! I list for you the best new additions to Audible Plus. And if you enjoy Romance audiobooks specifically, you can also follow my Facebook page. Every Friday, I post new Romance audiobooks in Audible Plus and Kindle Unlimited there.
Related article: The best Romance audiobooks in Audible Plus
Trick 4: Know your audiobook prices
An Audible credit is a thing with a very specific value. That value is $14.95. Under certain conditions (a discount or signing up for a yearly instead of a monthly subscription), you might get an Audible credit for less. But it is easiest to attach this value to it which is the price of a standard Audible Premium Plus membership. Why is this important?
Because you don't always have to buy audiobooks with an Audible credit. You can also buy them with money! And when you can buy an audiobook for less than $14.95, it makes much more sense to buy it with money and save the Audible credit for a more expensive audiobook. Great ways to buy audiobooks for less than $14.95 are Amazon Audible Whispersync deals!
Trick 5: Get the most Audiobook for your Audible credit
Many people are not aware of this, but you can actually buy box sets for Audible credits! Simply type "box set" in the Audible search and you can browse through Romance, Fantasy, Sci-Fi, or Mystery series. When you buy a box set, you can easily get 30 or 40 hours of listening for just one Audible credit!
Trick 6: Use your Wishlist
When you stumble over an interesting audiobook but you don't have the urge to listen to it right away, it is a good strategy to add it to your wishlist. Why? Because Audible runs sales and deals events all the time. And when an audiobook from your wishlist is included in one of these events, Audible will notify you. And then you can snatch it up, e.g. for a half credit or $5!
So, is Audible worth it for you?
Generally speaking, I would say Audible is almost always worth it as it is the most versatile audiobook service at the moment. But us listeners are all different. So a different subscription might fit your needs and taste in books better. Fortunately, there are many fantastic options that either use a credit system similar to Audible but with different perks, or let you borrow audiobooks for a flat monthly fee. Read more about the best Audible alternatives!
I hope the information in this blog post helped you find an answer to the question, is Audible worth it? And you now know how to get the most out of your Audible free trial**!
All about Audiobooks
/