What's better than audiobooks? Getting the audiobooks you want cheaper with Audible sales, of course!
So, if you're a frugal audiobook listener like me, let me walk you through the different ways we can get the awesome Audible books for a reduced price with the Audible Daily Deal, the Audible 2 for 1 sale, through Amazon Whispersync deals, and other lesser-known ways!
**The marked links and book covers on this page are affiliate links. If you use them to purchase something, I earn a fee at no additional cost for you. Disclosure**
The Audible Daily Deal
Every day, Audible.com offers a different audiobook in a super cheap deal. If you have an active membership on Audible.com, you can pick up the Audible daily deal today here. You can find popular, bestselling audiobooks from famous authors in the Audible daily deal, and instead of paying $25 or more, or use a credit that's worth $14.95, you can buy the audiobook for $5 or less.
Related article: Why an Audible membership is now better than ever!
It's really worth it to quickly check this every day to see if it's a book you're interested in. If you keep an Audible wishlist, you'll also be notified if one of those titles is available in a deal.
If you don't mind getting a lot of messages, you can sign up for the Audible daily deal email to be informed every day without having to check on the website or in the Audible app. To receive the Audible daily deal email, go to your Account details by clicking on your name in the upper right corner of the Audible website. Then in the new menu on the left, choose the last item, "Notifications". In the list that opens up, you can toggle the Audible daily deals email on.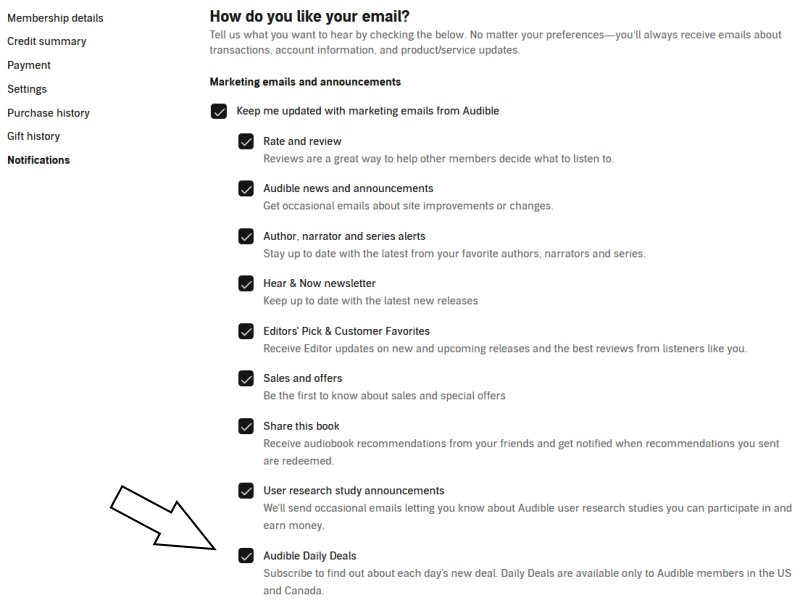 Audible 2 for 1 Sale and Everyday Deals
A very fun regular event is the Audible 2 for 1 sale. During these, you can choose from a selection of audiobooks and can buy two of them for the cost of one credit (so, half a credit for each book). Like with the Audible daily deal, you need an active subscription to buy audiobooks in the Audible 2 for 1 sale.
When you browse through the 2 for 1 sale selection and pick one audiobook, a notification will open up prompting you to pick a second audiobook. At checkout, you will then pay with one Audible credit for every two audiobooks.
You can save this link to see if there's currently an Audible 2 for 1 sale.
Audible always offers a selection of audiobooks for a reduced price in the Everyday Deals. Like the Audible 2 for 1 sale and the daily deal, this is also member-exclusive. Go to this page to check out current sales and deals: Audible audiobook sale
Amazon Audible Whispersync Deals
Amazon Audible Whispersync deals are one of my favorite things ever! If you own a Kindle ebook or borrow an ebook through Kindle Unlimited, you can often buy the accompanying audiobook for a significantly reduced price, starting at only $1.99. Unlike the Audible daily deal, this offer usually stays around for months. And you don't need an Audible membership to get these! You don't even need a Kindle Unlimited subscription.
Whispersync Deals are available to everyone!
The audiobooks are the exact same product that you would buy on Audible. Actually, you even listen to them with your Audible app. They're just a whole lot cheaper.
Audible belongs to Amazon and both websites are tightly connected. I'm not sure why we often pay so much less than the value of an Audible credit when we buy the audiobook AND the ebook together, but it's honestly one of those things I rather enjoy and don't question.
Whenever I consider spending an Audible credit, I always check Amazon first to see if they have a Whispersync offer. Most often, I can get the audiobook (even including the ebook) for less than the cost of an Audible credit.
You don't need an active Audible subscription to benefit from this. And if you haven't used Audible before at all, you can simply sign in with your Amazon email and password to listen to your Whispersync audiobooks. You don't need to give Audible your payment information.
You can use the Amazon Audible matchmaker to check for Whispersync deals for the Kindle ebooks you already own: Audible Matchmaker**
Related article: Check out these free Romance ebooks with cheap Whispersync deals
Free Audible Review Copies
Audible has a great system in place that allows authors, narrators, and publishers to give you Fiction and Non-Fiction audiobooks for free. Obviously, this isn't so much a deal, as actual free audiobooks in exchange for your honest review.
The thing is that Audible reviews on new and indie-published releases are very valuable. Just think how often you look at reviews to decide whether you want to pay money for a book! So, for audiobook producers, it can be worth it to give a few copies of their audiobooks away for free in exchange for honest reviews.
This is possibly the best way to get free audiobooks legally without any subscription. And on top of that, you support authors and narrators. It's a win-win!
There are many websites, services, and communities that offer free Audible audiobooks for people who are willing to write a quick comment on Audible after listening. And no one will grade your review. Don't worry! Check this list of websites and Facebook groups that give away free Audible review copies: Where to find free audiobook review copies
All About Audible