A link list for all recurring sales and deals on Audible.com
What's better than audiobooks? Getting the audiobooks you want cheaper with Audible deals, of course!
So, if you're a frugal audiobook listener like me, let me walk you through the many ways we can get Audible's awesome audiobooks for a reduced price.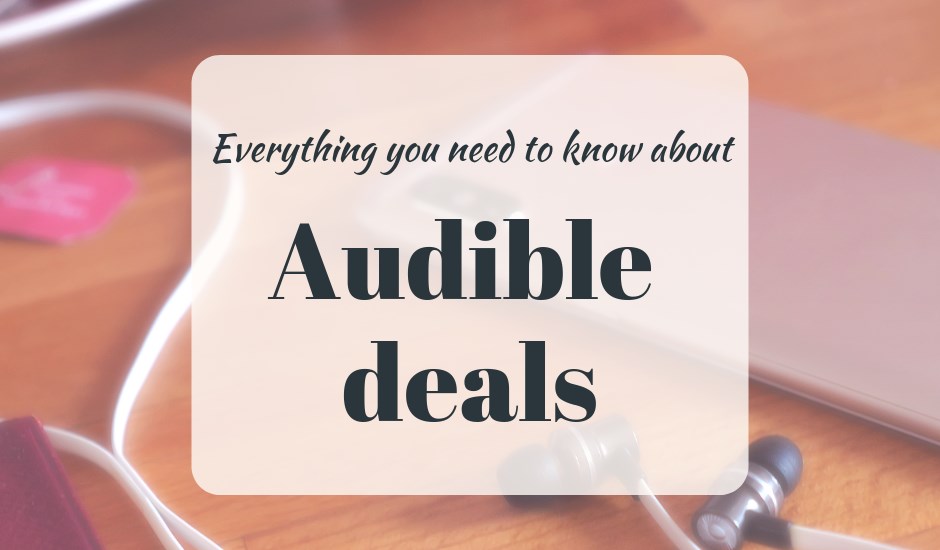 The Audible Daily Deal
If you have an active membership (Silver or above) on Audible.com, you can sign up for an email with the daily deal. You can find bestselling audiobooks from famous authors in the daily deal, and instead of paying $25 or more, or use a credit that's worth $14.95, you can pick the daily deal audiobook up for only a few dollars.
It's really worth it to quickly check this every day to see if it's a book you've been meaning to get.
You can sign up to and use Audible.com audiobooks from anywhere in the world! So, don't worry if your local Audible marketplace doesn't offer daily deals.
Save this link to check for the daily deal audiobook every day without looking in your inbox or on Facebook: Audible.com Daily Deal
Related article: How to sign up for Audible escape from anywhere in the world
2-for-1 Sales
Audible regularly offers 2-for-1 sales where you can choose from a selection of audiobooks and can buy two of them for the cost of one credit (so, half a credit for each book). You need to have an active membership to see this sale.
You can check this link regularly to see if a 2 for 1 is active: Audible 2-for-1 sale
Audible Deals & Sales
Audible always offers a selection of audiobooks at a reduced price. Everyone can pick these up, you don't need a membership.
Go to this page to check out current sales and deals: Audible audiobook sale
The Amazon Audio Upgrade
Amazon's audio upgrade is actually one of my favorite things ever. If you own a Kindle ebook or borrow a book through Kindle Unlimited, you can often buy the accompanying audiobook for a significantly reduced price, starting at only $1.99. Unlike the Audible daily deal, this offer usually stays around for months.
The audiobooks are the exact same product that you would buy on Audible. Actually, you even listen to it with your Audible app.
Audible belongs to Amazon and both websites are tightly connected. I'm not sure why we often pay so much less when we buy the audiobook AND the ebook together, but it's honestly one of those things I rather enjoy and don't question.
(It's probably just profitable enough to tempt eye-readers into buying an additional audiobook that they normally wouldn't have looked for. So, us benefitting audiobook-listeners don't matter much.)
Whenever I consider spending a credit, I always check Amazon first to see if they have an audiobook upgrade offer. Most often, I can get the audiobook (even including the ebook) for less than the cost of an Audible credit.
You don't need to be signed up to Audible to benefit from this.
Use the Amazon.com Audible matchmaker to check for audio deals for the Kindle ebooks you own: Audible Matchmaker
**
Related article: How to get cheap and free Audiobooks with Kindle Unlimited
Free Audible Review Copies
Audible has a great system in place that allows authors, narrators, and publishers to give you audiobooks for free.
Obviously, this isn't so much a deal, as actual free audiobooks.
The thing is that reviews on new releases are very valuable. Just think how often you look at reviews to determine whether you want to pay money for a book!
So, for audiobook producers, it can be worth it to give a few copies of their books away for free in exchange for honest reviews.
This is possibly the best way to legally get free audiobooks without any subscription. And on top of that, you support authors and narrators. It's a win-win 💕
There are so many websites, services, and communities that offer free Audible audiobooks for people who are willing to write a quick, honest review on Audible after listening.
And no one will grade your review. Don't worry!
Check this post with my list of websites and Facebook groups that give away review copies: Where to find free audiobook review copies
Save the pin to come back later!