These 19 Romance, Thriller, and Fiction titles have only just been released and are the most popular new Kindle Unlimited Listen for Free audiobooks in July 2022!
Many of these audiobooks already have thousands of high ratings on Amazon. They are really super popular audiobooks and among the best listen for free audiobooks!
And they are all free to borrow for Kindle Unlimited US subscribers. You do not need to buy them or spend an Audible credit on them! Simply follow the links below to any books you find interesting and click "Read and Listen for Free" on Amazon. Then they will show up in your Kindle and Audible apps and you can download and enjoy! You don't need an active Audible subscription either. Simply log into the Audible app with your Amazon email and password to get to your Kindle Unlimited audiobooks.
If you are new to Kindle Unlimited Listen for Free audiobooks and need more info, read up on it in my guide on how to listen to audiobooks with Kindle Unlimited.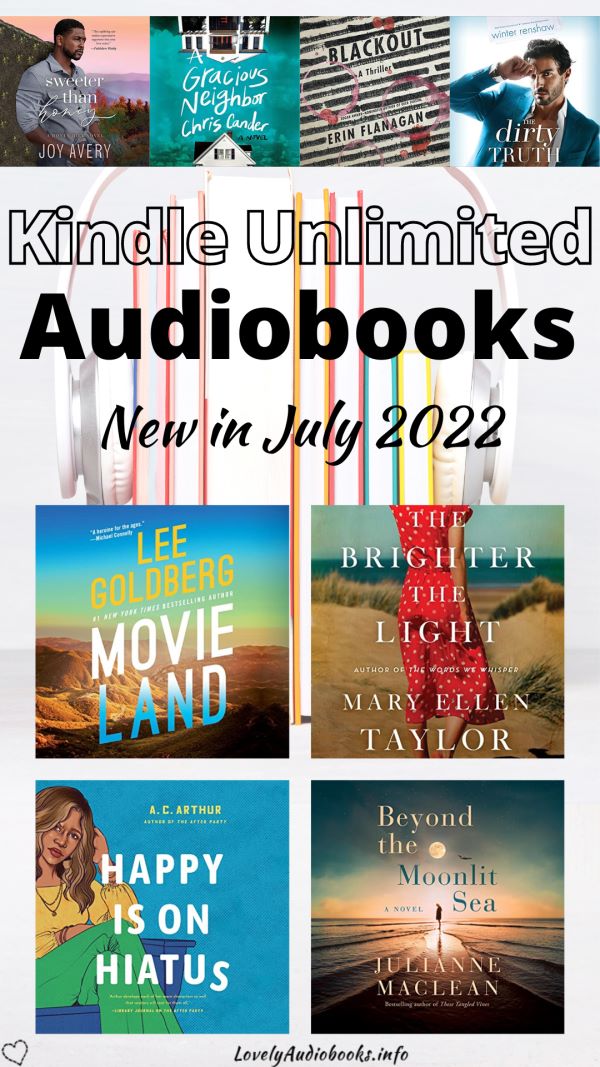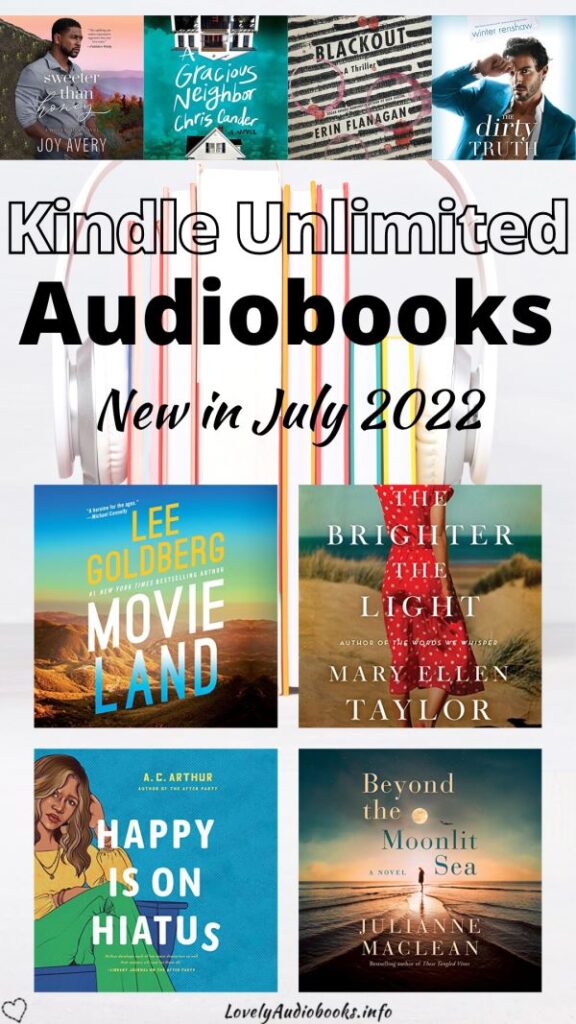 **The marked links and book covers on this page are affiliate links. If you use them to purchase something, I earn a fee at no additional cost for you. Disclosure**
Romance
Sweeter Than Honey
Joy Avery (Author), Tamika Katon-Donegal (Narrator), Leon Nixon (Narrator)
Listen for free with Kindle Unlimited**
A talented baker and a small-town sheriff forced into a fake relationship decide whether to take a chance on love in this delectable romance from Joy Avery. Baker extraordinaire Rylee Harris has a recipe for everything—except love. It's been five years since she lost her husband, but romance is still a struggle for Rylee. In her small hamlet of Honey Hill, North Carolina, Rylee knows she'll be the talk of the town when she finds someone new.
The Dirty Truth
Winter Renshaw (Author), Aaron Shedlock (Narrator), Nicola Lambo (Narrator)
Listen for free with Kindle Unlimited**
From Wall Street Journal and #1 Amazon bestselling author Winter Renshaw comes an enemies-to-lovers romance about the journey of self-discovery that follows a life-changing event. After a brush with death, I realize it's time to make changes in my life. Big changes. First, my job. I love being a journalist, but I hate my megawatt magnate boss, West Maxwell. When he demands I rewrite an article on short notice, I turn the tables on him with a scathing new column and quit in a blaze of glory.
Riverbend Reunion
Carolyn Brown (Author), Brittany Pressley (Narrator)
Listen for free with Kindle Unlimited**
Back home is the best place to start over in a heart-stirring Texas romance about friendship, second chances, and small-town scandals by New York Times bestselling author Carolyn Brown. Riverbend, Texas, doesn't look like the crossroads of anywhere. But for four high school besties reuniting after twenty years, it's a place to unpack a lot of baggage. Risa's headed for divorce, Mary Nell's been kicked to the curb by her leech of a boyfriend, and Haley was just blindsided by a shocking family secret. But restless army veteran Jessica Callaway, looking to plant roots, has an idea: corral her fellow former cheerleaders and renovate an abandoned church smack-dab in the middle of three dry counties into a bar.
Cinder-Nanny: A Novel
Sariah Wilson (Author), Marli Watson (Narrator)
Listen for free with Kindle Unlimited**
What could come between a nanny and an earl in a fairy-tale love story? A reality check—in an endearing and witty romance by Sariah Wilson, the bestselling author of Roommaid. With her sister's medical bills mounting, Diana Parker can't say no to a high-paying opportunity like this: accompany a wealthy couple to Aspen and nanny their precocious five-year-old son for three months. Necessary qualifications? She must know how to ski and teach math, speak fluent French, excel at social graces, and hold a master's degree in childhood development. Who'll be the wiser that Diana's only skill is packing for Colorado?
When It Falls Apart: The D'Angelos, Book 1
Catherine Bybee (Author), Devon Sorvari (Narrator)
Listen for free with Kindle Unlimited**
From New York Times and USA Today bestselling author Catherine Bybee comes a bittersweet romance about the power of love in the face of heartbreak and loss. Brooke Turner has always had a complicated relationship with her father. But when his health takes a turn for the worse, she drops everything to care for him. He's her dad, after all, and he needs her. What Brooke doesn't anticipate is the unraveling of her long-term relationship and a cross-country move to San Diego's Little Italy.
Related article: The Best Romance Audiobooks in Kindle Unlimited
Thriller and Mystery
Blackout: A Thriller
Erin Flanagan (Author), Vivienne Leheny (Narrator)
Listen for free with Kindle Unlimited**
In this unforgettable psychological thriller, the dark is a terrifying mystery for a woman on the edge. Seven hard-won months into her sobriety, sociology professor Maris Heilman has her first blackout. She chalks it up to exhaustion, though she fears that her husband and daughter will suspect she's drinking again. Whatever their cause, the glitches start becoming more frequent. Sometimes minutes, sometimes longer, but always leaving Maris with the same disorienting question: Where have I been?
The Secret Witness: Shepard & Gray, Book 1
Victor Methos (Author), Timothy Andrés Pabon (Narrator)
Listen for free with Kindle Unlimited**
From the bestselling author of A Killer's Wife comes the thrilling first installment in the Shepard & Gray series, featuring a young sheriff who teams up with a former prosecutor to stop a copycat killer. This is Reaper speaking. So begins an anonymous letter published in a Utah newspaper after a young couple is viciously murdered. Tooele County sheriff Elizabeth Gray leads the investigation into the double homicide, which is eerily reminiscent of a string of brutal killings years ago. When the letter leads detectives to yet another body, Gray calls on an old friend for help.
Movieland
Lee Goldberg (Author), Nicol Zanzarella (Narrator)
Listen for free with Kindle Unlimited**
Malibu Creek State Park is a beautiful locale for campers, tourists, hikers, and Hollywood. For Detective Eve Ronin, it's a backdrop for murder in a riveting thriller by #1 New York Times bestselling author Lee Goldberg. For decades Malibu Creek State Park was the spectacular natural setting where Hollywood fantasies were made. But when a female camper is gunned down, it becomes a real-life killing ground. Los Angeles County Sheriff's Department homicide detectives Eve Ronin and Duncan Pavone are assigned the case…which Duncan fears is the latest in a series of sniper attacks that began long before Eve came to Lost Hills.
Rotten to the Core: A Lady Hardcastle Mystery
T E Kinsey (Author), Elizabeth Knowelden (Narrator)
Listen for free with Kindle Unlimited**
Summer 1911. A scorching heatwave engulfs the quiet town of Littleton Cotterell and brings about an unusually early harvest. The villagers are thrilled, but events quickly turn sour when one of them turns up dead in an apple orchard, stabbed through the heart. Amateur sleuth Lady Hardcastle and her trusty lady's maid, Flo, suddenly have a juicy case on their hands. Might the mysterious stranger they recently met in the village be to blame?
Carnival Blues: A DI Nick Dixon Crime Novel
Damien Boyd (Author), Simon Mattacks (Narrator)
Listen for free with Kindle Unlimited**
Carnival season is off to an explosive start in this thriller from the bestselling DI Nick Dixon crime series. Detective Chief Inspector Nick Dixon arrives late for Bridgwater's winter carnival. He's come to see the squibbing, the traditional firework display that brings the town's November festivities to a dramatic close. But when the squib of Avalon Carnival Club president Richard Webb is lit, it explodes, engulfing him in flames.
A Scandal in Brooklyn: A Short Story
Lauren Wilkinson (Author), Alejandro Ruiz (Narrator)
Listen for free with Kindle Unlimited**
A classic Holmesian detective untangles a locked-room mystery with a very modern twist in this venomously diverting short story by Lauren Wilkinson, the Washington Post bestselling author of American Spy. A top-secret experiment at a restricted virtual-reality compound pulls attorney Tommy Diaz back into the orbit of Irene Adler, an old friend with an eidetic memory, a love of true-crime podcasts, and a knack for solving the unsolvable. But this? At a remote warehouse, a VR trial goes awry when a willing test subject, alone in the observation room, drops dead of anaphylaxis—from the sting of a virtual bee. Though the tech titan behind the research believes in the power of the outrageous, Irene relies on clues, hard facts, and a level head. However, in a case this peculiar, how elementary can it be?
No Place to Run
Mark Edwards (Author), Will M. Watt (Narrator)
Listen for free with Kindle Unlimited**
In this exhilarating thriller from four million copy bestselling author Mark Edwards, Aidan's spent years looking for his sister. Will he ever find her? Two years ago, on a trip to Seattle to visit her brother Aidan, fifteen-year-old Scarlett vanished into thin air. After years of false leads and dead ends, Aidan has almost given up hope. But then a woman sees a girl running for her life across a forest clearing in Northern California. She is convinced the girl is the missing Scarlett. But could it really be her?
The Falcon
Isabella Maldonado (Author), Roxanne Hernandez (Narrator)
Listen for free with Kindle Unlimited**
A Wall Street Journal bestselling series. A serial killer wants to play. FBI Agent Nina Guerrera has no time for games. Six female undergrads at an elite university vanish. The media descends. The families demand action. And as Special Agent Nina Guerrera follows clue by chilling clue, she realizes she's tracking the most cunning predator of her career. The case takes a turn for the worse, and the bizarre, when several victims are found perfectly preserved. No signs of violence, no hint of how they died. Just more evidence that the killer is cruel, calculating, and a master of mind control.
A Gracious Neighbor: A Novel
Chris Cander (Author), Karissa Vacker (Narrator)
Listen for free with Kindle Unlimited**
A gripping novel about friendship, secrets, misjudgments, and redemption among women by the USA Today bestselling author of The Weight of a Piano. Martha Hale is an affable wife and mother who lives in an affluent neighborhood of well-tended lawns and high expectations. If only her clumsiness at penetrating the social circles of her neighbors weren't making Martha so lonely. That's why she's thrilled when the glamorous Minnie Foster, a former high school classmate, moves in next door. Despite Martha's determination, picking up where they left off is trickier than anticipated—especially when their memories of the past don't always align.
Fiction
Happy Is On Hiatus
A.C. Arthur (Author), Mia Speight (Narrator)
Listen for free with Kindle Unlimited**
Sisterhood is the secret weapon for two women at crossroads in a bighearted multigenerational novel about family, forgiveness, and fresh starts by the author of The After Party. When Rita McCall discovers her husband's affair, there isn't a lick of surprise—not a single tear or broken heart. Just a wife and mother who's over it and ready to watch her twenty-three-year marriage go up in flames. Sticking close, thick as thieves since childhood, Rita's unfailingly loyal cousins Jemel and Sharae become her lifeline. They stand beside her as she contemplates a new career and navigates the murky waters of being a preacher's daughter disgraced by scandal.
The Brighter the Light
Mary Ellen Taylor (Author), Megan Tusing (Narrator)
Listen for free with Kindle Unlimited**
From the bestselling author of Honeysuckle Season comes an evocative dual-timeline novel detailing one woman's journey to discover the hidden stories of her family's seaside resort. When a shipwreck surfaces, old secrets are sure to follow. Or so goes the lore in Ivy Neale's hometown of Nags Head, North Carolina. When Ivy inherits her family's beachfront cottage upon her grandmother's death, she knows returning to Nags Head means facing the best friend and the boyfriend who betrayed her years ago.
Beyond the Moonlit Sea: A Novel
Julianne MacLean (Author), Amanda Leigh Cobb (Narrator), Graham Halstead (Narrator), Reba Buhr (Narrator)
Listen for free with Kindle Unlimited**
From the bestselling author of These Tangled Vines comes a gripping novel about one woman's search for answers when her husband vanishes in the night. Olivia Hamilton is married to the love of her life, Dean, a charismatic pilot who flies private jets for the rich and famous. But when he vanishes over the Bermuda Triangle, Olivia's idyllic existence unravels. After years of waiting, Olivia must eventually let go of the fragile hope that her beloved husband might still be alive.
Kindle deals can slightly differ between international Amazon websites. The lists on this blog are based on Amazon.com. If you live elsewhere, you might be sent to your local Amazon. Please don't be disappointed if your marketplace has different prices. Sometimes, a US "Listen for Free" might cost a little elsewhere, while other deals might, in turn, be cheaper on your Amazon. You can only download Kindle audiobooks from your local Amazon website.
New Audiobooks
/