Kindle Unlimited is a fantastic subscription for audiobook fans and new titles are added all the time. Let's take a look at the best Kindle Unlimited audiobooks that are new in November 2022!
This month's list is particularly great for Romance and Thriller fans, but we also have some extremely popular Fantasy, Young Adult, Nonfiction, and Fiction books. Most of these books already have thousands of positive ratings and reviews on Amazon, which puts them into the category of the best Kindle Unlimited audiobooks even though they have only just been released!
How to Listen to Kindle Unlimited Audiobooks
You can listen to all of the following Audible books for free with an Amazon.com Kindle Unlimited subscription. You don't need to buy them or spend an Audible credit! They are included in your Kindle Unlimited subscription and you don't even need an Audible membership to listen to them.
Simply install the free Audible app on your phone and log in with your Amazon login and password to find the Kindle Unlimited audiobooks you have borrowed in your Audible library.
There are over 2000 Audible books included in Kindle Unlimited with new ones being added every month. That makes this subscription a great way for people who are new to audiobooks to try out the format.
But it's just as fantastic for audiobook fans because you can find new and free audiobooks and check out stories from new-to-you authors as well as from different genres. Of course, you get the full benefit of this during a 30 day free trial**!
Related article: How to listen to audiobooks with Kindle Unlimited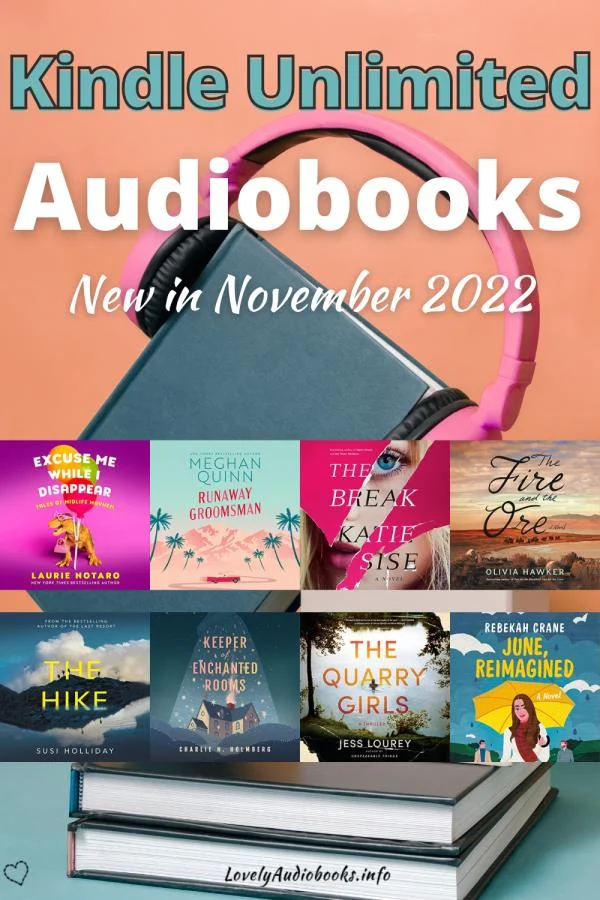 New Listen for Free Romance Audiobooks
Rebekah Crane (Author), Amanda Berry (Narrator)
Listen for free with Kindle Unlimited**
From the writer who brought you the Irish romance The Upside of Falling Down comes a new novel about secrets, friendship, reinvention, and unexpected love in the Scottish Highlands.
June Merriweather is on the run—from her own life. Her brother is dead, her parents are liars, and her college major is a joke. Apart from her best friend, Matt, June is desperate for reinvention. And a one-way ticket out of Cincinnati to the Scottish Highlands is a good place to start. With a backpack, an urn, and a secret, June begins again. She snags a job at a café and finds lodging at a quaint inn with a quirky cast of housemates. The only problem: the inn's infuriatingly perceptive (and sexy) owner, Lennox.
Cathy Yardley (Author), Jenapher Zheng (Narrator), David Lee Huynh (Narrator)
Listen for free with Kindle Unlimited**
A hacker and a fixer—who just happen to be high school exes—reunite to help each other out in this witty second-chance romance from the author of Love, Comment, Subscribe.
Vinh Doan has a problem. Ten million of them, in fact. He's a high-level fixer for global conglomerates, which means big money…and big troubles. When ten million dollars go missing from one of his accounts, he needs a top-notch hacker to find it. His first thought? Emily MacDonald, his high school ex.
Priscilla Oliveras (Author), Karla Serrato (Narrator)
Listen for free with Kindle Unlimited**
Dreams come true for an untamable rising star and a mariachi idol in a rousing romance about passion, fame, and family by USA Today bestselling author Priscilla Oliveras.
Ambitious San Antonio singer Catalina "Cat" Capuleta gets the chance of a lifetime when she joins superstar heartthrob and fellow mariachi Patricio Galán on his seven-week concert tour. Demanding and arrogant, Patricio challenges Cat on every level, as an artist and as a woman. But headstrong Cat is determined to be his match. No matter how seductive Patricio's baritone voice, Cat's eyes are only on the prize: success and making her familia proud.
Ruth Cardello (Author), Rock Engle (Narrator), Lidia Dornet (Narrator)
Listen for free with Kindle Unlimited**
Laughter and sparks set the stage for a fun romance from New York Times bestselling author Ruth Cardello about a farmer who switches places with his business-savvy twin brother and falls in love with the daughter of his brother's biggest client.
I just found out I have an identical twin. I'd love the idea if he wasn't an arrogant, overconfident businessman who is determined to save my farm even though I'm in no danger of losing it. When I agreed to switch lives with him, it was supposed to be for a couple of hours.
L.J. Shen (Author), Cassandra Campbell (Narrator)
Listen for free with Kindle Unlimited**
From USA Today bestselling author L.J. Shen comes a passion- and angst-charged story about a woman caught between a secure relationship and a once-in-a-lifetime spark with her muse.
They say first loves are oftentimes the end of one's innocence. Those words couldn't ring truer for Everlynne Lawson, whose first brush with romance came with a heartbreak…and the thing that seems to follow her everywhere she goes. Death.
Meghan Quinn (Author), Samantha Brentmoor (Narrator), Alastair Haynesbridge (Narrator)
Listen for free with Kindle Unlimited**
From USA Today and Amazon Charts bestselling author Meghan Quinn comes a heartfelt romantic comedy about new beginnings and finding the romanticized happily ever after in the most unlikely of places.
Hollywood screenwriter Sawyer Walsh knows a good love story when he sees it. But when it comes to real life romance, he's a mess. That's how he finds himself standing at the altar…as his ex-girlfriend ties the knot with his very famous best friend. The pressure, the resentment, the media coverage—it's all too much—and before he knows exactly what he's doing, he's making a run for it, leaving a shocked congregation and flashing cameras in his wake.
Lauren Landish (Author), CJ Bloom (Narrator), Teddy Hamilton (Narrator)
Listen for free with Kindle Unlimited**
Opposites don't just attract—they ignite—in a flirty against-all-odds romance by Wall Street Journal bestselling author Lauren Landish.
Wyatt Ford hightailed it out of Cold Springs to get away from his influential family and the unwanted privilege that came with it. Returning for his brother's wedding dredges up every reason he left. One unexpected bright spot: a curvy knockout who slings burgers, hustles pool…and hates the last name Ford.
Christi Caldwell (Author), Timothy Campbell (Narrator)
Listen for free with Kindle Unlimited**
For an abandoned lady and a reclusive duke, the winter season brings a swirl of romance—and danger—in a bracing novel by USA Today bestselling author Christi Caldwell.
Lady Myrtle McQuoid has always felt a little forgotten, and this season is no exception. When her boisterous family vacates their London townhouse for the country, Myrtle finds she's been left behind. But she just needs to stay warm, keep her belly full, and distract herself until her relatives realize their mistake and turn back to collect her. Surely that won't take long.
Related article: The Best Romance audiobooks in Kindle Unlimited
The Best Kindle Unlimited Thriller Audiobooks in November
Susi Holliday (Author), Imogen Church (Narrator)
Listen for free with Kindle Unlimited**
Four hikers enter the mountains. Only two return. But is it tragedy? Or treachery? When sisters Cat and Ginny travel with their husbands to the idyllic Swiss Alps for a hiking holiday, it's not just a chance to take in the stunning scenery. It's an opportunity to reconnect with each other after years of drifting apart—and patch up marriages that are straining at the seams.
Lucy Goacher (Author), Danielle Cohen (Narrator)
Listen for free with Kindle Unlimited**
Sometimes it's easier to believe the lie. But is the truth right in front of you? Everyone says Poppy jumped. My beautiful, creative sister, with her paint-splattered dresses and sunshine smile, took her own life. And I think they're right. Until the day I get a call from a man with a very similar story.
Jess Lourey (Author), Jess Nahikian (Narrator)
Listen for free with Kindle Unlimited**
Killers hiding in plain sight. Small-town secrets. A girl who knows too much. From the Amazon Charts bestselling author of Unspeakable Things and Bloodline comes a nerve-twisting novel inspired by a shocking true crime.
Minnesota, 1977. For the teens of one close-knit community, summer means late-night swimming parties at the quarry, the county fair, and venturing into the tunnels beneath the city. But for two best friends, it's not all fun and games.
Katie Sise (Author), Samara Naeymi (Narrator), Sarah Naughton (Narrator)
Listen for free with Kindle Unlimited**
Can she trust the people she loves? Can she trust herself? A new mother is pushed to the edge in a provocative thriller by the Amazon Charts bestselling author of Open House.
After the traumatic birth of her daughter at a New York City hospital, Rowan O'Sullivan returns home to her apartment with her perfect newborn, Lila. At her side are her husband, Gabe, and June, a part-time babysitter hired to help Rowan in any way she can.
Roger A. Canaff (Author), Michael Orenstein (Narrator)
Listen for free with Kindle Unlimited**
A vanished mother, the grip of darkness, a lifelong mystery. Forty years later, a prosecutor faces them all again, this time as a murder suspect in a pulse-pounding legal thriller of psychological suspense. On a steaming night in 1977, New York City is plunged into darkness and two boys, Joe and Robbie, are abandoned by their mother, Lois. Forty years to the day after this unforgivable moment, Joe is a hard-drinking ADA and Lois has resurfaced: Joe wakes from another alcoholic fog to learn she's been found murdered on a Coney Island beach.
J. Todd Scott (Author), Nicol Zanzarella (Narrator)
Listen for free with Kindle Unlimited**
From J. Todd Scott comes a chillingly engrossing thriller about a cult survivor who must confront the horrors of her past to ensure the safety of the future.
Ten years after a fiery raid kills her family, former cult member Sybilla "Billie" Laure has a completely new identity. She's settled in rural Colorado with her daughter, hoping for a quieter life. But the world has other plans.
Kendra Elliot (Author), Christine Williams (Narrator)
Listen for free with Kindle Unlimited**
From bestselling author Kendra Elliot comes a riveting installment in the Widow's Island Novella series about an ex-FBI agent's race to save the man she loves from a trio of bank robbers.
When two men kidnap former FBI agent Cate Wilde's fiancé, the boldness of the crime rattles the community. Desperate to find the man she loves, Cate joins forces with the FBI and the local sheriff's department to launch an investigation and bring Dr. Henry Powers home.
Melinda Leigh (Author), Christine Williams (Narrator)
Listen for free with Kindle Unlimited**
A frantic chase to catch a grave robber reveals a startling discovery in this tenth installment of the Widow's Island novella series by Wall Street Journal bestselling author Melinda Leigh.
Deputy Tessa Black spots a man disturbing a grave in the local cemetery and gives chase. But when Tessa catches him, she learns that the ghoulish trespasser wasn't robbing graves; he was burying a box of bones.
John Marrs (Author), Elizabeth Knowelden (Narrator), Susan Duerden (Narrator)
Listen for free with Kindle Unlimited**
In this chilling novel from bestselling author John Marrs, a young couple's house hides terrible secrets—and not all of them are confined to the past.
Mia and Finn are busy turning a derelict house into their dream home when Mia unexpectedly falls pregnant. But just when they think the house is ready, Mia discovers a chilling message scored into a skirting board: I WILL SAVE THEM FROM THE ATTIC. Following the clue up into the eaves, the couple make a gruesome discovery: their dream home was once a house of horrors.
Steph Broadribb (Author), Ruth Redman (Narrator)
Listen for free with Kindle Unlimited**
It looks like an open-and-shut case—until one of the Retired Detectives disappears… When movie producer Cody Ziegler goes missing from The Homestead's Millionaires' Row, his wife, retired actress Olivia, immediately claims there's foul play afoot. A million-dollar ransom demand soon follows, with clear instructions not to involve the cops. In desperation she enlists the help of Moira, Rick, Philip and Lizzie, aka the Retired Detectives Club.
New Listen for Free Fantasy Audiobooks
Charlie N. Holmberg (Author), Amanda Leigh Cobb (Narrator), Graham Halstead (Narrator), Nicholas Boulton (Narrator)
Listen for free with Kindle Unlimited**
A house of haunted history and ill temper. Make yourself at home in this beguiling novel of love, magic, and danger by Amazon Charts and Wall Street Journal bestselling author Charlie N. Holmberg. Rhode Island, 1846. Estranged from his family, writer Merritt Fernsby is surprised when he inherits a remote estate in the Narragansett Bay. Though the property has been uninhabited for more than a century, Merritt is ready to call it home—until he realizes he has no choice. With its doors slamming shut and locking behind him, Whimbrel House is not about to let Merritt leave. Ever.
Luanne G. Smith (Author), Susannah Jones (Narrator)
Listen for free with Kindle Unlimited**
Fleeing Victorian London, a witch finds her newfound independence comes with all-new perils—both mortal and immortal. Forever untangling the branches of her strange family tree, Edwina Blackwood is at a turning point. Her parents' disappearances still strike her as unaccountably odd. Her sister's questionable life and untimely death have left her shaken. Spellfire has transformed her home and livelihood to ash. And now a devious stalker is on her trail. With supernatural detective Ian Cameron by her side, Edwina can't get out of London fast enough.
The Best Kindle Unlimited Fiction Audiobooks in November
Sheila Yasmin Marikar (Author, Narrator)
Listen for free with Kindle Unlimited**
All she wants is to be her best self. Is she ready? Absolutely. Does she know what to expect? Absolutely not. Anita is over her life in New York: her dead-end job, tiny studio apartment, self-obsessed friends, and overbearing mom. So she moves west to Los Angeles in search of a new career, enlightenment, and that nebulous target…wellness. She discovers an elite workout class called the Goddess Effect, run by a lifestyle guru named Venus who's the very definition of #goals. One look at her Lululemon-clad acolytes sweating out their demons while dripping with confidence and Anita's all in. When one of the class regulars takes Anita under her wing, Anita's sure she's found her people.
Alli Frank (Author), Asha Youmans (Author), Bahni Turpin (Narrator)
Listen for free with Kindle Unlimited**
From the authors of Tiny Imperfections comes a riotously funny, emotionally real look at race and religion, love and heartache, and the realities of parenting through it all.
Self-appointed fixer of other people's woes Marjette Lewis is uncharacteristically determined to keep to her side of the driveway when it comes to her flawless neighbor Noa Abrams. Professionally, Marjette has her hands full as she prepares for a new class of kindergarteners and her first year of teaching without her best friend, Judy, as campus "Black-up." And at home, her son's budding manhood challenges her expectations, and her vexing ex-husband continues to be a thorn in her side.
Olivia Hawker (Author), Marli Watson (Narrator), Billie Fulford-Brown (Narrator)
Listen for free with Kindle Unlimited**
Three spirited wives in nineteenth-century Utah. One husband. A compelling novel of family, sisterhood, and survival by the Washington Post bestselling author of One for the Blackbird, One for the Crow.
1857. Three women—once strangers—come together in unpredictable Utah Territory. Hopeful, desperate, and willful, they'll allow nothing on Earth or in Heaven to stand in their way. Following the call of their newfound Mormon faith, Tamar Loader and her family weather a brutal pilgrimage from England to Utah, where Tamar is united with her destined husband, Thomas Ricks. Clinging to a promise for the future, she abides an unexpected surprise: Thomas is already wedded to one woman—Tabitha, a local healer—and betrothed to still another.
Alice Hoffman (Author), Jennifer Jill Araya (Narrator)
Listen for free with Kindle Unlimited**
From New York Times bestselling author Alice Hoffman comes a heartfelt short story about family, independence, and finding your place in the world. Isabel Gibson has all but perfected the art of forgetting.
She's a New Yorker now, with nothing left to tie her to Brinkley's Island, Maine. Her parents are gone, the family bookstore is all but bankrupt, and her sister, Sophie, will probably never speak to her again. But when a mysterious letter arrives in her mailbox, Isabel feels herself drawn to the past. After years of fighting for her independence, she dreads the thought of going back to the island. What she finds there may forever alter her path—and change everything she thought she knew about her family, her home, and herself.
Ted Fox (Author), Scott Merriman (Narrator)
Listen for free with Kindle Unlimited**
From a delightful new voice in fiction comes the story of a stay-at-home dad reclaiming his past and discovering a new future.
Jack Parker didn't set out to be a stay-at-home dad, but his professional dreams went up in smoke after he accidentally burned down his office building. Six years later, Jack's got parenting his two kids down cold. Then comes an unwelcome blast from Jack's past: high school nemesis Chad Henson. He beat out Jack for class president, stole his girlfriend, and never had so much as a pimple in his four years of adolescent bliss. Now Chad has moved to the same midwestern town Jack calls home.
New Young Adult Listen for Free
Dana L. Davis (Author), Kimberly Woods (Narrator)
Listen for free with Kindle Unlimited**
In this fresh, addictive novel from the author of Tiffany Sly Lives Here Now, an aspiring musician is forced to reunite with her ex-best friend—who just happens to be the world's biggest teen star.
Dylan Woods hasn't seen her best friend, Langston, in years. After he moved to Los Angeles, he ghosted her. Then he became Legendary, the biggest teen R&B artist on the planet. For the most part, Dylan has moved on, with her sights set on Juilliard. But when her parents announce that Langston is coming for a short stay with them, the entire family is thrilled. Except for Dylan. The idea of sharing a house with music's biggest bad boy makes her stomach churn.
The Best Kindle Unlimited Nonfiction Audiobook in November
Laurie Notaro (Author), Hillary Huber (Narrator)
Listen for free with Kindle Unlimited**
A laugh-out-loud spin on the realities, perks, opportunities, and inevitable courses of midlife.
Laurie Notaro has proved everyone wrong: she didn't end up in rehab, prison, or cremated at a tender age. She just went gray. At past fifty, every hair's root is a symbol of knowledge (she knows how to use a landline), experience (she rode in a car with no seat belts), and superpowers (a gray-haired lady can get away with anything).
Kindle deals can slightly differ between international Amazon websites. The lists on this blog are based on Amazon.com. If you live elsewhere, you might be sent to your local Amazon. Please don't be disappointed if your marketplace has different prices. Sometimes, a US "Listen for Free" might cost a little elsewhere, while other deals might, in turn, be cheaper on your Amazon. You can only download Kindle audiobooks from your local Amazon website.
New Audiobooks
/