Kindle Unlimited is a fantastic subscriptions for audiobook fans and new titles are added all the time. Let's take a look at the best Kindle Unlimited audiobooks that are new in May 2022!
This month's list is a wonderfully balanced mix of super popular Romance, Thriller, Fantasy, and Fiction books! Some of the most popular Romance authors have new audiobooks in Kindle Unlimited. But readers of every genre will find something fun here!
How to Listen to Kindle Unlimited Audiobooks
You can listen to all of the following Audible books for free with an Amazon.com Kindle Unlimited subscription. You don't need to buy them or spend an Audible credit. They are included in your Kindle Unlimited subscription and you don't even need an Audible membership to listen to them! Simply get the Audible app and log in with your Amazon login and password to find the Kindle Unlimited audiobooks you have borrowed in your Audible library.
There are over 2000 Audible books included in Kindle Unlimited with new ones being added every month. That makes this subscription a great way for beginning listeners as well as fans to find new and free audiobooks and check out stories from indie authors or new authors as well as from different genres. Of course, you get the full benefit of this during a 30 day free trial**!
Related article: How to listen to audiobooks with Kindle Unlimited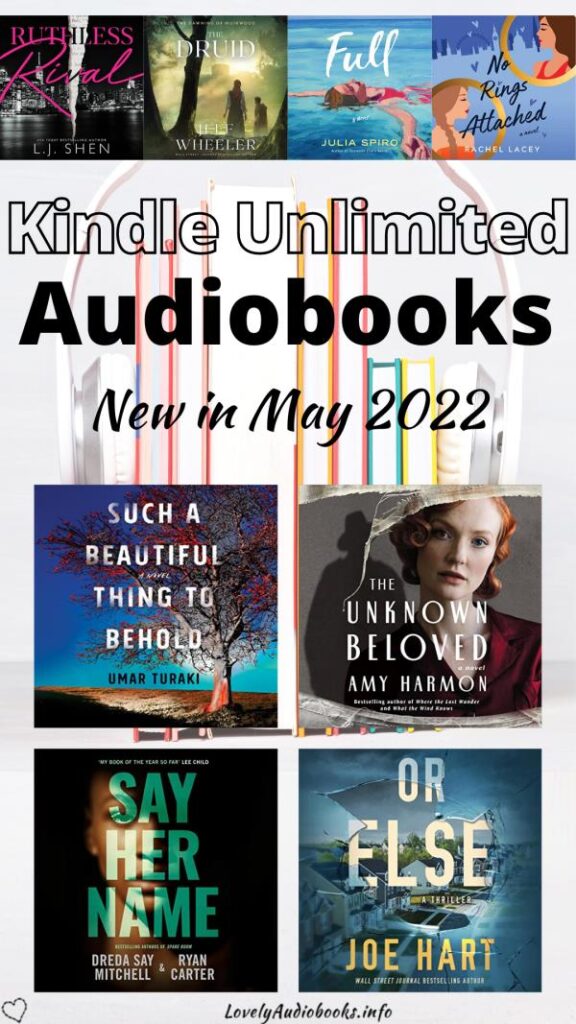 New Listen for Free Romance Audiobooks
Ruthless Rival
L.J. Shen (Author), Stella Bloom (Narrator), Joe Arden (Narrator)
Listen for free with Kindle Unlimited**
From Wall Street Journal bestselling author L.J. Shen comes an enemies-to-lovers romance about the fine line between seeking revenge and finding love. When she was young, Arya Roth became best friends with her housekeeper's son. Soon, friendship turned to young love, and when Arya dared him to kiss her, a chain reaction of disastrous events led to the boy being sent away and out of Arya's life. Now, two decades later, Arya is an on-the-rise publicist with her beloved father as one of her biggest clients. So when her father is sued by a former employee, Arya sets out to prove that her father is not the monster he is accused of being.
Maybe We Won't
Melissa Foster (Author), Virginia Rose (Narrator), Aaron Shedlock (Narrator)
Listen for free with Kindle Unlimited**
A sexy and soul-stirring novel about love, family, and rediscovering what matters most by Melissa Foster, the New York Times bestselling author of Maybe We Will. When workaholic Boston attorney Deirdra de Messiéres is passed over for a well-deserved promotion, she takes a two-month hiatus to show her boss just how much he needs her and heads home to Silver Island. But beyond seeing her sisters happy, home is not where Deirdra's heart is. She has no interest in their family restaurant, the Bistro, or reliving hurtful childhood memories, and absolutely no interest in spending a single second with Josiah "Jagger" Jones, the Bistro's too-laid-back musician and chef. Sure, the hippie is hot, but he drives her nuts.
Meant to Be: Twist of Fate, Book 1
Jennifer Probst (Author), Keira Stevens (Narrator), Nelson Hobbs (Narrator)
Listen for free with Kindle Unlimited**
Two broken hearts discover an unpredictable path to healing in an emotional romance about fate and second chances by New York Times bestselling author Jennifer Probst. It's been two years since Chiara Kennedy lost her dearest friend, Rory. Chiara misses everything about her. Rory's widowed husband is another story. Sebastian Ryder is a man Chiara had secretly wanted, let slip away, and hoped to never see again. Then fate throws them together for an unexpected one-night stand and a morning after of new challenges.
No Rings Attached
Rachel Lacey (Author), Zara Hampton-Brown (Narrator)
Listen for free with Kindle Unlimited**
From award-winning author Rachel Lacey comes the second installment in the Ms. Right series: a captivating romance about a reluctant bookseller finding love in unexpected places. Lia Harris is tired of being the odd one out. She's never quite fit in with her uptight family, and now that her roommates have all found love, she's starting to feel like a third wheel in her own apartment. Fed up with her mother's constant meddling in her love life, Lia drops hints about a girlfriend she doesn't have. But with her brother's London nuptials approaching, she needs to find a date to save face. Lia turns to her best friend, Rosie, for help, and Rosie delivers – with the fun, gorgeous Grace Poston.
Know You by Heart
Tif Marcelo (Author), Joy Regullano (Narrator), Reuben Uy (Narrator)
Listen for free with Kindle Unlimited**
From the USA Today bestselling author of In a Book Club Far Away comes a delightful installment in the Heart Resort series about finding love that's been right in front of you all along. As the oldest child in his family, Chris Puso has always taken his responsibilities seriously. He'll do whatever it takes to ensure Heart Resort's success. Four and a half years ago, that meant marrying Eden, a woman he admired but didn't love, to access a family trust that benefited them both.
Gouda Friends
Cathy Yardley (Author), David Lee Huynh (Narrator), Jenapher Zheng (Narrator)
Listen for free with Kindle Unlimited**
Two high school BFFs reunite and endeavor to fix each other's lives in this geeky romance from the author of Love, Comment, Subscribe. Tam Doan dumped her boyfriend after he threw away her gourmet cheese. Sure, it's a little more complicated than that, but the point is, he had it coming. Newly single and unemployed, Tam calls up her best friend from high school and utters the emergency code word – goldfish. Next thing she knows, she's on a plane back home.
Related article: The Best Romance audiobooks in Kindle Unlimited
The Best Kindle Unlimited Thriller Audiobooks in May
Say Her Name
Dreda Say Mitchell (Author), Ryan Carter (Author), Adjoa Andoh (Narrator)
Listen for free with Kindle Unlimited**
In this chilling thriller from the bestselling authors of Spare Room, one woman just wants the truth about who she really is. But she's not the only one looking… It's twenty years since Eva, a biracial woman, was adopted as an eight-year-old, and Cherry and Carlton 'Sugar' McNeil have always been the only parents she's wanted or needed. But when she's dealt the double blow of Cherry's death and her own suspension from work, Eva decides it's time to discover who she was before she was theirs.
Or Else: A Thriller
Joe Hart (Author), Graham Halstead (Narrator)
Listen for free with Kindle Unlimited**
A secret love becomes a fatal affair in a twisting novel of suspense by Wall Street Journal bestselling author Joe Hart. When novelist Andy Drake returns to his hometown to care for his ailing father, a reconnection with his childhood friend Rachel escalates into a secret love affair. For Rachel, struggling to maintain the facade of a picture-perfect life, it's an escape from an emotionally abusive marriage. Then Andy receives an anonymous note warning him to end the affair. Or else.
The Darkest Web
Kristin Wright (Author), Shannon McManus (Narrator), Nicol Zanzarella (Narrator)
Listen for free with Kindle Unlimited**
What is more dangerous? The lies she tells or the truth she's hiding? Jane Knudsen is an exceptionally private and intimidatingly beautiful workaholic attorney. Unflappable and cool, she's the last person likely to suddenly snap and murder one of her firm's senior partners. Yet she's become the most likely suspect in the crime. She's retained Allison Barton, her former law school roommate, to represent her. It's Allison's job to believe Jane, even if Allison never really knew her. No one did. Jane always made sure of that.
Scheme
Jeffery Deaver (Author), Aaron Shedlock (Narrator)
Listen for free with Kindle Unlimited**
A detective tracks a poetry-obsessed serial bomber—meter by deadly meter—in an explosively clever short story by international bestselling author Jeffery Deaver. When an improvised explosive device is found outside a hospital, the understaffed Middleton PD knows it's up against a pro. No one takes credit for the sophisticated device—all that Detective Jake Sloan has to go on is a poem. The cryptic rhyme surfaced shortly after the bomb scare. But ex-soldier and football player Sloan has never been much of a poetry buff. When a second verse turns up, containing a message in code, he solicits the help of English professor Ciara Hawkins.
Strangers We Know
Elle Marr (Author), Janet Song (Narrator), Alexander Cendese (Narrator), Lauren Ezzo (Narrator)
Listen for free with Kindle Unlimited**
The search for a serial killer leads a woman into the twisted tangle of her own family tree in a chilling novel by the #1 Amazon Charts bestselling author of The Missing Sister and Lies We Bury. Adopted when she was only days old, Ivy Hon knows little about her lineage. But when she's stricken with a mystery illness, the results of a genetic test to identify the cause attract the FBI. According to Ivy's DNA, she's related to the Full Moon Killer, who has terrorized the Pacific Northwest for decades. Ivy is the FBI's hope to stop the enigmatic predator from killing again.
Cleopatra's Dagger
Carole Lawrence (Author), Kate Rudd (Narrator)
Listen for free with Kindle Unlimited**
A journalist in nineteenth-century New York matches wits with a serial killer in a gripping thriller by the prizewinning author of the Ian Hamilton Mysteries. New York, 1880. Elizabeth van den Broek is the only female reporter at the Herald, the city's most popular newspaper. Then she and her bohemian friend Carlotta Ackerman find a woman's body wrapped like a mummy in a freshly dug hole in Central Park – the intended site of an obelisk called Cleopatra's Needle. The macabre discovery takes Elizabeth away from the society pages to follow an investigation into New York City's darkest shadows.
New Listen for Free Fantasy and Sci-Fi Audiobooks
The Druid: The Dawning of Muirwood, Book 1
Jeff Wheeler (Author), Kate Rudd (Narrator)
Listen for free with Kindle Unlimited**
An abandoned child becomes a singular inspiration to the mythology of Muirwood in an epic series by Jeff Wheeler, Wall Street Journal bestselling author of the Muirwood and Kingfountain novels. Eilean was born a "wretched"—a lowly foundling raised by the Aldermaston of Tintern Abbey. Then she's chosen to assist in establishing the new abbey of Muirwood, now the site of a castle in the swampy Bearden Muir. Eilean's role is as night servant to the druid Mordaunt, the king's exiled advisor—and prisoner. He's clever, dangerous, and invaluable to the Aldermaston.
Such a Beautiful Thing to Behold: A Novel
Umar Turaki (Author), Ifeyinwa Unachukwu (Narrator)
Listen for free with Kindle Unlimited**
An inexplicable sickness. A small town cut off from the world. An unexpected community of survivors forges a family out of the despair, struggling against things known and unknown for survival and hope. A mysterious plague known as the Grey grips the small village of Pilam, which the world has quarantined without pity. Laying waste to Pilam's residents, the sickness saps its victims of strength, drains the color from their eyes, and kills all promise. Only the young are immune. But beyond the barricades and walls of soldiers—the manifestation of a nation's terror—there are rumors of a cure.
Related article: The Best Fantasy audiobooks in Kindle Unlimited
The Best Kindle Unlimited Fiction Audiobooks in May
The Unknown Beloved: A Novel
Amy Harmon (Author), Rob Shapiro (Narrator)
Listen for free with Kindle Unlimited**
From the bestselling author of Where the Lost Wander and What the Wind Knows comes the evocative story of two people whose paths collide against the backdrop of mystery, murder, and the Great Depression. Chicago, 1923: Ten-year-old Dani Flanagan returns home to find police swarming the house, her parents dead. Michael Malone, the young patrolman assigned to the case, discovers there's more to the situation—and to Dani Flanagan herself—than the authorities care to explore. Malone is told to shut his mouth, and Dani is sent away to live with her spinster aunts in Cleveland.
Dreaming of Flight: A Novel
Catherine Ryan Hyde (Author), Janet Metzger (Narrator), Michael Crouch (Narrator)
Listen for free with Kindle Unlimited**
An unexpected connection becomes the saving grace for two unlikely friends in a heart-stirring novel about love, loss, and moving forward by a New York Times and #1 Amazon Charts bestselling author. Never knowing his parents, eleven-year-old Stewie Little and his brother have been raised on a farm by their older sister. Stewie steadfastly tends the chickens left by his beloved late grandmother. And every day Stewie goes door to door selling fresh eggs from his wagon—a routine with a surprise just around the corner. It's his new customer, Marilyn. She's prickly and guarded, yet comfortably familiar—she reminds the grieving Stewie so much of the grandmother he misses more than he can express.
Everything Must Go
Camille Pagán (Author), Amy McFadden (Narrator), Laural Merlington (Narrator)
Listen for free with Kindle Unlimited**
A warm, wry novel about secrets, second chances, and the unbreakable bonds between mothers, daughters, and sisters by the #1 Amazon Charts bestselling author of Life and Other Near-Death Experiences. Laine Francis believes there's a place for everything—and New York, where her family lives, isn't her place. But no sooner does the professional organizer's marriage begin to unravel than her sisters drop another bomb on her: their mother, Sally, may have dementia, and they need Laine to come home.
Full: A Novel
Julia Spiro (Author), Brittany Pressley (Narrator)
Listen for free with Kindle Unlimited**
To her followers, she advocates for an authentic and transparent life. In reality, she's living a perfect lie. Wellness influencer Ava Maloney's enormous success is based on total transparency, extolling the well-documented virtues of her full, balanced life. But the truth is, Ava's social media platform is built on a lie. And her double life is beginning to take its toll.
The Half-Life of Ruby Fielding: A Novel
Lydia Kang (Author), Saskia Maarleveld (Narrator)
Listen for free with Kindle Unlimited**
From the bestselling author of A Beautiful Poison comes a spellbinding historical mystery about hidden identities, wartime paranoia, and the tantalizing power of deceit. Brooklyn, 1942. War rages overseas as brother and sister Will and Maggie Scripps contribute to the war effort stateside. Ambitious Will secretly scouts for the Manhattan Project while grief-stricken Maggie works at the Navy Yard, writing letters to her dead mother between shifts.
The Last Goddess: A Novel
Kateřina Tučková (Author), Andrew Oakland – translator (Author), Nina Yndis (Narrator)
Listen for free with Kindle Unlimited**
A woman delves into science and superstition, fear and persecution, and the hope and courage of belief in an award-winning and internationally bestselling novel by Kateřina Tučková. Last in a centuries-old lineage of healing women, Dora Idesová was raised by her aunt Surmena in the White Carpathians. Resistant to superstition, Dora grew up hearing stories of the "goddesses" who were said to conjure love and curses and, through divine connection, cure the spirit and the body. Now an academic, Dora is researching the tales that for generations spellbound the hillside where she grew up.
Kindle deals can slightly differ between international Amazon websites. The lists on this blog are based on Amazon.com. If you live elsewhere, you might be sent to your local Amazon. Please don't be disappointed if your marketplace has different prices. Sometimes, a US "Listen for Free" might cost a little elsewhere, while other deals might, in turn, be cheaper on your Amazon. You can only download Kindle audiobooks from your local Amazon website.
New Audiobooks
/