Are you ready for the best Kindle Unlimited audiobooks in September 2022?! These 16 brand-new Kindle Unlimited Read and Listen for Free books have been instant hits with readers and listeners alike!
All of these books were only just published and most of them already have thousands of positive reviews, placing them comfortably among the best Kindle Unlimited audiobooks. And even though these are bestselling books, Amazon.com Kindle Unlimited subscribers can listen to the Audible books without any extra cost and without having to spend an Audible credit! You can simply borrow them like any Kindle Unlimited ebook. The audiobook will be added to your Audible library automatically!
Related article: How to listen to audiobooks with Kindle Unlimited
If you don't have a Kindle Unlimited subscription, you can grab a 30 day trial for free**. And just to say it again, all of the following audiobooks are included in a Kindle Unlimited US membership. You do not need an Audible subscription or give Audible any payment information.
Just follow the links to books you find interesting, click "Read and Listen for Free" on the book's Amazon page. Then you log into the Audible app with your Amazon email and password and you will see your new Kindle Unlimited audiobooks right there, ready to download and enjoy!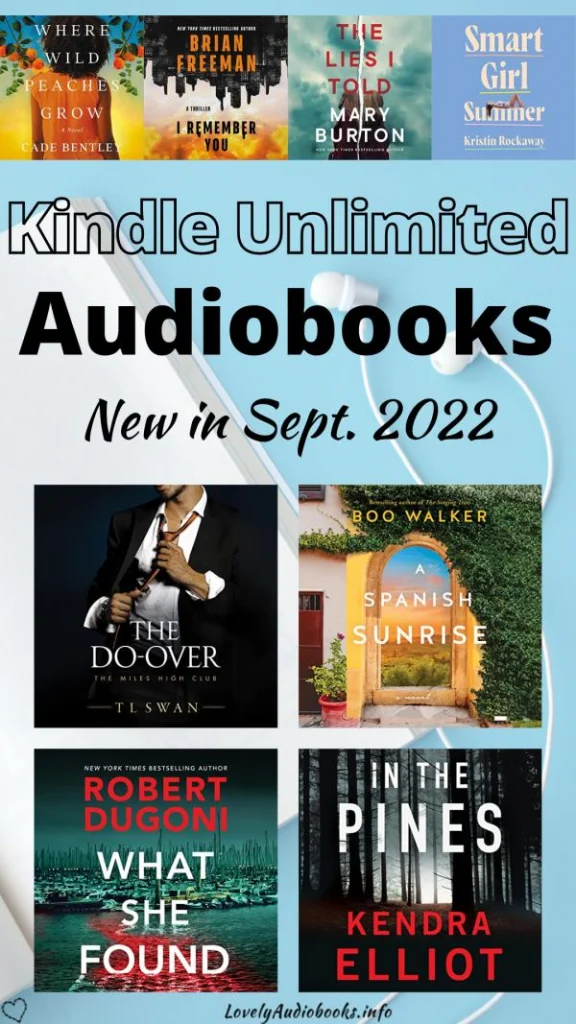 Romance: New in Kindle Unlimited Listen for Free
T L Swan (Author), CJ Bloom (Narrator), Sebastian York (Narrator)
Listen for free with Kindle Unlimited**
In this sexy installment of the Miles High Club series from bestselling author T L Swan, a billionaire playboy goes incognito on a backpacking trip in Europe. But how long can he hide from love?
I'm wealthy, powerful, and able to get any woman I want. So why do I feel so empty inside? In search of a deeper me, I take a sabbatical from my privileged life. One year of backpacking around Europe: a new identity, no contacts, and no money. Not a bad plan, I think. Until I get there. A crowded hostel room, body odor, and beer bongs—there are no words for the fresh hell I've landed in. But amid the chaos, I meet my new roommate, Hayden Whitmore.
Kristin Rockaway (Author), Soneela Nankani (Narrator)
Listen for free with Kindle Unlimited**
From Kristin Rockaway comes a fun, insightful romance about what can happen when life gets off track but you're willing to go along for the ride. This summer's not going as Abby Atkinson planned. A thieving PhD adviser, a screeching halt to her grad program, and zero job offers have left her high and dry. Nothing a little eat, pray, love across the Mediterranean can't fix, right? Or eat, pray, tutor, more like. Her dissertation might be dead, but she can still teach. She'll just have to do it for six weeks on a superyacht with a billionaire and his daughter.
Aurora Rose Reynolds (Author), Laurie West (Narrator), Aaron Shedlock (Narrator)
Listen for free with Kindle Unlimited**
From New York Times and USA Today bestselling author Aurora Rose Reynolds comes a steamy romance about what happens when a risk-taker tries to follow the rules. Jade has always been the reckless type. But after her relationship implodes and her business goes under, she realizes it might be time to change her ways. She decides on a fresh start in a new place: Montana. But shortly after her arrival in Big Sky Country, she meets headstrong wilderness retreat owner Maverick, whose name, fittingly, means "dissenter." Jade tries to convince herself he's not the type of man she needs in her life. The problem is, she wants him in her life.
Fiona Valpy (Author), Elizabeth Knowelden (Narrator)
Listen for free with Kindle Unlimited**
In this romantic tale in the Escape to France collection from bestselling author Fiona Valpy, Sara has one summer to make wedding wishes come true. But can she save her own happy-ever-after? Once upon a time, in an ancient château nestled above a golden river among the vineyards of Bordeaux, Sara and Gavin opened a wedding venue where fairy tales come true…But when Sara discovers Gavin in the arms of a wedding guest, their own happiness crumbles to dust. Faced with five beaming couples yet to say 'I do', she realises it's up to her to host the rest of their first make-or-break season alone.
Thriller and Mystery: The Best Kindle Unlimited Audiobooks in September
Kendra Elliot (Author), Teri Schnaubelt (Narrator)
Listen for free with Kindle Unlimited**
A Wall Street Journal bestselling series. Clues to a hidden treasure. Clues to a family secret. Both lead to murder in a twisting novel of suspense by Amazon Charts and Wall Street Journal bestselling author Kendra Elliot. A national treasure hunt with a $2 million prize has driven obsessed fortune seekers to overrun the small town of Eagle's Nest, Oregon. The hunt's cryptic clues and the lure of wealth have exposed the desperate side of human greed: theft, fights, trespassing—and even the motive to kill. Police chief Truman Daly craves peace in his town but has a murder on his hands instead. Now the big prize isn't the only thing hiding in the pines. So is a killer.
Mary Burton (Author), Emily Ellet (Narrator), Josh Bloomberg (Narrator), Sarah Beth Pfeifer (Narrator), Arnell Powell (Narrator), Amanda Stribling (Narrator), Andrew Eiden (Narrator)
Listen for free with Kindle Unlimited**
For a woman obsessed and a killer in her shadow, remembering the past becomes a mind game in a novel of psychological suspense by New York Times bestselling author Mary Burton.
Twin sisters Marisa and Clare Stockton were sixteen when Clare's body was found in Virginia's James River. No arrests were made. Fourteen years later, Marisa's friends and dedicated career as a photographer help her to cope with the open wound of the past. But Marisa still feels the hurt—and the unsolved murder isn't the only thing haunting her.
Robert Dugoni (Author), Emily Sutton-Smith (Narrator)
Listen for free with Kindle Unlimited**
An Amazon Charts and Wall Street Journal bestselling series. Solving a decades-old disappearance sets Tracy Crosswhite on a dangerous collision course with the past in a pulse-pounding novel by New York Times bestselling author Robert Dugoni. Detective Tracy Crosswhite has agreed to look into the disappearance of investigative reporter Lisa Childress. Solving the cold case is an obsession for Lisa's daughter, Anita. So is clearing the name of her father, a prime suspect who became a pariah. After twenty-five years, all Anita wants is the truth—no matter where it leads.
Brian Freeman (Author), Carlotta Brentan (Narrator)
Listen for free with Kindle Unlimited**
From New York Times bestselling author Brian Freeman comes a gripping psychological thriller about a woman haunted by terrifying memories—of someone else's life. On the Fourth of July, Hallie Evers dies at a rooftop party in Las Vegas. Hours later, she wakes up in the hospital, disoriented but alive. Why can't she find the doctor who revived her? Why does her head feel crowded and loud? Why do her memories feel both foreign and familiar? Her self-doubt spirals into crippling paranoia.
Simon Gervais (Author), Jeffrey Kafer (Narrator)
Listen for free with Kindle Unlimited**
From the celebrated author of The Last Protector comes an action-packed sequel about a man whose duty to his country threatens the life of the woman he has vowed to protect. Ex-Secret Service agent Clayton White doesn't miss the relentless danger that defined his career. These days, he's enjoying life at sea with his fiancée – who also happens to be the daughter of the double-dealing vice president, Alexander Hammond. But for the most part, Clayton has made peace with his old nemesis.
Anna Karolina (Author), Lisa Reinhardt – translator (Author), Moira Quirk (Narrator)
Listen for free with Kindle Unlimited**
Is he guilty or innocent? Even he doesn't know… On the eve of their thirtieth birthday, twins Jasmine and Nicolas Moretti celebrate late into the night. But when Nicolas wakes several hazy hours later, Jasmine is dead—and he is covered in her blood. Panicking, he takes the murder weapon and runs into the cold Stockholm night. For the police, it's an open-and-shut case. Nicolas is guilty. And given that he remembers so little of what happened that night, even he isn't convinced of his innocence. Emma Tapper, an ex-cop driven to drink by a tragedy she's devastated she couldn't prevent, is recruited by defence lawyer Angela Köhler to help with the high-profile Moretti case.
Fantasy, SciFi, Horror: New in Kindle Unlimited Listen for Free
Zakiya Dalila Harris (Author), Shayna Small (Narrator)
Listen for free with Kindle Unlimited**
A quiet weekend in the wilderness, just the two of them. How romantic. But new love turns to terror in a suspenseful short story from the New York Times bestselling author of The Other Black Girl. When Ama's straitlaced boyfriend, Nathan, invites her to his secluded upstate New York cabin for the weekend, she can't say no. It's a chance for them to escape the city's distractions, share intimate secrets, and take their relationship to a deeper level. By day, it feels like the perfect love story. But when Ama is awakened by strange events, she starts to wonder if she really wants to know everything about Nathan. His Happy Place by Zakiya Dalila Harris is part of Getaway, a collection of six stories about dream escapes that take unimaginable, even sinister, turns. Each piece can be read or listened to in a single sitting.
Marko Kloos (Author), Eric G. Dove (Narrator)
Listen for free with Kindle Unlimited**
Stranded light-years from home, Major Andrew Grayson and his crew are on a desperate mission to discover the Lankies' secrets. They can't let what they've found die with them. Nine hundred light-years from home, Major Andrew Grayson and the crew of NACS Washington are marooned in a sunless system with limited water, reactor fuel, and food. The last hope for survival is to go where nothing human has gone before.
Fiction: The Best Kindle Unlimited Audiobooks in September
Cade Bentley (Author), Bahni Turpin (Narrator)
Listen for free with Kindle Unlimited**
In a deeply emotional novel of family, cultural heritage, and forgiveness, estranged sisters wrestle with the choices they've made and confront circumstances beyond their control. Nona "Peaches" Davenport, abandoned by the man she loved and betrayed by family, left her Natchez, Mississippi, home fifteen years ago and never looked back. She's forged a promising future in Chicago as a professor of African American Studies. Nona even finds her once-closed heart persuaded by a new love. But that's all shaken when her father's death forces her to return to everything she's tried to forget.
Boo Walker (Author), Dan John Miller (Narrator)
Listen for free with Kindle Unlimited**
A widowed father and his young daughter embark on a life-changing journey in a heartening novel of family and second chances by the bestselling author of The Singing Trees. Adjusting to the death of his wife hasn't been easy on Baxter Shaw—or on their eight-year-old daughter, Mia. Baxter has left his band and abandoned his dreams to focus on being a single father, but it's not enough: Mia's exhibiting escalating behavioral problems. And neither has been able to face the past head-on…until the past reaches out to them.
Nick Spalding (Author), Will Watt (Narrator)
Listen for free with Kindle Unlimited**
In this madcap tale from the bestselling author of Dumped, Actually, two's company for Jake and his bestie Sy. But three? A disaster! Jake Carlisle is living his best life, thanks to the crazily successful influencer channel he created with his best friend Sy. Reviewing whacky hobbies and adrenaline-fuelled adventures, Sy has pushed Jake into doing more exciting stuff than either ever thought possible. Then disaster strikes.
Liz Parker (Author), Christina Traister (Narrator)
Listen for free with Kindle Unlimited**
A compassionate and insightful novel about family, broken dreams, and holding on to everything in life that matters. Five cousins must band together to decide the future of their shared inheritance—the family's sprawling property in Stowe, Vermont—but with each at a different place in life, reaching a unanimous decision seems unlikely. Penny struggles with depression and craves stability in an unstable world. Halsey is divorced, raising her child, and contending with an unexpected realization about herself. Irresponsible William can be counted on only to fall in love as capriciously as he falls out of it. And both Laurie and Chris are floundering after betrayals—hers professional, his personal. With little in common except childhood memories, the five face impossible choices.
Kindle deals can slightly differ between international Amazon websites. The lists on this blog are based on Amazon.com. If you live elsewhere, you might be sent to your local Amazon. Please don't be disappointed if your marketplace has different prices. Sometimes, a US "Listen for Free" might cost a little elsewhere, while other deals might, in turn, be cheaper on your Amazon. You can only download Kindle audiobooks from your local Amazon website.
New Audiobooks
/