These days, a cartoon cover is enough for a book to be labeled "Romantic Comedy". But what I have for you are actual Romantic Comedies, REALLY funny Romance books that will make you laugh out loud, I promise!
These 14 titles are my favorite laugh-out-loud funny Romance books on Audible and the perfect escape to catch a break and get a chance to laugh and swoon. Even more so when you listen to the audiobook version because these narrators have the perfect comedic timing! Also, again, I'm not talking about the kind of novels here that someone sorted under "Romantic Comedy" but that are actually incredibly sad or get at most one light chuckle out of you. These are really funny Romance books that will have you burst out laughing many times and lead to potentially embarrassing moments if you're reading or listening in public 😉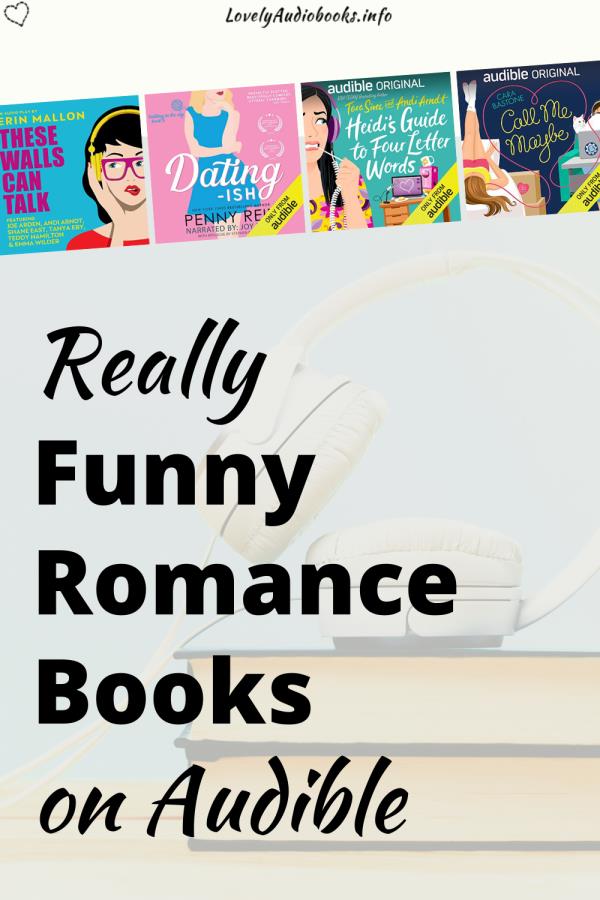 **The marked links and book covers on this page are affiliate links. If you use them to purchase something, I earn a fee at no additional cost for you. Disclosure**
These Walls Can Talk
Erin Mallon (Author, Narrator), Joe Arden (Narrator), Andi Arndt (Narrator), Shane East (Narrator), Tanya Eby (Narrator), Teddy Hamilton (Narrator), Emma Wilder (Narrator)
Get the Audible book on Amazon**
Who doesn't love a good meta-level laugh? These Walls Can Talk is an incredibly funny story about a married woman who has the chance to meet her "aural crush", the narrator she loves the most. The production is amazing, with a whole cast of our favorite narrators. And Erin Mallon, who is both the author and one of the most popular Romance voice actors, really knows what she's writing (and talking) about when we get a look behind the scenes of audiobook production.
"Is she one of my peaches?"

– "One of your what?"

"Is she in my readers group on Facebook, my Georgia's Peaches?"

– "Christ, I don't know. But… you call them your peaches?"

"Yep. They're my juicy, fuzzy, fruity lovelies with luscious butts and an insatiable desire for sexy stories. It was an obvious choice."
Call Me Maybe
Cara Bastone (Author), Luci Christian (Narrator), Neil Hellegers (Narrator)
Listen for free with Audible Plus**
Call Me Maybe was one of my most unexpected hits among the Audible Plus Romance novels because it's a super cute story and the perfect Romantic Comedy! I laughed out loud many times and swooned because of the incredibly romantic moments. This hilarious, romantic book lets us listen in on a tech support phone call. When Vera finally catches someone in the hotline of her website company, they end up talking for hours… and then for days… But will they work out in real life?
"I'm one of those people that eats my groceries down to the very last mouthful before I'll fit in a trip to the store. By day 10, I'm dipping aged cherry tomatoes into a jar of peanutbutter just to get rid of everything."

– "Oh god, Vera, it doesn't have to be that way! There are other ways to live!"
Related article: The best Romance Books in Audible Plus
Ball Peen Hammer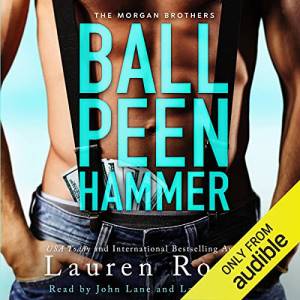 Lauren Rowe (Author, Narrator), John Lane (Narrator)
Get the Audible book in a deal on Amazon**
Ball Peen Hammer is the gold standard of really funny Romance books! This amazing Romantic Comedy is not only absolutely hilarious, it's also very steamy with off-the-charts sexual tension and very warm and emotional, making it the absolutely perfect escape for audiobook fans. You'll laugh, swoon, and fan yourself, while listening to the road trip of Keane, the "stripper with a heart of gold" (lol) who has a lot of very questionable life advice, and Maddy, the documentary filmmaker who is understandably taken aback by all that is Keane!
"I'm going out to hitch the oxen to the plow 'fore the rains come—looks like a mackerel sky!"
Related article: How to get Audible Books cheaper with Whispersync deals
Boyfriend Material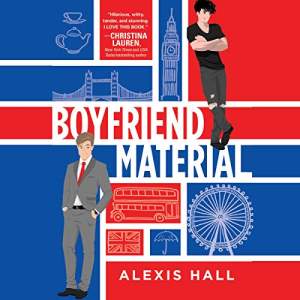 Alexis Hall (Author), Joe Jameson (Narrator)
Get the Audible book on Amazon**
Or Get it on LibroFM** (The first audiobook is free!)
I can't make a list of funny Romance books without my absolute favorite audiobook of 2020 which had me laughing out loud countless times, both the first time and the second time I listened to it! Boyfriend Material is the hilarious and romantic story of Luc, the down-on-his-luck son of two 80's popstars, and Oliver, an environmentally conscious barrister. The two decide that a fake relationship would be the perfect solution for each one's problems. Sure, what could possibly go wrong?!
"I think people surprise you and, really, what do you have to lose?"

– "Pride? Dignity? Self-respect?"

"Luc, you and I both know you have none of those things."
Related article: Why LibroFM is my favorite Audible alternative
The Governess Game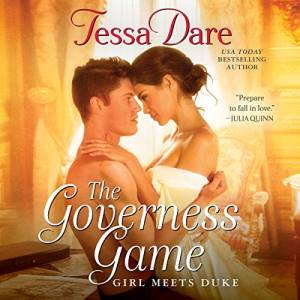 Tessa Dare (Author), Mary Jane Wells (Narrator)
Get the Audible book on Amazon**
Or Get it on LibroFM**
I didn't count how many times that poor doll died, but I can tell you, rarely have children in a Romance novel cracked me up and made me want to feed and cuddle them as much as Rosamund and Daisy in Tessa Dare's The Governess Game! These two completely captivated my heart. Especially the way Mary Jane Wells read them! As did their swoon-worthy guardian and their lovely governess. This is the all-around amazing, emotional, heartwarming, sexy, laugh-out-loud funny Rom-Com you want! Even if you aren't usually a Historical Romance reader, you won't regret this one.
"I've even taught them a bit of French." Chase read aloud from the board. "'Donnez-nous le butin, ou nous vous ferons jeter par-dessus bord.' What does that mean?" She hedged. "Hand over the booty, or you'll walk the plank."
Act Your Age, Eve Brown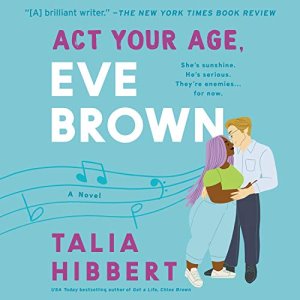 Talia Hibbert (Author), Ione Butler (Narrator)
Get the Audible book on Amazon**
Or Get it on LibroFM**
You know what would make a really fun meet-cute? Hitting someone with a car! No really, it makes for a really good meet-cute, promise! While the other Brown Sisters books are already very funny and wonderful, Eve Brown is the funniest and probably even the most lovable of the three. That paired with the setting in a cozy inn in the countryside makes this a book I love to read again and again! Ione Butler delivered perfectly in the audio version and never fails to make me burst out laughing. Interrupted by very intense swooning!
"I don't know which half of my brain is the smart half and which half is all emotional and shit."
"Maybe the smart half is all emotional and shit."
"Yes, I'd been afraid of that."
The Love Study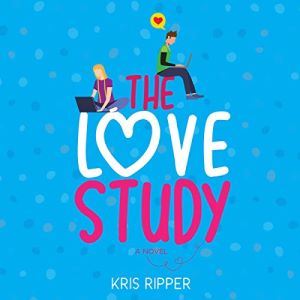 Kris Ripper (Author), Pete Cross (Narrator)
Get the Audible book on Amazon**
Or Get it on LibroFM**
The Love Study is such a feel-good, laugh-out-loud funny Romance book! This adorable queer Romantic Comedy is about a relationship-averse gay guy who can't even commit to a job after having left his ex-boyfriend at the altar. And now he's becoming the new project of nonbinary YouTuber Sidney. Pete Cross has such perfect comedic timing in the audiobook narration and did a wonderful job with the different voices!
I've done a lot of guilt for that moment, but I think for her own penance, Mia plans to fix Mason up with everyone she knows until one sticks… to his crotch. Or I guess his heart. Whatever. She's gonna marry his ass off as soon as he falls in love with someone for longer than two hours.
The Wisteria Society of Lady Scoundrels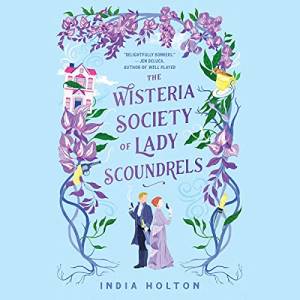 India Holton (Author), Elizabeth Knowelden (Narrator)
Get the Audible book on Amazon**
Or Get it on LibroFM**
Lady pirates in flying houses? With a setting like this, you can be sure that this crazy Historical Fantasy Romance will have you laughing out loud! From flying outhouses to flying castles, there will be battles, treasure, extremely witty, very British banter, and tea. And also, a strapping lad who might or might not capture Cecilia's heart. Elizabeth Knowelden did a delightful job delivering the humor in this fantastic audiobook!
"You are a scoundrel," she whispered furiously.
"Yes," he agreed. "I'm thinking of starting a Society of Gentlemen Scoundrels."
"You're millennia too late. It already exists and is called the patriarchy."
Let's Get Textual
Teagan Hunter (Author), Emma Wilder (Narrator)
Get the Audible book in a deal on Amazon**
If you have ever had a crush on someone you only knew online, if you have a weak spot for nerdy heroes, Let's Get Textual is the Romantic Comedy book you need in your life! And Emma Wilder worked pure magic with the audiobook. If Zach doesn't sound hot AF, I don't even know! This is such a charming, captivating, funny College Romance and it even has a baby goat.
"Me: Cake, brownies, ice cream? GO!
Zach: Yes.
Me: NO! Pick one! HURRY
Me: I'm at the store getting ready to check out and I NEED TO KNOW. I can't decide. Help a cute, hangry girl out, would ya.
Zach: How about…a brownie cake with ice cream.
Me: I think I just came.
Zach: I am known for my skills."
No Words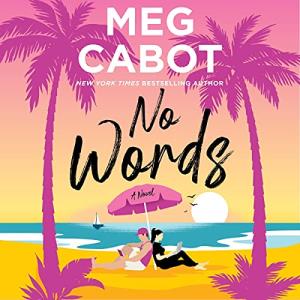 Meg Cabot (Author), Piper Goodeve (Narrator)
Get the Audible book on Amazon**
Or Get it on LibroFM**
Join author Jo on her trip to the Florida Keys for a book festival. It could all be so relaxing if her biggest enemy, the author who caused her writer's block, didn't live there. But she was assured he won't be there! No Words is a wonderful, emotional, and, of course, laugh-out-loud funny Romantic Comedy. And Piper Goodeve did a perfect job with all the characters.
[Text messages] Jo Wright: Have you ever even been to a book festival? OF COURSE I'm going to see him. I'll probably have to sit right next to him on some dumb panel.
Rosie Tate: I don't see how. You write delightful little stories for children about a teenaged cat who has exciting adventures while babysitting adorable kittens. He writes horrible books about heartbroken women who fall in love with arrogant dullards who then thankfully die.
The Extraordinaries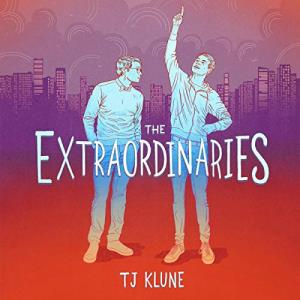 TJ Klune (Author), Michael Lesley (Narrator)
Get the Audible book**
Or Get it on LibroFM**
TJ Klune is a go-to author when you want warm and funny Romance books! The Extraordinaries is an insanely funny Romance novel about a fanboy who writes seriously steamy fanfiction and the superhero he adores. Did I annoy my husband on a road trip because I constantly giggle-snorted while listening to this one? Yes, yes, this might have happened. Michael Lesley did such a great narration!
"And besides, everyone knows Superman is in love with Batman. Even though someone decided their ship name should be SuperBat rather than the golden opportunity that is ManMan."
Getting Schooled
Christina C. Jones (Author), Sean Crisden (Narrator), Adenrele Ojo (Narrator)
Get the Audible book in a deal on Amazon**
Or Get it on LibroFM**
Getting Schooled is an Enemies to Lovers Romance with super funny banter! I love Reese's dry, snarky humor. It's totally my kind of thing and you'll get lots and lots of lines like the one below from her. Getting Schooled is also on the list of my favorite Romance books with disabled characters. And Sean Crisden and Adenrele Ojo are pretty far at the top of my list of most favorite narrators!
It had been hard as hell for me to read some of those papers and not give the feedback that the student needed to jump off a cliff into a sea of dicks.
Dating-ish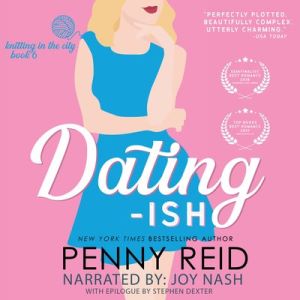 Penny Reid (Author), Joy Nash (Narrator)
Listen for free with Audible Plus**
Or Get it on LibroFM**
While I found the entire Knitting in the City series super funny and all-around wonderful, Dating-ish is probably the funniest and overall lightest. Marie is a journalist and working on a piece on how well paid services can replace for singles what people would usually find in relationships. Matt, on the other hand, believes that the future of human relationships lies with A.I.. Obviously, they do not need to date each other! Joy Nash is such a great narrator who perfectly brings out the humor and emotions in this book.
You can lead a horse to water, but you can't make it drink the water that will allow it to enter into a happy, fulfilling relationship. Maybe the horse likes being dehydrated. Or maybe you weren't that horse's type. Step back from the stupid dehydrated horse!
Heidi's Guide to Four Letter Words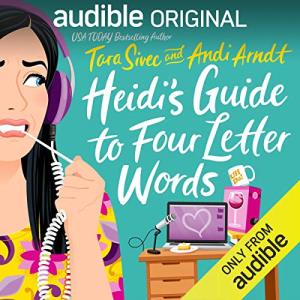 Tara Sivec (Author), Andi Arndt (Author, Narrator)
We started this list of funny Romance books with one meta-level audiobook and we end it with another. Heidi's Guide to Four Letter Words is the result of a collaboration between Andi Arndt, the amazing Romance audiobook narrator, and Tara Sivec, one of the funniest Romance authors! Heidi and her adventures into podcasting will not only make you laugh, she will also make you fall in love with her. Because how can you help but love someone as ridiculous and adorable as Heidi?!
"Mom, I'm in the middle of recording a podcast. Didn't you see the 'Do not knock, ring doorbell, or disturb. Recording process' sign on the door?"

– "Uff da! Of course I saw the sign. Obviously it wasn't meant for your mother."
Romance Books
/