Whatever we have to go through in real life in the last months, funny Romance books are the perfect escape to catch a break and get a chance to laugh. Even more so when you listen to the audiobook version and the narrator has the perfect comedic timing!
Here are 8 of my favorite laugh-out-loud funny Romance books on Audible. And I'm not talking about the kind of novels that someone sorted under "Romantic Comedy" but that are actually incredibly sad. I mean really funny Romance books that will have you burst out laughing and lead to potentially embarrassing moments if you're reading or listening in public!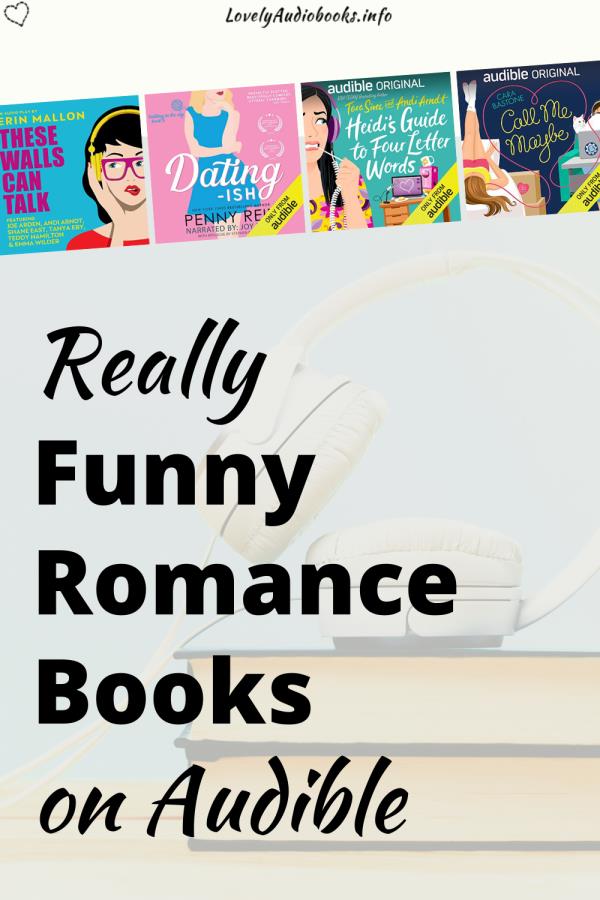 These Walls Can Talk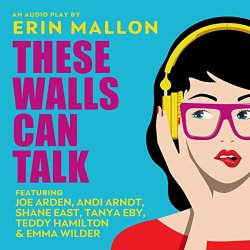 Erin Mallon (Author, Narrator), Joe Arden (Narrator), Andi Arndt (Narrator), Shane East (Narrator), Tanya Eby (Narrator), Teddy Hamilton (Narrator), Emma Wilder (Narrator)
Who doesn't love a good meta-level laugh? These Walls Can Talk is the incredibly funny story about a married woman who has the chance to meet her "aural crush", the narrator she loves the most. The production is amazing, with a whole cast of our favorite narrators. And Erin Mallon, who is both the author and one of the most popular Romance voice actors, really knows what she's writing (and talking about) when we get a look behind the scenes of an audiobook production.
"Is she one of my peaches?"

– "One of your what?"

"Is she in my readers group on Facebook, my Georgia's Peaches?"

– "Christ, I don't know. But… you call them your peaches?"

"Yep. They're my juicy, fuzzy, fruity lovelies with luscious butts and an insatiable desire for sexy stories. It was an obvious choice."
Call Me Maybe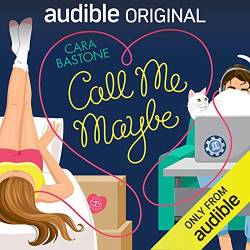 Cara Bastone (Author), Luci Christian (Narrator), Neil Hellegers (Narrator)
Listen for free with Audible Plus**
Call Me Maybe was one of my most unexpected hits among the Audible Plus Romance novels because it's a super cute story and the perfect Romantic Comedy! I laughed out loud and I "awwed" at the incredibly romantic moments. This hilarious, romantic book lets us listen in on a tech support phone call. When Vera finally catches someone in the hotline for her website company, they end up talking for hours… and then for days… But will they work out in real life?
"I'm one of those people that eats my groceries down to the very last mouthful before I'll fit in a trip to the store. By day 10, I'm dipping aged cherry tomatoes into a jar of peanutbutter just to get rid of everything."

– "Oh god, Vera, it doesn't have to be that way! There are other ways to live!"
Related article: The best Romance Books in Audible Plus
Boyfriend Material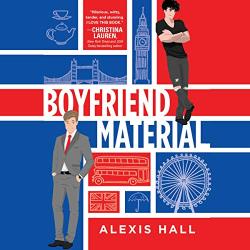 Alexis Hall (Author), Joe Jameson (Narrator)
I can't make a list of funny Romance books without my absolute favorite audiobook of 2020 which had me laughing out loud countless times, both the first time and the second time I listened to it! Boyfriend Material is the hilarious romantic story of Luc, the down-on-his-luck son of two 80's popstars, and Oliver, an environmentally conscious barrister, who decide a fake relationship would be the perfect solution for each one's problems. Sure, what could possibly go wrong?!
"I think people surprise you and, really, what do you have to lose?"

– "Pride? Dignity? Self-respect?"

"Luc, you and I both know you have none of those things."
The Extraordinaries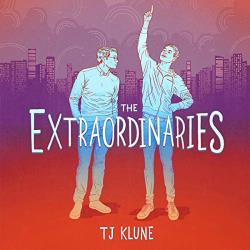 TJ Klune (Author), Michael Lesley (Narrator)
Get the Audible book cheaper**
While we're talking about M/M Romance, The Extraordinaries is an insanely funny Romance novel about a fanboy who writes seriously steamy fanfiction and the superhero he adores. Did I annoy my husband on a road trip because I constantly giggle-snorted while listening to this one? Yes, yes, this might have happened.
"And besides, everyone knows Superman is in love with Batman. Even though someone decided their ship name should be SuperBat rather than the golden opportunity that is ManMan."
Related article: How to get Audible Books cheaper with Whispersync deals**
Ball Peen Hammer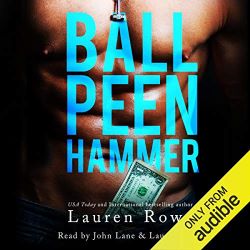 Lauren Rowe (Author, Narrator), John Lane (Narrator)
Ball Peen Hammer is the gold standard of really funny Romance books! This amazing Romantic Comedy isn't only absolutely hilarious, it's also very steamy with off-the-charts sexual tension, making it the absolutely perfect escape for audiobook fans. You'll laugh, swoon, and fan yourself, while listening to the road trip of Keane, the stripper who has a lot of very questionable life advice, and Maddy, the documentary filmmaker who is understandably taken aback by all that is Keane!
"I'm going out to hitch the oxen to the plow 'fore the rains come—looks like a mackerel sky!"
Getting Schooled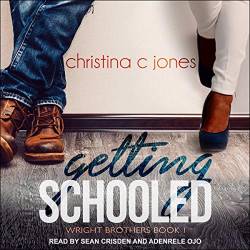 Christina C. Jones (Author), Sean Crisden (Narrator), Adenrele Ojo (Narrator)
Get the Audible book cheaper**
Getting Schooled is an Enemies to Lovers Romance with super funny banter! I love Reese's dry, snarky humor. It's totally my kind of thing and you'll get lots and lots of lines like the one below from her. Getting Schooled is also on the list of my favorite Romance books with disabled characters.
It had been hard as hell for me to read some of those papers and not give the feedback that the student needed to jump off a cliff into a sea of dicks.
Dating-ish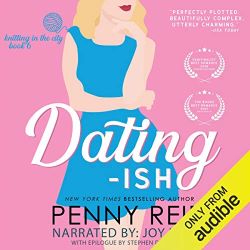 Penny Reid (Author), Joy Nash (Narrator)
Listen for free with Audible Plus**
While I found the entire Knitting in the City series super funny and all-around wonderful, Dating-ish is probably the funniest and overall lightest. Marie is a journalist and working on a piece on how well services can replace for singles what people would usually find in relationships. Matt, on the other hand, believes that the future of human relationships lies with A.I.. Obviously, they do not need to date each other!
You can lead a horse to water, but you can't make it drink the water that will allow it to enter into a happy, fulfilling relationship. Maybe the horse likes being dehydrated. Or maybe you weren't that horse's type. Step back from the stupid dehydrated horse!
Heidi's Guide to Four Letter Words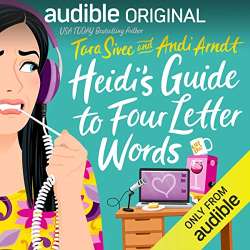 Tara Sivec (Author), Andi Arndt (Author, Narrator)
We started this list of funny Romance books with one meta-level audiobook and we end it with another. Heidi's Guide to Four Letter Words is the result of a collaboration between Andi Arndt, the amazing Romance audiobook narrator, and Tara Sivec, one of the funniest Romance authors. Heidi and her adventures into podcasting will not only make you laugh, she will also make you fall in love with her. Because how can you help but love someone as ridiculous and adorable as Heidi?!
"Mom, I'm in the middle of recording a podcast. Didn't you see the 'Do not knock, ring doorbell, or disturb. Recording process' sign on the door?"

– "Uff da! Of course I saw the sign. Obviously it wasn't meant for your mother."
You can unsubscribe at any time by clicking the link in the footer of my emails. For information about my privacy practices, please read the Privacy Policy.
Booklist, Review
/