Romance books about Disability have a special place in my heart. But first things first, Me Before You is not a Romance novel! So, what are we looking for in Romance books with disabled characters? Well, most importantly, everybody lives! … and gets a Happily Ever After!
Because people with disabilities and chronic illness find love, too!
Many Romance readers – me included – have some form of chronic illness or disability, and reading a love story is an even better experience when you can identify with the characters. Romance as a genre offers the kind of hopeful escapism that many unwell readers crave.
During periods of time when I was home- or even bedbound, I needed positive and uplifting stories for my mental well-being. And I wanted to read about people who dealt with disabilities or chronic conditions and how they carried on with their lives and found happiness.
The following Audible books about disability have in common that either the hero or the heroine deals with a physical disability or illness, as well as the consequences this has on their self-image and mental health. The wonderful thing about the audiobook format is that you can enjoy these books about disability even when you can't hold up a book/e-reader or when brain fog doesn't quite play along with reading.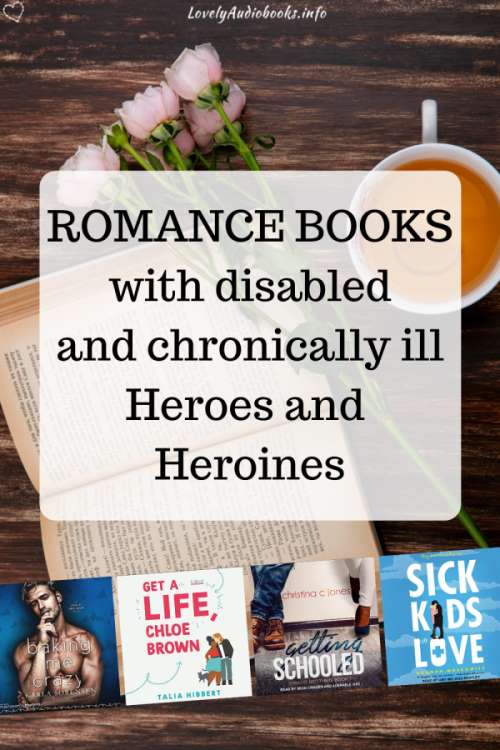 Get a Life, Chloe Brown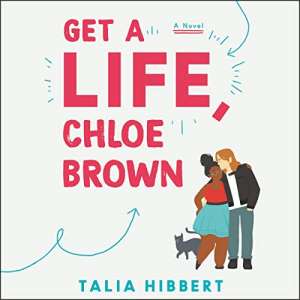 written by Talia Hibbert, narrated by Adjoah Andoh
Get a Life, Chloe Brown was one of my favorite audiobooks of 2019. It's a wonderful Romantic Comedy with lots of great banter!
Chloe Brown has fibromyalgia which left her mostly home-bound. But she's determined to enjoy her life more fully. So she makes a list of rather adventurous things she wants to experience. She enlists her kind-of-neighbor into helping her. Red seems like a rough biker type but he's actually an artist and a genuinely great guy. I loved the dynamic between the rather grumpy heroine and the "everybody adores him" hero. And it was so good to read a Romance novel about a woman with Fibromyalgia!
The audiobook is narrated by Adjoah Andoh. Yes, THE Adjoah Andoh you've adored in Netflix's Bridgerton series! She's also a total badass at audiobook narration and is the perfect voice for this story.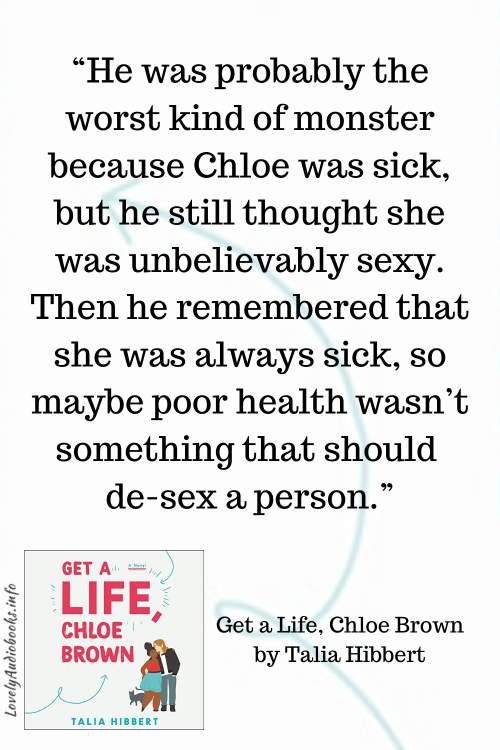 Baking Me Crazy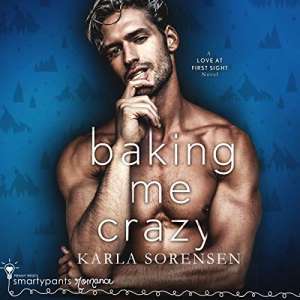 written by Karla Sorensen and Smartypants Romance, narrated by Chris Brinkley and Reba Buhr
Get the Audible book in a deal**
Baking Me Crazy is a wonderful Friends to Lovers Romance with a heroine in a wheelchair. It's set in Penny Reid's Green Valley universe but you can read it as a stand-alone.
Levi wants to be a good friend to Jocelyn because he believes she needs a friend more than a boyfriend. But when another guy is coming on to her, Levi has to get his act together and make his move! I loved Levi and how concerned and loving he was towards Jocelyn. Such a beautiful, romantic story and yet also cute and funny!
The narration is done by Chris Brinkley whom you might know from the other Green Valley audiobooks and who has the sexiest accent, and Reba Buhr who was new to me and was great to listen to!
Related article: How to get Audible books cheaper
Always Only You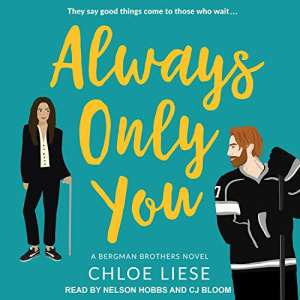 written by Chloe Liese, narrated by CJ Bloom and Nelson Hobbs
Get the Audible book in a deal**
The grumpy one is soft for the sunshine one in this adorable Sports Romance!
Frankie has rheumatoid arthritis and is autistic. Her kind-of-coworker Ren is a really happy dude and a pro hockey player. I particularly liked that Frankie uses a cane, as you can see on the cover. Any form of mobility aid, but canes in particular, are so rare in Romance, even in Romance books about disability! And it was so very heartwarming to hear Frankie's and Ren's Friends to Lovers story.
CJ Bloom and Nelson Hobbs did a wonderful job narrating this audiobook!
Getting Schooled
written by Christina C. Jones, narrated by Sean Crisden and Adenrele Ojo
Get the Audible book in a deal**
Getting Schooled is a laugh-out-loud funny, wonderfully warm, and sexy Enemies to Lovers Romance that I'm sure you'll love!
Jason has a prosthetic leg which makes him feel like his family is treating him differently than they used to. He is very attracted to Reese, the grad assistant for the college course he takes, even though she seems to hate him. I absolutely loved this story and wholeheartedly recommend that you listen to all three books in the Wright Brothers series. Book two, Pulling Doubles, has a heroine with diabetes.
The narration is done by Sean Crisden and Adenrele Ojo, two fantastic narrator who I could listen to all day every day!
Sick Kids in Love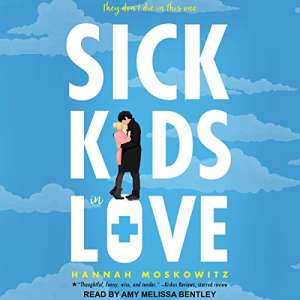 written by Hannah Moskowitz, narrated by Amy Melissa Bentley
Sick Kids in Love is perfect for you if you're looking for a Young Adult Romance where the kids don't die and instead find love!
Isabel has rheumatoid arthritis and has decided she better shouldn't date because of it. Then she meets Sasha who has a rare disease and makes her feel so much more accepted than her healthy friends ever could. He just gets it. This book is so on point with portraying the reality of people with chronic illness. Even if you don't usually read Young Adult books, I'm sure you'll enjoy this one!
Amy Melissa Bentley did a wonderful job at narrating this story and bringing Isabel and Sasha to life!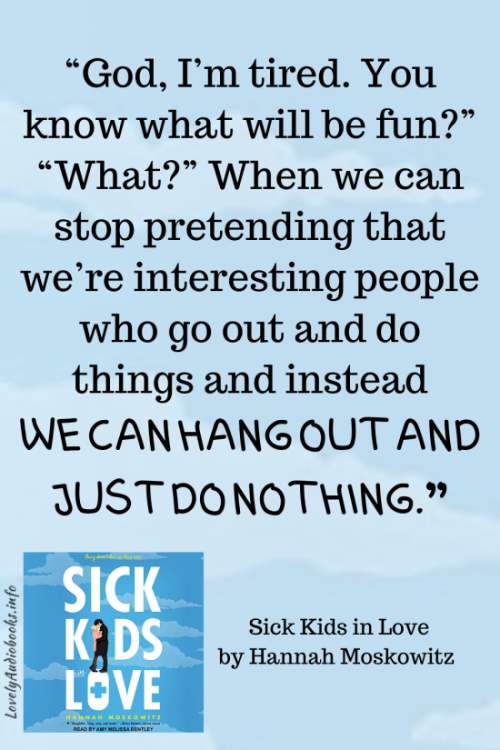 Code of Conduct
written by April White and Smartypants Romance, narrated by Cornell Collins and Anastasia Watley
Code of Conduct is set in Penny Reid's Knitting in the City universe but you can read it as a stand-alone. This is a sexy and suspenseful Contemporary Romance with an intriguing mystery in the center.
Shane is a P.I. and her investigation triggers an alert at Cipher Security. Gabriel works for the company and is tasked to find out what Shane is up to. The heroine really is an absolute badass and I particularly enjoyed how her prosthetic leg is framed as making her a superhuman with special abilities! This is probably one of the coolest Romance books with disabled characters!
Anastasia Watley was very fun to listen to and Cornell Collins is one of my favorite British narrators and a pleasure to listen to!
Falling from the Sky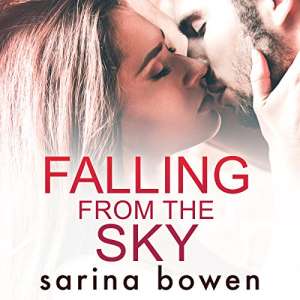 written by Sarina Bowen, narrated by Tanya Eby and Aiden Snow
Get the Audible book in a deal**
If you're looking for a hero in a wheelchair, Falling from the Sky is the perfect Contemporary Romance for you! Sarina Bowen is not only willing to write Romance books with disabled characters, she's also amazing at it!
Hank is a snowboarder but after a terrible accident, he needs a wheelchair. Callie is a doctor and his therapist. It was very moving to read how Hank tries to come to terms with his disability and figuring out how it would affect all areas of his life. I loved how he bonds with other wheelchair users and how the guys talk openly about their relationships and their abilities in bed.
Aiden Snow did such an amazing job at narrating Hank! And Tanya Eby voiced a wonderful Callie.
Two Rogues Make a Right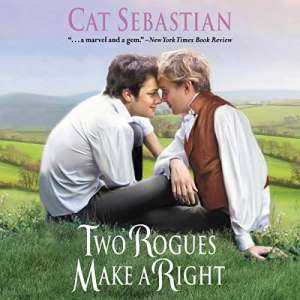 written by Cat Sebastian, narrated by Joel Leslie
Two Rogues Make a Right is a Gay Historical Romance with a heartwarming Friends to Lovers theme.
Will searches for his childhood friend Martin who went into hiding. Martin is very sick and doesn't want to be a burden to the man he has loved his entire life. Of course, the medical aspect is very different here than in Contemporary Romance books about disability, but the inner conflict is the same: How can I make my partner happy when I'm so limited in every way?
The audiobook is narrated by one of my absolute favorites: Joel Leslie! This is an absolute treat to listen to!
Something to Talk About
written by Meryl Wilsner, narrated by Jorjeana Marie and Xe Sands
Something to Talk About is a Lesbian Contemporary Romance about a Hollywood workplace love and one of the best Romance books of 2020!
The tabloids claim that producer Jo and her assistant Emma are a couple when, in fact, they aren't even friends. But after being thrown together in this way their friendship and attraction keep growing. This novel has a wonderful flow and I found it very touching and heartwarming how the tough Jo reacts after learning about Emma's diabetes. Jo takes such good care of Emma and always looks out for her wellbeing, making her an amazing partner for Emma.
Xe Sands is a very established narrator. Jorjeana Marie was new to me and both of them are the perfect voices for Jo and Emma. This is a really enjoyable audiobook!
Intention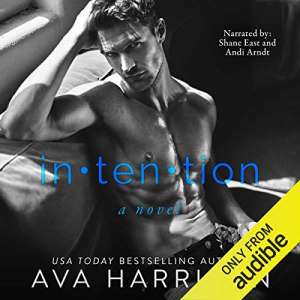 written by Ava Harrison, narrated by Shane East and Andi Arndt
Get the Audible book in a deal**
Intention is an absolutely heartbreaking Contemporary Romance novel! But don't worry, the happy ending will fix your poor little heart right up again.
Madeline has a severe form of Endometriosis. Her intense struggles with chronic pain, her sacrifices, and the decisions she has to make for her health are the focus of this story. She meets Nathaniel who has been floating through life and needs a fake girlfriend, of all things. The story is so insanely emotional! I was absolutely captivated and could fully identify with Madeline's chronic pain journey.
If you've ever listened to Shane East and Andi Arndt before, you know how great they are. Andi Arndt is the queen of all the feels, and Shane East's British accent will easily turn Nathaniel into one of your favorite Romance heroes.
The Year We Fell Down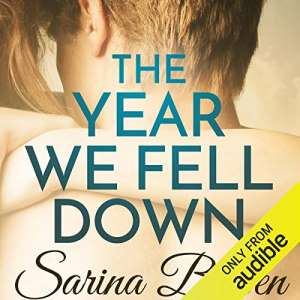 written by Sarina Bowen, narrated by Nick Podehl and Saskia Maarleveld
Listen for free with Audible Plus**
I am so in love with The Year We Fell Down! I read the ebook back in 2014 and it was one of my first Romance books about disability. It simply blew my mind to read about people who don't have perfectly functioning bodies and yet find love!
Corey the heroine is in a wheelchair after a bad sports injury. When she's trying to get her life back on track and start college, she meets Hartley, an athlete who has to use crutches after an accident. What most touched me about this story was that it really nails the experience of a "before" and "after", a "back when I was still healthy" and "now". I absolutely adore the love story of Corey and Hartley because it so beautifully makes room for their individual abilities. It's so honest and raw, telling the story of finding a way to live your life the way you had always wanted to, even though something profound – your body – has completely changed.
Nick Podehl and Saskia Maarleveld are the perfect College Romance narrators. They have young sounding voices while still doing the kind of professional narration we love and appreciate.
Related article: What is Audible Plus?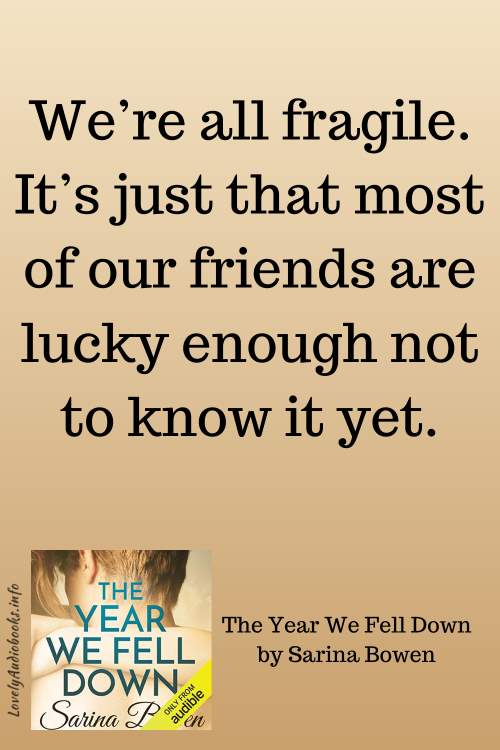 Hate Notes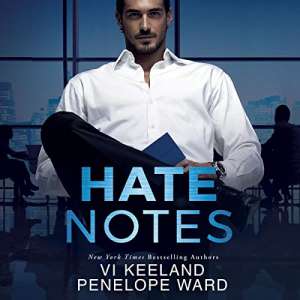 written by Vi Keeland and Penelope Ward, narrated by Sebastian York and Lynn Barrington
Listen for free with Kindle Unlimited**
Hate Notes is an absolute must-listen if you are looking for Romance books with disabled heroes! However, technically, having the book on this list is a total spoiler in itself. Sorry, not sorry 😉
Vi Keeland and Penelope Ward novels are a bit of a hit and miss for me because sometimes they have too much drama for me. Hate Notes, however, is wonderful! Reed is this fascinating, complex person. And what brings him and Charlotte together is a fairytale that still feels relatable.
Sebastian York is his usual amazing self and one of the best male Romance narrators. Lynn Barrington was new to me and I enjoyed her voice and narration style.
Related article: How to listen to audiobooks with Kindle Unlimited
Archer's Voice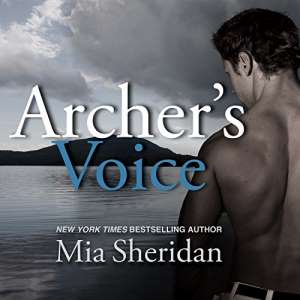 written by Mia Sheridan, narrated by Kris Koscheski and Emily Durante
What a beautiful, beautiful story! There's a good reason Archer's Voice has received the recognition it got (New York Times, USA Today, and Wall Street Journal bestseller, Top 100 Romance Novels of All Time on Goodreads), making it one of the best books about disability!
Archer is unable to speak and has withdrawn from the world. Until Bree finds him. She deals with Post Traumatic Stress and is fleeing to his quiet little town to find rest. This love story is so warm and romantic and goes right for the feels, while the general storyline is suspenseful and captivating. I absolutely love small-town romance and this one didn't disappoint in that regard either. The book is very atmospheric and played out like a movie in my mind.
I love Emily Durante's voice! It stands out and she's such a great voice actor. Kris Koscheski sounds hot. Period. In its quiet and understated way, this is actually a very steamy book!
Cinder & Ella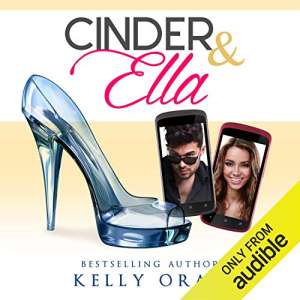 written by Kelly Oram, narrated by Kirsten Leigh
Get the Audible book in a deal**
Cinder & Ella is a wonderful retelling! There is just the right amount of similarities to Cinderella to feel the magic, yet enough differences for it to feel modern and… possible! This is a Sweet YA Romance.
Ella was hurt in a car accident and has to deal with scars and physical disabilities, as well as the trauma of the event: The loss of her mother and the loss of her body as it was before. I could relate to Ella's struggles, the feeling of "who I was before" and "this now isn't really me, or is it?". And I loved the little tidbit of Ella being a book blogger, being a total fangirl, and feeling so strongly about her favorite Fantasy series. I also appreciated how she has a strong support network, something that is so often missing in Young Adult books.
Kirsten Leigh did a great narration! I generally prefer two narrators for a dual point of view story, but she handled this really nicely with a nice range of voices.
Brooklynaire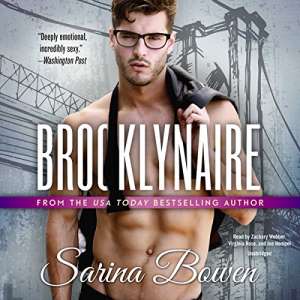 written by Sarina Bowen, narrated by Zachary Webber, Virginia Rose, and Joe Hempel
Get the Audible book in a deal**
Brooklynaire is everything you expect from a billionaire romance, but with its super nerdy hero, it also feels very unique and different.
When Rebecca suffers a head injury and is impaired longer than expected, her boss acts on his secret crush for the first time and wants to be there for her. During the story, Rebecca recovers mostly, with a good chance of a full recovery. But her condition is a focus of the story. I loved Nate so much! He isn't your typical romance hero. He isn't brooding or particularly alpha but an all-around awesome, good guy with lots of strengths and a few weaknesses and I thoroughly enjoyed his story. Overall, Rebecca takes her illness in stride. Her worries about it, as well as her reaction to receiving a diagnose, resonated with me!
Joe Hempel is the narrator for the in-between third-person chapters. Zachary Webber narrates Nate and Virginia Rose is Rebecca. All three are well-known and popular romance narrators and it's an all-around entertaining listening experience!
Booklist, Review
/