With the audiobook market growing constantly, there are now more ways than ever to find cheap audiobooks and enjoy affordable listening. Audible has a lot of amazing options but we'll also take a look at Audible alternatives like Chirp and other cheap audiobook stores with deals and sales!
If you go through a lot of audiobooks, unlimited audiobook subscriptions are a great way to get affordable audiobook listening since you don't have to pay for each book individually. But you might prefer to own your audiobooks instead of borrowing them.
Or you are looking for a specific title that isn't included in a "listen as much as you like" subscription.
Or you don't want to sign up for an audiobook service with a monthly fee.
That's where the following offers for cheap audiobooks come in!
How can I get Cheap Audiobooks on Audible?
I often hear "Audible is so expensive" but Audible actually offers a lot of deals and sales events during which you can load up your library!
The scale by which I measure "cheap" is the cost of an Audible credit. Generally speaking, my recommendation is that you use your Audible credits only on audiobooks that you can't buy for less than $14.95.
So, let's start with finding cheap Audible audiobooks that you don't have to spend a credit on! There are direct and indirect ways to get Audible books cheaper…
Audible Member Deals
Audible offers recurring deals for members, like the daily deal or 2-for-1 sale. Included audiobooks usually cost about half or only a third of one credit.
It's always a good idea to add any audiobooks you find interesting to your wishlist. Then Audible will inform you when the title is included in a sales event!
As I said, for this option, you need to be a paying Audible member. Fortunately, you can get discounts on an Audible membership!
Audible Premium Plus 2 Credits Yearly Membership
If you often listen to more expensive titles like the current New York Times bestsellers and popular books from big publishing houses, you could consider looking into Audible.com's Annual 2 credit membership**. It might seem like a very high fee at first. But, as with so many things, when you buy in bulk, the price per item drops considerably and you actually save money at the bottom line.
The Premium Plus 2 credit plan gives you two credits per month. And the annual plan only costs the equivalent of 10 months (compared to the monthly plan). So the price per credit drops by more than 30% to only $9.56!
Many international Audible sites do not offer this plan, but you can sign up for Audible.com from anywhere. The catalog is mostly the same although some books have regional restrictions.
Audible Gift Cards
Some stores offer physical Audible.com gift cards with 3 Audible credits for only $30 instead of $45. If you don't have an Audible membership, you will get 1 credit per month for 3 months.
If you have an active membership when using the card, you will instantly receive all 3 credits. Since this comes down to one credit costing only $10, this is a great way to get cheap audiobooks!
Amazon Whispersync Deals
Amazon Whispersync is a fantastic way to get Audible books cheaper without an Audible membership and my favorite way to get the cheapest audiobooks!
You can get thousands of Audible audiobooks for a huge discount on Amazon when you buy them together with the ebook. Amazon has a system called Whispersync**.
When you download an ebook and audiobook that are "Whispersynced", you can switch between the two formats and will always jump to the point where you last left off.
So, if you listened to the audiobook on your drive home, but then want to read the ebook at night in bed, the ebook will jump to the point where you stopped listening to the audiobook.
To make this system interesting and affordable, Amazon offers package deals for Whispersync books. But these are some of the best deals for audiobooks you can find, they are so good that they're even attractive if you have absolutely no interest in ebooks and just want the cheap audio!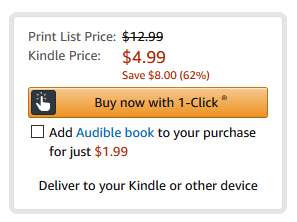 The ebook in the image above costs $4.99 and the accompanying Audible audiobook is only $1.99 if you buy both formats together. The package deal would add up to $6.98 which is a great price for an audiobook, even if you don't care about the ebook.
On Audible, the exact audiobook from the example is listed for $24.99, or $14.95 if you're a member.
You don't even need any form of subscription to buy cheap audiobooks with Amazon's Whispersync deals. You need neither an Audible subscription nor any subscription on Amazon to get access to these offers!
When you buy a cheap audiobook through Amazon like this, it will be added to your Audible library automatically like any book you buy directly on Audible. You will see it in your Audible app where you can download it and listen to it.
Click on the button below to browse through all Whispersync books on Amazon. Since they can't be filtered by price, not all of these deals are worth it if you're only interested in the audiobook (as the package deal with the ebook might be more expensive than an Audible credit).
You can, however, sort by the price of the ebook!
Click the button below to find cheap audiobooks with Whispersync and browse through your favorite genres: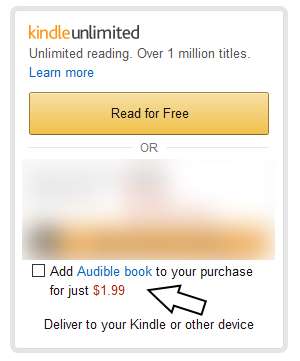 If you have a Kindle Unlimited subscription and an ebook is included, you don't even have to buy the ebook at all to grab the cheap Audible deal. That's why I hid that part in the image above. Just toggle "Add Audible book to your purchase for just $$$" and click "Read for Free".
You'll be charged only for the audiobook and it will be added to your Audible library. Unlike the ebook, it's yours to keep even if your Kindle Unlimited subscription runs out or you give the ebook back!
Related article: How to listen to audiobooks with Kindle Unlimited
Many audiobook fans keep a Kindle Unlimited subscription only for the cheap audiobooks with Whispersync. Whenever you're looking for a specific audiobook, even a recent release, it's always worth it to check Amazon to see if it has a Whispersync deal under $14.95.
Click this button to browse through all Kindle Unlimited ebooks that have an Audible book:
Cheap Audiobooks from other Stores
Three of my favorite audiobook services – and some of the best Audible alternatives – are Chirp, Audiobooks.com, and LibroFM. All three audiobook stores offer deals and sales and are worth a look when you want to buy cheap audiobooks!
Libro.fm Clubs
LibroFM** is an audiobook service that lets you buy audiobooks from an indie bookstore of your choice! In additional to their normal subscription model, they also have Audiobook Clubs**.
Each included audiobook costs only $3.99! And the selection changes every month.
You don't pay any subscription fee and you can buy as few or as many of the included titles as you want. Unlike other stores, LibroFM lets you download audiobooks DRM-free so you can get them in MP3 format and listen to them on any device and with any MP3 player or audiobook app you like.
LibroFM also has a sales section** that is worth a look. They often include bestsellers from big publishing houses that you can pick up for less than $10 and get as an MP3!
You don't even need a paid Libro.fm membership to buy cheap audiobooks from the LibroFM Clubs or sales!
Related article: LibroFM vs Audible
Chirp Audiobooks
When you are looking for the cheapest audiobooks, Chirp** is a must! It's part of Bookbub and publishers and authors regularly offer books at an incredibly discounted price for a limited time here.
There is no subscription fee, you sign up for free and can then buy as many or as few audiobooks as you want. They are yours to keep and you can listen to them in the Chirp app.
The selection of discounted audiobooks changes regularly!
You can use the Lovely Audiobooks promo code to get a 30% discount on your first Chirp purchase!**
Related article: Chirp Audiobooks Review
Audiobooks.com
Audiobooks.com** also runs really great sales and deals events. And while Audible's sales are usually member-exclusive, you do not need an active membership to get cheap audiobooks on Audiobooks.com!
I have seen many popular books here for only $5. So it's definitely worth it to check in with them regularly to build up a great audiobook library.
Related article: Audible vs Audiobooks com
I hope I could help you find out how to get cheap audiobooks and point you in the right direction to get the best audiobook deals in the future.
However, if you do not actually care about owning your audiobooks, pop by my guide to unlimited audiobooks subscriptions! Here you can find audiobook subscription services that work like Netflix. And even in your free trial month, you can borrow as many audiobooks as you want!
Audiobook Subscriptions
/