Many of us audio fans are always on the lookout for new audiobook apps that offer more and better books for a lower price. And BookBeat makes a lot of promises. Let's take a look what this digital library service really has to offer!
**The marked links and book covers on this page are affiliate links. If you use them to purchase something, I earn a fee at no additional cost for you. Disclosure**
What is BookBeat?
BookBeat is an audiobook subscription service that lets you borrow audiobooks for a flat monthly fee. It's available in the EU and UK.
BookBeat Cost and Plans
BookBeat's pricing and plans differ per country. In the UK, you can sign up for a free trial month. After that, you pay £5.99/month for 20 hours of listening, £9.99/month for 50 hours of listening, or £14.99/month for 100 hours of listening.
As usual, for this type of streaming subscription, you can cancel at any point and can still use up your hours for the rest of the billing period.
BookBeat offers a very straightforward subscription. You have your hours, and you can listen to anything in their catalog. There are no hidden limitations, no special premium content, and no credits.
You pay a flat fee for a set amount of hours of listening, and you can pick any books you want.
The BookBeat library
The most obvious way in which audiobook services differ from one another is their subscription model. But what's much more important for most listeners is what you actually get.
E.g., Kindle Unlimited offers unlimited listening. However, their service includes audiobooks that were published by one of Amazon's own imprints, not the latest HarperAudio bestseller.
Audible Plus also offers unlimited listening. But this catalog consists mainly of Audible Studios and Audible Originals productions.
These titles can rarely be found on the New York Times bestseller lists and are probably not your current book club pick, either.
And while these subscriptions are great, many audiobook listeners want to get access to books they find on "best of" lists or that they saw in a brick-and-mortar store.
BookBeat actually has many bestsellers, current TikTok hits, and books you hear about everywhere!
For example, you can borrow The Woman in Me by Britney Spears here and Making It So by Patrick Stewart.
You will also find Katee Roberts' BookTok hit Neon Gods or Olivia Blake's Atlas Six.
There is a lot to discover on BookBeat, including many of my favorites that are on these lists of the best audiobooks of 2023 and the best Romance audiobooks of 2023.
BookBeat App
The user-friendly audiobook app lets you browse BookBeat's catalog directly on your device. It also offers tailored recommendations once you have picked your first books.
You can freely add as many audiobooks to your library as you want. Only when you actually listen to them will you use up your monthly hours.
I found the app very easy to navigate, and the player has a great, intuitive design with all the important features we need.
The app allows you to download audiobooks which I find very important. You can create a library of downloaded titles before you go on a trip, so you won't have to worry about needing an internet connection.
The BookBeat app is available for both Android and iOS. Additionally, there is a web version for desktop users, so you can enjoy your audiobooks no matter which device you use at the time.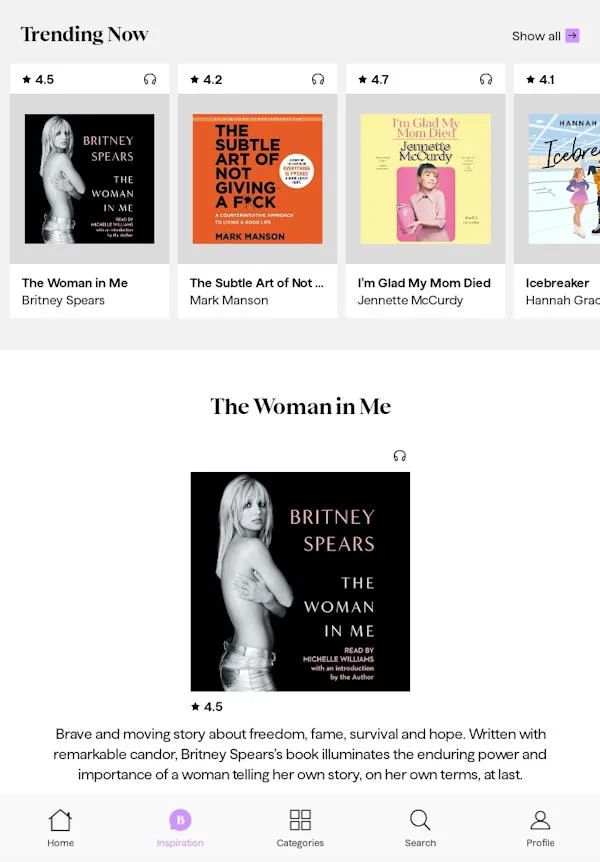 BookBeat languages
BookBeat is a multinational service that offers books in many languages:
English, Arabic, Czech, Danish, Dutch, Estonian, Finnish, French, German, Hungarian, Italian, Norwegian, Polish, Portuguese, Russian, Spanish, and Swedish.
You can sort search results by language. And while some books might not be available to users in certain regions (which is not BookBeat's decision, but due to publishing rights), you are free to listen to books in different languages.
That makes BookBeat a particularly great choice for multilingual people or those who want to practice a new language.
Listening to an audiobook in a language you are trying to learn will help you so much in becoming more familiar with words, constructions, and, of course, pronunciation.
Related article: The Top 7 Audiobook Benefits
BookBeat Review: The Pros and Cons
As mentioned above, BookBeat offers three different subscription plans, which give you 20, 50, or 100 hours per month of listening for a flat fee.
As an audiobook fan, I immediately had feelings about limiting listening by hours instead of, e.g., by number of books.
It means you need to actively plan and manage what you listen to in this app ("Oh, this book is 15 hours long… let's see if I find another that's 5 hours long… this looks good! Oh no, it's 5:25…").
At the same time, this is exactly what would be a viable solution to the issue many audio listeners have with Scribd (now Everand).
Scribd/Everand limits your listening without actually giving you information that would let you actively and consciously manage what you can listen to in one billing period.
So yes, I have feelings about the hours, but they aren't necessarily negative!
It's more like… feelings because this is new and different. But it sure makes sense.
At first glance, yes, of course, I want true unlimited listening. But that just does not work if authors and narrators should still get paid fairly so they can continue creating new audiobooks.
A subscription with a flat fee needs some kind of limitation. So, in that light, BookBeat's plans by hours seem like a decent solution.
And limiting by hours instead of the number of books means you have less of a loss if you notice after the first chapter that you don't enjoy your current book.
If you want to stop your current listen in BookBeat, you might have lost one hour. In Hoopla, you would have lost the entire borrow. In Scribd, you might find more books locked that you would have liked to listen to next.
Is BookBeat really better than Scribd?
BookBeat vs Scribd is a very interesting comparison since the services are so similar.
Both are digital libraries that let you borrow audiobooks for a flat monthly fee. But there are more than subtle differences.
After two months of using the BookBeat 50-hour plan, I have actually decided that Scribd fits me better.
Why?
Because I listen to a lot of indie-published and backlist audiobooks on Scribd, and those are rarely throttled.
So I simply get a whole lot more hours of listening out of my Scribd subscription than of the mid-tier BookBeat subscription that is limited to 50 hours.
I also have to admit that, at the end of the day, the time limit makes me itchy. This is my personal problem, and other audiobook listeners might feel differently about it.
And I do like that BookBeat creates a much more transparent subscription with this than Scribd has. With Scribd, you never quite know when you will be throttled.
However, with Scribd, you can always finish your current audiobook. With BookBeat, once it's over, it's over. If you got carried away and didn't check how much time you have left, well, you might find yourself out of time in the middle of a book or just before the last chapter.
And that's somewhat of a nightmare for any book lover, isn't it?!
This means that Scribd is probably still the better subscription for audiobook fans who listen wide and for more than 2 hours a day.
However, there is one specific group of listeners for whom BookBeat is definitely the better audiobook service!
If you like to pick your books based on the latest bestseller lists, BookBeat will work so well for you. Experience has shown that with Scribd, you can usually borrow two to three of the newest, most popular audiobooks.
With BookBeat, you can listen to all the latest bestsellers. You are only limited by the hours, not by the titles you choose.
Scribd does limit you by those.
So yes, if you like to listen to all the newest HarperAudio and MacMillan releases, BookBeat will work better for you.
In addition, BookBeat often has audiobooks that are not available on Scribd.
Scribd's catalog is tailored toward the US market. And Penguin Audio does not offer books through Scribd anymore.
However, in the UK, many big new releases have a different publisher than in the US – a publisher who puts their books on BookBeat.
An example of this would be Kia Abdullah's excellent Thriller Those People Next Door which you can listen to on BookBeat in the UK and is published by HarperCollins UK. In the US, the book has a different title, Perfectly Nice Neighbors, and the publisher is Penguin. It is not available to borrow on Scribd or Hoopla.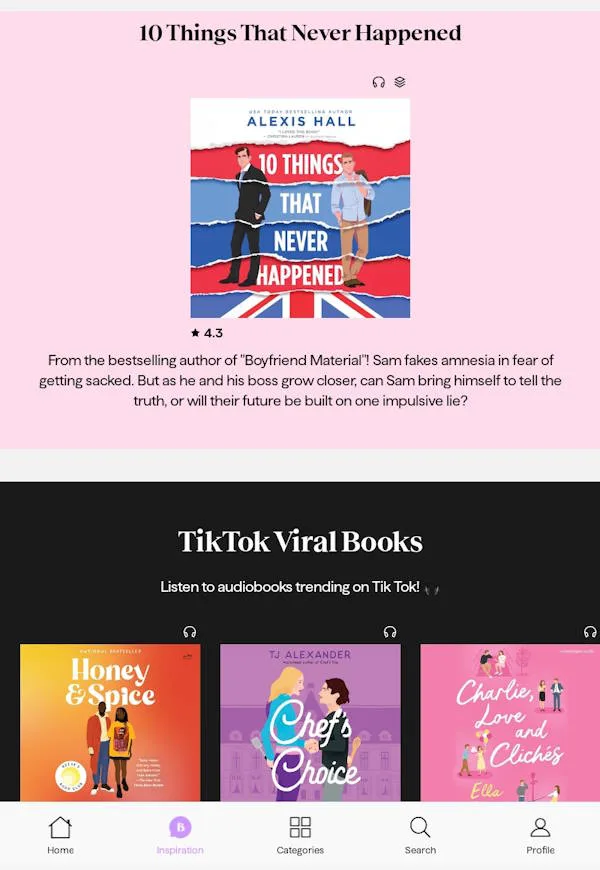 BookBeat vs Audible
Another important but difficult comparison… How does BookBeat compare to Audible?
I have such mixed feelings about Audible. On the one hand, they are simply amazing for customers. There are very, very few drawbacks for you as a subscriber, and you get a whole lot for your money.
On the other hand, being an audiobook blogger and getting a look behind the scenes, I know that Audible uses its very powerful position to put a lot of pressure on book publishers. And not just of the caliber of Penguin Random House.
They also put pressure on indie authors who might only have time to write in the evenings after working a 9-5 all day, wishing they could make a living as an author. Something that would give us as book lovers and fans more books to enjoy!
Being a bookworm means for me that I want what's best for authors and audiobook narrators. And Audible isn't that.
Related article: How to best support your favorite Audiobook Authors
So, I like to encourage my blog readers to look around and try different audiobook subscriptions and stores. Because we, as customers, can put pressure on Audible this way.
Now, let's move on to an actual comparison of what BookBeat vs Audible have to offer to you.
They have two very different subscription models. As you now know, BookBeat gives you free choice of all its titles for a limited number of hours.
Audible gives you, in its standard plan, one credit that you can use to purchase any audiobook from its entire premium catalog. In addition to that, you have unlimited access to the Audible Plus catalog, a selection of over 10,000 audiobooks.
Now, theoretically, unlimited listening is better than limited hours. But we book lovers often want one specific book. And the chances that you find specific books to borrow in BookBeat are higher than in Audible Plus.
As I said earlier, the Audible Plus catalog mostly offers Audible Studios and Audible Originals productions. These are Audible-exclusive and not the type of books you will find recommended in the New York Times bestseller list or on TikTok.
Related article: Are Audible Exclusives bad?
Don't get me wrong, these are often very fun audio productions, and I enjoy them greatly. They are the only reason why I still have an Audible subscription. But they are not the books you discuss in your book club.
So, who is the winner in a BookBeat vs Audible comparison? You have to be the judge of that, as it depends entirely on the types of books you are looking for.
But with BookBeat, you can probably get better listening for a lower fee.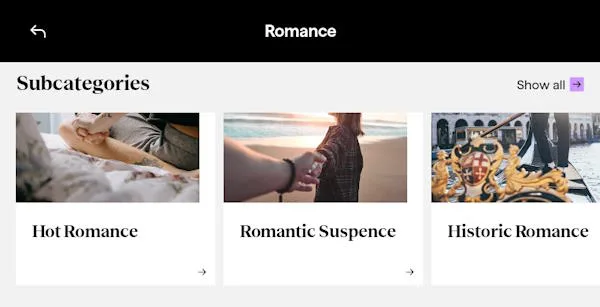 Conclusion: Is BookBeat worth it?
As I described in my BookBeat review above, I didn't find this the right subscription for me at this time. But that doesn't mean it's a bad service!
I see this as an excellent option for people who like to listen to several bestsellers every month and find that they often end up buying Audible credit bundles.
It's also great for the many, many audiobook fans all over Europe who can not get a library card with Hoopla access. If you are looking to borrow audiobooks for an affordable price, BookBeat is a fantastic choice.
It's also a great alternative for anyone who doesn't like Scribd or had trouble with the Scribd app, which (at least on my devices) can be a bit temperamental. The BookBeat app is very stable!
Fortunately, BookBeat offers a one-month free trial. Grab that and see how much you use the service and if you end up preferring it!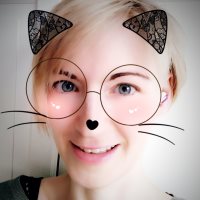 Eline Blackman (pronouns: she/they) fell in love with books as a child – with being read to and reading herself. 10 years ago, she bought her first Audible book. It was love at first listen! An average of 250 audiobooks per year has become the new normal and you will rarely see Eline without a wireless earbud. Romance and Fantasy are the go-to genres for this audiobook fan.
Audiobook Subscriptions