Let me help you find your next favorite listen with my list of the best Romance audiobooks of 2023!
Grab your headphones, settle in, and get ready to fall in love with these excellent Historical and Contemporary Romance novels and Romantic Comedies!
**The marked links and book covers on this page are affiliate links. If you use them to purchase something, I earn a fee at no additional cost for you. Disclosure**
Highly Suspicious and Unfairly Cute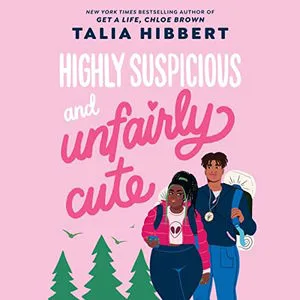 Talia Hibbert (Author), Amina Koroma (Narrator), Jonathan Andrew Hume (Narrator)

Get the Audible book**
Or get it on Libro.fm**
Or get it on Audiobooks.com** (The first one is free!)
I usually avoid talking in extremes, but Talia Hibbert truly never disappoints. I absolutely adored Highly Suspicious and Unfairly Cute!
The characters in this Young Adult Romance book are so utterly lovable, and the storyline is fun and captivating.
Celine and Bradley used to be friends, but then he dropped her to hang out with "the cool kids". She could never forgive him for that, so they've been rivals ever since.
Celine and Bradley are both such wonderfully fleshed-out characters, and it's so much fun to hear their thoughts about each other. And, of course, the banter is absolutely delicious!
The narration by Amina Koroma and Jonathan Andrew Hume is fantastic and turns this excellent story into one of the best Romance audiobooks of 2023!
Related article: The Best Audiobook Apps
Link Info

With every book, I will include links to Audible because we all use it. But I will add alternatives as well!
Libro.fm: If you buy an audiobook there, you actually own the mp3 and can listen to it in any app. Plus, you support indie bookstores with your purchase!
Audiobooks.com: A very solid audiobook service, and you can grab a book from the list below for free with a trial there.
Everand (formerly Scribd): A very budget-friendly option for listeners as you can borrow several of the audiobooks below for a flat monthly fee.
Sorry, Bro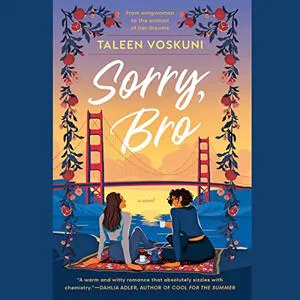 Taleen Voskuni (Author), Christine Mirzayan (Narrator)

Get the Audible book**
Or get it on Libro.fm**
Or get it on Audiobooks.com**
Or listen on Scribd**
Sorry, Bro is at the same time super fun and profoundly moving. After breaking up with her all-American boyfriend, Nareh begins to explore her Armenian roots and gets to know – and falls for – another Armenian-American woman.
The romance between Nareh and Erebuni is so sweet! But while Erebuni is comfortable in her identity, Nareh is struggling and searching. She has not come out as bisexual to her family and believes they would not accept her. And she is unsure how to make Armenian culture work with her very American upbringing.
The narrator, Christine Mirzayan, was new to me and did a wonderful job bringing Nareh with all her thoughts and feelings to life! This book is more on the Women's Fiction side of Romance. But it's also very much a Romance novel with a wonderful Happily Ever After.
I adored Sorry, Bro, and it's for me one of the best Romance audiobooks of 2023!
Related article: The Best Lesbian Audiobooks
Two Wrongs Make a Right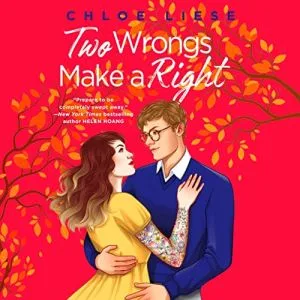 Chloe Liese (Author), Charlotte North (Narrator), Stephen Dexter (Narrator)
Get the Audible book**
Or get it on Libro.fm**
Or get it on Audiobooks.com**
Chloe Liese is an author who, time and time again, exceeds my expectations. Two Wrongs Make a Right is a wonderful Enemies to Lovers Contemporary Romance about two people who want to get back at their meddling friends.
Jamie and Bea run in the same circle of friends but don't like each other very much. Their friends, however, are convinced the two would make a perfect couple.
Jamie and Bea hope if they fake a relationship and break up, their friends will give up and leave each of them in peace.
But when they anonymously start to text, they actually do find that they get along extremely well. It's not easy to leave the real-life animosity and hurt feelings behind, though…
Charlotte North and Stephen Dexter brought Jamie and Bea to life perfectly! I loved these two characters and the way they were portrayed.
Never Ever Getting Back Together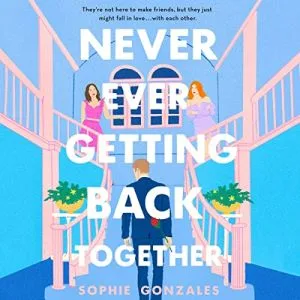 Sophie Gonzales (Author), Barrie Kreinik (Narrator), Natalie Naudus (Narrator)
Get the Audible book**
Or get it on Libro.fm**
Or get it on Audiobooks.com**
Or listen on Scribd**
Never Ever Getting Back Together is an adorable Young Adult Romance between two bisexual girls who meet on a reality show.
And that reality show is… phew! Imagine The Bachelor, but it's actually all of the guy's ex-girlfriends and hookups.
Maya never ever, ever wants to see her ex-boyfriend Jordy again. But when he begs her to star on this show with him, she gives in – hoping this would give her a chance to take revenge for the way he left her and for cheating on her.
But she gets rather worried about her plans when she's supposed to stay in the same room with Skye, the girl Jordie cheated with.
I absolutely loved the ending of this book and the entire way the relationship between Maya and Skye develops! This is a book you can get lost in, which is also thanks to the fantastic narration by Barrie Kreinik and Natalie Naudus.
I'm a huge fan of Natalie Naudus, and Barrie Kreinik's Skye was absolutely killing me in the best possible way! A must-listen!
Something Spectacular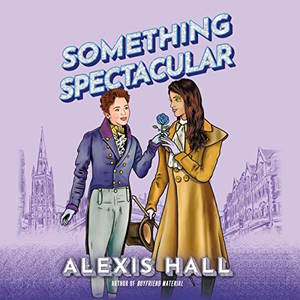 Alexis Hall (Author), Robyn Holdaway (Narrator)

Listen for free with Kindle Unlimited**
This book is so delightful! It is truly funny but also heart-warming, and I absolutely appreciate the great lengths Alexis Hall went to for the poetry meeting scene.
Peggy is a wonderful character, and Robyn Holdaway did a genius narration! They have a fantastic range of voices.
This book starts out as the story of an unrequited love. Peggy could never move on from her crush on her best friend, but Arabella could not reciprocate her feelings.
Peggy would do anything for her, though, and when Arabella asks Peggy to talk to a very attractive opera singer for her, Peggy immediately agrees.
But when Peggy and Orfeo, the singer, feel instant attraction for one another, things get rather complicated, very interesting, and wonderfully spicy!
Something Spectacular also fabulously ties in with the couple from the first book in the series. And this NB/NB Historical is for me one of the best Romance audiobooks of 2023!
Role Playing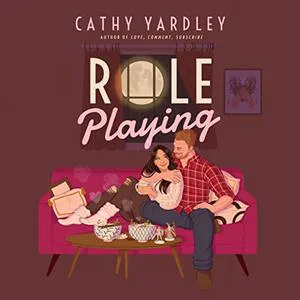 Cathy Yardley (Author), Chris Brinkley (Narrator), Elyse Dinh (Narrator)

Listen for free with Kindle Unlimited**
I was instantly intrigued by the blurb for this book. Two people over the age of 45 who meet in a video game? That's a wonderful premise!
And the story I found inside was even better than what I had hoped for. I don't want to spoil anything, but I know many of you look for this, so let me just say: This book has wonderful queer representation in the main characters!
And I adored both of them so much. Maggie is the kind of grumpy hermit that I admittedly am, too. And I appreciated that, even though she is 48, she gets to play video games and use internet slang and memes.
Her relationship with her 18-year-old son is also very tender and beautiful.
It was great to see this kind of honest and loving parent-child relationship in a Romance novel which so often plays on teenage children being very absent and withdrawn (or, if it's a Young Adult Romance, parents being absent and not understanding).
Aiden is such an unexpected and wonderful hero, too. I'm utterly (otter-ly?) in love! Chris Brinkley is the perfect voice for this man. And Elyse Dinh excellently brought Maggie the Bogwitch to life!
While this book is now available in Kindle Unlimited Listen for Free, I have no regrets that I spent an Audible credit on it.
Business or Pleasure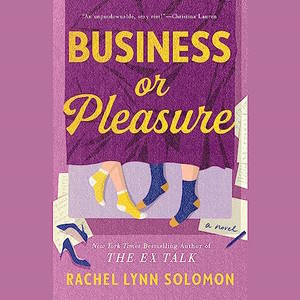 Rachel Lynn Solomon (Author), Hathaway Lee (Narrator)

Get the Audible book**
Or get it on Libro.fm**
Or get it on Audiobooks.com**
I am so excited about Business or Pleasure by Rachel Lynn Solomon!
There are very few books in which the Romance hero is not good in bed, and the heroine teaches him how to be a better lover (technically, I only know of one other book with this topic).
And Rachel Lynn Solomon embedded this theme into a truly touching and romantic story.
Chandler is a ghostwriter and agrees to write an actor's memoir. But it turns out that this actor was her horribly failed one-night-stand!
I rooted so hard for Finn, who is such a sweet guy, and I truly believed how he came to be oblivious about his lack of skills between the sheets.
Hathaway Lee does the audiobook narration, and I adored the voices for both Chandler and Finn and how real these two people felt!
Love, Theoretically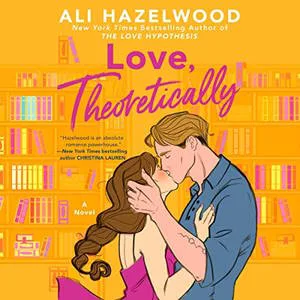 Ali Hazelwood (Author), Thérèse Plummer (Narrator)

Get the Audible book**
Or get it on Libro.fm**
Or get it on Audiobooks.com**
Elsie is an adjunct professor, which sounds fancy, but actually doesn't pay the bills. At all. So, she also works for an agency where people can book a fake girlfriend for events.
But then she accidentally runs into the older brother of one of her regular clients at a job interview for a tenure position. He knows her as Elsie, the librarian, not as Elsie, the theoretical physicist.
To make matters even worse, he is an experimental physicist. And not just any, but the one who started a horrible war between theoretical and experimental physics.
So, Elsie is in quite the situation. And it doesn't help that she is extremely attracted to the guy. While he thinks she is his little brother's girlfriend.
Thérèse Plummer did an utterly charming narration of this captivating and entertaining story, and I loved every second of Love Theoretically! Definitely one of the best Romance audiobooks of 2023!
With Love, From Cold World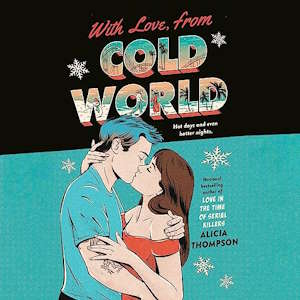 Alicia Thompson (Author), Lindsey Dorcus (Narrator)

Get the Audible book**
Or get it on Libro.fm**
Or get it on Audiobooks.com**
With Love from Cold World by Alicia Thompson completely charmed me! I adored the way the chemistry between Lauren and Asa builds up.
The two start out as annoyed co-workers, enemies if you will, but the attraction is undeniably there.
Asa is bisexual, and the author took such wonderful care in portraying him. Asa's sexuality is not abused as an accessory to make him "edgy" or whatever, like I've encountered in other books. It is an integral part of who he is, how he interacts with Lauren, and also what he does with Lauren once the two get more intimate with one another.
With Love, From Cold World takes the enemies-to-lovers trope and puts it in a wonderful, fresh packaging with two main characters that feel relatable and real.
This is a truly, truly great book and one of my favorite Romance audiobooks of the year!
You, Again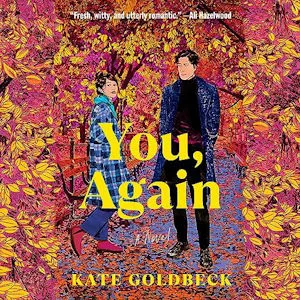 Kate Goldbeck (Author), Kristen DiMercurio (Narrator)

Get the Audible book**
Or get it on Libro.fm**
Or get it on Audiobooks.com**
Oh boy, this book was a ride!
You see, Ari and Josh are not likable people. Both of them have a ton of issues, and they are honestly a bit stupid. But their story was so captivating (not to mention scorchingly hot). And I got really, really invested in their relationship.
We accompany the two over the span of 9 or so years. Their first occasional meetings go very badly. They hate each other.
Of course, it doesn't help that the first time they meet, they are both into the same woman. Just that Josh believes she is his soul mate, while Ari just wants a good time.
And that's their issue going forward. Josh is looking for the one. And Ari… is not. For reasons that change over the years.
This is a very well-written book with characters that I couldn't get enough of, despite – or maybe because of – their flaws.
I love Kristen DiMercurio's voice, and it fits this story so, so well. A must-listen for Nora Ephron fans!
Something Wild & Wonderful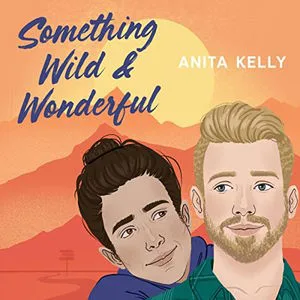 Anita Kelly (Author), Mark Sanderlin (Narrator)

Get the Audible book**
Or get it on Libro.fm**
Or get it on Audiobooks.com**
Something Wild & Wonderful is such a fascinating book! It felt like a long, meditative hike. With lots of tingly feelings…
Alexei and Ben meet on the Pacific Crest Trail. Both have just set out on a months-long trip, planning to walk until they figure out their lives.
I enjoy camping and walking, but I'm not quite at the level of the main characters in this book. The descriptions of nature and hiking a trail for weeks were absolutely amazing! And I loved these two people so much!
Mark Sanderlin has a wonderful voice, and this is a lovely, atmospheric book that no fan of M/M Romance should miss out on.
How to Win a Breakup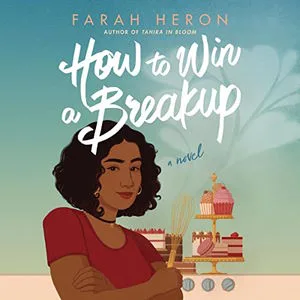 Farah Heron (Author), Soneela Nankani (Narrator)

Listen for free with Kindle Unlimited**
This book gave me a trope-gasm! First, How to Win a Breakup starts with my favorite: Becoming friends online, not knowing each other in real life.
But then, Samaya runs into the guy from her online friend's photo during a school project. And apparently, she has been catfished! Because this guy is not the guy she gamed with.
However, David is super nice and very laid back. And he agrees to fake-date Samaya – my other favorite trope – so she can "win the breakup" from her ex-boyfriend, who is already dating Samaya's frenemy, Hanna.
This Young Adult Romance is such immense fun with lots of twists and turns. It kept me guessing who the actual online friend was!
And, of course, it's all perfectly brought to life by Soneela Nankani. This is absolutely one of the best Romance audiobooks of 2023, and Kindle Unlimited subscribers can even listen to it for free. So, go go download it already!
The Neighbor Favor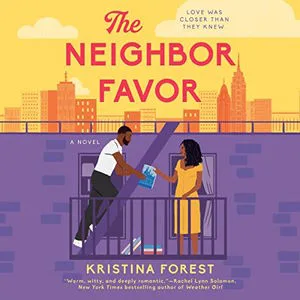 Kristina Forest (Author), Keylor Leigh (Narrator), Malik Rashad (Narrator)

Get the Audible book**
Or get it on Libro.fm**
Or get it on Audiobooks.com**
The Neighbor Favor also has two people getting to know each other online! Lily and her favorite author have a wonderful email conversation. But then they lose touch.
A while later, they become neighbors – neither knowing that they just met in real life the person they fell in love with online.
Parts of the book are done in duet narration. Mails and messages are always read by that character's narrator. It's fantastic and one more reason why this is one of the best Romance audiobooks of 2023!
Keylor Leigh and Malik Rashad turned this lovely story into a truly outstanding audiobook!
Related article: Online Love and Hidden Identity Romance
Exes and O's
Amy Lea (Author), Natalie Naudus (Narrator)

Get the Audible book**
Or get it on Libro.fm**
Or get it on Audiobooks.com**
Amy Lea's Romantic Comedy Exes and O's is so much fun! I love the heroine Tara and the celebration of all things romance!
This is a slow-burn Friends to Lovers "roommance" with a bit of a dating coach thing going on as well. It's trope-tastic!
Trevor and Tara are both adorable. In the beginning, I really wondered how things would work out for Tara, though, since she is looking for long-term commitment, but all her exes call her clingy and really make her unsure of herself.
There was also a bit of meta-commentary in there. Romance readers often complain about miscommunication in books. And Tara actually has a conversation with her grandmother complaining about misunderstandings in Romance novels.
Her grandmother replies that, in real life, one conversation is rarely enough to solve every issue. Wise words!
Natalie Naudus' narration turned this great novel into one of the best Romance audiobooks of 2023 for me.
Catch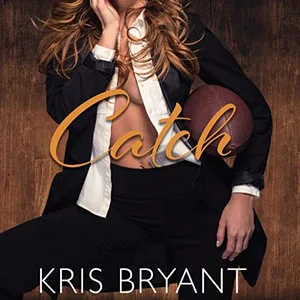 Kris Bryant (Author), Melissa Sternenberg (Narrator)

Get the Audible book**
Catch by Kris Bryant is such an excellent Contemporary Romance, and it is perfect if you crave a bit of angst and drama but can appreciate it when the characters make healthy decisions.
Sutton was a female quarterback in high school and is now an NFL coach. Her team's newest quarterback was kind of her nemesis back in the day – and he married the girl Sutton was head over heels in love with when they were teenagers.
If that sounds like trouble to you, well, it sure is! This book has lots of unexpected twists and turns that I absolutely loved. And I adored Sutton!
Melissa Sternenberg voiced this book absolutely perfectly, and I can wholeheartedly recommend it to you!
Pin this list of the Best Romance Audiobooks of 2023 for later: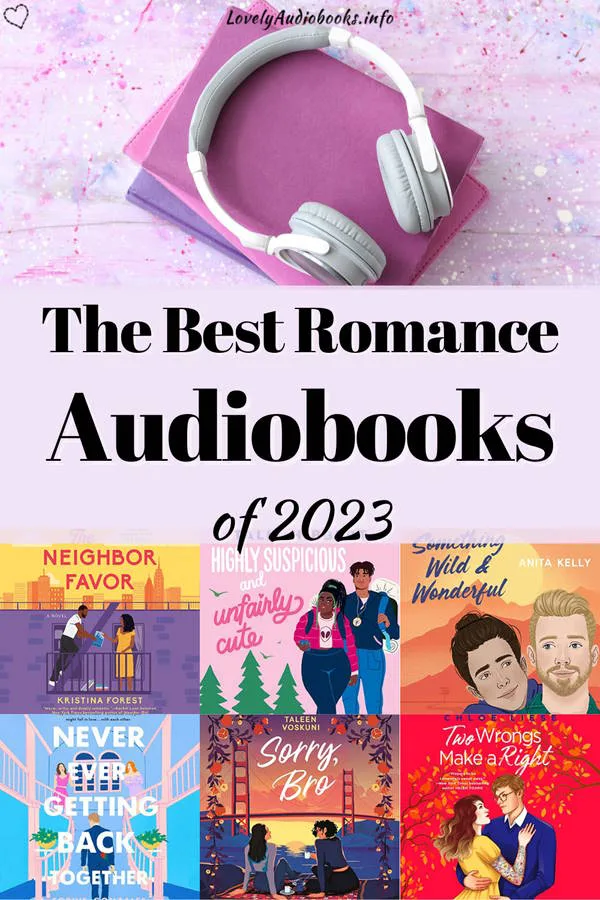 If you are looking for more excellent listens, check out my picks of the best Romance audiobooks of all time!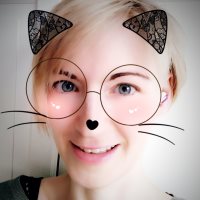 Eline Blackman (pronouns: she/they) fell in love with books as a child – with being read to and reading herself. 10 years ago, she bought her first Audible book. It was love at first listen! An average of 250 audiobooks per year has become the new normal and you will rarely see Eline without a wireless earbud. Romance and Fantasy are the go-to genres for this audiobook fan.
Romance Books
/