Lesbian audiobooks are a bit of a third wheel in the world of Romance. M/F and M/M Romance audiobooks are both ridiculously popular. But Women loving Women is a comparatively small niche with few high-profile releases.
I wish more readers (and authors) would give Lesbian Romance audiobooks a chance! And I strongly believe that – no matter your sexuality – if you love Romance, you'll enjoy the following 12 beautiful love stories! They all have insanely likable main characters, fantastic narrators, and all the big and tingly feelings you can hope for.
My Favorite Contemporary Lesbian Romance Audiobooks
Something To Talk About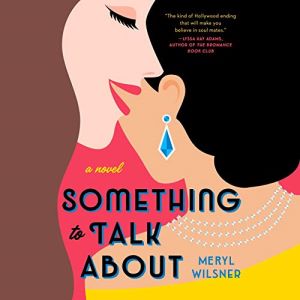 written by Meryl Wilsner, narrated by Jorjeana Marie and Xe Sands
Jo is a very successful Hollywood producer. When she takes her assistant Emma to a red carpet event, the two can't dodge the rumors of an affair. Jo and Emma both try very hard to keep things professional. But between everyone assuming they're together, and the two of them actually being attracted to one another, keeping distance is tricky.
If you enjoy slow-burn and office Romance, you will absolutely love Something To Talk About! It's beautifully narrated and the story is utterly captivating!
Bad Girl Love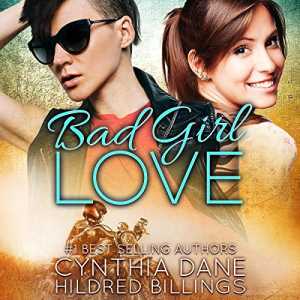 written by Cynthia Dane and Hildred Billings, narrated by Eugenie Danglar
Get the Audible book** (Only $7.49 if you get it together with the free Kindle Unlimited ebook!)
An alpha "taking no shit" mechanic and a well-mannered heiress have a hot one night stand but can't forget each other. When they run into each other again, things get very complicated. This super hot story has very complex characters and is extremely captivating!
If you like your snarky alphas, you'll love Bad Girl Love's Dylan!
Related article: How to get cheap Audiobooks with Kindle Unlimited
Telling Lies Online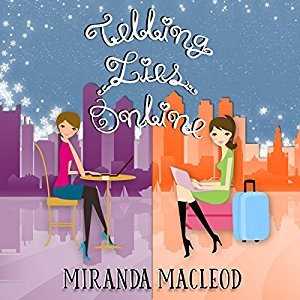 written by Miranda MacLeod, narrated by Stephanie Murphy
Jamie meets her dream woman in an online dating app. Just a bummer that the app told Claire that Jamie was a man. This is such an adorable love story! Jamie is so smitten with Claire but feels like she has to keep lying in order to keep Claire around just a little bit longer.
This is a must-read for fans of mistaken identity Romantic Comedies!
Rook Takes Queen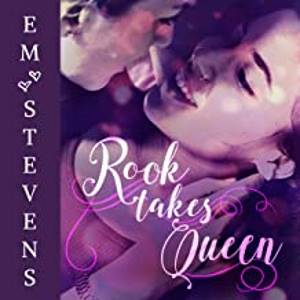 written by Em Stevens, narrated by Ainslie Caswell
A chess grandmaster failing at life and a driven and highly intelligent beauty queen cross paths and hit it off. This is a wonderfully sensual Romance with extremely likable characters and a fantastic narrator.
Rook Takes Queen is perfect for fans of smart Romance!
The Secret Pond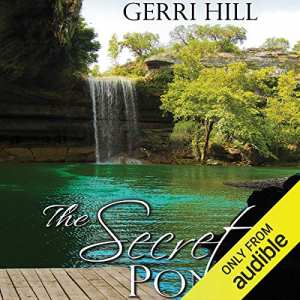 written by Gerri Hill, narrated by Abby Craden
Hannah and Lindsey are both grieving when Hannah's son and his dog bring them both together and a friendship blossoms. The Secret Pond is a beautiful, intensely captivating story about life and love after loss. Gerri Hill is a wonderful author and I love both her Contemporary Romance and her Mystery books. She's a must-read author!
This Lesbian audiobook is perfect for you if you enjoy mellow, thoughtful friends-to-lovers Romance novels!
Always a Love Song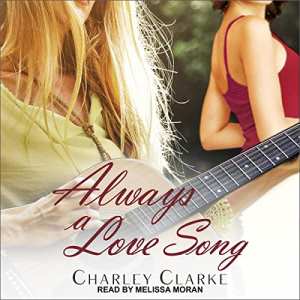 written by Charley Clarke, narrated by Melissa Moran
After her big break-through in the music-industry, Bridget returns to her home town where she has to face her ex, the woman who she left behind five years earlier. Neither of the women had moved on but their break-up was very dramatic and something they can't easily recover from. I love how intensely emotional this story is. It doesn't wallow in overdramatic angst. And yet there is honest and realistic angst. It works so well!
If you enjoy a more serious love story, Always A Love Song won't let you down!
Games We Play
written by Cynthia Dane and Hildred Billings, narrated by Stephanie Murphy
Get the Audible book** (Only $7.49 if you get it together with the free Kindle Unlimited ebook!)
When Leah and Sloan run into each other, they both wrongly assume that the other is a paid professional. This leads to a very fun evening for both of them, which gets all the more awkward afterward when the truth comes out. Games We Play is a very sexy BDSM Romance novel that manages to stay playful and doesn't drift into abusive behavior.
If you're looking for a super hot Lesbian Romance audiobook with a great narrator and a captivating storyline, you'll have a fantastic time with this one!
My Favorite Lesbian Audiobooks – YA, Paranormal, and Historical Romance
The Wolf Diaries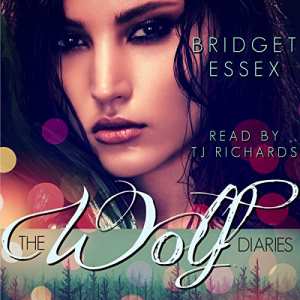 written by Bridget Essex, narrated by TJ Richards
When a fellow werewolf asks her to be her fake girlfriend, Jadin just can't say no. The story is told in the form of diary entries from Jadin's perspective. That gives it an interesting flow. And Jadin is just so much fun to listen to and so entirely likable!
If you, too, are a sucker for fake relationships and werewolves, you'll love The Wolf Diaries!
You Should See Me in a Crown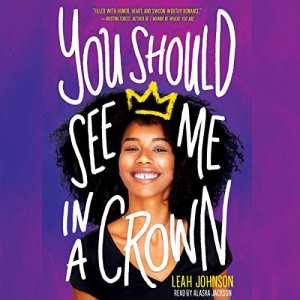 written by Leah Johnson, narrated by Alaska Jackson
Liz has big plans for her future! When she hits a bump in the road, her friends support her in running for Prom Queen – a particularly coveted and esteemed title in the town that would fix her financial problem. But being outed as a Lesbian doesn't make this plan easier for Liz. And then there's Mack, the competition…
You Should See Me in a Crown was one of the most anticipated Lesbian audiobooks of 2020 and it really delivers! This is a wonderful romantic comedy you simply don't want to miss.
Queerleaders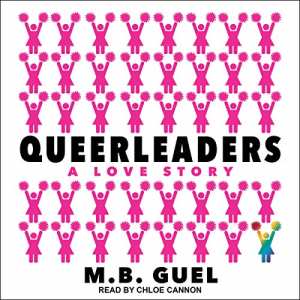 written by M.B. Guel, narrated by Chloe Cannon
After being outed in her Catholic high school by the footballer boyfriend of her cheerleader crush, Mack tries to get back at the bullies by announcing that she would kiss all the cheerleaders! This works out unexpectedly well and makes for an absolutely adorable Romantic Comedy with a few completely unexpected twists and a beautiful happy ending.
I had the pleasure of listening to a free advance copy of Queerleaders and wanted to add it to this list even though the audiobook isn't released yet. It's such a fun and adorable Highschool Rom-Com, you simply need this in your life!
A Little Light Mischief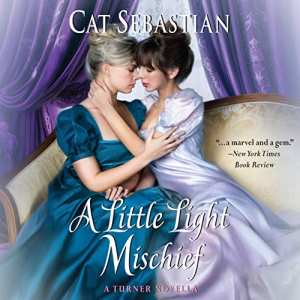 written by Cat Sebastian, narrated by Morag Sims
After Alice gets into trouble, a lady takes her in as a companion. With very little to do, she spends more and more time with the maid who helps her with a revenge plan to get back at the man who caused the falling out with Alice's family. A Little Light Mischief delivers what the title promises, a sexy and fun novella that will keep you wonderfully entertained!
Cat Sebastian writes absolutely amazing LGBT Historical Romance, so do look up more of her work after reading this one. You won't regret it!
Proper English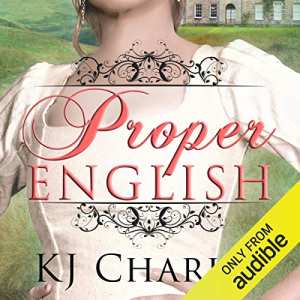 written by KJ Charles, narrated by Bella Lowe
A shooting party at a country estate culminates in a murder… And Pat – who's mostly considered "one of the guys" – teams up with her friend's fiancée, the sexy Fen, to solve the case. This is a fantastic take on a classic theme, with lots of developments you won't see coming. And Fen's and Pat's friendship and chemistry are absolutely wonderful!
Proper English was everything I had hoped for in a Lesbian audiobook by KJ Charles who is one of my go-to authors when I need a fun, diverse, and intriguing Historical Romance!
I hope you'll enjoy my favorite Lesbian Romance audiobooks as much as I did!
Happy listening 💕
You can unsubscribe at any time by clicking the link in the footer of my emails. For information about my privacy practices, please read the Privacy Policy.
Review, Booklist
/