These 21 Bisexual and Lesbian Romance Audiobooks will make you swoon! And the bad boy mechanic, the old-timey inventor in pants and goggles, the swoonworthy bookstore employee, and the rockstar will steal your heart…
Lesbian Romance books often get the role of the fifth wheel in the world of Romance books. Straight and M/M love stories are both ridiculously popular. But Women loving Women are a comparatively small niche with many hidden gems that don't get the attention they deserve.
I wish more readers (and authors) would give Lesbian Romance books a chance. And I strongly believe that – no matter your sexuality – if you love Romance, you will enjoy the following beautiful love stories! They all have insanely likable main characters, fantastic audiobook narrators, and all the big and tingly feelings you can hope for.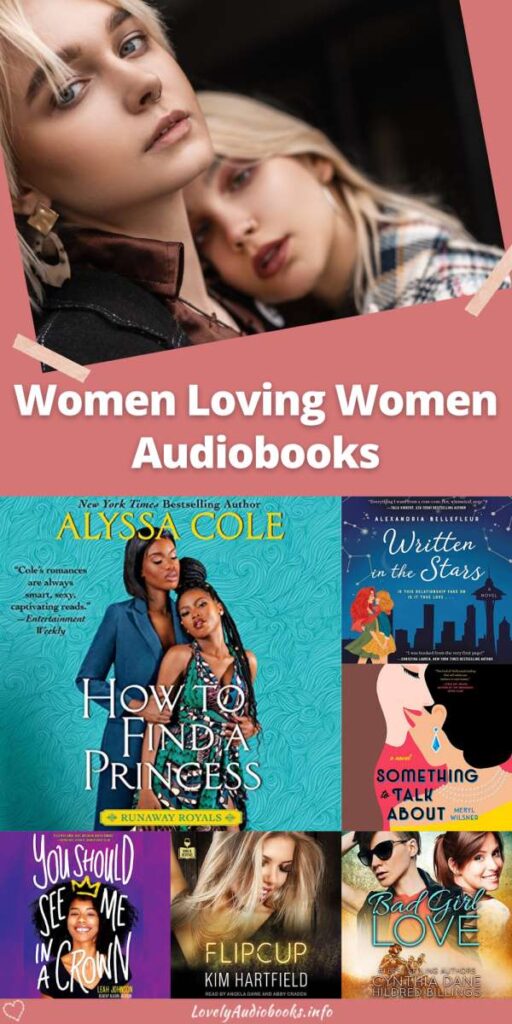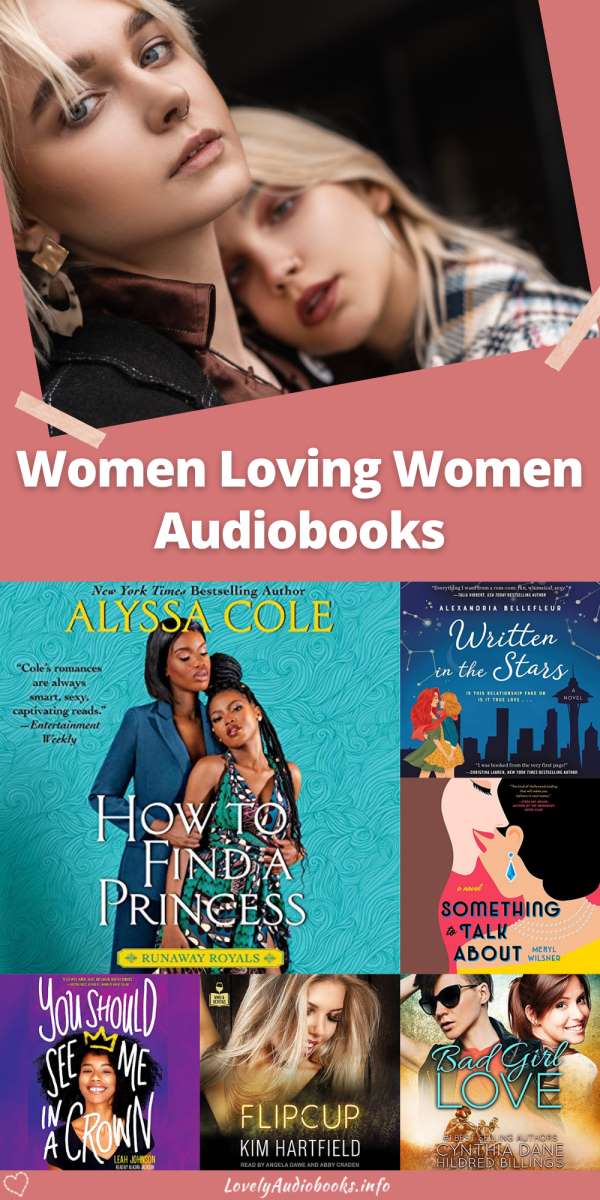 My Favorite Contemporary Bisexual and Lesbian Romance Audiobooks
Written in the Stars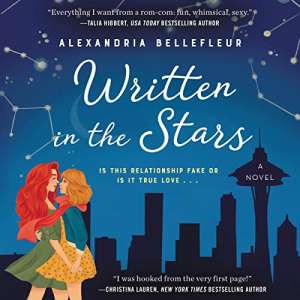 written by Alexandria Bellefleur
narrated by Lauren Sweet
Get the Audible book**
or Get it on Libro.fm** (The first audiobook is free!)
Darcy's brother won't stop pestering her about finding a new girlfriend. What's the obvious solution for someone who got burned and doesn't want to fall in love again? A fake relationship, of course! And Elle is happy to oblige since she is looking for a business deal with Darcy's brother. What a perfect plan. What could possible go wrong?!
Written in the Stars is an adorable Romantic Comedy with fun astrology elements and it was one of my favorite Romance audiobooks of 2020. So beautiful and one of Lauren Sweet's best narrations!
How to Find a Princess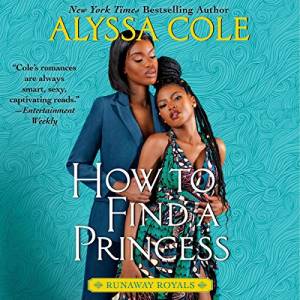 written by Alyssa Cole
narrated by Karen Chilton
Get the Audible book**
or Get it on Libro.fm**
Bez and her World Federation of Monarchies are looking for the lost heir to a throne. Makeda lives a normal life and has heard the story of her supposed royal heritage countless times. After witnessing what that did to her mother, she wants no part in it. But Bez is quite persuasive…
Alyssa Cole and Karen Chilton are one of my favorite author/narrator teams and their sapphic love stories are absolutely beautiful. How to Find a Princess is their newest title and it is absolutely epic, witty, exciting, hot, and completely charming, just like Bez!
Flipcup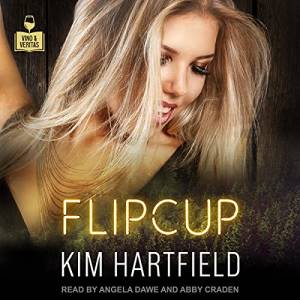 written by Kim Hartfield
narrated by Abby Craden and Angela Dawe
Get the Audible book in a deal**
Chelsea is a party girl looking for love in all the wrong beds. When she runs into Tara in the local LGBTQ bookstore, she has to ask herself whether she is really as straight as she had assumed.
I absolutely adored Flipcup! This is a cute and fun Romance with two completely lovable heroines and an insanely good narration!
Find more bisexual Romance on this list with my favorite LGBT Romance Books on Audible!
Related article: How to get Audiobooks cheaper with Kindle Unlimited
Something To Talk About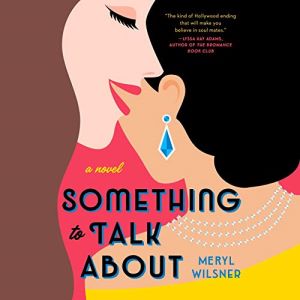 written by Meryl Wilsner
narrated by Jorjeana Marie and Xe Sands
Get the Audible book**
or Get it on Libro.fm**
Jo is a very successful Hollywood producer. When she takes her assistant Emma to a red carpet event, the two can't dodge the rumors of an affair. Jo and Emma both try very hard to keep things professional. But between everyone assuming they're together, and the two of them actually being attracted to one another, keeping distance is tricky.
If you enjoy slow-burn and office Romance, you will absolutely love Something To Talk About! It's beautifully narrated and the story is utterly captivating!
Bad Girl Love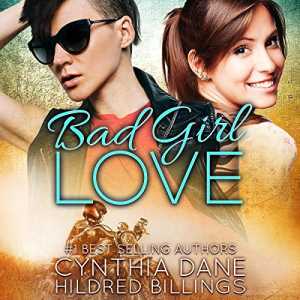 written by Cynthia Dane and Hildred Billings
narrated by Eugenie Danglar
Get the Audible book in a deal**
An alpha "taking no shit" mechanic and a well-mannered heiress have a hot one-night-stand but can't forget each other. When they run into each other again, things get very complicated.
Bad Girl Love is a super hot Romance with an epic story and very complex characters. This is an extremely captivating audiobook and I absolutely loved the narration! If you like your snarky bad boy alphas, you'll love Dylan!
Telling Lies Online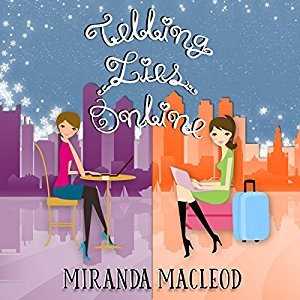 written by Miranda MacLeod
narrated by Stephanie Murphy
Get the Audible book in a deal**
Jamie meets her dream woman in an online dating app. Just a bummer that the app told Claire that Jamie was a man!
This is such an adorable love story! Jamie is so smitten with Claire but feels like she has to keep lying in order to keep Claire around just a little bit longer. This is a must-read for fans of mistaken identity Romantic Comedies!
Rook Takes Queen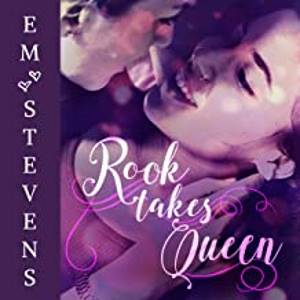 written by Em Stevens
narrated by Ainslie Caswell
A chess grandmaster failing at life and a driven and highly intelligent beauty queen cross paths and hit it off.
This is a wonderfully sensual Romance with extremely likable characters and a fantastic narrator. Rook Takes Queen is perfect for fans of witty Romance with smart heroines. This is a hidden gem that absolutely deserves to get more attention!
The Secret Pond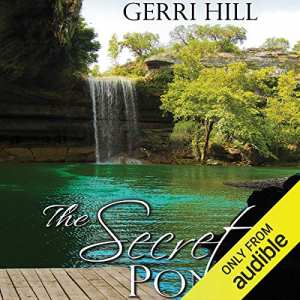 written by Gerri Hill
narrated by Abby Craden
Hannah and Lindsey are both grieving when Hannah's son and his dog bring them both together and a friendship blossoms…
The Secret Pond is a beautiful, intensely captivating story about life and love after loss. Gerri Hill is a wonderful author and I love both her Contemporary Romance and her Mystery books. She's a must-read author! This is one of the Lesbian Romance books perfect for fans of mellow, thoughtful friends-to-lovers Romance novels. The audiobook is narrated by Abby Craden who I could honestly listen to all day every day.
Always a Love Song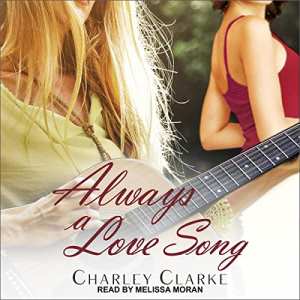 written by Charley Clarke
narrated by Melissa Moran
Get the Audible book in a deal**
or Get it on Libro.fm**
After her big breakthrough in the music industry, Bridget returns to her home town where she has to face her ex, the woman who she left behind five years earlier. Neither of the women had moved on but their break-up was very dramatic and something they can't easily recover from.
I love how intensely emotional this story is. It doesn't wallow in overdramatic angst. And yet there is honest and realistic angst. It works so well! If you enjoy more serious Lesbian Romance books with big emotions, Always A Love Song won't let you down!
Games We Play
written by Cynthia Dane and Hildred Billings
narrated by Stephanie Murphy
Get the Audible book in a deal**
When Leah and Sloan run into each other, they both wrongly assume that the other is a paid professional. This leads to a very fun evening for both of them, which gets all the more awkward afterward when the truth comes out.
Games We Play is a very steamy BDSM Romance novel that manages to stay playful and doesn't drift into abusive behavior. If you're looking for more steamy Lesbian Romance audiobooks, you'll have a fantastic time with this captivating story!
My Favorite Bisexual and Lesbian Audiobooks: Young Adult, Paranormal, and Historical Romance
One Last Stop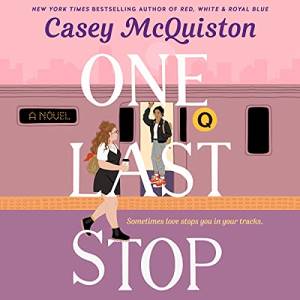 written by Casey McQuiston
narrated by Natalie Naudus
Get the Audible book**
or Get it on Libro.fm**
August had just moved to New York when she meets the most intriguing girl on the subway. Jane! August is bisexual and Jane is everything she loves in a woman. But Jane can't leave the subway for… reasons.
One Last Stop is probably the biggest bisexual and lesbian Romance release of 2021 and you can already find absolutely adorable fanart! Natalie Naudus is one of my favorite narrators and she did a fantastic job with August and Jane.
The Wolf Diaries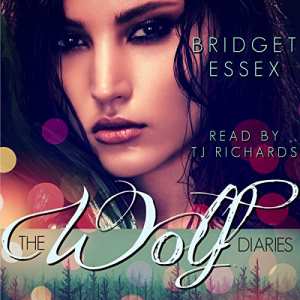 written by Bridget Essex
narrated by TJ Richards
When a fellow werewolf asks her to be her fake girlfriend, Jadin just can't say no. Especially because she has such a crush on the other woman…
The story is told in the form of diary entries from Jadin's perspective. That gives it an interesting flow. And Jadin is just so much fun to listen to and so entirely likable! If you, too, are a sucker for fake relationships and werewolves, you'll love The Wolf Diaries!
Witching Moon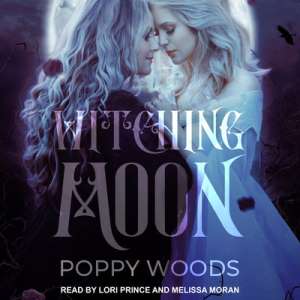 written by Poppy Woods
narrated by Melissa Moran and Lori Prince
Get the Audible book in a deal**
or Get it on Libro.fm**
Alandra is a witch, but she isn't powerful at all. So it comes as a bit of a surprise when she accidentally summons Luna, the moon goddess! Luna being on Earth without any protection is a huge problem though…
Wichting Moon is a charming paranormal Romance with some suspense and a wonderful flow.
Romancing the Inventor
written by Gail Carriger
narrated by Emma Newman
Imogene is a maid at the local vampire castle where she runs into Genevieve, a renowned inventor in men's clothing. She is smitten! But Genevieve believes herself too old and bitter to start anything with the cute maid.
Gail Carriger's steampunk world is absolutely amazing and Romancing the Inventor is a fun, fast-paced, captivating story with a wonderful romance. Emma Newman brought these two women to life perfectly, including the accents!
The Hellion's Waltz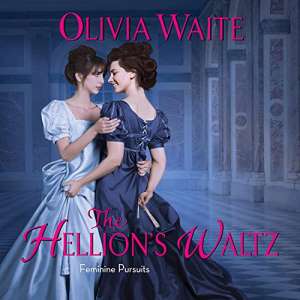 written by Olivia Waite
narrated by Morag Sims
Get the Audible book**
or Get it on Libro.fm**
Sophie's family still struggles with the after-effects of having been duped when she meets (and falls for) Maddie who is in the middle of planning a huge scam. These two are real hellions!
I absolutely adored The Hellion's Waltz! It's captivating, wild, unique, and beautiful, with two very different and completely lovable main characters. And Morag Sims is always such a pleasure to listen to!
A Little Light Mischief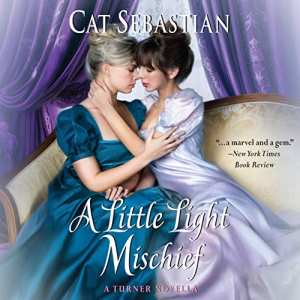 written by Cat Sebastian
narrated by Morag Sims
Get the Audible book in a deal**
or Get it on Libro.fm**
After Alice gets into trouble, a lady takes her in as a companion. With very little to do, she spends more and more time with the maid who helps her with a revenge plan to get back at the man who caused the falling out with Alice's family.
Cat Sebastian is one of my favorite Historical Romance authors and A Little Light Mischief delivers what the title promises, a sexy and fun novella that will keep you wonderfully entertained!
Proper English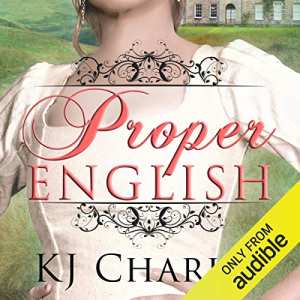 written by KJ Charles
narrated by Bella Lowe
Get the Audible book in a deal**
A shooting party at a country estate culminates in a murder… And Pat – who's mostly considered "one of the guys" – teams up with her friend's fiancée, Fen, to solve the case.
This is a fantastic take on a classic theme, with lots of developments you won't see coming. And Fen's and Pat's friendship and chemistry are absolutely wonderful! Proper English was everything I had hoped for in a Lesbian audiobook by KJ Charles who is one of my go-to authors when I need a fun, diverse, and intriguing Historical Romance!
You Should See Me in a Crown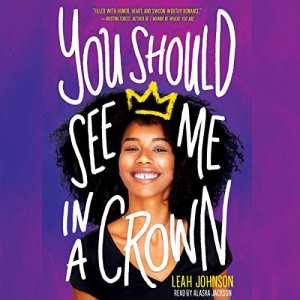 written by Leah Johnson
narrated by Alaska Jackson
Get the Audible book**
or Get it on Libro.fm**
Liz has big plans for her future! When she hits a bump in the road, her friends support her in running for Prom Queen – a particularly coveted and esteemed title in the town that would fix her financial problem. But being outed as a Lesbian doesn't make this plan easier for Liz. And then there's Mack, the competition…
You Should See Me in a Crown was one of the most anticipated Lesbian audiobooks of 2020 and this wonderful Young Adult book really delivers! This is a fun and thoughtful Romantic Comedy you simply don't want to miss. And I adored the narration by Alaska Jackson!
Queerleaders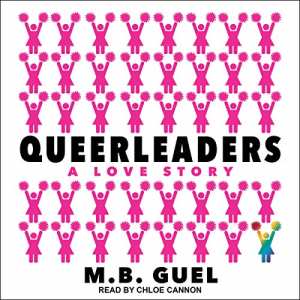 written by M.B. Guel
narrated by Chloe Cannon
Get the Audible book**
or Get it on Libro.fm**
After being outed in her Catholic high school by the footballer boyfriend of her cheerleader crush, Mack tries to get back at the bullies by announcing that she would kiss all the cheerleaders!
Mack's ambitious plan works out surprisingly well and makes for an absolutely adorable Romantic Comedy with a few completely unexpected twists and a beautiful happy ending. You simply need this in your life!
Iron & Velvet: Kate Kane, Paranormal Investigator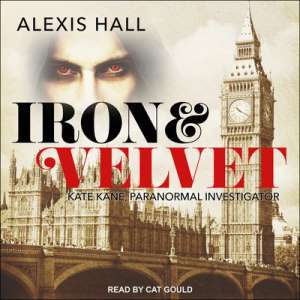 Get the Audible book in a deal**
or Get it on Libro.fm**
Kate Kane is a half-fae paranormal investigator and I might or might not have a huge crush on her. If you like Urban Fantasy with a little bit of Romance, Kate Kane is a must!
Alexis Hall's dry sense of humor shines here and the Kate Kane series is at the same time suspenseful, captivating, and hilarious. Pure perfection! The first three books are narrated by the amazing Cat Gould. The series is ongoing.
The Kitchen Sink Sutra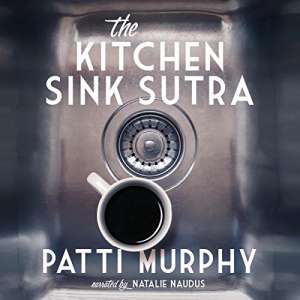 written by Patti Murphy
narrated by Natalie Naudus
Get the Audible book in a deal**
or Get it on Libro.fm**
Olivia returns home to Stafford Falls (which doesn't actually have any falls) to take care of her grandmother. The Kitchen Sink Sutra is a cozy Women's Fiction with some romance-y elements. This is a warm blanket kind of story and a hidden gem that you shouldn't miss! It's narrated by the wonderful Natalie Naudus (thanks to whom I stumbled over this beautiful audiobook).
Review, Booklist
/