The following Bisexual Women and Lesbian Romance Audiobooks will make you swoon! And the bad boy mechanic, the old-timey inventor in pants and goggles, the dreamy bookstore employee, and the rockstar will steal your heart…
Lesbian Romance books often get the role of the fifth wheel in the world of Romance books. Straight and M/M love stories are both ridiculously popular. But Women loving Women are a comparatively small niche with many hidden gems that don't get the attention they deserve.
I wish more readers (and authors) would give Lesbian Romance books a chance. And I strongly believe that – no matter your sexuality – if you love Romance, you will enjoy the following beautiful love stories! They all have insanely likable main characters, fantastic audiobook narrators, and all the big and tingly feelings you can hope for.
My Favorite Contemporary Bi and Lesbian Romance Audiobooks
Nailah has a type: studs. But very feminine Scottie is pursuing her and Nailah is fascinated by the woman! She just can't stay away and has to reconsider her principles and the reasons for them.
Femme Like Her is incredibly well-written and makes you feel all of Nailah's thoughts and emotions bone-deep. She and Scottie have this incredible chemistry and Mari really brought that out in the audiobook narration.
Related article: The Best Audible Alternatives in 2022
Delilah Green has been through a lot and has built up a very badass, tough outer shell to hide her soft, mushy, artist soul center. Both her love story with Claire, the girl she had been pining for since they were kids, and the journey she takes with her step-sister are heart-wrenching!
All characters in this story are so lovable and I enjoyed the build-up very much. In the first chapter from Delilah's point of view, we hear about her terrible step-sister and her awful friends. Just to jump to Claire's point of view, the step-sister's best friend!
While not every dysfunctional family is only based on misunderstandings, it worked so well here and I loved to see an all-around happy ending for Delilah. Kristen DiMercurio was absolutely fantastic to listen to! I crushed hard on Delilah.
Rosie is a bookstore owner and has become online friends with her favorite Lesfic author. When her building is bought by a huge company, Rosie has to deal with Jane, a businesswoman who doesn't seem to care about Jane's store.
Of course, Rosie can't stand the sight of Jane. It's just… she somehow actually really likes the sight of Jane. And little does Rosie know that Jane is actually her online friend, the reclusive author…
Rachel Lacey's Ms. Right series is simply wonderful! Lovable women who find one another and are brought to life by the most beloved of all Lesbian Romance narrators: Abby Craden!
Related article: How to get Audiobooks cheaper with Kindle Unlimited
Sam is a teacher at a boarding school – a school that has been her home for almost her entire life. The reputation of the new headmistress precedes her and the woman seems to threaten everything Sam holds dear.
When she turns out to be Sam's anonymous one-night-stand though, things turn quite interesting in the prestigious halls…
The Headmistress is an intensely captivating Contemporary Romance with an ice queen and an utterly lovable woman who manages to draw her out of her shell. The perfect storyline for Abby Craden's fantastic range of voices!
Erin is exactly proud of this decision, but she has hired an actress to play her girlfriend at an upcoming family event. Erin is a successful businesswoman and has a loving family. And yet, things are off on that front, and she doesn't feel up to yet again hearing comments about how she's single.
Actress Steph is the perfect fake girlfriend and the job is particularly intriguing for her, as the event is set in the Scottish Highlands. But Erin and Steph have a huge hurdle to overcome neither of them saw coming.
If you love British accents like I do, you will adore Hayley Munro's narration of the Scottish and English heroine. Change of Heart is an enchanting, beautiful, romantic story I can highly recommend!
I'm a big fan of Hildred Billings and her stories full of drama and feelings. The Other Woman is written like an intimate confession.
Evelyn, who has always had trouble trusting others and feeling like she can commit to a partner, was cheated on by the one woman she thought she might even love. She doesn't know what to do with all her feelings now and creates a revenge plot. At the core: Sleeping with the woman her ex-partner cheated with.
But "the other woman", Keira, turns out to be quite different than Evelyn expected. Allie Shae did a wonderful narration of this highly emotional love story!
Denny receives a text from an unknown number, but it's so much fun to text with the woman! Eliza and Denny become friends, but Eliza has only dated men so far and is very unsure if the attraction she feels for Denny can be real.
Wrong Number, Right Woman by Jae is an extremely entertaining, sweet, low-angst love story with a cast of absolutely lovable characters. Angela Dawe did a great narration and this is such a delightful F/F Romance audiobook!
Darcy's brother won't stop pestering her about finding a new girlfriend. What's the obvious solution for someone who got burned and doesn't want to fall in love again? A fake relationship, of course! And Elle is happy to oblige since she is looking for a business deal with Darcy's brother.
What a perfect plan. What could possible go wrong?! Written in the Stars is an adorable Romantic Comedy with fun astrology elements and it was one of my favorite Romance audiobooks of 2020. So beautiful and one of Lauren Sweet's best narrations!
Bez and her World Federation of Monarchies are looking for the lost heir to a throne. Makeda lives a normal life and has heard the story of her supposed royal heritage countless times.
After witnessing what that did to her mother, she wants no part in it though. But Bez is quite persuasive… Alyssa Cole and Karen Chilton are one of my favorite author/narrator teams and their sapphic love stories are absolutely beautiful.
How to Find a Princess is their latest F/F title and it is absolutely epic, witty, exciting, hot, and completely charming, just like Bez!
Chelsea is a party girl looking for love in all the wrong beds. When she runs into Tara in the local LGBTQ bookstore, she has to ask herself whether she is really as straight as she had assumed.
I absolutely adored Flipcup! This is a cute and fun Romance with two completely lovable heroines and an insanely good narration by Abby Craden and Angela Dawe who are amazing at imitating the other one's voice for dialogue scenes.
Jo is a very successful Hollywood producer. When she takes her assistant Emma to a red carpet event, the press starts to rumor that they are having an affair.
Jo and Emma both try very hard to keep things professional. But between everyone assuming they're together, and the two of them actually being attracted to one another, keeping their distance is tricky.
If you enjoy slow-burn and Office Romance, you will absolutely love Something To Talk About! It's beautifully narrated by Jorjeana Marie and Xe Sands and the story is utterly captivating!
An alpha "takes no shit" mechanic and a well-mannered heiress have a hot one-night-stand but can't forget each other. When they run into each other again, things get very complicated. Bad Girl Love is a super hot Romance with an epic story and very complex characters.
Bad Girl Love is an extremely captivating audiobook and I absolutely loved the narration! If you like your snarky bad boy alphas, you'll love Dylan!
Jamie meets her dream woman in an online dating app. Just a bummer that the app told Claire that Jamie was a man! Telling Lies Online is such an adorable love story! Jamie is so smitten with Claire but feels like she has to keep lying in order to keep Claire around just a little bit longer.
This is a must-read for fans of mistaken identity Romantic Comedies! Stephanie Murphy's narration of Jamie and Claire was absolutely perfect and so much fun!
A chess grandmaster failing at life and a driven and highly intelligent beauty queen cross paths and hit it off. This is a wonderfully sensual Romance with extremely likable characters and a fantastic narrator.
Rook Takes Queen is perfect for fans of witty Romance novels with smart heroines. This is a hidden gem that absolutely deserves to get more attention!
Hannah and Lindsey are both grieving when Hannah's son and his dog bring them both together and a friendship blossoms…
The Secret Pond is a beautiful, intensely captivating story about life and love after loss. Gerri Hill is a wonderful author and I love both her Contemporary Romance and her Mystery books. She's a must-read author!
This is one of the Lesbian Romance books perfect for fans of mellow, thoughtful friends-to-lovers Romance novels. The audiobook is narrated by Abby Craden who I could honestly listen to all day every day.
After her big breakthrough in the music industry, Bridget returns to her home town where she has to face her ex, the woman who she left behind five years earlier. Neither of the women had moved on but their break-up was very dramatic and something they can't easily recover from.
I love how intensely emotional this story is. It doesn't wallow in overdramatic angst. And yet there is honest and realistic angst. It works so well!
If you enjoy more serious Lesbian Romance books with big emotions, Always A Love Song won't let you down! And Melissa Moran really brought out all the emotions in this story.
Sapphic Paranormal and Historical Romance Audiobooks
Emmy has left her magical hometown. She doesn't care for being a witch. But when she returns for a visit, she gets pulled into a magical tournament between the four witch families of Thistle Grove. And she grows ever closer with mysterious Talia, a powerful witch from one of the other families.
I adored this Paranormal Romance / Urban Fantasy so very much! The storyline surrounding the magical tournament was very gripping and the two women are absolutely adorable together! Jeremy Carlisle Parker's narration was amazing.
August had just moved to New York when she meets the most intriguing girl on the subway. Jane! August is bisexual and Jane is everything she loves in a woman. But Jane can't leave the subway for… reasons.
One Last Stop is probably the biggest sapphic Romance release of 2021 and has absolutely adorable fanart! Natalie Naudus is one of my favorite narrators and she did a fantastic job with August and Jane.
Alandra is a witch, but she isn't powerful at all. So it comes as a bit of a surprise when she accidentally summons Luna, the moon goddess! Luna being on Earth without any protection is a huge problem though…
Witching Moon is a charming paranormal Romance with some suspense and a wonderful flow.
Bluestocking Philippa loves books and doesn't want anything else really, but her rich parents are set on marrying her to a titled man. Tommy has been crushing on Philippa since she first saw her, and is always in Philippa's orbit in some disguise or other.
The Perks of Loving a Wallflower is such an entertaining, exciting Historical Romance with a beautiful love story. The Wynchesters are a crazy family and completely lovable! Moira Quirk is a wonderful narrator and this was such an immense pleasure to listen to.
Imogene is a maid at the local vampire castle where she runs into Genevieve, a renowned inventor in men's clothing. She is smitten! But Genevieve believes herself too old and bitter to start anything with the cute maid.
Gail Carriger's steampunk world is absolutely amazing and Romancing the Inventor is a fun, fast-paced, captivating story with a wonderful romance. Emma Newman brought these two women to life perfectly, including the accents!
Sophie's family still struggles with the after-effects of having been duped when she meets (and falls for) Maddie who is in the middle of planning a huge scam. These two are real hellions!
This Historical Romance is captivating, wild, unique, and beautiful, with two very different and completely lovable main characters. And Morag Sims is always such a pleasure to listen to!
After Alice gets into "trouble", a lady takes her in as a companion. With very little to do, she spends more and more time with the maid Molly who helps her with a revenge plan to get back at the man who caused the falling out with Alice's family.
Cat Sebastian is one of my favorite Historical Romance authors and A Little Light Mischief delivers what the title promises, a sexy and fun novella that will keep you wonderfully entertained! Morag Sims' voice turned this into a truly delightful audiobook!
A shooting party at a country estate culminates in a murder… And Pat – who's mostly considered "one of the guys" – teams up with her friend's fiancée, Fen, to solve the case.
This is a fantastic take on a classic theme, with lots of developments you won't see coming. And Fen's and Pat's friendship and chemistry are absolutely wonderful!
Proper English was everything I had hoped for in a Lesbian audiobook by KJ Charles who is one of my go-to authors when I need a fun, diverse, and intriguing Historical Romance!
Young Adult Lesbian Romance Books on Audible
Hana is 16 and has scored the role of the leading lady in a new K-drama. To increase the buzz, the studio tells her to fake-date her co-star, Bryan, who turns out to be a much better friend than Hana had expected. But then they create a new role, a second love interest, and cast Hana's high school crush for it, Minjee!
Flip the Script deals with homophobia in the industry, but balances this out with Hana's very sweet, supportive family, and the utterly lovable main characters. So, overall, this is a wholesome, fun Young Adult sapphic audiobook. Greta Jung did a great narration!
If you love the Love Coach trope in Romance books, She Gets the Girl is a must! Molly and Alex have just started college. Socially awkward and shy Molly wants to finally act on her feelings for her high school crush Cora. And outgoing, flirtatious Alex seems perfectly suited to help Molly reach her goals.
Alex thinks this might impress her on-again-off-again girlfriend at home who thinks Alex can't commit and is too self-centered. Natalie Naudus and Valentina Ortiz brought this wonderful, captivating story with its lovable main characters to life so perfectly, I could not stop listening!
How does an F/F version of Punk 57 sound to you? To me, it sounded very exciting indeed! And I was not disappointed by Penelope Douglas' latest release. Similar to Punk 57, the bully is not really in control and her victim lands quite a few painful hits as well.
This is a fairly long book because Clay and Olivia have to come a long way to trust each other. Especially Clay, coming from a rich, conservative family, struggles with her feelings and sexuality.
Tryst Six Venom is an angsty high school Romance and you have to be in the right mood for it. But when you are, it's amazing! The audiobook is narrated by Desireé Ketchum and Valentina Ortiz who have very different sounding voices, which I enjoyed very much for this dual PoV book. And both did a fantastic job at bringing this epic love story to life!
Yami and her brother move to a new school, a Catholic private school full of rich, entitled, white kids. Yami's biggest worry is that she will be outed again. That happened at her old school after she admitted her feelings to a girl she believed to be her friend.
The Lesbiana's Guide to Catholic School is such a fantastic book! I enjoyed it immensely and was completely captivated by the wonderful cast of characters, the overall hopeful tone of the book, and the way Karla Serrato brought Yamilet to life. I highly recommend this to anyone enjoying sapphic Young Adult Romance!
Liz has big plans for her future! When she hits a bump in the road, her friends support her in running for Prom Queen – a particularly coveted and esteemed title in the town that would fix her financial problem. But being outed as a lesbian doesn't make this plan easier for Liz. And then there's Mack, the competition…
You Should See Me in a Crown was one of the most anticipated Lesbian audiobooks of 2020 and this wonderful Young Adult book really delivers! This is a fun and thoughtful Romantic Comedy you simply don't want to miss. And I adored the narration by Alaska Jackson!
After being outed in her Catholic high school by the footballer boyfriend of her cheerleader crush, Mack tries to get back at the bullies by announcing that she would kiss all the cheerleaders!
Mack's ambitious plan works out surprisingly well and makes for an absolutely adorable Romantic Comedy with a few completely unexpected twists and a beautiful happy ending. You simply need this in your life! Chloe Cannon did a really fun narration of this wonderful book.
Pin these Lesbian Audiobooks for later: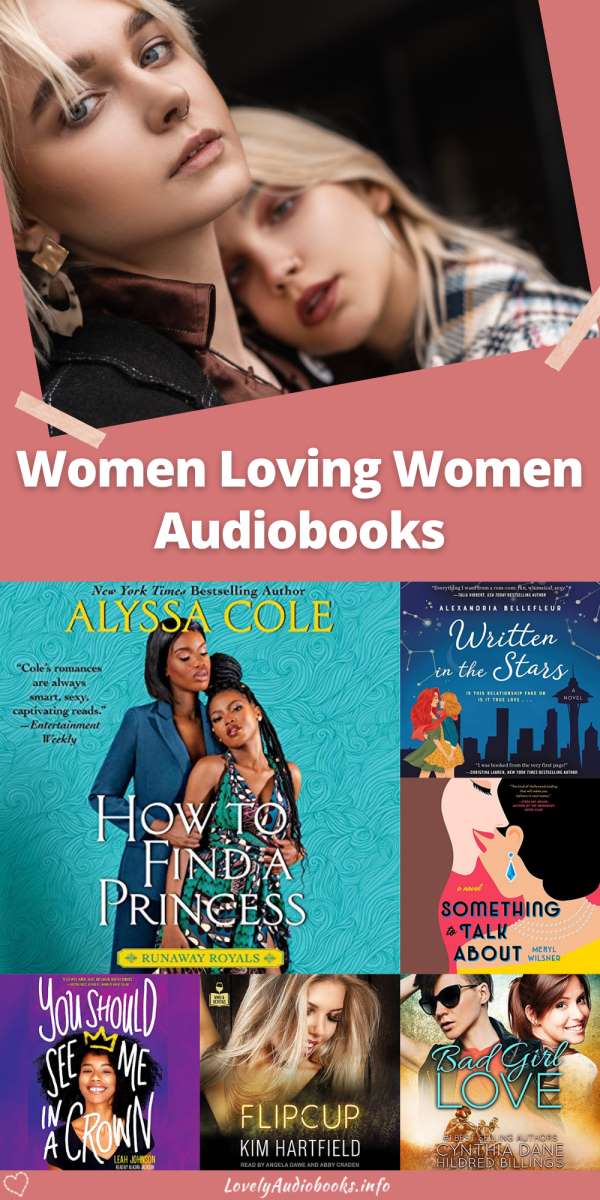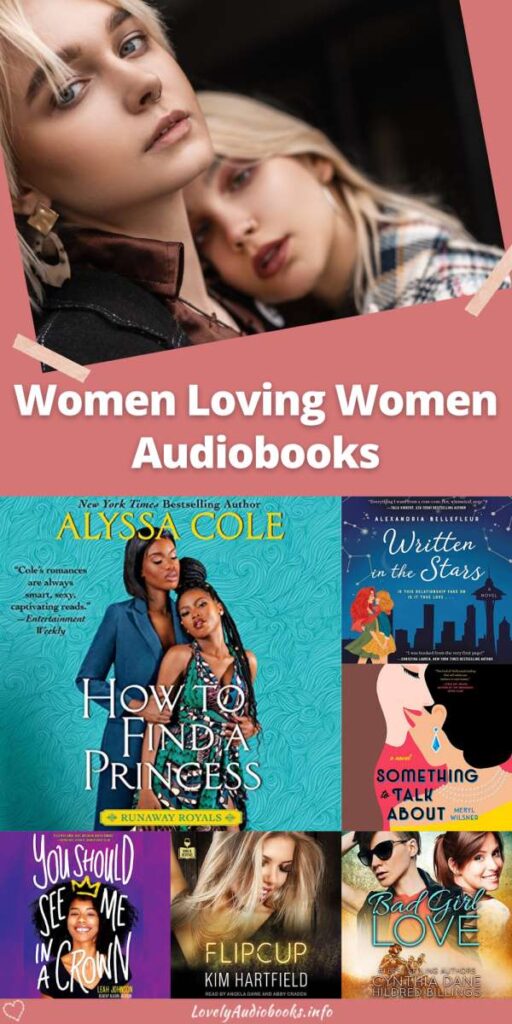 Romance Books
/