Chirp audiobooks is a great service for all audiobook listeners who love a bargain, who want to own (not borrow) their books, who don't enjoy subscriptions with a monthly fee, and who like to spend their money outside of the Amazon universe.
But let's take a closer look at the pros and cons of using Chirp, what it is exactly, what you can expect, and how it works. And you can grab a special 30% discount Chirp audiobooks promo code to try it out.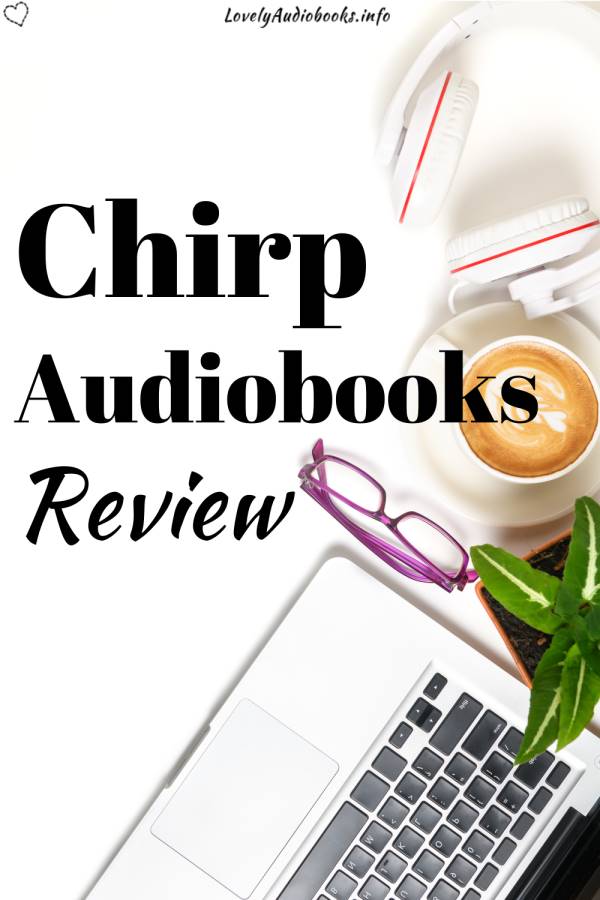 Disclaimer: I received a gift card from Chirp so I could try out their service. I live in the EU and could not have tested Chirp without this offer. It did not influence my opinion in any way. This is an honest review!
What is Chirp Audiobooks?
Are the Chirp audiobooks DRM-free?
No, you can only listen to the audio books you bought on Chirp in their own app. The app is free.
Can I buy all my audiobooks on Chirp?
That depends. They always have a lot of deals in different genres. So, theoretically, you could use Chirp exclusively. But if you are looking for a specific author or narrator, it's unlikely that you will always find something on Chirp that you couldn't get cheaper in an audiobook store with a credit-based membership (like Audible or LibroFM).
Chirp Audiobooks Promo Code
Lovely Audiobooks readers can get a special 30% discount on Chirp for your first purchase. Click here to shop with the special 30% off Chirp audiobooks promo code.
Chirp Audiobooks Review
Chirp is set up as a simple store without any form of subscription model. You sign up for a free account and when you see a good audiobook, you buy it. Simple and straightforward!
Overall, Chirp's catalog is considerably smaller than Audible's, it still has over 200k titles though. Small is relative! And it's important to note that not every audiobook you can find on Chirp has a really good deal. Many books I looked up were still $17 (in comparison, an Audible credit costs at most $15). The number of really cheap deals, let's say audiobooks under $8, is limited. But it's still 450-500 new deals per month, according to Chirp! And it's important to note that these deals are short-term. When you see an audiobook you want, you will have to grab it right away, because the deal might be gone a few days later.
Since the deals are so short-lived, you can sign up for email notifications. Whether this is a pro or con depends on you. You might appreciate the email when it's an audiobook you want. But getting an email every day with deals you aren't interested in is… well… not always fun.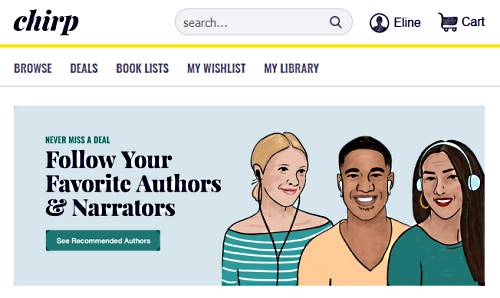 The Chirp books website is very nice. You can quickly and easily navigate to the current deals (aptly named Deals in the top menu). And you can filter by price and genre.
Like Audible, but unlike many other audiobook services, Chirp offers a return policy. For better or worse, it's not as convenient as returning a book on Audible. But if something is wrong with your Chirp audiobook, you can contact customer service in the 7 days after purchase and receive a refund.
Chirp is only available in the US and Canada which is a shame for us international listeners.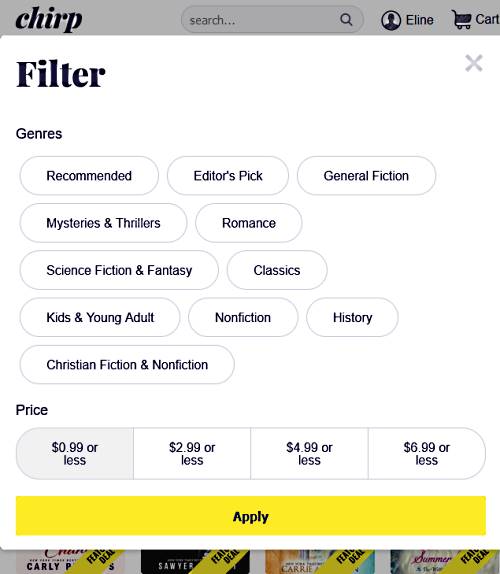 Use this link to get 30% off your first Chirp purchase**
Is Chirp Audiobooks legit?
Yes, Chirp audiobooks is 100% legit! Authors and audiobook producers add their titles to Chirp themselves. They set the price and decide how long the discount will be active.
Chirp is the audiobook branch of Bookbub, a popular promotional tool among authors. This is a trustworthy service and they really offer exactly what they promise.
Making an account and getting the app is 100% free. You only pay for the audio books you choose to buy. Those are yours to keep. But they are not DRM-free, so you can only access them through the Chirp website or Chirp app.
Chirp Audiobook App
The iOS and Android app for Chirp audiobooks is very stable and has a nice, intuitive layout. It has your basic functions like sleep timer and narration speed. And for me, it was very stable. You can't buy audiobooks in the app though. You will always have to use a browser for that.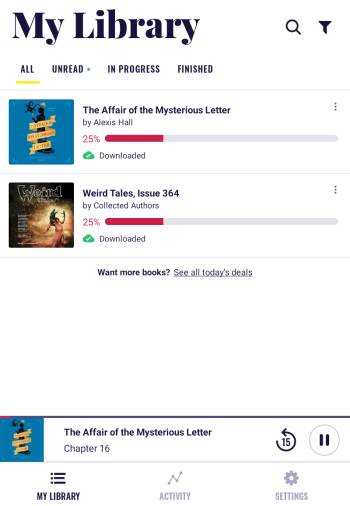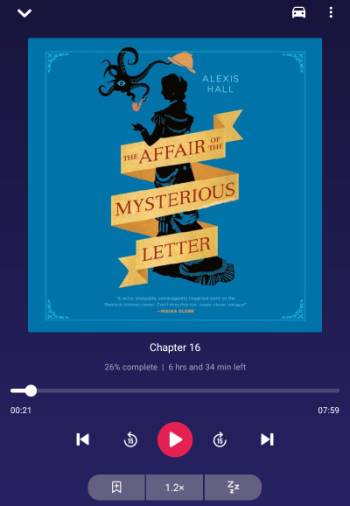 Chirp Gift Cards
I really want to mention gift cards for Chirp audiobooks here because I think it's a fantastic idea for people who love audiobooks. They are very different from Audible gift cards! Why? Because with a $15 Audible gift card, you get 1 credit for 1 audiobook. With a $15 Chirp gift card, you can easily get 5, or even 15 audiobooks! I think that makes this a really sweet gift that actually sets Chirp completely apart from the other audiobook services which all offer gift cards only as a way to buy their audiobook credits and can't be used on sales.
Conclusion
In my opinion, Chirp is a fantastic service for occasional audiobook listeners since you can get cheap audiobooks without having to commit to a membership. For avid audiobook listeners, it's a great addition to other audiobook subscriptions. They have some really, really good deals that are even cheaper than Audible sales.
Personally, I don't think I could use Chirp audiobooks exclusively. But that's fine since this is such a flexible service that you can simply use whenever you feel like it and see something you want. We share current Chirp deals in my Facebook group. That's a nice alternative to the Chirp emails.
To sum it up, if you love deals, Chirp is a great audiobook service and absolutely worth it for you!
Grab my special Chirp audiobooks promo code and get 30% off your first purchase**
If you are looking for even more affordable audiobooks, you can also check out my comparison of unlimited audiobook subscriptions and my guide to cheaper audiobooks.
All about Audiobooks