Below, you'll find my favorite MM Romance books, and many of my fellow listeners agree with me that these are among the best M/M Romance audiobooks out there!
I absolutely love M/M. I have to admit though, for a long time, this was a part of the Romance genre I refused to touch. It felt like Men loving Men and gay Romance got hyped by readers a whole lot more than Women loving Women and lesbian books. And it somehow felt like these two were in competition for M/F readers and listeners. Fortunately, I was wrong!
In the last couple of years, queer Romance books of all varieties are getting a lot more attention. And Romance fans can find more gay Romance books written by gay men!
There are so many amazing authors of MM Romance books out there that I wouldn't want to miss out on anymore. So, without further proclamations and explanations, I give you a whole bunch of absolutely beautiful MM Romance books – some scorchingly hot ones, some sweet ones, some super funny ones, and some angsty ones. Two guys for every mood!
Adult MM Romance Books
I'm not entirely sure I would call PK, the hero of Book Boyfriend, my new book boyfriend. He sure is… a lot! But that's the thing, he is absolutely, disarmingly himself! Book Boyfriend is a wonderfully fun, heartwarming meta Romance about a guy who can't tell his best friend that he's in love with him. So instead, he writes a Romance novel about a guy who is in love with his best friend. Pete Cross brought it all to life so charmingly! I'm a big fan of Kris Ripper and zir adorable queer rom-coms.
Related article: The Best Audible Alternatives in 2022!
I'm So Not Over You is a super fun Romantic Comedy! It's a second chance meets fake dating storyline which is already a winner trope combo in my opinion. It's solely from the point of view of Kian who is an extremely likable protagonist. He is at the same time a person with many insecurities but also has a very sharp tongue that gets him in trouble quite a few times. Hudson, Kian's ex, asks him to pretend to still be his boyfriend for a cousin's wedding – a huge affair since Hudson's family is very rich. Personally, I really liked that Kian and Hudson didn't break up over one big misunderstanding, as we see so often. Instead, we learn more about Hudson through Kian's eyes and it's explained between the lines why things happened the way they happened, how, sometimes, you can be meant for each other but still not get things right the first time around. The narration by Timothy Bell Reese was absolutely fantastic and had a big part in me enjoying this audiobook so thoroughly!
Troy is a Hockey player who chose to stay in the closet. The homophobic slurs he encounters in games put him off any thoughts of coming out. But Harris, the out-and-proud social media manager of his new team, is too fascinating. So, Troy keeps seeking Harris' company. This book made me tear up because it was so insanely sweet! I loved how the two guys talked with each other. Their relationship journey is insanely sweet and moving! Troy is the kind of tortured hero you just can't help but love. He comes so far in this book! Cooper North is a wonderful narrator and the perfect fit for this audiobook.
Going Public is a wonderful, slightly suspenseful MM Romance novel about a millionaire who's a bit of a player and his demisexual virgin assistant. I loved how these tropes were handled here, how the two men treat each other so respectfully and always consider the other's wishes and experiences. They know each other so well and are very considerate and careful with each other. It's intensely romantic! That together with the additional suspenseful plot made this an all-around entertaining story. And I absolutely adored the narration by Tyler Tetsuda!
Crimes of Passion is a super fun audio short story by Jack Harbon in Audible Plus. It's an enemies to lovers Romance about two true crime podcasters who want to honor a shared fan with a collaboration. While working together, they both try to give the other one the benefit of the doubt but their rivalry runs deep. This book is brought to life by two of the best audiobook narrators, Kevin Free and Ron Butler, who both have an incredible range of voices and are wonderful to listen to!
Related article: What is Audible Plus?
Dev has his dream job, he's a producer on a dating show! But his latest candidate, Charlie, is simply terrible in front of the camera: Awkward, clutzy, no chemistry with the female participants. And Dev doesn't really understand what's going wrong, since he finds Charlie incredibly attractive! His new task is to coach Charlie to be a true Prince Charming in front of the camera. And the two have to spend a whole lot of time alone for this. The Charm Offensive is a super entertaining Romantic Comedy, narrated by the wonderful Vikas Adam, Graham Halstead, and Cassandra Campbell.
Boyfriend Material was one of my favorite books of 2020 and is the book I have most often recommended ever since. In my opinion, this is one of the best gay Romance novels out there and the narration by Joe Jameson is fantastic! Both during my first, second, and third time listening to it, Luc, Oliver, and their fantastic group of friends and co-workers have managed to make me laugh out loud countless times. If you are in need of an absolutely adorable Romantic Comedy, this witty, hilarious, and simply wonderful Fake Relationship M/M Romance is the perfect choice and will certainly make you very happy indeed!
Work For it is a steamy M/M Romance between a small town hermit and a tourist from London who seems to have it all. Griffin is very isolated and yet he doesn't seem to be willing to leave his hometown. Then Olu arrives and the two clash! Olu brings out the passionate side of stoic Griffin. While Griffin makes Olu question his own form of self-inflicted isolation. This is an insanely passionate, complex, and deep love story by Talia Hibbert, the author of The Brown Sisters series! The audiobook is narrated by Shane East and Chance Thoreau and it is great to hear this dual point of view story narrated by two different voice actors.
Quell is probably straight and most definitely a movie star… and dealing with depression. When he wants to bring his favorite book to the screen, gay costar Hale becomes his rock. Unscripted is an extremely emotional Friends to Lovers story and narrators Joel Leslie and John Solo perfectly bring to life the thoughts, feelings, and insecurities of Quell and Hale. This is such a beautiful Romance duology and Unscripted was one of my favorite audiobooks of 2020!
Desta travels to Ethiopia for a work assignment where he meets Elias. Together, they explore the country, their past, their future, and their growing feelings for one another. Adriana Herrera is one of my favorite LGBTQ Romance authors and the storyline in Finding Joy is just as beautiful as the book cover! Braeden Sinclair did a wonderful narration.
I simply love books about books! And Booklover does its title justice. A Romance-book-obsessed soon-to-be-librarian who is also a farmer meets a bookstore employee who organizes a Romance book club. It's so wonderful! This audiobook is hot, captivating, romantic, and a little bit suspenseful. And Cooper North and Tim Paige are great narrators who really brought the two guys to life.
Related article: How to get audiobooks cheaper!
The openly gay Crown Prince of England, Edgar, falls for one Carter Ogden, an event planner from New Jersey. The Palace isn't pleased and Carter doesn't exactly take to a life in the royal spotlight with all its rules and regulations. Playing The Palace is a sweet and fun Gay Romantic Comedy that I can wholeheartedly recommend! Michael Urie did a spot-on narration and really brought out the humor.
Elijah asks his frenemy neighbor to help him get the guy of his dreams… "The love coach" is one of my most favorite Romance themes and Riley Hart did it in an absolutely beautiful and unexpected way in Stupid Love! These two guys have such insane chemistry and you can't help but hope and wait for them to finally admit their feelings to one another. Michael Dean gave both men distinct voices and it's easy to differentiate between the points of view.
The Spiral Down is a heart-wrenchingly beautiful love story with fantastic bisexual representation. And Aiden Snow and Teddy Hamilton brought the rockstar and the pilot – neither of which consider themself relationship material – to life so perfectly. Without a doubt, this is one of the best MM Romance books on Audible!
There is a long list of audiobooks written by N.R. Walker and narrated by Joel Leslie that I could recommend to you (actually, I AM recommending them all to you!). But The Weight of It All is the one I see mentioned most often by fellow MM Romance audiobooks fans! It's such a cute, emotional, and funny story about a man who gets dumped by his long-term partner and wants to turn his life around…
If you have read the Knitting in the City series and always wondered what became of Steven and his mystery date… Now you get the answer! But even if you haven't read any Penny Reid or Smartypants Romance books before, Stella Weaver's story set in this universe is simply wonderful. Heartwrenching and with great bisexual representation that really hit home, this is a very emotional and very sexy book!
Kit Webb is a withdrawn former highwayman with high standards. Percy is an aristocratic son of a very questionable character. And when the two meet, THINGS HAPPEN!! The Queer Principles of Kit Webb was one of my favorite Romance audiobooks of 2021. These two men were simply not what I expected and everything was just so fantastic and intriguing! And Joel Leslie's narration is out of this world!! This is M/M Historical Romance perfection.
The Will Darling Trilogy is a fantastic mix of intrigue, murder, British-ness, super sexy sexy-times, and looove! After returning from the war, Will Darling inherits a book store, and shortly after, weird people start to show up in the shop. Then a charming stranger offers answers to all of Will's questions. Cornell Collins is once again on top of his game as well!
Fantasy MM Romance Books
Seducing the Sorcerer is a weird and wonderful story about a down-on-his-luck groom who happens to get himself a magical horse. A magical flying horse! Made of sack! A magical flying horse made of sack that takes him straight to the country's magician in his dark tower!! This is such a captivating MM Fantasy Romance and already one of my favorite Romance audiobooks of 2022! The story is wonderful, absurd, unexpected, and very steamy! And it's narrated by Joel Leslie who brought Fenn and Morgrim to life so perfectly.
Arek and his group of adventures have beaten the evil king but now one of them has to be crowned as the new king. Arek wasn't ready for this job at all and doesn't know how to handle it. On top of that, the magical kingdom demands he has to be married by his 18th birthday or he will find a horrible end! Arek is in love with his best friend but doesn't believe his feeling are returned. And he doesn't want to tell his friend now and make him feel like he has to marry Arek in order to save his life. What a mess! So This is Ever After is a wildly entertaining New Adult Fantasy Romance with a nod to LitRPG. The narration by Kevin R. Free is fantastic!
This wonderful Time Travel short story is heartwrenching and beautiful and a must-listen! I enjoyed In Memoriam so very, very much. This is a deeply emotional, thoughtful book about a man who believes his last days have come. And don't worry (too much), despite the title, this is a real Romance with a happy ending!
Demons Do It Better is a super entertaining Urban Fantasy meets Paranormal Romance. This is the first book in the Hidden Species series which has an overarching storyline, but every book focuses on one gay couple finding their HEA. The world-building is super fun and different, and the protagonists are absolutely lovable! Demons and a Joel Leslie narration… what more could you ask for?!
This ghost story was so unexpected! The Mysterious and Amazing Blue Billings is a beautiful and unexpected love story with intrigue, suspense, and one darn creepy house! This one is the perfect book when you want some chills with your heartwarming MM Romance.
Related article: 13 Spooky Audiobooks that aren't gory
If you're looking for the perfect balance between an intriguing storyline, fascinating characters and world-building, and super hot sexy times, I'm sure you'll work your way through K.J. Charles' backlist just like I did. The A Charm of Magpies series is so binge-worthy! This is an utterly captivating magical Fantasy story brought perfectly to life by Cornell Collins.
Salt Magic, Skin Magic was one of my favorite audiobooks of 2018 and my first ever MM Romance. This is a dark and unexpected fairytale that's incredibly atmospheric and captivating. On top of that, it is also adorably emotional and scorchingly sexy! And there's an octopus under the bed…
If you share my love for Urban Fantasy – especially the kind featuring demons – you'll love Strays! A hellhound by himself is not a common creature to encounter in Romance, and even less so when paired with the adopted son of a faith healer… who happens to be half-incubus! This isn't only an intriguing mix, it is also a very captivating story! And Noel Harrison did a great narration of it.
How to Howl at the Moon is a super cute Paranormal Romance between a sheriff and the new guy in town. The sheriff tries to "sniff out" (haha, see what I did there?) the new guy by moving into his house in his dog form! This is a great MM Romance when you're looking for something lighter that still mixes in a bit of suspense.
Yes, this is still a list of MM Romance books, but what about one human guy and two huge cat people aliens? The Pykh series is an insanely well-written, captivating, steamy Sci-Fi Romance with MPreg. Carter has been taken captive by horrible bug aliens and finds himself in a cage with Pykh and Siel, two cuddly, huge, and very friendly aliens. The trio has to find a way to bridge the communication gap and flee from a race that has already taken over almost the entire planet.
New Adult and Young Adult MM Romance Books
Nate Plus One is a Young Adult Gay Romance. Nate has a secret crush on his best friend Jai. When the chance arises, the two travel together to Nate's family in South Africa for a big wedding event. For Nate, it's not easy to see his extended family face-to-face after coming out. He knows that not everyone will support him. Nevertheless, this is a sweet and happy love story and it's wonderful to see Nate's growth and how he figures things out for himself. André Santana did a wonderful narration for both boys!
Dovid, a very successful blind YouTuber, develops a crush on a guy with a small YouTube gaming channel. The two start to chat but there's an entire ocean between them, making it difficult to meet in person. Not to mention that Dovid in all his excitement plugged Sam's small channel on his own huge one and Sam now finds himself confronted with a level of fame he was not prepared for and didn't actually want. Play It Again is a super sweet New Adult Romance, narrated by the amazing Sean Crisden!
Conventionally Yours is a fun Enemies to Lovers MM Romance set in the world of fandom and tabletop card games. Conrad and Alden are opponents but their only option of getting to a big tournament is to drive there together. You get a road trip with lots of chemistry in this thoughtful, fun love story! Kirt Graves and Joel Froomkin are the perfect voices for this book.
Being a teenager is complicated and it can feel uncomfortable and limiting when everybody else thinks they have figured you out. Rafe feels like the token gay guy in his high school. But when he has the chance for a fresh start at an all-boys boarding school on the other side of the country, he decides to go into the closet and explore himself, his interests, and friendships away from being "the gay guy". This is a very captivating, different book! However, Openly Straight does not have an HEA (it has a hopeful open ending). But there is a second part, Honestly Ben, that makes this a Romance.
The Extraordinaries was my introduction to all the amazingness that is TJ Klune! This is such an insanely fun Young Adult Romance about fanfiction and superheroes and first love and being different and how everyone isn't always what they seem to be. Be prepared to laugh out loud and swoon and sit on the edge of your seat!
Red, White & Royal Blue was incredibly hyped. So… obviously, it took me a while to actually pick it up. No one trusts the hype, right? But it does deserve all the praise it received! This is such a cute Young Adult MM Romance and if you haven't read it yet, do give it a listen! I'm sure you won't regret it.
The Him and Us duet are at the top of the most popular MM Romance books on Audible. Narrated by Romance audiobook darlings Teddy Hamilton and Jacob Morgan, this Sports Romance is very hot, very emotional, and very sweet!
Check out my list of LGBT Romance audiobooks for more M/M and Trans MM Romance books! And take a look at my favorite Lesbian Romance audiobooks as well.
Pin my list of the best MM Romance books on Audible for later: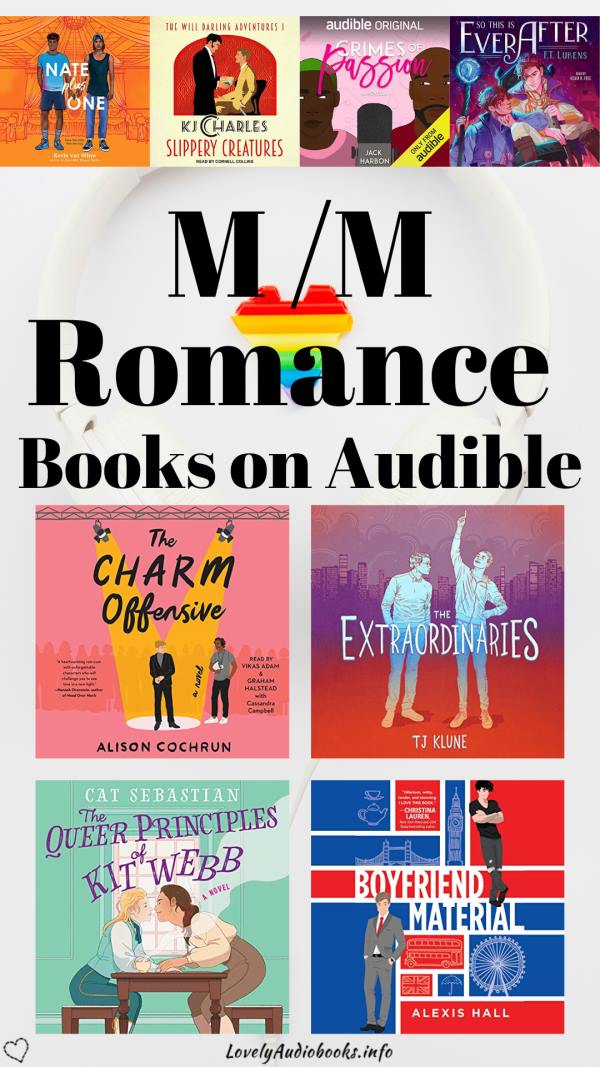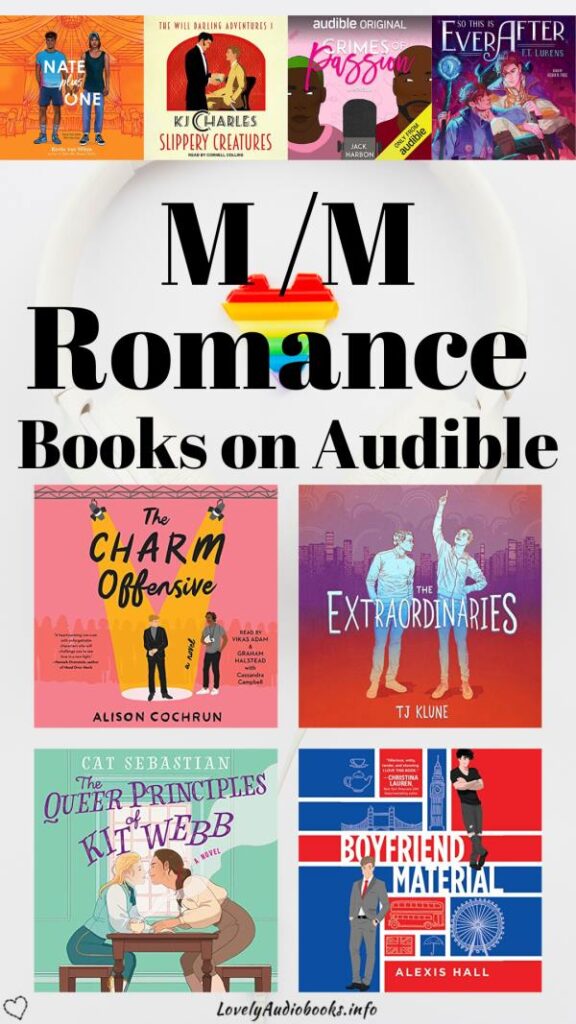 Romance Books
/