What makes an audiobook one of the best Romance audiobooks 2020? For me, a really good Romance audiobook transports a world of emotions. You meet characters who feel like real people and you accompany them while they find love, friendship, and fulfillment.
The story and the narrators lift each other up and turn the audiobook into something more than just "hearing the book out loud". The characters become even more relatable, their feelings and motivations more understandable, and ideally, you'll end up missing these people once the audiobook ends because they've turned into friends.
Is that too much to ask? Haha, obviously not! It was ridiculously difficult to pick 10 titles that I'd consider the best Romance audiobooks 2020. I spent days changing up the list over and over since there were so very many outstanding books that I thoroughly enjoyed and that became highlights in a year that wasn't easy. Like last year, I listened to over 200 audiobooks. And I put aside an uncounted number that didn't grab me enough.
And this year, there's something different! I actually have a Number 1 on my list of the best Romance audiobooks 2020. I usually can't pick just one favorite since I'm a total mood reader. But this year, one stood out. So, while the rest of the list is in no particular order, the first one is actually my absolute favorite Romance audiobook of 2020!
**The marked links and book covers on this page are affiliate links. If you use them to purchase something, I earn a fee at no additional cost for you. Disclosure**
My Top 10 of the Best Romance Audiobooks 2020
Boyfriend Material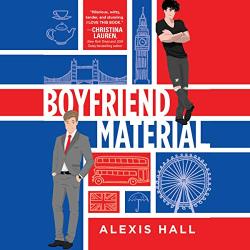 Alexis Hall (Author), Joe Jameson (Narrator)
Luc needs to present a respectable boyfriend to keep his job and "nice and normal" Oliver seems like the perfect choice for a fake relationship – even though they don't like each other!
Boyfriend Material was everything I didn't know I needed. You remember that awful reading slump we all went into in March/April/May? Well, I had slowly started picking up audiobooks again when Boyfriend Material came along and proved true to its name, being real (Book) Boyfriend Material! I am so thoroughly in love with this story, the characters, the narration by Joe Jameson, everything! So much so, that – when half a year later – I needed some comfort and distraction, this was the book I immediately turned to.
Related article: Don't miss these Super Funny Romance books on Audible
Take a Hint, Dani Brown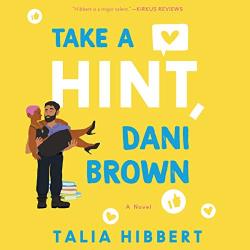 Talia Hibbert (Author), Ione Butler (Narrator)
When Dani and Zaf accidentally go viral as #DrRugbae, they decide they might as well use this fame to help Zaf's charity with a little bit of fake dating and a friends with benefits arrangement. At least that's what Dani has planned…
If you've been to this here blog before, you might know that Talia Hibbert is one of my favorite authors. And Take a Hint, Dani Brown was everything I had hoped for and everything I look for in a Romance book! A fun and captivating story, a cool heroine, and an utterly lovable, sexy hero! And on top of that, a fantastic narrator – Ione Butler! But this book also stood out because, not only did I successfully talk my husband into giving it a shot, but it was also the first-ever Romance novel he finished! (… and liked). Now, I'm not saying Romance books gain any more value from appealing to a man, or any non-romance reader for that matter. But I absolutely loved being able to share this story with the person I love and seeing him enjoy is just as much as I did!
Unscripted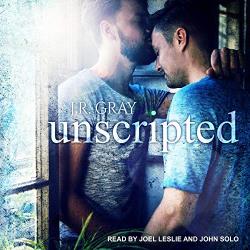 J.R. Gray (Author), Joel Leslie (Narrator), John Solo (Narrator)
Quell is probably straight and most definitely a moviestar… and dealing with depression. When he wants to bring his favorite book to the screen, gay costar Hale becomes his rock…
I wouldn't generally consider myself a "narrator-motivated" audiobook listener. I don't buy books solely because of who reads them. With the exception of Joel Leslie! As I said before, I'm a mood reader, and regularly, I find myself in a Joel-Leslie-kind-of-mood, and then nothing else will do or keep my attention. When I got my hands (and ears) on an advanced listening copy of Unscripted, it was one of those magical audiobook-moments when everything comes together perfectly: The story, the characters, and the narration. Unscripted is absolutely outstanding and I love this book so very, very much!
Related article: 15 of the best MM Romance books on Audible
The Duke Who Didn't
Courtney Milan (Author), Mary Jane Wells (Narrator)
Chloe told her childhood sweetheart that he has to get his act together if he wants to be serious with her. After that, she didn't see him for three years. Now he's back and seemingly just as unaccomplished… Mostly because he won't tell her that he's the duke.
I have waited so long for a new Courtney Milan audiobook! And then came The Duke Who Didn't. And the waiting was so, so worth it! The Duke Who Didn't is a wonderful Historical Romance in an amazing setting with a heroine I adored and a hero who turns out to be the cinnamon roll hero you've always wanted. And let's not forget the utter beauty that is listening to Mary Jane Wells!
Written in the Stars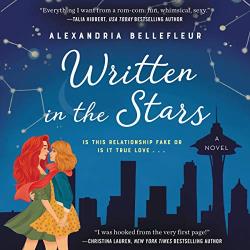 Alexandria Bellefleur (Author), Lauren Sweet (Narrator)
Darcy and Elle couldn't be more different. After a total disaster of a date, they know they're absolutely no match. But a fake relationship might turn out very beneficial for both of them…
Written in the Stars was my favorite Women Loving Women audiobook of 2020! Do I have a weak spot for fake relationship Romance? Yes, most definitely! And this is a particularly charming one with utterly lovable characters that I couldn't get enough of. Lauren Sweet is absolutely amazing in this one and gave both women very distinct voices.
You Had Me At Hola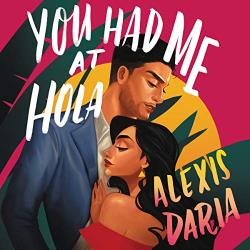 Alexis Daria (Author), Seraphine Valentine (Narrator)
Jasmine wants to lift her acting career to the next level. So, obviously, she cannot get entangled with her costar Ashton, no matter how attractive he is…
I fell in love with the cover of You Had Me At Hola the first time I saw it. And I sure did go in with high expectations… and some worries whether the book could really live up to them. Boy, did it ever! Jasmine is a wonderful heroine – interesting, likable, the whole package. And I really, really wanted that happy end for her. Seraphine Valentine completely blew me away with her ability to voice Jasmine and Ashton and their respective chapters.
Sticking to the Script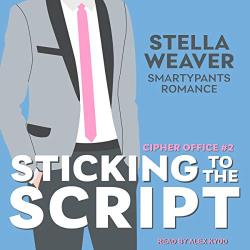 Smartypants Romance (Author), Stella Weaver (Author), Alex Kydd (Narrator)
Get the Audible book in a deal**
Steven is looking for love but all his dates turn into complete disasters. Then he meets Dr. Ken Miles, the poster boy for cocky doctors everywhere… who's obviously straight… Or is he?
I had been waiting for this book – Steven's story – and this audiobook for a long time! Years, in fact. Ever since reading Penny Reid's Neanderthal Seeks Human. And for me, Sticking to the Script really did turn out to be one of the best Romance audiobooks 2020! It was heartbreaking and cute, funny and hot, and just so, so good! Alex Kydd did a fantastic job bringing Steven and Dr. Ken Miles to life and giving back their very different personalities.
Spoiler Alert
Olivia Dade (Author), Isabelle Ruther (Narrator)
April is an avid fan and fanfiction writer. She has no idea that the internet-friend she is crushing on is actually the star from her favorite show!
Spoiler Alert was among my most anticipated Romance novels of 2020! It was not an easy read for me but such an emotional ride. This book deals with some very profound issues and I struggled with some of the gaslighting scenes. Nevertheless, this was one of those stories that stayed with me long after finishing them. And this is definitely among the best Romance audiobooks 2020! It will make you laugh, it will make you cry, and also, there's fanfic and the breathtakingly fantastic Isabelle Ruther!
Here To Stay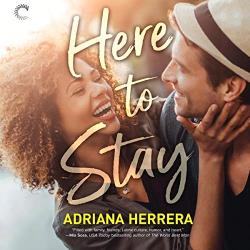 Adriana Herrera (Author), Carmen Vine (Narrator), Sean Crisden (Narrator)
Julia gets dumped by the boyfriend she moved for, but her amazing job of running a charity makes up for it, at least. Then hot and intriguing Rocco comes into her life… It's his job to decide whether Julia will get to keep hers!
Adriana Herrera is among my most read (or rather, listened to) authors of 2020. I love her M/M and M/F Romances equally much and Here to Stay is a fantastic enemies to lovers story. Rocco is for sure one of my favorite Romance heroes of 2020: A super sweet guy who's mature and well adjusted, yet completely aware of his insecurities. It's such an intriguing mix! Hear him voiced by the fantastic Sean Crisden and you really can't help but fall for him, just like Julia did!
Stupid Love
Riley Hart (Author), Michael Dean (Narrator)
Get the Audible book in a deal**
Elijah is head over heels in love with his best friend. So he asks his super annoying neighbor Shaw, the self-proclaimed dating expert, for help…
I love the "hey, frenemy, help me get together with my dream person"-theme and this book does it so well! This is an insanely fun Romantic Comedy and Michael Dean did an amazing job giving both of these very different men two entirely distinct voices. Stupid Love is the absolutely adorable neighbors and enemies to lovers story that you need in your life!
Related article: My favorite LGBTQ Romance audiobooks with and by People of Color
Which books did you enjoy in the last year? What are your top picks for the best Romance audiobooks 2020?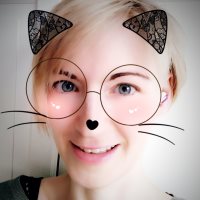 Eline Blackman (pronouns: she/they) fell in love with books as a child – with being read to and reading herself. 10 years ago, she bought her first Audible book. It was love at first listen! An average of 250 audiobooks per year has become the new normal and you will rarely see Eline without a wireless earbud. Romance and Fantasy are the go-to genres for this audiobook fan.
Romance Books
/