If you're looking for a way to keep yourself entertained on your next drive, look no further! I've got a great selection for you of free audiobooks for road trips that will keep you hooked for the entire journey. Whether you're looking for funny fiction or an engaging drama, you'll find something for every mood (and even the smallest wallet) here!
Now, just to get this out of the way, audiobooks are expensive! So, what you will find in the list of audiobooks below is a mix of titles that really are entirely free, as well as some that you can pick up through public libraries with Hoopla or other digital library platforms, or as a free audiobook during a trial month in various audiobook services.
I'll discuss different options for audiobook subscriptions below so that you have alternatives if you e.g. aren't eligible for a free trial with Audible anymore.
Don't worry, either way, I've got you covered so the next drive won't get boring!
**The marked links and book covers on this page are affiliate links. If you use them to purchase something, I earn a fee at no additional cost for you. Disclosure**
Why Audiobooks are amazing for Road Trips
Audiobooks are the perfect way to keep yourself entertained on long road trips. A good audiobook is a fantastic form of entertainment and you can choose from a wide variety of genres and styles to suit your mood. Plus, with audiobooks, there's no need to worry about cell phone service or finding a good radio station – you can just sit back, relax, and enjoy the ride.
On family road trips, on the other hand, things can get a bit too exciting (aka stressful) at times and you might wish for a quiet, relaxing, boring ride by yourself. But with the right audiobook, you can avoid the dreaded "Are we there yet?" syndrome and make the trip more enjoyable for everyone. Of course, you have to choose a story that is fitting for the youngest listener!
Where can you get Audiobooks for free?
As I said earlier, there are two main sources for free audiobooks online. The first one is your local library. A library card is a great way to get audiobooks for free! Just head to your library's website and see which digital content service they offer. Hoopla is the most popular one, but there are others like Overdrive or Axis360.
If your local library doesn't have digital audiobooks or you aren't eligible for a library card from a public library in your state that offers digital content, don't worry – there are still plenty of ways to get your hands on free audiobooks. The second main source is LibriVox. LibriVox is a project by volunteers that record public domain books and releases them as free audiobooks. They have a huge selection of classics, some more obscure, but also many well-known ones.
Now, the third option for free audiobooks is a bit more… hit and miss than the other two. Signing up for free trials! Considering the big number of online audiobook services, free trials can really get you quite far. But it's also more involved since you have to sign up with all your info, then cancel again, install an app, and so on. Nevertheless, it's the best way to get recent bestsellers for free!
If you sign up for a free trial with Audible, Audiobooks.com, Downpour, or Kobo, you can choose one audiobook from their entire catalog and you get to keep that after canceling your free trial.
During a free trial with Kindle Unlimited, Audible Plus (which is also included in a normal Audible trial), or Scribd, you can listen to as many audiobooks as you like during your test month but only while your subscription is active. So, if you cancel your trial right away, you can only listen to the audiobooks for 30 days. Then you can't access them anymore.
But if you're planning a road trip with lots of driving, these trial subscriptions are awesome because you can listen to so many great audiobooks there!
8 Great Audiobooks for a Family Road Trip
The Wee Free Men
Terry Pratchett (Author), Stephen Briggs (Narrator)
The Tiffany Aching series by the amazing Terry Pratchett is extremely entertaining, funny, and my middle grade favorite! It has fantastic role models for kids! And thanks to the wonderful wit of Sir Terry, this is a smart story with depth that adults will love as much as young children. I have actually read it as an adult for the first time and can't wait to read it with my daughters. The Wee Free Men is only the first book in the series. The young witch Tiffany and the Nac Mac Feegle can keep you entertained on many a long drive!
You can find this on Hoopla or listen to the entire Tiffany Aching series in a Scribd free trial**
Legendborn
Tracy Deonn (Author), Joniece Abbott-Pratt (Narrator)
If you are looking for magic students and a suspenseful magical tournament, forget about J.K. Rowling and get Legendborn by Tracy Deonn instead! The audiobook version is narrated by Joniece Abbott-Pratt and it is out of this world! The story is about the descendants of Arthur and the knights of the Round Table, and the magic will pull you and your family members right in. This is one of the best modern Fantasy books and great to listen to on a long drive!
You can listen to Legendborn on Scribd**
Or get it here for your free 30-day trial credit:
Audiobooks.com**
Amazon Audible**
Downpour**
Kobo**
The Hunger Games Trilogy
Suzanne Collins (Author), Tatiana Maslany (Narrator)
If you're traveling with older children, your family road trip might be a great opportunity to listen to the unabridged audiobooks of the Hunger Games trilogy. This is a favorite for older kids and young adults alike and is a fantastic story! The trilogy has recently been re-recorded with Tatiana Maslany as narrator.
You can find this on Hoopla or listen to the entire Hunger Games trilogy in a Scribd free trial**
One For All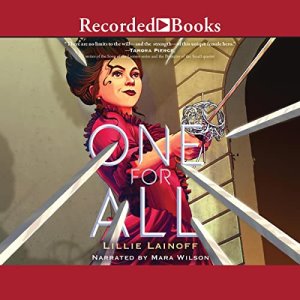 Lillie Lainoff (Author), Mara Wilson (Narrator)
One For All is a wonderful Young Adult Historical Fiction novel that is as amazing for adults as for teens! It's about the daughter of a Musketeer and there is lots of fencing, lots of spying, and amazing young women. A very fast-paced, fun audiobook that is wonderfully narrated by Mara Wilson!
You can listen to One For All on Scribd**
Or get it here for your free trial credit:
Audiobooks.com**
Amazon Audible**
Downpour**
Kobo**
If you have an Audible subscription or can sign up for a free trial, you can listen to all of the following audiobooks with your children for free! They are included in the Audible Plus catalog and you can borrow them while your subscription is active. These are all great options to listen to with younger children and the entire family as they are very popular with Audible listeners:
The Flying Flamingo Sisters** by Carrie Seim, narrated by a full cast
The Mystwick School of Musicraft series** by Jessica Khoury, narrated by Suzy Jackson
The Viva Durant series** by Ashli St. Armant, narrated by Bahni Turpin
Interview with the Robot** by Lee Bacon, narrated by a full cast
My Top 10 of the Best Road Trip Audiobooks
Good Omens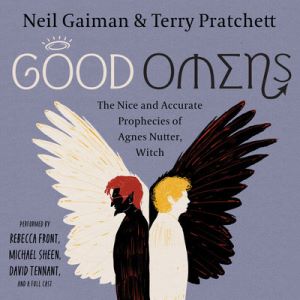 Neil Gaiman (Author), Terry Pratchett (Author), Rebecca Front (Narrator), Michael Sheen (Narrator), David Tennant (Narrator), and a full cast
Good Omens by Terry Pratchett and Neil Gaiman is an all-time favorite that is good for a listen and relisten! There is a brand-new version out now with many of the voices from the Amazon Prime show, including David Tennant and Michael Sheen. You can find an unabridged version with a single narrator on Hoopla or get the new full cast production in a free 30-day trial with one of these audiobook stores:
Good Omens on Audible**
Good Omens on Kobo**
American Gods
Neil Gaiman (Author), Ron McLarty (Narrator), Daniel Oreskes (Narrator), and a full cast
American Gods is one of the best road trip audiobooks, not only because it is about a road trip! This Urban Fantasy classic will most certainly keep you entertained on your long drive. Neil Gaiman is one of my favorite authors and I recommend the 10th anniversary edition of this book which is narrated by a full cast and absolutely captivating. Accompany Shadow on his tour through the United States!
You can find this on Hoopla or listen to American Gods 10th Anniversary edition on Scribd**
Seatmate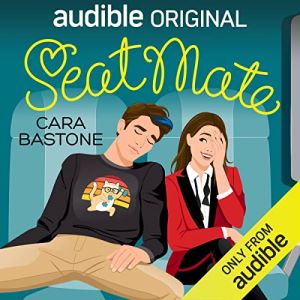 Cara Bastone (Author), Amanda Ronconi (Narrator), Zachary Webber (Narrator), and a full cast
We continue with the road trip theme! In this sweet Romantic Comedy, two people meet on a bus and get to know each other on their long drive. It's very romantic, but not explicit, and definitely suitable to be listened to in company. Seatmate is included in Audible Plus, so you can borrow it for free if you are already an Audible subscriber. Or you grab a free trial month to get access to the Audible Plus catalog (as I said earlier, this is not just one book you get for an Audible credit, you can borrow all Audible Plus books for free, like with Netflix or Kindle Unlimited).
The Hobbit
J.R.R. Tolkien (Author)
The Hobbit by J.R.R. Tolkien probably won't need much of an introduction. It's a timless Classic! And whether or not you have seen the movies, the unabridged version narrated by Rob Inglis is a wonderful choice when you're looking for audiobooks for the whole family. Not only does he have the perfect audio storyteller voice, he actually sings the hobbit songs!
If you have Kindle Unlimited or can get a free trial, you can listen to The Hobbit narrated by Rob Inglis** without any extra cost.
The newest audio version of The Hobbit, narrated by Andy Serkis, is available on Scribd** and on Hoopla.
Dial A for Aunties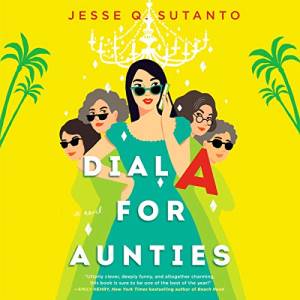 Jesse Q. Sutanto (Author), Risa Mei (Narrator)
If you love fast-paced and unique stories that don't quite fit any specific genre, you will have a wonderful time with Dial A for Aunties! This can best be described as a Mystery, but it's not dark. It's a suspenseful, chaotic, hilarious Comedy with some romantic elements, but either way, it's a whole bag of fun!
So far, there are two books in this series and you can listen to both Auntie books on Scribd**
The Hitchhiker's Guide to the Galaxy
Douglas Adams (Author), Stephen Fry (Narrator)
Douglas Adams' The Hitchhiker's Guide to the Galaxy is one of the most beloved Science Fiction books! The audiobooks are narrated by Stephen Fry who always does such a great job and The Hitchhiker's Guide is perfect when you want an entertaining book that can give you a good laugh.
You can listen to the entire Hitchhiker's series on Scribd**
The Dispatcher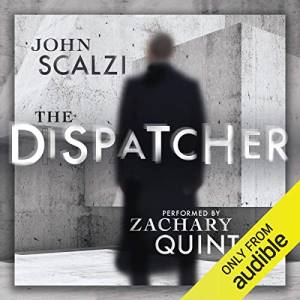 John Scalzi (Author), Zachary Quinto (Narrator)
If you like your absurd and funny audiobooks for road trips with a side of suspense, you will love The Dispatcher! This is one of the most popular, best books in Audible Plus and absolutely worth a listen. Zachary Quinto did such a fantastic job with the narration, too!
You can listen to both currently available books in The Dispatcher series in Audible Plus**
The Murderbot Diaries
Martha Wells (Author), Kevin R. Free (Narrator)
I can see how, if you haven't heard of Murderbot before, you'd now be like "What? Murderbot? No thanks." But this is probably the most wholesome Science Fiction book series out there! Murderbot (which is the name it has given itself) has this insanely dry humor. The narration by Kevin R. Free is simply delightful and these audiobooks are all around extremely entertaining. I have recently given the books to my mom because I completely believe in the universal appeal of the Murderbot!
You can enjoy this on Hoopla or binge the entire Murderbot series on Scribd**
The Misadventures of Awkward Black Girl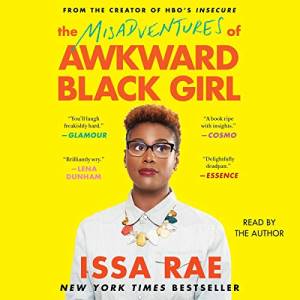 Issa Rae (Author, Narrator)
If you tend more towards Nonfiction than Fiction, I recommend The Misadventures of Awkward Black Girl audiobook for your next road trip! I found this collection of short stories and essays extremely entertaining, captivating, and enlightening. Narrated by the author herself, this is such a great listen!
You can listen to The Misadventures of Awkward Black Girl on Scribd**
Or get it here for your free trial credit:
Audiobooks.com**
Amazon Audible**
Downpour**
Kobo**
Broken (in the Best Possible Way)
Jenny Lawson (Author, Narrator)
Broken( in the Best Possible Way) was one of my favorite audiobooks of 2021 because it is a warm hug in book form! Jenny Lawson reads the audiobook version herself and it is wonderful to listen to her giving back her own words. This is a funny, comforting, relatable Nonfiction book about mental health and simply being human.
You can borrow this through Hoopla or listen to Broken on Scribd**
12 Completely Free Audiobooks for Road Trips
Now we've looked at a lot of great audiobooks that you can listen to for free under certain conditions. But I promised you free audiobooks in the title and I will make sure to deliver on this with 12 extremely good audiobooks that are truly free for everyone at any time!
LibriVox
There are a few pages that offer free audiobooks. Let's start with LibriVox! LibriVox is a great place when you are looking for truly free audiobooks for road trips and any other time really. It's a project of volunteers recording books in the public domain and you can download everything as MP3s. While the standard on LibriVox is that every chapter is narrated by a different volunteer, the popular timeless Classics often have more professional productions either with a single narrator or as a dramatization with a full cast reading the same characters in each chapter.
Here are some of the best audiobooks for road trips on LibriVox:
The Great Gatsby by F. Scott Fitzgerald
Alice's Adventures in Wonderland by Lewis Carroll, read by a full cast
Little Women by Louisa May Alcott, read by a full cast
Loyal Books
You can also find LibriVox productions on Loyal Books where you can either download the audiobooks as MP3s or stream them on the page.
The Picture of Dorian Gray by Oscar Wilde
The Secret Garden by Frances Hodgson Burnett
PodBean
Podcast service PodBean offers a small catalog of professionally produced Classics that you should check out! Simply install the PodBean podcast app to play these audiobooks over your car speakers.
The Adventures of Sherlock Holmes
StoryNory
Storynory has a great selection of fairytales and stories for children, including 1001 Arabian Nights. You can stream the story in a browser window or download it as MP3 to play in your car.
Ali Baba and the Thirty Thieves
Audible
Audible always offers a small selection of completely free audiobooks. You don't need a subscription for this, you only need to install the free app and create a free account (or simply log in with your Amazon email and password). There's no payment necessary to listen to these books! Simply click "Play".
Here are the books that are currently available for free on Audible:
The Book of Baraka written and narrated by Ras Baraka and Jelani Cobb
Impact Winter by Travis Beacham, narrated by a full cast
Why We March – Celebrating 50 Years of Pride by The Audible Editors, narrated by Vikas Adam
Oracle by Andrew Pyper, narrated by Joshua Jackson (This is an extremely popular audiobook and will only remain free until June 6th!!)
Audio Booklists
/