With Audible Plus, Audible has introduced a gamechanger to standard "1 free audiobook per month" subscriptions.
As an Audible member, you get access to thousands of audiobooks that are included for free in your membership. No need to spend your monthly credit on them!
But you can also sign up for the Audible Plus catalog without receiving credits for a cheaper monthly fee. Let's take a look at the ins and outs of Audible Plus!
Audible Unlimited!
I will assume here that you already know a bit about Audible. But just to sum it up shortly, Amazon Audible is the biggest audiobook service online. You can find almost every audio book in existence here, as well as exclusive content that you can only listen to on Audible.
In order to get to the audiobooks, you simply log in with your Amazon account and install the free Audible app on the device of your choice.
Then you can listen to Audible's small selection of free audiobooks and podcasts, or you can sign up for an Audible plan to get access to the Audible Plus catalog and to premium audiobooks.
Related article: How does Audible work?
In 2020, many people expected Audible to create something similar to Audible Escape for other genres – or extend Audible Escape further, outside of the Romance genre. Plus is it!
With this service, you get unlimited access to thousands of Audible Original and Audible Studios productions. So, instead of picking two Originals a month as it was in the olden days, you can now listen to all of them!
In my opinion, the most important thing about Plus is that it gives the standard Audible membership (which used to be called Gold or Platinum plans but are now Audible Premium Plus 1 or 2 credits) a huge advantage in comparison to similar audiobook service models like Audiobooks.com and others.
Subscriptions for Audible Premium Plus cost $14.95. For that fee, you get an Audible credit that you can use for any audiobook in the entire Audible catalog. On top of that, you also get free and unlimited access to the entire Audible Plus catalog.
That means can listen to as many audiobooks as you want every month instead of just the one you bought with your credit.
Yes, if you have a standard Audible plan, you automatically have access to the Plus catalog without any extra cost!
If you are wondering, "How much is Audible Plus?" Well, it's free for Audible Premium Plus subscribers! But you can also sign up for Audible Plus by itself. That costs $7.95 per month.
How does Audible Plus work?
Audible Plus titles don't have a special icon like Audible Escape audiobooks used to. Instead, all Audible audiobooks that you need to buy have an icon saying "1 credit", while those that are included in the Plus catalog are not marked.
The buttons next to the Plus audiobooks say "Play" or "Add to Library" instead of showing buying options. You can stream books from the Audible Plus catalog or download them so you can listen during offline times.
Audible Plus is a real unlimited audiobook subscription. You can click through the catalog and listen to as many titles as you like.
You don't have to remember to return them since you can borrow as many audiobooks as you like and keep them as long as you like. When your membership runs out, the titles will automatically be removed from your device.
Of course, this only applies to the borrowed titles from the Audible Plus catalog! Audible books you bought (for an Audible Premium Plus credit or money) are yours to keep, and you can always listen to them, even after canceling your membership.
Right now, the Audible Plus catalog has over 20,000 titles, with new audiobooks being added every week. Most audiobooks, especially Audible Originals, are likely to remain included.
But some titles might be rotated out after a while. Audible will notify you if a title in your library is about to be removed.
What does the Audible Plus catalog include?
Currently, the catalog includes over 20,000 audiobooks and over 1000 podcasts, that's hundreds of hours of content. It offers, first and foremost, Audible Originals and titles produced by Audible Studios as well as exclusive podcasts. Some of their productions that were previously available through Audible Escape are now included in Plus instead.
Thriller and Mystery: 3000
Romance: 2000
Science Fiction and Fantasy: 1000
Children's Books: 3000
Young Adult: 380
Less than half of the titles in the Plus catalog, around 8000, are under 3 hours long. So, there's a great selection of short audiobooks for Audible Plus members to enjoy, e.g., during drives.
But this also means that most Plus titles are longer, and you will find many audiobooks in all genres that will give you the full immersive novel-length experience.
If you are looking for things to listen to, check out my quarterly Audible Plus book list with the newest titles in the subscription.
Audible Plus adds new releases every month! And if you "love love", take a look at the best Romance audiobooks in Audible Plus.
Audible Premium Plus vs Plus
In addition to the standard subscriptions Audible Premium Plus 1 or 2 credits, Audible has introduced a new, cheaper subscription plan for $7.95 per month.
The new plan won't give you an Audible credit and, instead, only offers you access to the entire Audible Plus catalog – making it a direct alternative to Kindle Unlimited audiobooks.
The big advantage of Audible Plus vs Premium Plus is that it costs so little while allowing you to listen to as many audiobooks as you like.
It's actually the cheapest unlimited audiobook subscription on the market and a great way for audiobook addicts with a small wallet to get new titles on their headphones and enjoy unlimited listening!
However, the Audible Premium Plus plan is only $7 more expensive. So, you could say that the Audible credit that you get with a Premium Audible subscription costs you only $7.
That's a really good deal considering you can use the credit to buy any audiobook you like from the entire catalog! Many of these titles are $30 or $40 at full price, some even more.
And if you regularly buy Whispersync deals for $7.49, an Audible Premium Plus membership is definitely the better option for you than the Plus plan.
In my opinion, the new Audible Plus catalog is a fantastic addition to add more value to the Audible Premium Plus plan. But whether you will be entirely happy with the Plus plan and whether it will feel like enough for you depends on which kinds of audiobooks you enjoy and if you can find enough included titles that interest you.
To sum it up, if you are wondering whether Audible Plus is worth it, my answer is: Yes, but for only $7 a month more, you can have a full Audible Premium Plus membership and get an Audible credit that you can use for any audiobook of your choice from the entire audiobook store. And you can keep that one even after canceling your subscription.
So, yes, Plus is worth it. But Audible Premium Plus is a better value!
If you haven't tried it yet, I recommend the free trial of Audible Premium Plus since you can score a free audiobook to keep while exploring the Plus catalog! Get the 30 day free trial on Audible here**
10 of the Best Books in the Audible Plus Catalog to start with
Seatmate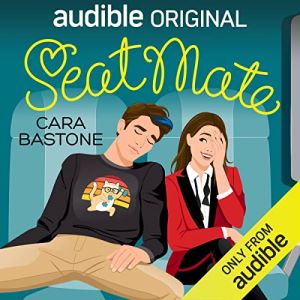 Cara Bastone (Author), Amanda Ronconi (Narrator), Zachary Webber (Narrator) and a full cast
Add it to your library**
Ride along on this endearing road-trip rom-com from Audie Award nominee Cara Bastone – scripted exclusively for audio!
I have exactly 5 hours and 10 minutes to get from Boston to New York City or the professional opportunity of a lifetime disappears. My only travel option? The second to last seat on a discount bus. Across from the bathroom. Wearing last night's clothes (don't ask). All worth it if I can make it in time.
My nerves almost get the best of me, but then there he is, sitting down in the seat next to me. Tall. Friendly smile. Bright indigo streak in his brown hair. The perfect distraction. Turns out he's on his way to reconnect with an old flame. The one who got away. We can both make it on time – just barely – if the traffic keeps flowing.
My thoughts: Cara Bastone's Love Lines series is a must-listen for any Romance audiobook fan and is among the most popular books in the Audible Plus catalog! All three books in this series are absolutely adorable, funny, and entertaining and have outstanding audio productions. Seatmate will most definitely put a smile on your face!
The Dispatcher
John Scalzi (Author), Zachary Quinto (Narrator)
Add it to your library**
One day, not long from now, it becomes almost impossible to murder anyone—999 times out of a thousand, anyone who is intentionally killed comes back. How? We don't know. But it changes everything: war, crime, daily life.
Enter Tony Valdez, professional Dispatcher. True to their name, these licensed assassins are tasked with humanely disposing of people in death's crosshairs to offer them a second chance at avoiding the reaper. When a friend and fellow Dispatcher goes missing, Valdez is plunged into a web of intrigue both professional and personal.
It's a race against time for Valdez to find his friend before it's too late…before not even a Dispatcher can save him.
My thoughts: The Dispatcher and the following two books in the series are absolute must-listens for any Audible Plus subscriber! Zachary Quinto is a fantastic audiobook narrator and turned this weird and captivating story into perfect audio entertainment.
Crimes of Passion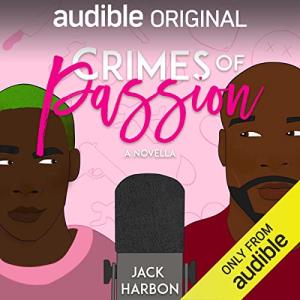 Jack Harbon (Author), Kevin Free (Narrator), Ron Butler (Narrator)
Add it to your library**
Press play on this funny, sexy short story about rival true crime podcast hosts forced to play nice and work together when, in reality, all they want to do is kill each other.
Emery Thompson hates Calvin Chamberlain. From the way he acts like he's better than everyone to the way he moves through the world thinking his podcast is the cream of the crop, every little thing about the man gets to him. Even that dashing, oh-so-confident smile. He'd rather be caught dead than be around the man any longer than necessary—or admit that last part out loud.
My thoughts: Crimes of Passion is a super fun audio short story with two of the best audiobook narrators, Kevin Free and Ron Butler, who brought this Opposites Attract Romance in the world of podcasters to life.
Emma
Jane Austen (Author), Emma Thompson (Narrator), Joanne Froggatt (Narrator) and a full cast
Add it to your library**
A lush recording, featuring a full cast of A-list talent, updates Jane Austen's masterwork. Emma Thompson, who wrote the Oscar-winning screenplay for Sense and Sensibility, brings her empathetic intelligence and droll wit to her narration of Emma. Thompson's gifts shine alongside actors including Joanne Froggatt, Aisling Loftus, and Isabella Inchbald, who deftly voices Emma Woodhouse with all her delights and complications. A comedy of manners, which deliciously satirized pomp and pretension, Emma endures as a crowd-pleasing classic.
My thoughts: Whether you love Classics or wish you could finally get into them, Audible's abridged Jane Austen productions of Emma, Pride and Prejudice, and Sense and Sensibility are amazing! With a great cast of voice actors, these shortened versions of the original stories are super entertaining, and I can highly recommend them to any Audible Plus subscriber! Emma is one of the most popular titles in the entire Audible catalog.
Sunset Springs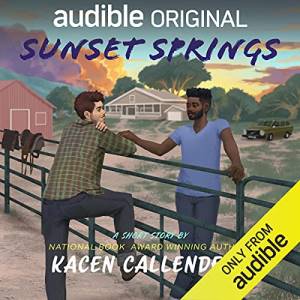 Kacen Callender (Author), Qamar Yochanan (Narrator)
Add it to your library**
No job, no money, no love – and to make things worse, 27-year-old Charlie has no choice but to leave New York City and move in with his mom in his isolated and conservative hometown of Sunset Springs.
Home isn't a comfortable place for Charlie. One of very few Black residents and the only trans person around town that he knows of, this will be Charlie's first time back in Sunset Springs since he transitioned. He expects confusion and maybe even hostility. He definitely does not expect Jackson Ford.
Jack was the brooding yet beloved football star at their high school, but now, he's an outsider after coming out as gay. When Charlie and Jackson fall for each other in a swift and surprising romance, Charlie has to decide if he's willing to exchange his old dreams for a new one.
My thoughts: Sunset Springs is a raw, tender, beautiful Adult Trans M/M novella. And even though this is a quick listen, this Friends to Lovers Romance is completely captivating and emotional. Qamar Yochanan is the perfect voice to bring this story to life, and I can highly recommend this audiobook!
The Stand-In
Lily Chu (Author), Phillipa Soo (Narrator)
Add it to your library**
… when a mysterious SUV pulls up beside her, revealing Chinese cinema's golden couple Wei Fangli and Sam Yao, Gracie's world is turned on its head. The famous actress has a proposition: Due to their uncanny resemblance, Fangli wants Gracie to be her stand-in. The catch? Gracie will have to be escorted by Sam, the most attractive – and infuriating – man Gracie's ever met.
If it means getting the money she needs for her mother, Gracie's in. Soon Gracie moves into a world of luxury she never knew existed. But resisting Sam, and playing the role of an elegant movie star, proves more difficult than she ever imagined – especially when she learns the real reason Fangli so desperately needs her help.
My thoughts: One of the most popular Romance audiobooks in the Audible Plus catalog is The Stand-In by Lily Chu, a wonderful, sprawling Romantic Comedy / Women's Fiction about a down-on-her-luck woman who gets the chance to take the place of a famous actress!
Never Have I Ever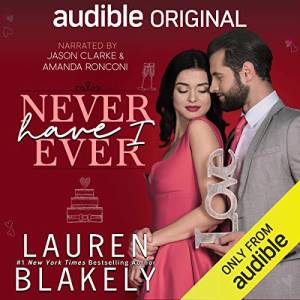 Lauren Blakely (Author), Amanda Ronconi (Narrator), Jason Clarke (Narrator)
Add it to your library**
What happens when two frenemies can't stop pushing each other's buttons? Find out in this tender, laugh-out-loud-funny romance from number-one New York Times best-selling author Lauren Blakely, available in audio first!
Never Have I Ever been so infuriated by a man I wanted to kiss. They say opposites attract, but I beg to differ. Combust is more like it. Because every single time I talk to Zach Nolan, I see red.
The too-good-looking, too-smart, too-effortlessly-charming single dad who works down the hall from me has turned getting under my skin into a sport. Call it the battle of wits between the wedding planner and the divorce attorney. Trouble is, when we're forced into closer quarters, planning an engagement party for our best friends, I start to see his other sides.
My thoughts: Never Have I Ever is one of my favorite Lauren Blakely titles, and this author's books are always bestsellers! Never Have I Ever is a great Enemies to Lovers story, and Amanda Ronconi and Jason Clarke did such a wonderful narration.
The Neil Gaiman at the End of the Universe
Arvind Ethan David (Author), Neil Gaiman (Narrator), Jewel Staite (Narrator)
Add it to your library**
A man awakens, adrift in deep space, with little memory of who he is – only to discover that he is the commander of a space mission; the rest of the crew is gone; and he is apparently a writer of some small renown named Neil Gaiman.
The Neil Gaiman at the End of the Universe is perfect for fans of The Hitchhiker's Guide to the Galaxy and Black Mirror. It stars Neil Gaiman as… well, you know, and Jewel Staite (Firefly; Stargate Atlantis), and is written by Arvind Ethan David, executive producer of Dirk Gently's Holistic Detective Agency.
My thoughts: If you love listening to Neil Gaiman narrate, and if you enjoy unexpected stories with twists and turns, then The Neil Gaiman at the End of the Universe is just what you need! This is such an entertaining, unexpected story, and so wonderfully narrated. Highly recommend!
Dispossession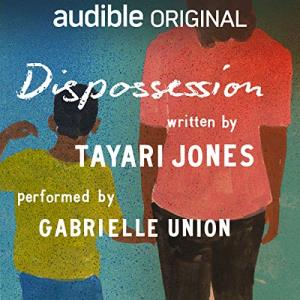 Tayari Jones (Author), Gabrielle Union (Narrator)
Add it to your library**
From Tayari Jones, author of the New York Times best-selling An American Marriage, and performed by Gabrielle Union, one of Time's 100 Most Influential People of 2020, comes an unflinching story about mothers and sons that will leave listeners reeling for days.
Motherhood isn't easy, especially when you're a mother of a Black son. Ten years ago, Cheryl jumped at the chance to send her son, Javonte, to an exclusive boarding school in New England – far away from Atlanta and the violence of the city streets. It was the American dream, or was it?
Now settled in Vermont, Javonte is married and well-employed, but Cheryl hardly ever sees him, and when she does, her own son seems like someone she only used to know. So, when Javonte announces he's coming home to Atlanta for MLK weekend, Cheryl calls off work, thinking this could be their chance to reconnect.
My thoughts: Dispossession is a very powerful and moving short story about a Black mother and her regrets and conflicting thoughts and emotions in regard to her now-adult son, who avoids her. It's narrated by the amazing Gabrielle Union!
Escape from Virtual Island
John Lutz (Author), Paul Rudd (Narrator), Jack McBrayer (Narrator), Sue Galloway (Narrator), and a full cast
Add it to your library**
In the year 2038, there's only one destination that can play host to the world's wealthiest adventure seekers: the Pengalaman Island Resort and Virtual Reality Theme Park. Located on a private South Pacific island, guests here live out their wildest fantasies in custom-made virtual reality simulations while also enjoying the usual amenities of an exclusive five-star getaway.
All is relatively breezy until famed billionaire and avid guest, Mr. Wagner (Sudeikis), goes missing within a virtual simulation. His only hope? A daring rescue led by Derek Ambrose (Rudd), the maladjusted heir to his mother's resort empire, and his ragtag search party consisting of Faith (Ruffin), a tech-nerd extraordinaire (and naturally, his ex); Ramona Kurtz (Pell), the foul-mouthed head of island security; and Beasley (McBrayer), the resort's lead concierge and Ambrose family confidant.
My thoughts: Escape from Virtual Island is such a great full-cast production with many popular actors! The story is funny and unexpected, with just the right amount of weirdness to really pull you in.
I hope I could answer any questions you have regarding Audible's new subscription plan and the Audible Plus catalog. If you are looking for more book recommendations, check out my list of the best Audible Originals.
Happy listening!
Summary
What is Audible Plus?
It is an unlimited audiobook subscription as well as a membership benefit. You can listen to as many of the free audiobooks in the Audible Plus catalog as you like without paying anything extra or using up your monthly credit. Here's how it works…
How much does Audible Plus cost?
If you want to sign up only for Plus, the monthly membership is $7.95. But it is also included for free in the standard Audible Premium Plus subscription.
Are Plus audiobooks free with an Audible membership?
Yes! If you have an Audible Premium Plus membership (previously called Audible Gold or Platinum), you get unlimited access to the Plus catalog on top of your monthly Audible credits. This is the absolute best thing among the Audible membership benefits!
Is Audible Plus worth it?
Generally speaking, you get a whole lot of listening for very little money. However, the Audible Plus catalog only contains a fraction of the titles available on Audible as a whole. That's why I love it as part of the Audible Premium Plus membership more than as a stand-alone subscription. Here's my math…
Is Audible Plus unlimited?
Yes, it is a truly unlimited subscription, and you can download as many audiobooks as you want from the catalog of over 20,000 titles.
Can you download Plus books and keep them?
You can download them, but you can't keep them forever! Plus is a form of digital library service like Kindle Unlimited or Netflix. While you have an active subscription, you can listen to these audiobooks. Once you cancel your membership, the books will disappear from your Audible app.
Is Audible free?
Audible likes to throw the word "free" around a lot in their promotions. Fact is, you can sign up for a free trial, and if you remember to cancel again right away, you do score a free premium audiobook and 30 days of free access to the Audible Plus catalog. After that, Audible is not free. You have to pay a monthly fee. But the audiobooks included in the Audible Plus catalog are available to you without any extra cost.
What does Included mean on Audible?
You might be used to buying Audible books for a credit. But many audiobooks are now "included" which means if you have an active Audible subscription, you can listen to them without any additional cost. You borrow these included audiobooks like you would watch a Netflix show, and you don't have to spend an Audible credit on them.
How many Books can you listen to on Audible?
If you have a standard subscription (Audible Premium Plus), you can buy one audiobook with your Audible credit. But you can also listen to as many included audiobooks from the Audible Plus catalog as you want. There is no limit! The catalog includes over 20,000 audiobooks.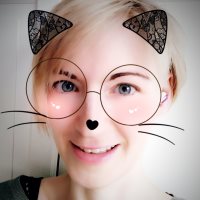 Eline Blackman (pronouns: she/they) fell in love with books as a child – with being read to and reading herself. 10 years ago, she bought her first Audible book. It was love at first listen! An average of 250 audiobooks per year has become the new normal and you will rarely see Eline without a wireless earbud. Romance and Fantasy are the go-to genres for this audiobook fan.
All About Audible
/