Audible adds new audiobooks to the Plus catalog all the time and as an Audible subscriber, you can listen to all of these audiobooks for free without having to spend an Audible credit!
Check out these new Romance, Science Fiction, Horror, Fiction, and Suspense audiobooks as well as beautiful Christmas audio productions!
**The marked links and book covers on this page are affiliate links. If you use them to purchase something, I earn a fee at no additional cost for you. Disclosure**
What is Audible Plus?
If you haven't heard of Audible Plus** yet, as an Audible US, CA, AUS, or UK member you now have unlimited access to a catalog of around 10,000 free Audible books that are included in your subscription. You can borrow as many of them as you want! If you have an Audible Plus or Audible Premium Plus subscription, you won't be billed for listening to these books and you don't have to spend an Audible credit on them. Simply add them to your library with a click!
Related article: Is Audible worth it?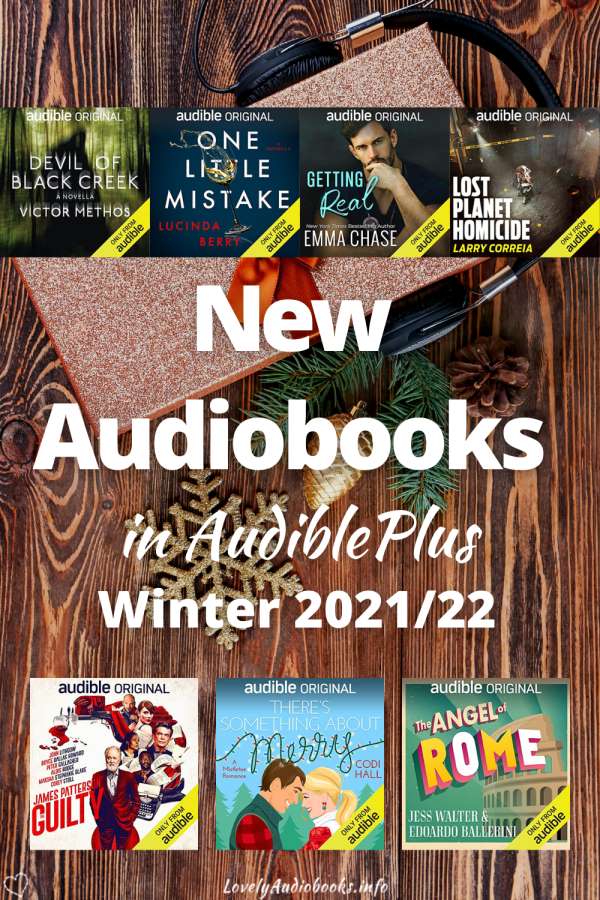 Romance: New Audiobooks in Audible Plus
Well Played
A new, sexy stand-alone from New York Times best-selling authors Vi Keeland and Penelope Ward. It all started with a bet. When my young son inherited half of his great grandfather's historic inn, I decided to move us both to the place where I grew up. Notice I said half of the Inn. The other half now belonged to Levi Miller, the famous quarterback who had other ideas about what we should do with the property.
Getting Real
By: Emma Chase
Narrated by: Andi Arndt, Zachary Webber
Add it to your library**
A sexy, hilarious, emotional new romance from New York Times best-selling author Emma Chase. Connor Daniels never thought he'd be starting at dating square one again. His career as a successful doctor, and his three boys, are everything to him. It's not exactly a setup conducive to a scorching love life – but he's giving it a shot.
There's Something About Merry
By: Codi Hall
Narrated by: CJ Bloom, Lee Samuels
Add it to your library**
Get in the holiday spirit with this sexy rom-com from the author of Nick and Noel's Christmas Playlist. Merry Winters has the holiday blues. She's spent the last year learning to love herself, and now she's ready to find the right guy. But the pickings are slim in Mistletoe, Idaho, and it's just her luck that the man who catches her eye is the stoic new foreman at her family's Christmas tree farm. Too bad he wants to keep a 39-and-a-half-foot pole between them.
Related article: My Favorite Christmas Audiobook
Hold Me Closer, Toni Danzig
Fall in love with this funny, festive queer rom-com brimming with heart and holiday magic! Toni Danzig is a dirt bag – literally. There's nothing she enjoys more than being out in the mountains leading adventure tours. On a well-deserved break over Thanksgiving weekend, she's DJ-ing karaoke at the Dew Drop Inn when Audrey Adams takes the stage to sing the greatest middle-finger break-up song ever, dedicated to her ex-girlfriend. It's a perfect night that culminates in a transcendental experience in bed…before Audrey rushes out in the morning.
The Inadequate Heir
By: Danielle L. Jensen
Narrated by: Summer Morton, Michael Pauley
Add it to your library**
Return to the world of The Bridge Kingdom in this sensuous fantasy full of romance and intrigue that is perfect for fans of From Blood and Ash and A Court of Silver Flames. A soldier raised as heir to an empire, Zarrah is motivated by two truths. The first is that the Veliant family murdered her mother. And the second is that her pursuit of vengeance will put every last one of them in their graves.
All books in The Bridge Kingdom series are included in Audible Plus.
The Best Worst Christmas
By: Kate Forster
Narrated by: Rachael Tidd
Add it to your library**
Lily is back from Australia for the first time in seven years to spend Christmas at her mum's house in a small, gossipy English village. To her surprise, she returns to find that her mother is dating the man next door, who also happens to be the father of her ex-boyfriend Tom. Tom, who broke Lily's heart all those years ago. Tom, the real reason Lily fled to the other side of the world and stayed there. Tom, who is also home for Christmas and right there, next door.
The Royal Assignment
By: Terence Gray, Erin Day, Ian Thake
Narrated by: Shane East, Rachel Petladwala, Ali Ahn, Teddy Hamilton, full cast
Add it to your library**
Get ready to fall in love with this royally charming rom com scripted exclusively for audio and featuring a full cast! Maggie Patel has landed her dream job at The New York Spectator; or, it would be, if she could get a decent story assignment. When a career-making interview finally lands on her desk, it's with the last person she'd ever want to see again – Edward, the Crown Prince of Bairmorne…and her long-ago friend.
Say Yes
By: Elle Kennedy
Narrated by: Stella Bloom
Add it to your library**
Maid-of-honor Emilia is looking for some stress-busting fun the night before her best friend's wedding. And what's more fun than a no-strings hookup? Good thing there's an app for that, and she's in luck – the sexy stud she swipes right on is more than happy to fulfill all her sexual needs. Her hot night with "Dirk" is everything she knew it would be. But this morning? He looks a hell of a lot like the groom.
New Thriller and Mystery Audiobooks in Audible Plus
One Little Mistake
From the best-selling author of The Secrets of Us and The Best of Friends comes a novella of deceit, desperation, and how one little mistake can unravel a life. When overwhelmed stay-at-home mom Alexis finds herself at odds with her husband after she's charged with a DUI, she is given one chance to get her family back: complete AA and admit her faults. The problem is, she's never had a drinking problem and has no idea what caused the blackout that led to her arrest.
The Guilty
By: James Patterson, Duane Swierczynski
Narrated by: John Lithgow, Bryce Dallas Howard, Peter Gallagher, Aldis Hodge, Corey Stoll, Marsha Stephanie Blake
Add it to your library**
Tonight, Osmond Box, the reclusive yet wildly successful writer/director known for his completely surprising Broadway plays, is debuting his seventh and most highly anticipated production of his career: The Guilty. Nothing is known about the story, the setting, the premise, or even the actors involved. The first people to discover the truth will be the lucky ones sitting in those seats opening night. Phones are collected; doors are locked. The rest of the world eagerly awaits the first reviews….
A Perfect Stranger
By: Shalini Boland
Narrated by: Alison Campbell, Tamsin Kennard, Ciaran Saward
Add it to your library**
Annie comes home from a market trip with her young son, George, only to make a gruesome discovery. Could the perpetrator be the new lodger she and her husband, David, just rented their spare bedroom to? Emily dreams of one day owning a house where her son, Josh, and the little one on the way can grow up, but when her husband, Aidan, insists on leaving his lucrative job as a luxury car salesman, she senses something more is afoot – even while she harbours a secret of her own. What is Aidan hiding, and will it jeopardize their young family's future?
The Reluctant King
The King family is on the political rise in New York City but must weather the violent storm wrought by their darkest secrets. Meet the Kings, one of the most influential families in New York City. In the power circles of the movers and shakers, they are regarded as modern-day royalty. A politically connected father, a socialite mother, and three promising children: They look every bit the all-American family…but every family has secrets. Some darker than others.
Devil of Black Creek
By: Victor Methos
Narrated by: Sarah Naughton, Piper Goodeve, Chris Andrew Ciulla
Add it to your library**
From best-selling author Victor Methos comes a gripping, edge-of-your seat thriller in which a group of young friends travel through remote woods in search of the legendary Bigfoot. Mia is reluctant to go camping with her boyfriend and sister, who are graduate students working on a dissertation about American folklore. But ultimately, they convince her to help document the trip. The group sets off to Black Creek, a remote destination in the Pacific Northwest where Bigfoot has allegedly been sighted.
Buffalo Bayou
By: Tom Abrahams
Narrated by: Jason Culp
Add it to your library**
Detective John Druitt is new to homicide. His first case is a young woman found in an urban bayou. He immediately sees clues that lead him places he doesn't want to go. But his own demons may be the clue to solving the mystery of the woman's death. And as the case widens, so do his new partner's suspicions about his past and motivations. Buffalo Bayou is a dark, psychological thriller perfect for fans of Michael Connelly, Karin Slaughter, and James Patterson.
Fiction: New Audiobooks in Audible Plus
A Love Like This
A sweeping, evocative short story that spans decades, A Love Like This is a captivating tale of love and self-discovery from award-winning Nigerian author Abubakar Adam Ibrahim. Yarima Lalo believes he has been murdered twice before. The cause? Love. To make sense of these vivid memories he cannot shake, he travels from Abuja to Kano with his new friend and love interest Aziza to meet an old woman who he might have known in a past life. She is skeptical at first – and hesitant to revisit painful memories of her own – but together, they dig deeper and deeper into the past, piecing together a shared history with ripple effects that could shape Lalo's future.
The Angel of Rome
By: Jess Walter, Edoardo Ballerini
Narrated by: Edoardo Ballerini
Add it to your library**
A young American studying in Rome gets swept up in the glamorous world of cinema when he meets a beautiful Italian actress near the end of her career and an irrepressible American TV star hoping to revive his. In this romantic and comic story about class, language, and the art of reinvention, "Nebraska Jack" Rigel is about to quit his Latin studies program at the Vatican when he suddenly finds himself face-to-face with the mysterious and ethereal Angelina Amadio, the famous Angel of Rome.
Starchild
By: Camille Acker
Narrated by: Joniece Abbott-Pratt, Karen Chilton
Add it to your library**
A poignant mother-daughter story about the complex inner lives of women by the critically acclaimed author of Training School for Negro Girls. In this evocative short piece, Candace worries that her mother, Annie, has reached an emotional breaking point. When her best friend loses her battle with cancer, Annie is acting in uncharacteristic ways, seemingly less concerned than ever about what her friends and neighbors think of her – a troubling development in her daughter's eyes.
New Science Fiction and Fantasy Audiobooks in Audible Plus
Eminent Domain
By: Victoriano Cárdenas, Warren Langford
Narrated by: Ama Zathura, Antonio Marquez, Ruben Muller, Jonathan Dixon, Jeff Poole, Rose Cordova, Rod Harrison, Carlos Medina, Lauren Poole, Victoriano Cardenas, Alaina Warren Zachary, Megan Maher, Joe Dean, Danielle Reddick, Elias Gallegos
Add it to your library**
A single car crash changes the world as we know it in this immersive audio experience. Loretta Pacheco has a cool job at an electric car company. Her life finally seems headed in the right direction. But in a flash, it all starts to fall apart. What were the strange voices she heard as she lay injured by the side of the road? Why, exactly, did two young boys disappear all those years ago? And what is this strange sound in her head?
Discordia
By: Max Barry
Narrated by: Andrew Call
Add it to your library**
Advice: Stay indoors. Remain calm. Avoid roads. Fill bathtubs. He's a part-time gardener and car thief. She's a murderous nun on a holy mission from another dimension. Together, they can save the world from a politically charged alien invasion – but only if the world wants to be saved. From Max Barry, the author of Jennifer Government, Providence and Lexicon comes a satirical speculative adventure for fans of The Hitchhiker's Guide to the Galaxy and Adjustment Day by Chuck Palahniuk.
We Are the Water People
By: Troy Onyango
Narrated by: Anita Kavuu-Ng'ang'a, Shiro Kihagi, Oheri Otobo
Add it to your library**
From critically acclaimed author Troy Onyango comes a dark, suspenseful tale of spirits bearing witness to a crime that rocks an island community, based on the Luo legend of the water people. When fishermen on Nam Lolwe (commonly known as Lake Victoria) return with the body of a young boy found inside the sack, a close-knit island is thrown into mourning, and they all suspect foul play in the death of the child. But who could have committed such a terrible crime, and why? To discover the truth, the islanders must rely on the water spirits beneath the lake's surface – the only souls who serve as witnesses to the vile act.
The Werewolf's 15 Minutes
Gary Bruce is a slacker of epic loserness. Can't keep a job. His friends are as bad as he is. No girlfriend. No direction. Gary Bruce is also a werewolf. Desperate for any kind of success, Gary decides to out himself on YouTube. The moment this ordinary guy goes full-on fur, fangs, and claws, the world can't get enough of him. He's the biggest thing on social media, he's on every talk show, book and movie deals fall in his lap, and for the first time in his life he gets invited to all the best parties. But celebrity is a special kind of voracious monster.
Lost Planet Homicide
By: Larry Correia
Narrated by: Oliver Wyman
Add it to your library**
A lost colony planet, a perplexing murder, and a dogged homicide cop in this Audible Original story from best-selling author Larry Correia. When the biggest colony ship in human history was sent to settle a paradise world, an accident hurtled it deep into uncharted space. A thousand light years from Earth, with no way home and no way to call for help, the colonists' only hope for survival was the one barely habitable planet in range, a nightmare world they named Croatoan.
This Long Vigil
By: Rhett C. Bruno, Jaime Castle
Narrated by: Ray Porter
Add it to your library**
After 25 years serving as the human Monitor of the Interstellar Ark, Hermes, Orion is scheduled to be placed back into hibernation with the other crewmembers. Knowing he'll die there and be replaced before the ship's voyage is over, he decides that he won't — can't — accept that fate. Whatever it takes, Orion will escape Hermes and see what's beyond, even if it means defying the regulations of his only friend — the ship-wide artificial intelligence known as Dan.
Sleeping Beauty
By: Marty Ross
Narrated by: Phoebe Dynevor, Stephen Fry, Adam Hugill, Rochenda Sandall, full cast
Add it to your library**
Audible are delighted to present Sleeping Beauty, a unique listening experience for all the family to enjoy over the Christmas season. This exclusive new audio drama has been created in collaboration with the London Symphony Orchestra and is inspired by Tchaikovsky's beloved ballet music. Marty Ross's reimagining of the famous fairy story draws on the worlds of folktale and the Brothers Grimm, while the LSO's specially-commissioned new recording, conducted by Gavin Sutherland, weaves through the drama like a rich and majestic film score.
New Audiobooks
/