For audiobook fans, Scribd is a fantastic subscription with tons of listening each month for a flat fee. Let's check out some of the best audiobooks on Scribd that you don't want to miss!
I recommend this subscription both to people who are new to audiobooks as well as avid listeners who are looking for an affordable way to listen to more books.
If you are new to it, check out my comparison of Scribd vs Audible and Is Scribd free? And if not, is it worth it? to learn more about how Scribd works.
I listen to 200 – 250 audiobooks per year, and most of them come from Scribd. Below, you'll find only a small selection of my favorite Scribd audiobooks!
Make sure you click on the names of authors and narrators on Scribd itself to find more available audiobooks to borrow there.
With everyone waiting for the second season of the fantastic Amazon Prime show, has there ever been a better time to listen to The Lord of the Rings audiobooks (again)?
Andy Serkis, the actor who played Gollum in the LotR movies, reads the newest version of all The Lord of the Rings audiobooks, released in 2021.
He is such a gifted audiobook narrator, and if you have watched the movies, you will easily recognize many of his character voices.
You can binge the entire trilogy and The Hobbit on Scribd! And you can also listen to The Silmarillion, on which Rings of Power is based, narrated by Martin Shaw.
American Gods is an Urban Fantasy classic and one of my favorite books of all time. The 10th anniversary edition is available on Scribd, and this one is particularly great!
It is an unabridged recording of the story word for word as Neil Gaiman wrote it, and it is narrated by an incredibly talented full cast.
This Scribd audiobook is absolutely captivating and fantastic both for a first-timer or for a re-listen!
Imagine a cozy mystery, but set in space. And instead of a plucky young lady at the center, you get a weaponized cyborg solving crimes! Murderbot (which is the name it has given itself) has this insanely dry humor. And honestly, this is such a wholesome series!
Apart from the captivating mysteries, I found the main character and his/their contemplations of self and meaning very touching. No wonder this series has so many fans! The narration by Kevin R. Free is simply delightful and these audiobooks are all around extremely entertaining. After All Systems Red, you can listen to the other 5 books in the series on Scribd** as well.
Legendborn by Tracy Deonn is one of the best Young Adult Fantasy books and it will pull you right in! The audiobook version is narrated by Joniece Abbott-Pratt and it is out of this world.
After accidentally witnessing actual magic, Bree starts to investigate an old and elitist society of mages. She finds out that descendants of Arthur and the Knights of the Round Table have magical abilities and protect humans – sometimes more sometimes less successfully – from supernatural monsters.
Just by Looking at Him by Ryan O'Connell is such an intensely captivating story! The author reads the audio version himself and that makes this novel feel even more personal. It's an exploration of what you are looking for in life – what you can expect from life – and what you want in your relationships and how disability and queerness play into every aspect of that.
I found this such a compelling book! It's laugh-out-loud funny and charming, but also raw and sometimes ugly. Elliott struggles with addictive behavior and starts the journey to figure out why he keeps repeating the same patterns. But when you are successful in your job and have the seemingly perfect relationship, it's not so easy to find out why exactly you are unhappy and what changes you need to make.
Alisha Rai writes such fantastic Romance novels! Jia's and Dev's love story is utterly unique and so them. Alisha Rai touches on several popular and beloved Romance tropes but none ever steal the spotlight from Jia's and Dev's beautiful growing love. Saira Ayers and Neil Shah are the perfect voices for this wonderful dual point of view Romance audiobook.
Jia is a beauty influencer and Dev is an Indian movie star. After Jia gets catfished and falsely accuses Dev, the two stay in touch. One thing leads to another – as they so often do – and the two get caught making out. Dev knows that this will be a problem for Jia's family and offers a fake relationship.
You don't have to have read The Great Gatsby to enjoy this beautiful Historical Fiction retelling! Nicolás, a trans boy, moves to New York where his cousin Daisy seems to be living a glamorous life. And that's where he falls for the mysterious Jay Gatsby.
Avi Roque, who I adore, reads Nicolás' chapters, and Kyla Garcia reads Daisy's. This is such a beautiful, bright yet raw story that completely drew me in with its lovable characters. And the author manages to perfectly balance the impact that racism, homophobia, and transphobia (external and internalized) have, with the joyfulness of accepting spaces and finding people who understand you. One of my favorite audiobooks of 2022 and one of the best audiobooks on Scribd!
The protagonist of Alix E. Harrow's novella duology is a chronically ill young woman who explores the myth of Briar Rose's spindle and falls through the multiverse. This is such a deeply touching story, yet so engaging and exciting. A must for every fairytale and Fantasy reader!
Zinnia is on a quest to save her own life and that of other young women in the multiverse whose lives follow the narrative of Briar Rose. Even though these two books are only novella-length, they are so rich and suck you into fantastic, sometimes dark and creepy worlds. Amy Landon's narration of the audiobooks is outstanding and brings the different characters to life perfectly!
A Thousand Steps into Night is a Fantasy book based on Japanese mythology and the story is absolutely compelling! This is a deeply feminist book about a girl from a small village who could never do anything on her own because society would frown upon it. Then she catches a demonic curse and turns into a demon who can kill by touch. That's where her adventures start!
Grace Rolek did a great narration for Miuko who always thinks that she is too loud and too much, as well as for all the many fantastic creatures and people she meets. This is such an enjoyable listen!
Gideon the Ninth is one of the most popular Science Fantasy books and the titular heroine might be one of the most badass people in all of Fantasy! The audiobook is read by Moira Quirk who is an outstanding narrator who truly brings the characters to life and perfectly emphasizes the atmosphere of this book.
Gideon accompanies Harrow, Reverend Daughter of the Ninth House, to a trial between the houses. Harrow wants to ascend in the necromancer ranks and needs Gideon as her bodyguard and sword to her magic. The two aren't exactly friends though and the trials are far from a harmless competition.
Honey & Spice by Bolu Babalola is an outstanding College Romance set in the UK. Kiki is such a lovable heroine you can't help but root for! She's navigating college life and, socially, she tries to stay somewhat on the outside while still being in good standing with everyone. She is worried about messing up any friendships and she doesn't want a romantic relationship.
Kiki hosts a radio show for her fellow Black college girls in which she talks about guys who are abusive or take advantage. But then super swoon-worthy Malakai enters the scene! Kiki feels drawn to him even though she's sure he must be a player.
This is such a fantastic book that takes you through all the emotions, making you laugh, cry, and fan yourself, haha. Weruche Opia did an absolutely outstanding narration, with the radio show parts and some of the inner monologue sounding like Spoken Word, and I loved the different English accents! This is a beautiful audiobook and for me one of the best of 2022!
D'Vaughn and Kris Plan a Wedding by Chencia C. Higgins is one of the most popular Romantic Comedies of 2022! D'Vaughn and Kris take part in a reality show. They don't know each other but should make their families and friends believe they are getting married. If they succeed with the ruse and end up in front of the altar, they will win a lot of money. Their mutual attraction can only be helpful to make this plan work.
But of course, both are worried about what the other one really thinks. Being part of a reality show is a very stressful environment and D'Vaughn and Kris get a crash course in getting to know each other. This is a wonderful fake dating story with insane chemistry and an extremely enjoyable audio narration by Rebecca Lee!
A Psalm for the Wild-Built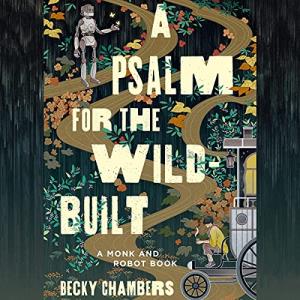 Written by Becky Chambers
Narrated by Em Grosland
Listen on Scribd**
A Psalm for the Wild-Built by Becky Chambers has a special place in my heart – and in that of many other readers and listeners. This Science Fiction book has an incredibly cozy vibe and is one of the best audiobooks on Scribd! At the center of this novella are Sibling Dax (a tea monk) and Mosscap, the first robot to make contact with a human after robots became sentient and parted ways with humans.
This story is at the same time meditative, warm, and cuddly, as well as profound, hopeful, and very captivating. Em Grosland was perfectly cast as narrator to bring this series to life! Their voice really brings out Dax's struggles and hopes, and the voice for Mosscap is adorable. A Prayer for the Crown-Shy is the second book in the Monk & Robot series and is also available on Scribd.
One For All by Lillie Lainoff is a Young Adult Historical Fiction novel. It's a musketeers retelling about four girls taking up arms, being spies, saving France, and being all-around awesome!
Tania has learned to fence from her father who always believed in her and helped her find ways to fight despite her chronic illness, POTS. The audiobook is narrated by Mara Wilson who was so great to listen to! This book is all-around fun, entertaining, and fast-paced, and one of the Scribd audiobooks you should definitely check out!
Legends & Lattes is a Cozy Fantasy – which is really what you imagine when you hear about this new genre! It's popular audiobook narrator Travis Baldree's debut book about an orc warrior who retires from fighting and opens her own coffee shop together with a succubus and a ratkin.
Yes, this book is as adorable and escapist, and cozy as it sounds! The narration for his own characters and story is absolutely wonderful and this has quickly become a comfort listen for many Fantasy audiobook fans. Even though the stakes are low in this slice-of-live Fantasy, it is a captivating and enchanting story that will pull you into a fantastical world without all the darkness and the world-saving and the everyone-is-taking-themselves-so-serious that so often comes with the genre. This is one of the best audiobooks on Scribd and a must-listen for anyone who likes Fantasy!
The daughter of the moon goddess is forced to leave her mother and her home to keep her family safe. Now she has to make a life for herself in the Celestial Kingdom. And what a life it is! Xingyin's quests are adventurous and suspenseful and the worldbuilding is so vivid.
Daughter of the Moon Goddess is an absolutely captivating Fantasy novel set in a beautiful world and based on Chinese mythology. It's narrated by Natalie Naudus who did such an outstanding job here. The story played like a movie in my head. This is one of the best audiobooks of 2022 and, of course, one of the best audiobooks on Scribd!
Akwaeke Emezi's Romance novel You Made a Fool of Death with Your Beauty is as beautiful and poetic as the title promises! Feyi is a party-going introvert – she's an artist who keeps her pain, and her heart, behind walls. The story is about her way back into the dating pool and evolves into a forbidden older man / younger woman Romance with a bisexual hero.
Bahni Turpin did the narration which is, as you would expect, absolutely amazing! Bahni Turpin is one of the best audiobook narrators out there and she really brings out the emotions of this love story. Whether you are a Romance reader or a Literary Fiction reader, you should save this outstanding Scribd audiobook!
The Lesbiana's Guide to Catholic School is such a wonderful Young Adult book! It has a wonderful cast of characters, and while Yami has a lot of worries about how her mom will react to her sexuality, the overall tone of this book is hopeful and sweet.
The story feels very raw and real and Yami is such a lovable protagonist! Karla Serrato truly brought her to life. This is one of the best audiobooks on Scribd for readers who enjoy queer YA Fiction!
Pin this list of the best Audiobooks on Scribd for later: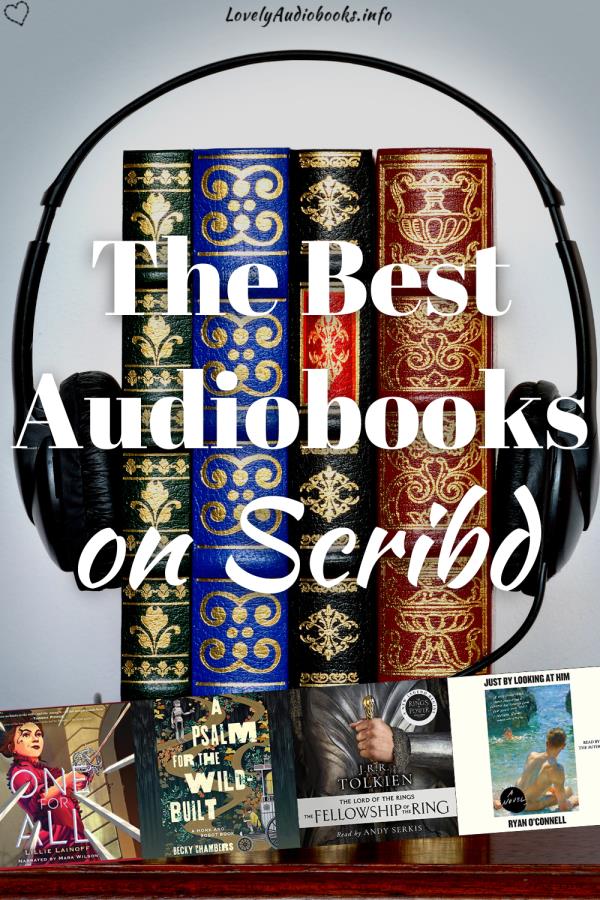 Audio Booklists
/