Sometimes we just need good Romance novels with bad sex! Stories with heroes who can still count the number of partners they've had or who even worry about their sexual prowess…
We all know the usual Romance hero. While he might be alpha or beta, grumpy or a nice guy, one thing they all have in common is their skill between the sheets.
It makes sense, too! Romance novels are supposed to be seductive.
But every now and then, I crave a book with a vulnerable hero who doesn't fit the usual mold! One for whom it doesn't all come easily. Who didn't bed 1000 women. One who has to overcome insecurities to find his happy ending (literally and figuratively, haha).
Below, you will find fantastic but unusual Romance novels with virgin heroes, inexperienced heroes, and awkward sex scenes.
**The marked links and book covers on this page are affiliate links. If you use them to purchase something, I earn a fee at no additional cost for you. Disclosure**
Romance Books with Awkward Sex
Sometimes, sex scenes are a wonderful way for Romance authors to show us the vulnerable sides of their heroes. And it gets me every single time!
Weather Girl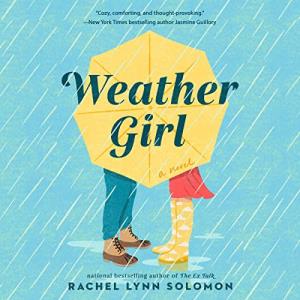 Rachel Lynn Solomon (Author), Sarah Mollo-Christensen (Narrator)
Get the audiobook on Amazon**
Russell hasn't dated in many years. As a single dad who describes himself as fat, he doesn't consider himself a catch. His colleague Ari, however, adores Russell! She doesn't think she herself is dating material though. But the two have such an adorable, tender bond. And the vulnerability Russell showed the first time they got naked together absolutely, positively killed me!
A Lady Awakened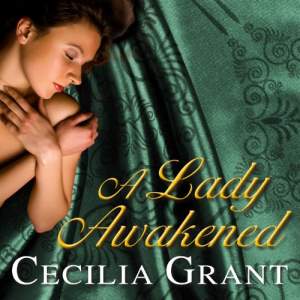 Cecilia Grant (Author), Susan Ericksen (Narrator)
Get the audiobook on Amazon in a deal**
In A Lady Awakened, it's not the hero who makes things awkward. It's the heroine! Martha is set on getting pregnant but she is convinced that sex is something a woman just has to get through. She resists any try from the strapping rake (who she hired for the job) to make things fun. And he has to make a huge effort to win her over. This is an utterly delightful Historical Romance!
Related article: How to get Audiobooks cheaper with Amazon Whispersync
The Duchess Deal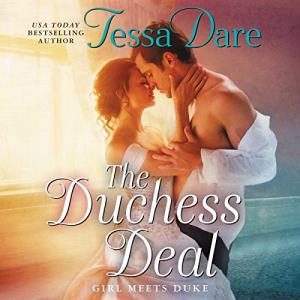 Tessa Dare (Author), Mary Jane Wells (Narrator)
Get the audiobook on Amazon**
Ash considers himself a monster. So, when he enters a marriage of convenience, he doesn't expect his wife to desire him at all. Lights off and just get through with the making of the heir! Of course, being watched and attacked by a cat doesn't help the already incredibly awkward situation at all. Little does he know that she actually pines for him! The Duchess Deal is one of my favorite Historical Romance novels and an absolute must-read.
Lies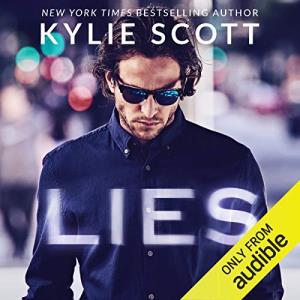 Kylie Scott (Author), Andi Arndt (Narrator)
Get the audiobook on Amazon in a deal**
Thom is THE WORST! He is inconsiderate, boring, and a real disappointment between the sheets. He's so bleh. Betty decides to break things off. It's just not going anywhere. Little does she know that Thom is UNDERCOVER!! He was pretending to be a decent, "normal" partner for her. What the hell, Thom! Now Betty has been kidnapped and Thom has to come clean.
Romance Heroes with Performance Issues
These books are rare but some Romance novels have… well… not even so much bad sex scenes, but a glaring lack of them because the hero struggles with getting it up! Or the hero thinks of himself as quite the stud but he actually just doesn't bring it until the heroine tells him that this isn't it and teaches him the ways.
I honestly wish there were more stories with Romance heroes who just aren't particularly good in bed but are willing to learn for and from their love interest. I find it a really romantic concept to put one's pride aside, admit personal flaws, and work on them!
Dancer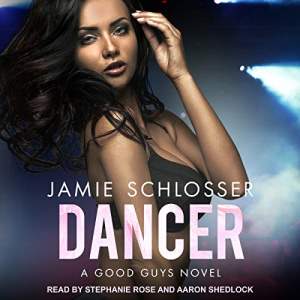 Jamie Schlosser (Author), Stephanie Rose (Narrator), Aaron Shedlock (Narrator)
Get the audiobook on Amazon in a deal**
Colton is an absolutely wonderful Romance hero! He's such a sweet, sweet guy but not at all boring or a push-over. He's very worried about his performance anxiety. But then he meets Brielle and things in his pants wake up mighty fine! Dancer is a captivating love story between two entirely real and complex people.
Falling From the Sky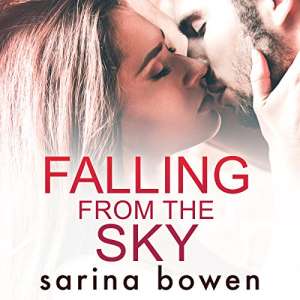 Sarina Bowen (Author), Tanya Eby (Narrator), Aiden Snow (Narrator)
Get the audiobook on Amazon in a deal**
Sarina Bowen is one of my go-to authors because she's not afraid of writing heroes and heroines who don't fit the usual mold. If you've been on Lovely Audiobooks before, you know how strongly I feel about disability rep in Romance. And Falling From the Sky blew me away!
Hank had an accident and has to come to terms with his paraplegia. One big worry of his is if he can perform at all still. It was so very emotional to listen to his concerns and how he finds true love. Aiden Snow's narration here is absolutely fantastic and adds even more emotional depth to this story.
The Player and the Pixie
L H Cosway (Author), Penny Reid (Author), George Allan (Narrator), KC Sheridan (Narrator),
Get the audiobook on Amazon**
In The Player and the Pixie, we have a hero who, for all intents and purposes, seems to be your typical alphahole jock hero. It's just that… he's no good in bed. And while he suspects something is wrong, he isn't even really aware of his lacking performance because he only has One Night Stands. And the ladies always give him the celebrity bonus.
I love the underlying message that relationships – much more so than having a lot of different partners – help people become better in bed. This is such a fantastic Romance novel despite the bad sex (which also improves quickly enough, don't you worry)!
The Bromance Book Club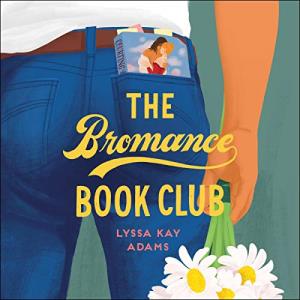 Lyssa Kay Adams (Author), Andrew Eiden (Narrator), Maxwell Caulfield (Narrator)
Get the audiobook on Amazon**
Gavin's marriage crumbles and then he finds out, his wife has been faking the big O for a long time! He feels dreadful. Fortunately, a group of delightful, Romance-reading guys pick him up and teach him the ways so he can win Thea back. I love this second chance Romance with its fun meta-level twist!
Inexperienced or Virgin Hero Romance Books
We all know the typical Romance hero who can't even count the number of partners anymore. He's often paired with a virginal heroine (for better or for worse). Few things are as refreshing to me as an inexperienced hero! Fortunately, virgin hero romance books have a bit more of a fan base than the heroes who struggle to perform. So, here are a couple of my favorite inexperienced Romance heroes!
Twice Shy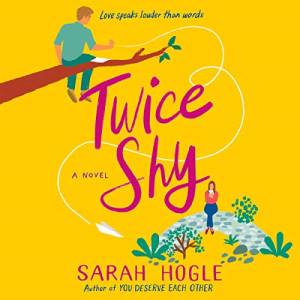 Sarah Hogle (Author), Dorothy Dillingham Blue (Narrator)
Get the audiobook on Amazon**
Wesley struggles with his social anxiety and hasn't dated a woman before. When Maybell literally moves into his house, he doesn't know what to do. But over time, the two grow closer. And they are so, so incredibly sweet together! Maybell is a bit quirky and awkward and the two make a heartwarming match. They grow so much together and this is a wonderful, light-hearted book!
Goodbye Paradise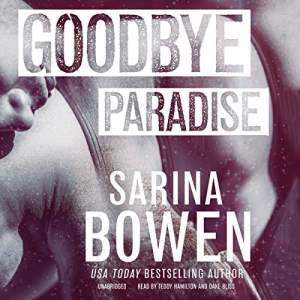 Sarina Bowen (Author), Teddy Hamilton (Narrator), Dake Bliss (Narrator)
Listen to the audiobook for free with Audible Plus**
While virginal heroes are a bit more common in M/M Romance, Josh and Caleb's openness about their inexperience, their hopes and wishes, really made Goodbye Paradise stand out for me. I absolutely loved it! The two boys discover their sexuality together and have such wholesome talks about it. It's beautiful!
Related article: What is Audible Plus?
Love Hacked: A Reluctant Romance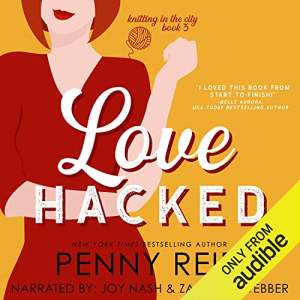 Penny Reid (Author), Joy Nash (Narrator), Zachary Webber (Narrator)
Listen to the audiobook for free with Audible Plus**
Love Hacked is such a captivating, adorable Romance novel despite the bad sex! Or maybe because of it… Alex is just so friggin cute! He is an amazing Romance hero. In so many ways, he doesn't fit the usual mold at all. And in other ways, he is actually the perfect hero who'll hit you right in the feels!
Related article: The Best Romance Audiobooks in Audible Plus
The Shameless Hour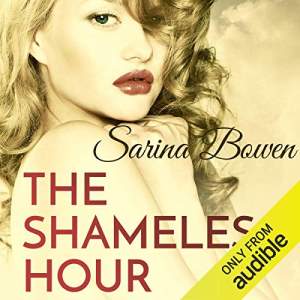 Sarina Bowen (Author), Saskia Maarleveld (Narrator), Nick Podehl (Narrator)
Listen to the audiobook for free with Audible Plus**
Another Sarina Bowen? Yes, indeed! Some authors just seem to be more comfortable with veering from the usual tropes. And I'm so happy they do! The wonderful thing about The Shameless Hour is that it turns around the usual Romance trope of a college student looking to lose their virginity and landing with the resident player.
Bella likes to party and spread the love, while Rafe saved himself for a long-term girlfriend. Such a shame that all his careful plans went up in flames!
Archer's Voice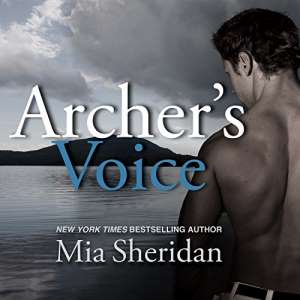 Mia Sheridan (Author), Kris Koscheski (Narrator), Emily Durante (Narrator)
Get the audiobook on Amazon**
Archer's Voice is such an epic love story! This beautiful Romance novel has several extremely emotional layers, just like its hero. Archer lives alone and generally avoids interaction with other people. Until he is quite literally found by Bree who feels drawn to the silent man.
The Duchess War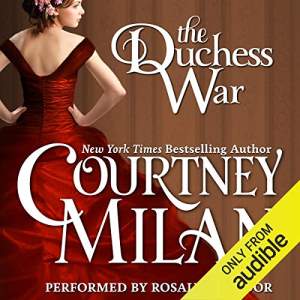 Courtney Milan (Author, Publisher), Rosalyn Landor (Narrator)
Get the audiobook on Amazon in a deal**
Courtney Milan is one of my favorite authors and The Duchess War is simply a must! Even if you rarely grab a Historical Romance novel, I'm sure you'll enjoy this one. Here, we have two virgin protagonists who have to find their way out of political scandal and personal insecurities. I found the story utterly intriguing and unexpected!
How to Marry a Millionaire Vampire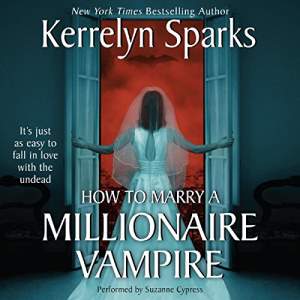 Kerrelyn Sparks (Author), Suzanne Cypress (Narrator)
Get the audiobook on Amazon**
How to Marry a Millionaire Vampire is an older book and it's been a while since I read it. But it is so perfect for this list! We had a lot of Romance heroes now who didn't fit the usual mold. Here, we have an entirely unexpected vampire! He's a nerd and he's a virgin. Even though he's super old and super-rich he is not a player.
This might not be quite the right story for the die-hard Paranormal Romance fan. But if you don't mind a bit of a lighter, fun take on vampires, give this one a try! I'm sure it'll crack you up too!
Romance Books
/